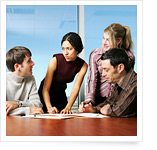 ClickMeeting is a new online conferencing platform. But I'm guessing you'd like to know how it's different from the "others", right? Before we dig into the details, let me point out some of the highlights (course, they're all highlights!)
.
.
I'm sure you know how meetings usually go in your company. People slowly filing in, documents circulating around the table, lots of mumbling. Should we wait for so-and-so? After some discussion, it finally begins. Things go well for a while, then the "off topic" questions and side chat takes over and, before you know it, everyone has to run to their next meetings!
.
Web conferencing is the ideal solution to the ubiquitous problem of long, unproductive meetings. With ClickMeeting, presenters have complete control of the audience interaction, multimedia, collaboration – even the branding.
.
The platform features two products, ClickMeeting and ClickWebinar, designed to provide the best format for your business needs. Let's take a quick look at both.
.
Meetings
.
If you want to bring key people together and make decisions faster, use Click Meeting.
.
Host unlimited online meetings of up to 25 people, no matter where they are, right from your desktop. ClickMeeting's there when you need to collaborate, educate, and promote your business. Or when you need to respond to opportunities and ever-changing market conditions.
Save on travel time and costs and make sure you're not leaving key people behind because they're hundreds of miles away. Now you can put all that money back into your business.
Share your desktop, files and applications with attendees, discuss and brainstorm on the fly. From new product concepts, to Web site planning, to sales training and updates, you'll make progress because everyone will be on the "same page". Share a specific part of your screen, use drawing tools to illustrate your ideas, and make annotations as you receive input from the group. It's interactive, but orderly!
Chat with other attendees to exchange thoughts and ideas. There's also a private chat option, so you can ask questions and discuss the topic with key people to get results straight away.
..
Webinars
.
If you need to present a product demo to a prospect, partner, or customer, organize a training session for the new office, or hold an online event for your employees, ClickWebinar makes it quick and easy.
.
Invite up to 1000 people without the hassle and cost of reserving a room at a hotel or convention center. With ClickWebinar, your secure room is virtual and always available. And did you know that by expanding your reach with the help of web conferencing software you can increase your meeting ROI by about 1623%?*
Share your desktop and applications to make sure everyone's working on the same thing at the same time. No need to prepare printed handouts or waste time struggling with the overhead projector. You just upload your materials before the event and show them to your audience at the right time.
Manage audience interactions. You decide who should speak and when, who should present, and who can see what. There's no shouting, no unexpected questions, no meeting room chaos. You can now focus on pure, orderly communication. That's when productivity happens.
.
Brand your events
.
I told you ClickMeeting was different… easier to learn and manage. But there's one more really important differentiator. Both ClickMeeting and ClickWebinar allow you to fully customize your meeting room with your brand. You can change the colors, add your logo and graphics, even customize your meeting URL to make it easy for attendees to remember. There's also an option to embed your branded meeting room on your website. So your meetings and webinars become part of your brand and differentiate YOU from the competition.
.
How reliable is ClickMeeting?
.
All this comes with secure access to the meetings, so you can be sure you have total control over who attends.
.
And the best (yes, another best) thing is that there's no software to install. No matter which browser or operating system or computer you're using, you can instantly access your meeting room or join a meeting in progress.
.
You can also be sure that the transmission is reliable, as ClickMeeting and ClickWebinar are hosted on a cloud of servers (don't ask me about the technical details, but I'll get someone who knows about this when we get into this). What I do know is they work together to provide optimal service at all times, no matter how often you hold online events.
.
.
So that's the "meat" in this hearty serving of online conferencing services. And don't worry, we'll soon get to all the details, but let's take it step by step (I hope you're curious by now).
.
If you can't wait or want to try it for yourself, then I have good news. You can test-drive the platform for 30 days totally free. Just go to www.clickmeeting.com and sign up. Then please let me know in the comments how you like it.
.
And now for my goodbyes…  🙂
.
.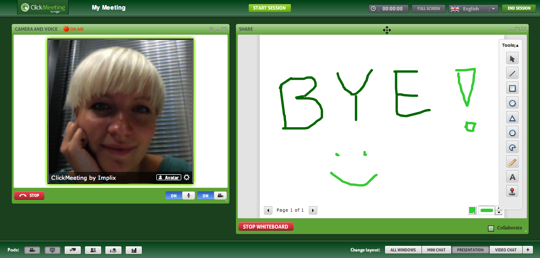 .
* Online Meetings Tools Review, 2010: Economic Benefits > Costs:Travel vs Online Conferencing