The new educational year is just around the corner, which also means a prime season for professional teachers, trainers, private schools, and academies. And one crucial question to answer – will the entire education have to move online again? If so – we're ready for it at ClickMeeting! Here's a complete list of must-have tools you need to make friends with to create a savvy virtual classroom. Let's dive in!
The new educational season is starting
Here, at ClickMeeting, we have experienced tremendous growth in online events organized on our platform. The growth dynamics were so out this world that it triggered us to wrap up an extensive report on how the COVID-19 influenced the webinar and video conferencing business.
But instead of celebrating, we have been working around the clock to develop our application, upgrade our existing features, and create new ones from scratch! One of them is a dedicated Edu Mode that is sure to delight many teachers and trainers involved in online education.
All of this to prepare schools, universities, teachers, and trainers for coming back to school.
Lets' walk you through the tools we have rolled out to help you create a professional virtual classroom.
Edu Mode – a brand new online learning experience
Online teaching offers tremendous opportunities. However, every teacher, lecturer or trainer has surely encountered situations where knowledge transfer and cooperation left a lot to be desired. These include, among others:
a lack of eye contact with students,

mutual distraction of participants,

unwillingness of some students to enable camera in front of the audience, e.g. due to embarrassment,

inability to follow up on students' work.
All these issues are solved by innovative Edu Mode which can be easily activated straight in the event room. The principle behind this feature is extremely simple, yet at the same time it significantly improves cooperation:
the tutor sees all the attendees,

students can only see the tutor but not one another,

presenter can ask a particular person or a group of people to speak, then the rest of the audience will be able to hear what they have to say.
This way you can conveniently manage your classes and create even more engaging scenarios. And your students get a comfortable learning environment, so they can fully focus on learning or doing their own work.
Online meetings – see, hear, and talk to 25 people in real-time
That is the pure essence of an online educational meeting. Our customers highly demanded this feature, and in July 2020, we were proud to hand it over to you!
Once you start your event, you can feel like in a real classroom or a lecture room, where you can see all the faces of your pupils.
It means you can get together with a group of (up to) 25 students or trainees, and conduct a virtual conference, where everyone can see, hear, and talk to each other.
Interactive tools – run your virtual classroom with a set of interactive features
You have an hour or so to share your knowledge with your audience. How will you use it? Thanks to an array of features waiting there for you in the event room, you can make it even more appealing than the traditional classes or training sessions.
Here's what you get:
Presentation – besides displaying a traditional PowerPoint presentation, you can also upload any other files, like graphics, spreadsheets, or videos – whatever you need to make your students and trainers remember your expertise for long.

Screen sharing – sometimes uploading files is not enough. If you want to show precisely how to go through a specific topic, it works best to share your screen and let your event attendees see what you are doing.
And with the latest update of this fundamental feature, not only you as a presenter can share your screen, but now your students or trainees can use it too!
If you assign a task or homework and would like to check the results on the following event, a student can share their screen.
Secure online meetings
Security is the next aspect you should look after. Hijacking and disturbing online get-togethers by trolls have become a nightmare for many online teachers, students (especially juveniles), and meetings' hosts. Luckily, there are ways to make your teaching and training events safe and sound. And they are super easy to pull off!
When choosing the access type for your event instead of leaving it open to all internet users in the wild, we strongly suggest protecting it with a password of your choice or a unique token. That is the most secure way to guard your event from possible breaches because it's an individual code that automatically expires after using it.
Here's how it works:
Even though those measures are safe enough, we wouldn't be ourselves if we didn't deliver another safeguard – the Lock room option. This tool is available in the event room itself, and it enables you to lock the room from outside intruders.
AV Tester – double-check your audio and video
OK, once you make sure that your online class is safe, it's time to look after the audio-video quality. Because even if the knowledge you pass to your students or trainees is top-notch, and your performance as a lecturer is so excellent as if you had invented lecturing, it all won't matter if your audience doesn't hear and see you well.
That's why we recently released a super-handy tool that will help you check your audio-video quality before you go live in front of your students.
Once you enter your event room, you will see a pop-up where you can:
Check if the system detects your mic and webcam;
Test the audio level;
And with just two clicks, find out how you will look and sound during your event.

Here's how to work the AV tester tool out:
Save meeting – set up your online event in advance
As a professional teacher or trainer, you will find this recently released feature pretty useful. It would be easy to distract your audience by spending the first couple of minutes of the meeting on preparing your content and going through set-up actions.
Instead, you can now do it all in advance, long before your event goes on air! All you need to do is click "Save" in your webinar room, and it's done – all your content and room set-up will remain as you want even if you close the event window.
Here's how to make it happen:
Layout synchronization – set the room layout for everyone in the event room
The next tool, which came to light a couple of weeks ago, allows you to have full control over your event's appearance and decide how your event looks like for your attendees.
With this tool, you can:
Make your chat window bigger, follow the discussion and react swiftly to any questions from your students or trainees.

Hide the chat window to concentrate on your presentation fully.

Dock, undock, drag and drop your AV pod, or make it disappear.
And with the latest update of this feature, you can now synchronize room layouts, so your attendees and other presenters (teachers, trainers) will see the same layout as you have on your screen.
Parallel events – work in smaller groups
Running online classes, courses, and training sessions usually requires breaking down the audience into smaller, workshop groups.
Imagine a regular class where you have 25 students, and you need to divide them into five subgroups to work on a specific topic. For instance, an online course on digital marketing, and within that course, you want to create separate groups for SEO, content marketing, social media, PPC campaigns, and e-mail marketing.
How to make that happen? Here's a way to hack it:
First, you would want to go to your Account panel and purchase a Parallel events add-on. You can also contact our sales team at sales@clickmeeting.com to get a customized solution that matches your needs.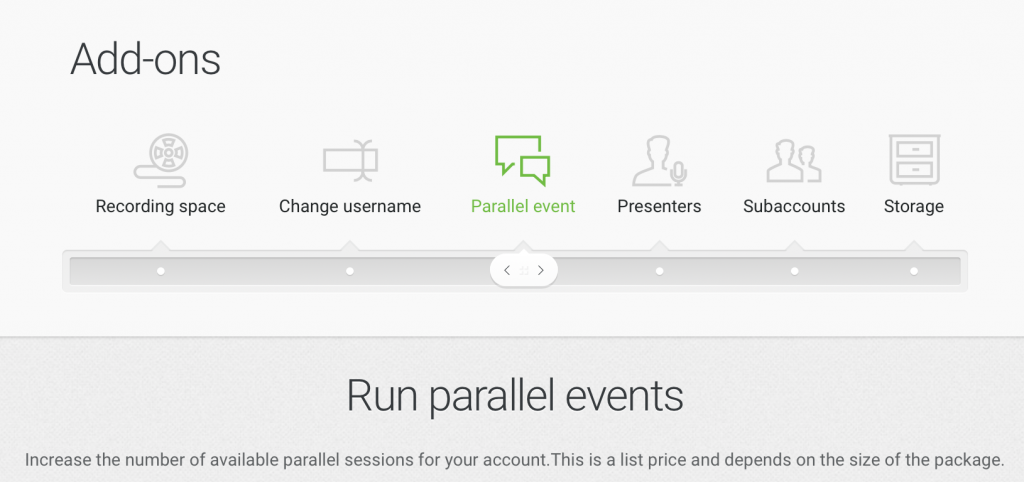 Once you do that, you can get your hands on scheduling several separate online meetings. You can set up the same date and hour for all of them if you're running a single online course, OR – you can make them permanent to be available for you and your students at all times throughout a school year. While there are many online course platforms available to help instructors create courses, they are typically more expensive and can be confusing.  Here at ClickMeeting, we've done our best to simplify the process so that you can focus on what really matters; teaching your students.
Breakout rooms: collaboration made simple
Breakout rooms allow the organizer to split event participants up and assign them to separate rooms where they can work on a specific project or task. Breakout rooms are closed, interactive sessions where all participants can turn on their cameras and microphones, share their screens, and have discussions.
With Breakout rooms, you can easily manage your lesson. Divide attendees into small groups, such as project teams, and let them collaborate on tasks.
The form of the lesson and the duration of each session are up to you. This will keep your classes organized and provide your students with plenty of space to work comfortably.
Screen sharing for attendees
Yes, as we mentioned before, from now on, the event attendees can also share their screens. Let them know that all they need to do is click the screen-sharing icon beside the camera and mic icons on the bottom of the screen.

They should also know that only one person can share their screen at a time.
What's more, the attendees can communicate with you not only by enabling their cameras and microphones or by writing messages in chat but also through statuses. In the chatbox, they will find a few options which will let you know that your audience agrees or disagrees with you, needs your help, or wants you to speak louder or softer.
Webinar automation to make things easier and faster
This part is optional yet highly rewarding. Thanks to various webinar automation tools, you save tons of precious time and focus on other educational activities that require your attention.
On-demand webinar – this one will be super handy from your students' perspective because they will be able to watch (and rewatch) your recorded lecture anytime they want.
Automated webinar, on the other hand, goes on air at a specific time. But automatically, without you having to be present in the event room. If you run several lectures on a repetitive subject, you can automate them and reuse your saved time to conduct thematical workshops in smaller groups.
Online teaching and training 100% online – we are ready. And so are you!
Whatever this autumn brings, we are all set to empower you with a feature-rich webinar and online meeting platform to teach and train interactively and collaboratively.
Log in to your ClickMeeting account today or sign up for a 30-day free trial and start organizing your educational events!