There's no doubt: we've come a long way in the online events universe. Webinars and meetings now surround us at every turn. They make learning, collaborating, and making money accessible. Especially since you won't need professional equipment or additional investments.
But… there is also no denying that connection quality problems can still occur. While bad video quality should not hinder communication, it will be worse with sound. What to do in such a situation? We've found a solution. Even if the quality of your or your participants' connection leaves much to be desired, you will stay in touch. All you have to do is use the "Sound only" option.
Poor connection quality: we have a way for it
Suppose you want to relax in nature and attend an event, sitting on the terrace of a summer house surrounded by forests. Or maybe you are bored with the office and prefer to swap it for a tropical island? Or are you joining a meeting from a cab because you are just heading to the airport to go on a long-awaited vacation? All of these situations have one thing in common: extremely likely connection quality problems.
Of course, we hope that the icon in your event room will always look like this:

However, let's face it – this may not always be the case. And if you gather many attendees at your event, chances are low that everyone would have a great Internet connection. What should be done? The best solution is to limit the downloaded data so that the troubled connection can handle it. Thus, some kind of compromise has to be made.
Sound only – just a click away
Any user who is experiencing connection quality problems can instantly solve the issue without losing the ability to listen and speak at the event. All they need to do is use the "Sound Only" option, which they can find directly in the settings tab in the event room.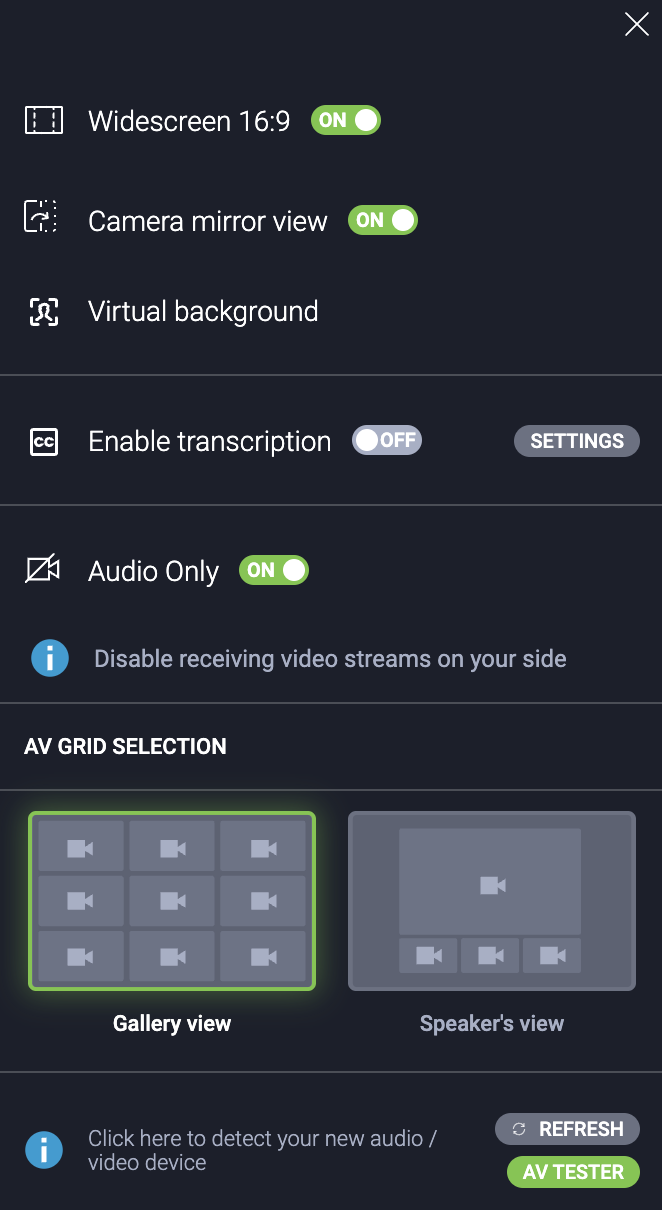 Concerned that new attendees using ClickMeeting for the first time might have trouble finding it? No worries. When problems are detected, a relevant message will be displayed. Just click on the appropriate button to disable other users' video streams, thus easing the connection load.
Of course, the Audio Only mode is triggered individually – so other participants will be able to see each other without interference. And when network problems subside, it will be possible to instantly return to standard settings.
Another step toward better accessibility
This is a very simple solution, but one that can really come in handy in many situations. It also works in the mobile app, so taking part in a meeting or webinar outdoors will be even easier.
This is another update to make ClickMeeting more accessible. Among other things, we have recently introduced automated live transcription, which can make it even easier to communicate in difficult conditions – participants' speech is automatically displayed in text form with it. There is also a brand-new virtual whiteboard at your disposal. Presenting even the most complicated issues and collaborating will thus be not only simpler, but also definitely more attractive.
This is not the end of the news
We are also introducing several other novelties that will certainly make it easier to use ClickMeeting and create even more engaging events.
If you are creating recurring webinars and meetings, you will definitely enjoy more freedom in setting up event repeats. You can indicate exactly how often and on what days of the week they should take place. In addition, you'll have a virtual background in the browser ( obviously, it stays in the desktop application as well) and easier navigation on the virtual whiteboard – the participants will be automatically moved to the place where the edition is taking place. And that means easier collaboration.