If you create content online (or just thinking about it), you can earn from ClickMeeting referrals! All you have to do is join our affiliate program and convince your audience to sign up to the webinar platform chosen by experts.
Where and how to promote our tool? Below, you'll find some inspiration that you're sure to find useful!
We've also included some tips for those who are new to affiliate programs – so you'll be able to get started quickly!
How does the ClickMeeting affiliate program work?
First, let's remind you of some of the most important facts about the ClickMeeting affiliate program:
You earn unlimited commissions: you can get up to 30% for each paid account that is created from your referral. There is no limit to the commission sum.
Long cookie life: your users have 120 days to complete transactions.
Easy to join and operate: you can use the TradeTracker.com or CJ.com affiliate network, which guarantee minimum hassle.
Direct support: the ClickMeeting affiliate program manager remains at your disposal throughout the cooperation.
You can get complete information about the ClickMeeting affiliate program on this page. And what to do once you join? Check out our hints!
Types of content worth creating
Do you think your audience – for example, blog readers, social media followers, or vlog viewers – might be interested in creating their own online events? Or do you work in an industry in which webinars and meetings are pretty much standard, and you often meet people who are looking for the right tool?
Probably that's why you are reading these words. In order to convince as many people as possible to sign up for an account, and thus also earn as much commission as possible, you need to combine two factors – compelling content that your audience is looking for, and substance. Let's start with the first of these elements, i.e. the types of content that can help you convince people to sign up for ClickMeeting's services.
Below, you will find some effective ideas!
Product review
Everyone looks for information about goods and services on the Internet. This is of course also true for people who are looking for a platform for webinars and online meetings. So the ideal way to encourage them to set up an account would be to publish a ClickMeeting review. Of course, it should be as comprehensive and objective as possible. Every product has its advantages and disadvantages, and it's worth pointing them out to help your audience make the right choice.
A product review can take various forms. Very popular are reviews in text form, which you can publish, for example, on your website, blog or social media. Nowadays, however, more and more users choose video formats. Recording a ClickMeeting review and showing how the platform works in practice is therefore an excellent idea, and we strongly encourage you to create such content!
What is worth including in such a review? You may find the reviews of our users helpful, comprehensive information about our tool can be found in the knowledge zone and, of course, on our blog. If you want to enrich your content with multimedia files, take a look at our YouTube channel, too.
Tool comparisons
The choice of webinar and online meeting platforms available on the market is really wide. Of course, your audience is also eager to compare them with each other to find the tool that is best suited to their expectations. You can help them with this! We prepare this kind of content ourselves, too, by the way. A good example is our comparison with the LiveStorm platform. Of course, you can do the comparison in video format or any other form you feel most comfortable with.
Guides and tutorials related to ClickMeeting
Your audience is looking for a solution to a specific problem. For example: they want a tool that will help them easily set up an online meeting, or a platform that will give them the ability to easily acquire leads without having to go to other solutions. Show them how to achieve their specific goals using your expertise, while showing ClickMeeting in action.
Rankings
Let's return to the subject of comparisons and selection. It's worth putting things in perspective: you don't have to limit yourself to just two offers at all. Various types of rankings are immensely popular (and great for clicking), because they allow to instantly learn the advantages and disadvantages of a wider range of tools.
The title of the article or video "TOP 10 webinar platforms chosen by experts" sounds pretty good, doesn't it?
Case studies and success stories
Substantive analysis and outlining the advantages and benefits is not enough. Before making a decision, we also want to see how the tool in practice changed the work of specific people and the tangible results it helped them achieve.
How to prove it? By preparing a case study! Of course, in this case, too, both text and video forms will work. You can also combine them as we do.
You can find examples of case studies here or here.
Of course, you can also describe your success story or demonstrate practical scenarios in which ClickMeeting allowed you to improve your work or profit.
Frequently asked questions
Do your audiences often come back to you with similar questions? For example:
Does ClickMeeting offer a free trial?
What's the deal with the Live and Automated plans?
What can I do during the free trial period?
How much does ClickMeeting cost?
Prepare FAQ-style material for them, providing answers to these questions! This type of content will save you a lot of time, and your fans get the information they need quickly.
How do you promote your content?
Bravo! You certainly already have valuable content that will appeal to your audience and will be extremely helpful. Now it's time to take care of outreach and get to as many people interested in online events as possible.
What communication channels and tools should you think about? Here are some suggestions:
Custom webinars: is there any better way to promote a platform for webinars and online meetings than to create… your own webinars? Don't forget that you also have a full suite of communication tools at your disposal, which will make it easier to both acquire and engage users, as well as achieve specific marketing and sales goals (read more here).
Newsletters and email marketing: if you have a broad user base (e.g., subscribers to your blog), you can distribute materials about ClickMeeting and encourage people to create an account through mailing campaigns.
Social media: you need to be where your audience is. And very often you can find them on social media. Don't forget that besides Facebook and Instagram, TikTok, for example, is growing intensively, and professionals often choose X (formerly Twitter) or LinkedIn. The latter portal in particular is the choice of experts, so it's worth publishing substantive content there.
Industry forums and groups: taking part in discussions held on industry forums and groups is a great way to build an expert position and promote affiliate links, and therefore earn money.
Paid advertising: a proven way to increase your reach is, of course, paid advertising. You can promote your social media posts, but also Created content, for example, on your blog or website.
Own YouTube channel: if you create video content, a YouTube channel will prove indispensable. This is a powerful platform that will help you create a library of your materials, but also broadcast live. You can, of course, also post recordings of your webinars there.
Are you just starting out? Ideas for a quick start
Affiliation can be a great motivator to get started. Below, you'll learn the easiest and fastest way to start creating content. Let's say you want to run your own blog. It's a great way to build an expert position and gain both paid and organic traffic, meaning traffic that comes from search engines. Before you get started, check out our short guide "From zero to blogger ;)":
Choose the right domain: the domain name, which will also be identified with the name of your site, should be short and easy to remember. You can, of course, use free services that allow you to set up a blog, but your own domain is a small expense, however, which greatly affects your credibility and standing.
Find hosting: in this case, too, you can easily find free platforms that will make it easy to set up a blog. Your own hosting, however, means more flexibility and full control over every issue, and this is irreplaceable if you want to start monetizing your site.
Install a content management system (CMS): rest assured, your own blog or website does not require programming skills and hours spent on the project. Content management systems, such as the most popular CMS WordPress, are easy to install and use. You can handle everything on your own.
Choose a template and configure your site: WordPress gives you enormous possibilities to customize the site to your expectations. There are thousands of templates (both free and paid) and plugins at your disposal, which will make your blog look and work exactly the way you want it to.
 SEO optimization: you definitely want the content you create to show up high in search results. To achieve this, your site must be well optimized for SEO. Rest assured, especially at the first stage, you don't need to invest in the services of marketing agencies. Install the right plugins, such as Yoast SEO, which will help you create content appreciated by the algorithms.
Create valuable content: basically, you're all set. You can proceed to create content. Regularly publish various types of articles, reviews or guides related to your industry. Be sure to include affiliate links in them. However, do it in the most natural way possible. Ideas for interesting content? You'll find them above!
Promote your site: social media, email campaigns, paid advertising… digital marketing offers almost endless opportunities to reach people who may be interested in your content. Treat the expenses associated with this area as an investment.
What industries to target with your materials?
When creating materials (but also preparing advertising campaigns), you must always think about your target group. We have prepared some industries that might be highly interested in online events.
First, let's take a look at our State of Online Events report, in which we take a closer look at the industries and their leaders: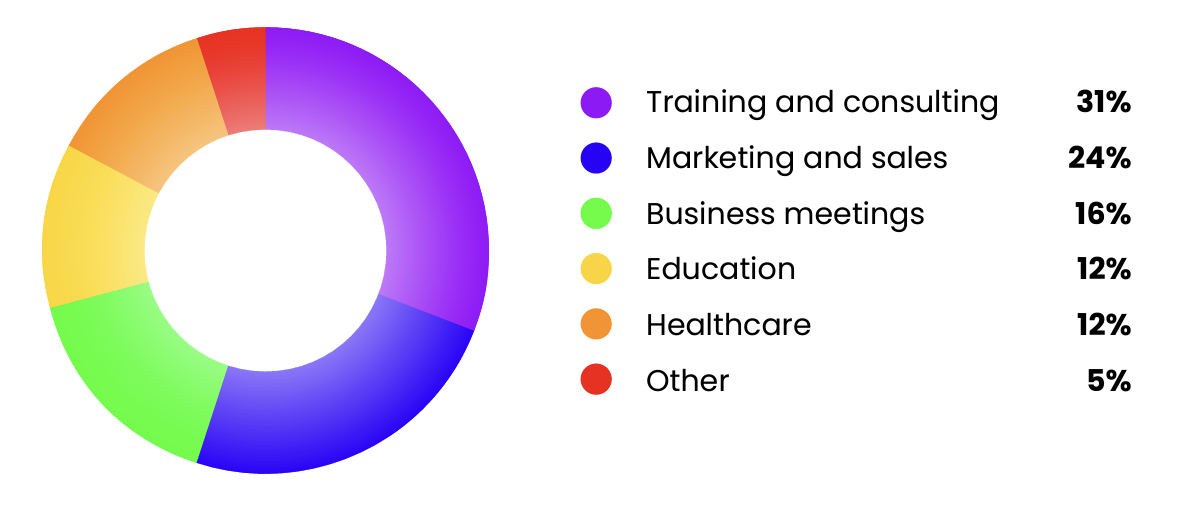 As you can see, education in the broadest sense plays a key role. On the one hand, there are companies specializing in consulting and training (responsible for almost a third of the events on ClickMeeting), and on the other, schools or universities (12%). Interestingly, marketers are also very keen to use webinars and meetings in their daily work, but there is also a rising share in the intensely growing medical industry.
Here are examples of industries to focus on:
Education and training: the audience in this group will be primarily interested in organizing online lessons, workshops, creating courses or training.
Marketing and advertising: webinar marketing is an extremely effective way to acquire leads, but also to carry out direct sales activities. Webinars are, of course, one of the most important tools in the workshops of content marketers.
Technology and innovation: representatives of this sector use online events, for example, to run product demonstrations, presentations or meetings of dispersed teams.
 Health and medicine: on the one hand, telemedicine is developing intensively, and on the other hand, there is also educational and training activity in this area.
Real estate: virtual real estate demonstrations, training for agents or listing presentations are just some of the ideas that can be carried out through webinars.
Finance and insurance: it is not necessary to have a live meeting to engage with experts in finance. Presentations of offers, training or consultations can take place on a secure platform.
 NGOs: sharing knowledge and training their own staff are extremely important areas for third sector entities.
Tourism and hospitality: offer presentation, employee training or conferences are also more and more frequently taking place online in this industry.
Do you have any questions? Let us know!
We hope that you will find a lot of inspiration in this article, so that you will be able to operate on a wider scale and reap even more benefits from our affiliate program. If you have any questions, please write to our affiliate program manager partners@clickmeeting.com. He will be happy to answer them!