Discovering the numbers behind your webinars is the crucial factor for measuring your webinar success. Since Google Analytics is a high-level tool for gathering data analysis about website traffic, it strikes as a natural choice for evaluating your webinar performance. How to use it? Here's a guide you won't find anywhere else!
First off, you need to make sure that your webinar software platform comes together with a Google Analytics integration. This way, after setting it up, you will be able to empower your digital business with some essential data collected from your webinar pages.
Now, let's dive into the subject:
Why do you need Google Analytics integration?
If you want to put your webinar activities into perspective, you will need to track some invaluable statistics about your online events.
Integrating your webinar platform with your Google Analytics account will help you to get control over some actionable insights:
You will receive some intel about users who landed on your webinar registration page;

The number of registered attendees will be right in front of you;

All the demographics and localization of your webinar attendees will be easy to analyze and manage in terms of upcoming campaigns and lead nurturing activities.
Having that said, we are ready to walk you through our unique guide on merging ClickMeeting webinar software with your GA data platform:
How to integrate Google Analytics with ClickMeeting?
Create new Property
What we recommend as a starting point is creating new Property in your Google Analytics account, so you would be able to collect the data only from the traffic in your webinar pages.
Why would you need to create one from scratch? Because if you integrate your ClickMeeting account with an existing Property in GA, you will generate unnecessary noise in your data governance. The numbers will be mixed up with statistics coming from your other websites, and you will have to spend some time to filter the results. We encourage you to think twice about choosing that path unless you're an advanced GA heavy user.
Here's how to create a new Property – click on the Administration icon in the lower-left corner of your GA dashboard. Next, you will see this screen:

After clicking the "Create Property" button, you will land here: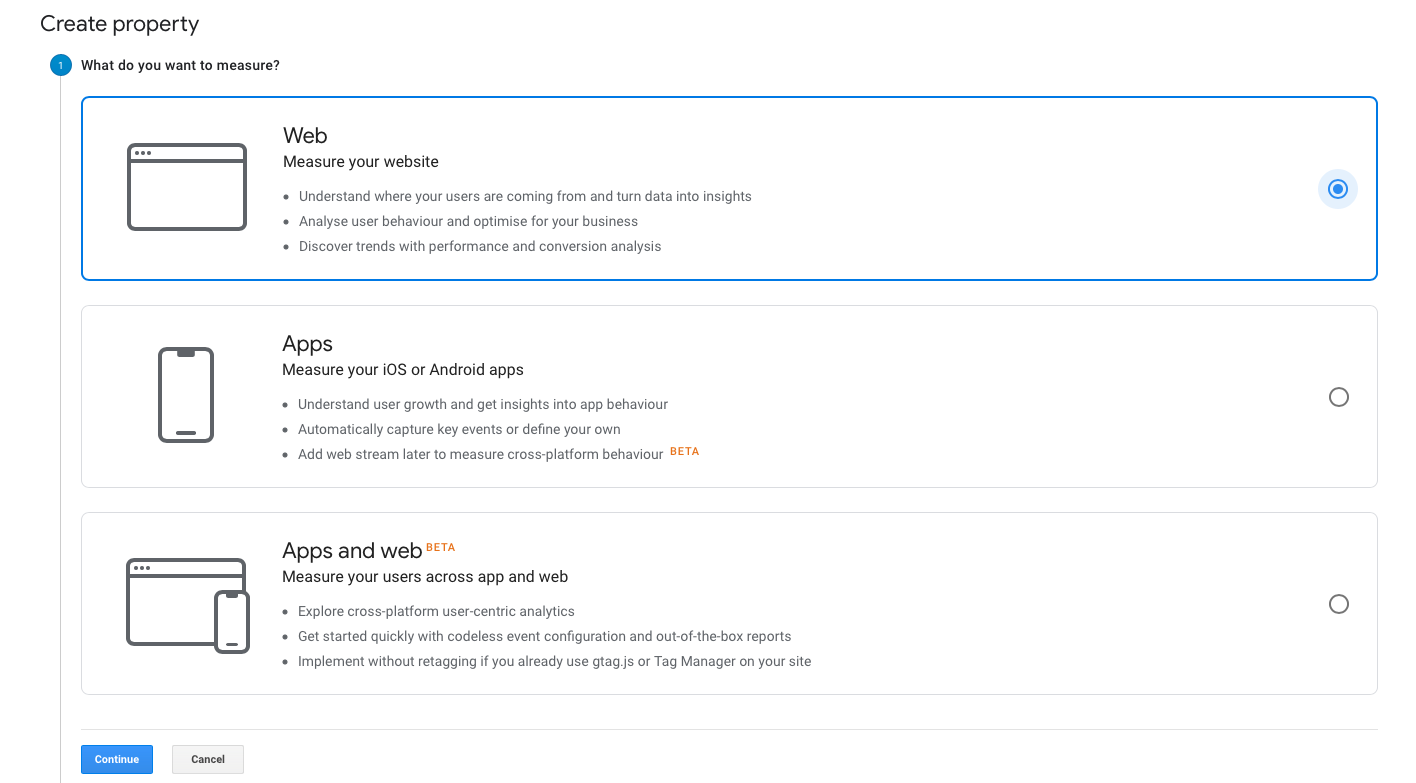 Choose the Web option here and then enter your domain on ClickMeeting in the Property details inputs: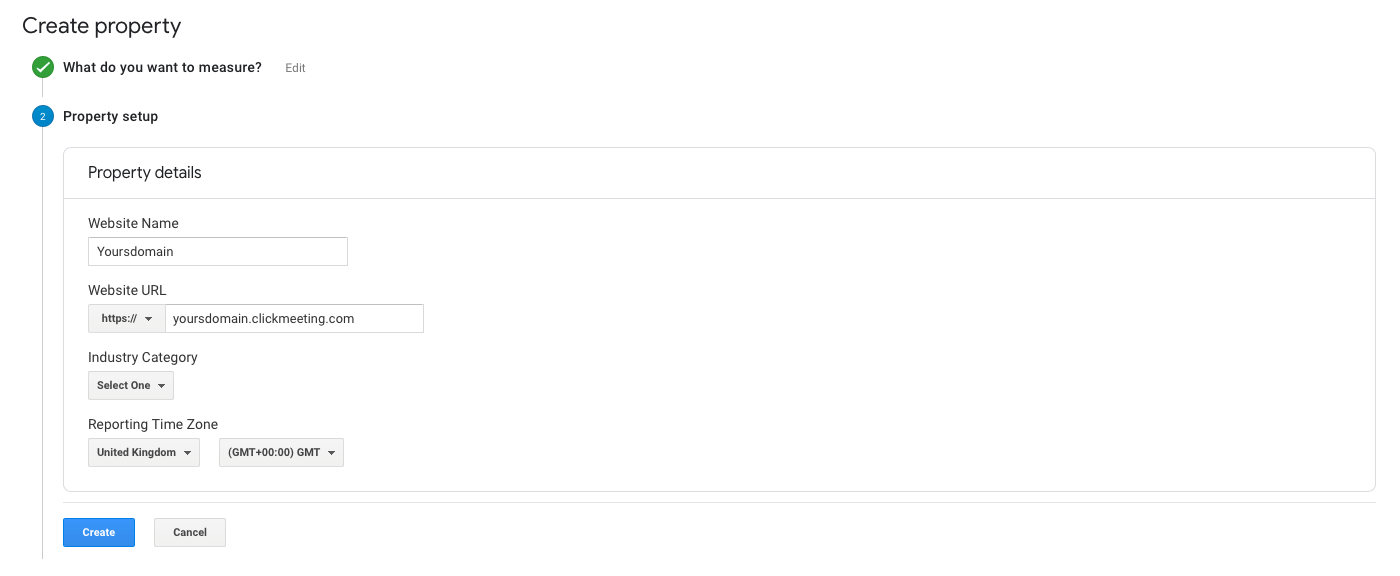 Google Tracking ID
When you're ready, get back to the Administration page and expand the "Tracking info." Next, click the Tracking Code link.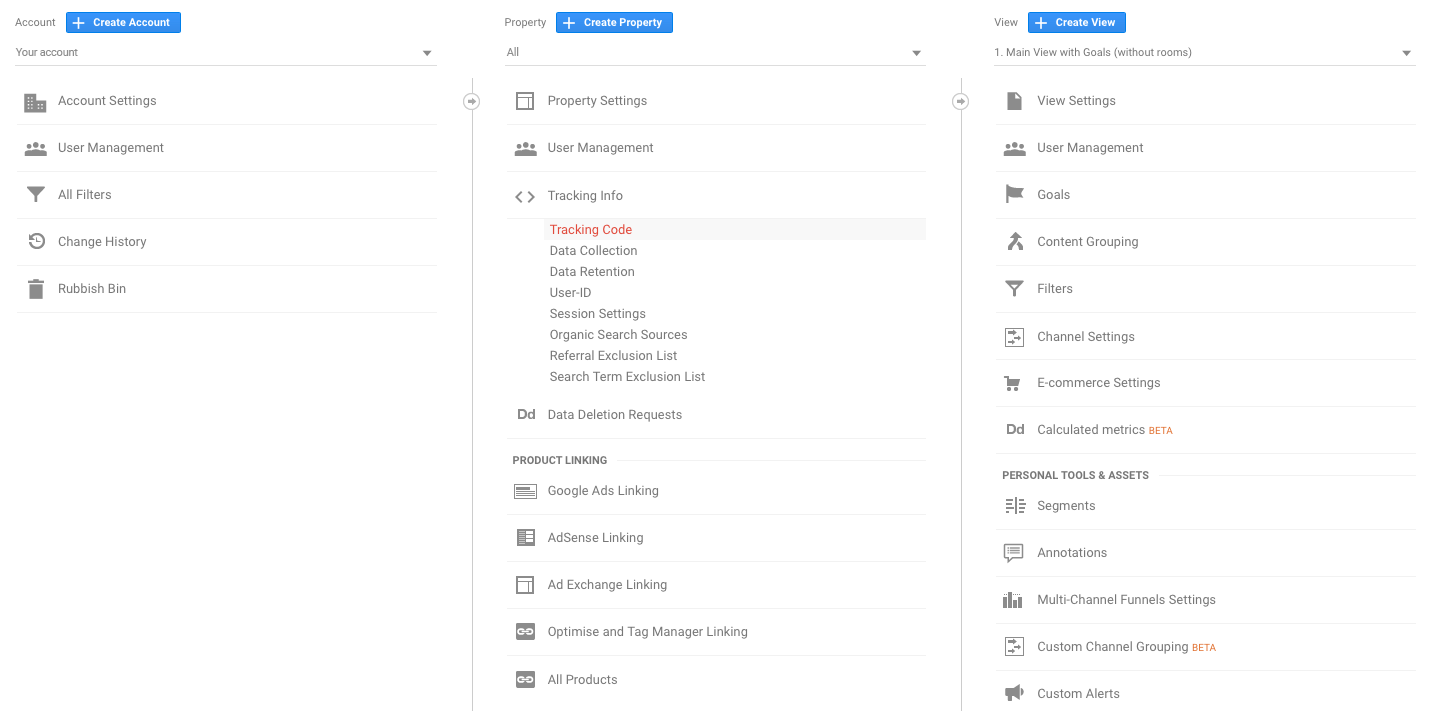 Right after this, you will easily find and copy the Tracking ID.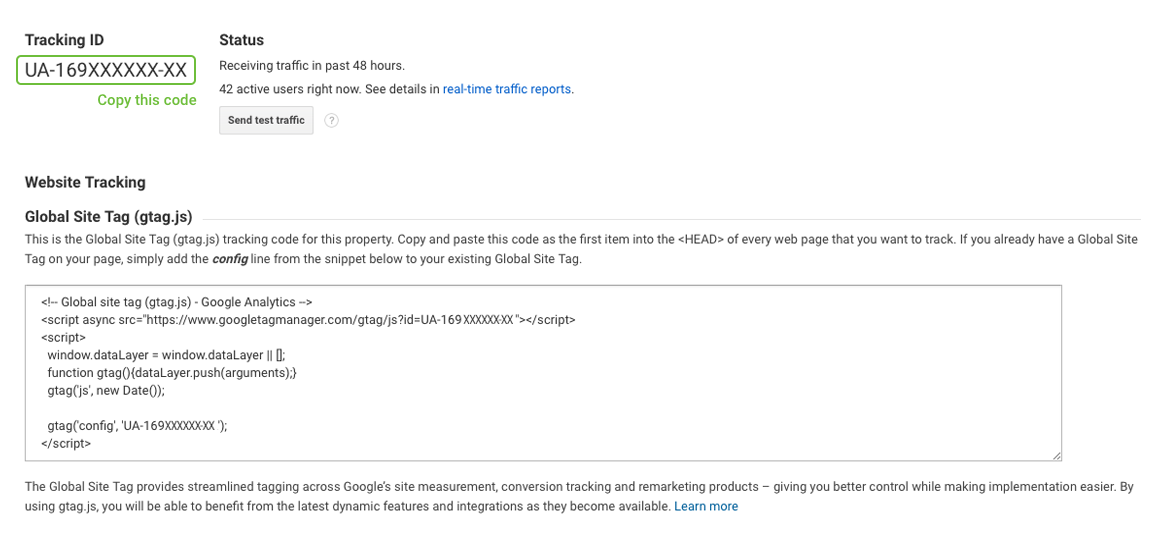 Your next step involves some configuration back in your ClickMeeting account panel. After logging in, you need to:
Go to your Account Settings right under your account name in the upper-right corner;

Click the Integrations tab and scroll down to the Analytics and Remarketing section;

Expand the Google Analytics, paste your copied Google Tracking ID in the field and hit the Connect button.
See our full instruction with visuals on our Google Analytics integration page.
Where can you check and analyze your data reports?
OK, so once you set up your Google Analytics integration with ClickMeeting, you are fully prepared to schedule and host webinars with a thought in your mind that all the numbers will be right at your fingertips.
To check out the overall performance of your webinars, go to your GA dashboard, click the Behaviour link from the menu, and expand Site Content. The screen below is just to show you where it is, so no peaks and no page views here, but after launching your webinar campaigns, you will have some valuable insights to go through.

You definitely would want to explore your webinar audience. Who are they? Where do they come from? It's time to take a deep dive into your analytics, including the location of your attendees. To do that – go up in the menu to expand the Audience section.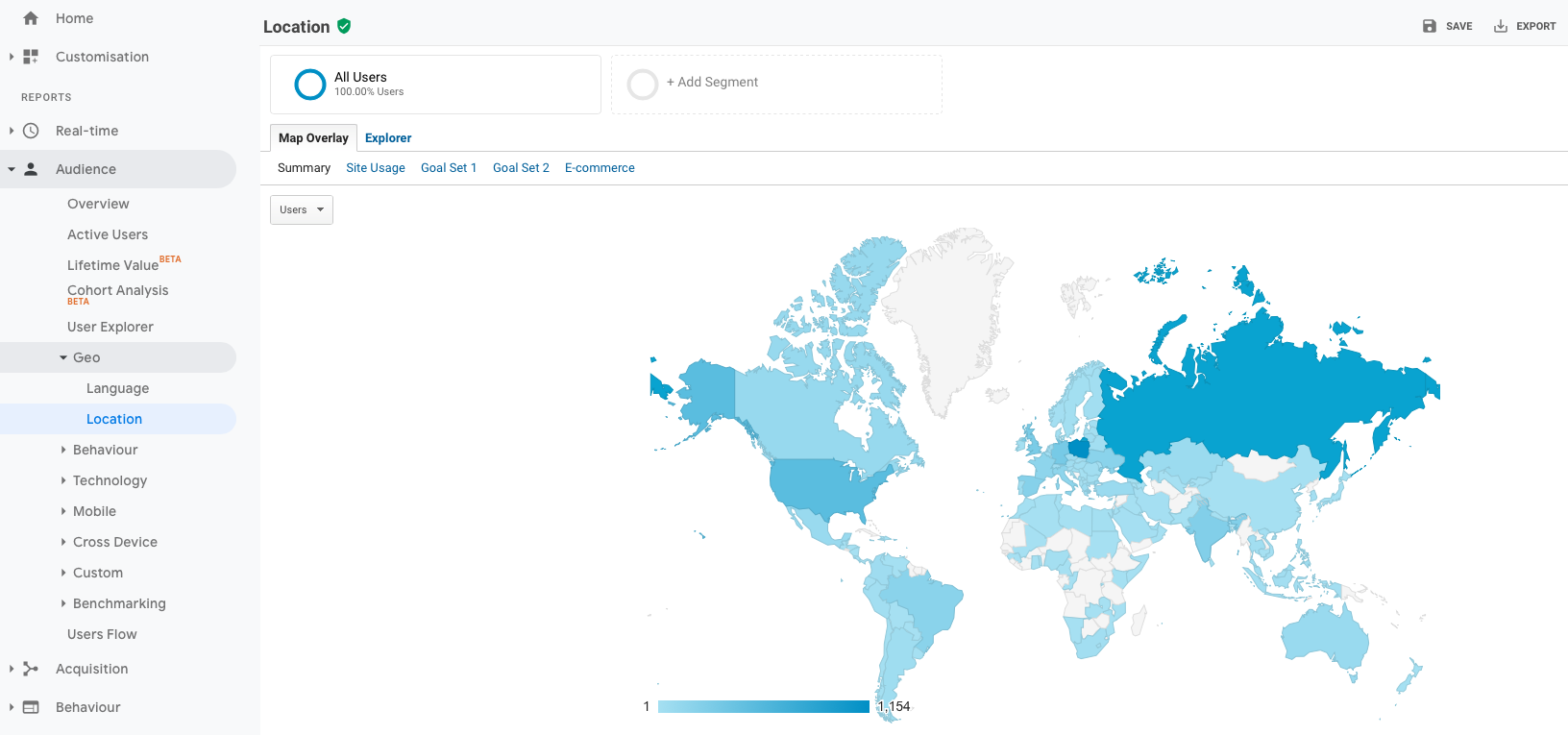 When can you analyze the statistics?
You have two options for evaluating your webinar analytics:
Checking your stats in real-time as you move along with your webinar campaign. All you need to do is to expand the first section in the Reports menu in GA. Expand the Real-time option and get an overview of how many users are on your webinar pages at the moment, and what kind of device they use.

Diving into your insights after the webinar is over. After 24 hours, all your data will be available in all GA reports. First, follow theBehavior / Site Content / All pages
What do you need to pay special attention to?
What we described above is the ideal scenario on how to match Google Analytics with ClickMeeting webinar software to make it work efficiently.
There are a couple of elements that may require some special attention.
Make sure that:
You check the correct Property in your GA panel. Take a moment to ensure that the Property you are looking at is with the same Google Tracking ID you have pasted in your ClickMeeting account settings. It might bring some confusion to the table if you already have more than one Property. As we mentioned earlier, if you connected ClickMeeting with an older Property, you're risking mixing up the data.

Your Google Analytics account is configured to have any additional Views. It might be tricky if some other Views / Accounts have defined filters. You need to double-check whether that filtering doesn't exclude the traffic coming from the IP you want to track. Find some time to check if any other filters are blocking the traffic from particular domains and catalogs – it might be the case that your ClickMeeting webinar pages would be impossible to track and analyze.
Are you ready to start?
Running webinars has found its way into sales and marketing strategies all over the digital world. However, to manage your webinar activities like a pro, you need to embrace some data science.
Google Analytics integration is an ideal solution, especially if you already use GA to analyze your web traffic.
Log in to your ClickMeeting account, paste your Google Tracking ID, and start your webinar analytics adventure today!