If it was a regular year, we could have wrapped up all the product improvements deployed throughout the last 12 months, show our appreciation to you for being our customers, and sprinkle it with Merry Christmas and Happy New Year wishes. And it would be sincere, no doubt about it. But this year was different. Challenging, tough, extraordinary. And it was our privilege to help you stay in the game.
2020 will be taught on history lessons, that's for sure. The pandemic turned our world upside down, and we all had to adapt to it – and do it fast.
The challenge
Schools, universities, teachers, trainers, but also marketers, salespeople, and other types of managers and business owners – all had to implement 100% online communication overnight.
And for thousands of people worldwide, who were complete newbies when it comes to using video conferencing, webinars, and virtual classroom platforms, the process wasn't easy.
On the other hand, even those who have tried those tools in action before the outbreak, making a switch to full-time remote work and online education model required proper guidance and well-equipped platforms.
The solution
We know how it was. And it was hard. We didn't have to put ourselves in your shoes. We already were in those shoes – we switched to remote work as well, and our kids started to continue their school year with laptops and an Internet connection.
So, our mission here at ClickMeeting was to provide a seamless online communication platform and relevant, practical know-how to help you get through this, and what's more – do it effectively!
Let's dive in!
A platform to run all types of online events
The strategy was to turn our software into a tool that will enable you to organize online events of all shapes and sizes. Regardless of whether you need to meet your students or remote team members in a cozy and fully interactive event room or want to stream your content to a much wider audience.
It all had to be there – in one place! To rule out any possible frustration of jumping between various platforms. And most importantly – the goal was to deliver you a super-intuitive way of using the application.
Here's what we achieved:
Redesigned account panel
Ease of use equals a better user experience. Period. New ClickMeeting's account panel with a fresh and intuitive interface opened up a way to quickly and easily choose and schedule any type of an online event:
Live webinar;
On-demand webinar;
Automated webinar;
Planned meeting;
Or a spontaneous online meeting with a "Meet now" option.
Fully interactive online meetings for 25 people
The whole point of efficient and productive remote work and online collaboration is a wise implementation of communication tools. Naturally, there's a wide array of those – you have Slack, Jira, Trello, or Monday for sharing information, files, feedback, and to move projects forward.
But to make things work, you need to talk to each other online where all the team members can see and hear each other. And this is where our online meetings come into play!
We introduced a tool for virtual get-togethers where all the attendees can turn on their mics and webcams, share screens, and leave comments in the chat window.
Huge virtual events for up to 10k viewers
From a micro to a macro-scale. Yes, you didn't misread it! This year we introduced a webcasting technology that enables you to organize a large-scale online summit where even 10k people can watch what you have to offer!
Huge virtual events feature comes to the rescue, especially for the event industry – one of the first business sectors affected by the lockdown. Moving off-site trade shows and conferences to an online world was the only way to go (apart from calling off the event).
And this is where the beauty lies – turning a traditional event into a digital one brings more benefits to organizers!
Here's the proof:
Synchronizing layouts and saving the event room set-up
The idea behind these two features was preparing your online event in advance and keeping control over how it looks for you and your attendees.
First, saving the room set-up – with this tool, you can make your event room ready long before you go live! All you need to do is to click "Save" in your room, and it's done! All your content and room set-up will remain as you've set them up even if you close the event window.
Second, we have rolled out the Room layouts feature with an upcoming option to synchronize your view with what your attendees see on their screens.
In a nutshell, with this tool, you can easily customize your event room layout and the composition of the crucial elements – chat window or AV pod.
Plus, you can synchronize the layouts, so your attendees and other presenters will see the same elements as you have on your screen.
New user-friendly mobile app
Although we have been developing our mobile app before the pandemic struck us all, we released it to the wild when the entire world was getting to know how to work and learn online.
With our rebooted application, running and joining online events got even handier:
Intuitive and captivating UX design. Our primary goal was to deliver an app that minimizes the number of actions you need to take on your smartphone to tap into an online event.

Stunning audio-video quality. Using your smartphone as your pocket video conferencing tool had to meet the highest sound and vision standards.

No more screen-swiping. Your attendees don't have to swipe the screen to see different elements of your online event. 

Working in the background. If you run your event on your mobile, you can still use other functions of your mobile, and it will still be working if your screen fades black.
Providing a stable platform and hands-on support
To help you weather the storm, we've rolled up our sleeves to deliver a seamless video conferencing and webinar platform.
We coped with a tsunami of traffic and an enormously high number of online events – just look at the below numbers to visualize the scale better.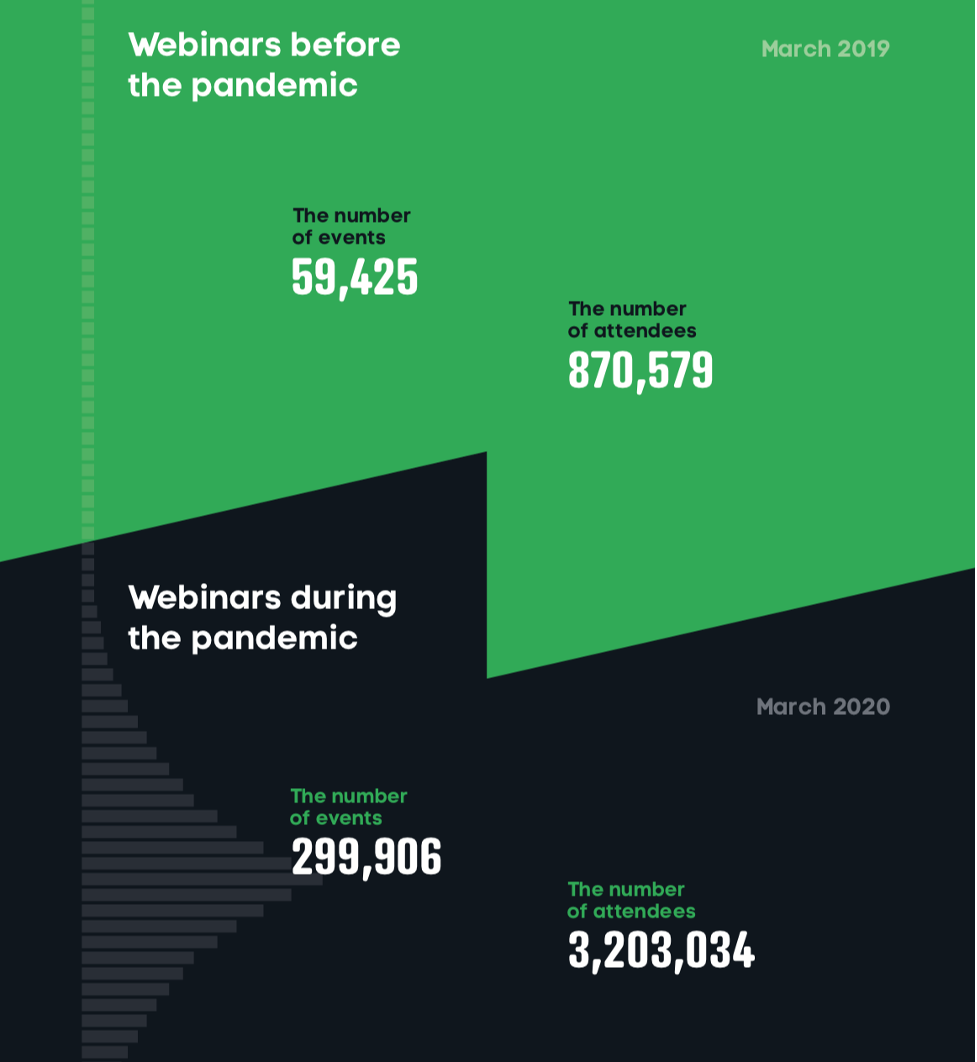 Yes, the number of online events held on the ClickMeeting platform has quadrupled to almost 300 thousand in March 2020.
That's eight thousand digital gatherings a day! This heavily intensified number of webinars and online meetings required magnified technical work.
Expanding our server infrastructure
As you can see, the lockdown has brought a multiplication of all the statistics to our table. Every week, the number of events hosted on the ClickMeeting platform has increased by approximately 375% compared to a standard week before the pandemic.
Likewise, the number of attendees of those online events went up by 560%. A similar trend applies to event hosts' presentations – the number of files has increased by 619%, and event recordings have enhanced by 180%.
We needed to act fast. Let's give it to Bartłomiej Bałdyga – the IT Director at ClickMeeting:
For our system to cope with that strenuous activity of our users, we needed to take resolute actions – we have expanded our conference server infrastructure by 112%. We have radically scaled up to other elements such as streaming servers or recordings and file storage. Please bear in mind that wasn't the end – we had to work around the clock to optimize the application's performance. We can say that in many cases, we have moved heaven and earth.
Let's break it down and show it by the numbers:
Conference servers – 112% up
Streaming servers – 115,6% up
Recorders – 103% up
Frontend servers – 133% up
Thanks to those actions, we managed to stand firm and deliver a video conferencing platform where you can entirely rely on stability.
Scaling up our Customer Success Team
Long before COVID-19 showed up to make such a mess, we have been proud of the support quality provided by our Customer Success Team. Throughout the years, our technical advisors and account managers have been pushing the boundaries to help teachers, trainers, marketers, and many other busy professionals to become fluent in running online events on ClickMeeting.
But along with the global switch to remote work and online education, the number of inquiries reached the boundary of the stratosphere.
How did it look like during this challenging year?
To put it into perspective, let's do some time-traveling. Back in 2019, from January up to the end of October, we had over 58 thousand direct interactions with our customers – through email and chat. When we look at the same period, but in 2020, we are talking about an overall number of 112 thousand contacts, which on average is twice as much. Still, in the busiest months of lockdown (from March to May), we were looking at a tripled number of inquiries comparing to the previous year – says Maja Korpusik, Head of Customer Experience at ClickMeeting.
To help you not only survive but thrive in those difficult times and to give you a handful of practical advice, we needed to get more team members on board. At this stage, we can say that with the new hirings, we have expanded our Customer Success Team by 65%!
Data security in terms of the Privacy Shield
During this year, people worldwide have been learning virtual communication as an everyday professional and education tool. It was a matter of time that some mishaps would occur, obviously picked up by news sites and social media users. Some of them are hilarious or embarrassing (like forgetting that the camera is still on and using the toilet during an online meetup); others are more pathological, like zoombombing.
The aspect of online meeting safety became vital and, luckily, we already had an answer for that:
But that's protecting you from trolling your online conference.
When it comes to data security, on the other hand, there was a breakthrough on July 16th, when a judgment of the European Court of Justice invalidated the Privacy Shield.
What's a Privacy Shield? It's one of the mechanisms sanctioning the transfer of personal data of European Union citizens and persons residing in the EU; it means people whose data are processed based on GDPR principles.
The end of the Shield boils down that EU citizens' data cannot be transferred and processed on American soil where the GDPR rules don't apply.
What does it mean in terms of organizing webinars, virtual classrooms, and online business meetings? Taking good care of the data security of all attendees. Secure online communication should be one of the top priorities.
Here at ClickMeeting, we are incredibly sensitive about that responsibility. As a Polish company, we come in line with GDPR rules. Moreover, we moved our entire server infrastructure to the EU territory, which means that data storing and processing of your meetings' and webinars' attendees are processed and stored with strict safeguards.
Not only a top-notch product but also a useful know-how
As we outlined before, making a switch to 100% online communication wasn't a piece of cake. For thousands of educators and professionals worldwide, who weren't digitally native before the outbreak, things were more challenging to handle.
Knowing how overwhelming it can be, we rushed to produce tons of educational content. The goal was simple – to guide you through the unknown waters of remote work and e-learning.
At the very beginning of the lockdown, we created the ClickMeeting Academy group on Facebook – a dedicated place to share insights and answer questions in real-time.
Also, we rolled out three beginner-level guides:
But it's just a warm-up! To make it easier, we produced 27 video materials to walk you through different aspects of running webinars and online meetings.
Take a look at the examples below:
To give you more insights and inspirations, we created and published 42 articles on our blog! We covered real-time changes, such as The End of the Privacy Shield – What Does it Mean for Online Events?, or webinar fundamentals like Live Webinars Fundamentals: How to Use Them for Your Content Mix and How to Do a Webinar? A Complete Guide on How to Organize Webinars, comprehensive guides for online teachers and trainers Teaching and Training 100% Online? Here's Your Guide to Creating a Virtual Classroom, or for remote business meetings How to Run Online Meetings: A Complete Guide.
And finally, we took a deep dive into internal and external data and conducted detailed surveys to come up with three reports to show you the actual state of webinars, video conferencing, remote work, and teaching online in times of the pandemic:
Thank YOU!
All in, it was a year the entire humanity will remember for a long time. Those changes still have an impact on every aspect of our professional, educational, and private life.
At the end of 2020, and shortly before Christmas, we would like to wish you peace of mind, happiness, and some unforgettable moments with your closest ones.
Let's hope that the upcoming year brings us more predictability and positive changes. Online communication is much likely to stay for good, but after the last months of learning and adapting, we are sure you will thrive!
Merry Christmas!