With the ClickMeeting mobile app, you can use our platform from virtually anywhere. Now it has become even more interactive. With live emoji, you'll be able to react to what's happening in an event and communicate intuitively with others. A new place for chat will make using the app even easier. Apart from that, a few changes have also been introduced to the browser version of our platform.
While creating our product, we carefully listen to the voices of our users and make sure that access to all functions is as intuitive as possible. We've recently made a few changes that are sure to make ClickMeeting even more user-friendly for new and existing users, including your event attendees. Check out what we have prepared for you and find out what's new in our platform.
What are emoji?
Modern communication is not limited to words. We use animated emoji more and more willingly and frequently. Why are they almost irreplaceable in today's world?
They allow to express diverse information and emotions in a condensed and attractive form,
They successfully replace more complex (and therefore time-consuming) statements,
They are visually attractive,
They give the possibility to react immediately e.g. to the statements of others,
In online communication they complement verbal communication.
The last point is worth considering: according to psychologists, what accompanies our words, i.e. gestures, facial expressions and behavior, is able to convey much more than the statement itself. At the same time, showing emotions in the online world is a little less intuitive than in standard contacts. Emoticons, which later evolved into emoji, have largely solved this problem.
Discover live emoji in ClickMeeting
Emoji are also a great addition to your webinars and online meetings. They can be used in a variety of ways:
Easier communication: users can react to what is happening during the event without having speak up or post a message in the chat room.
Reporting issues and requests to speak up: this is also an easy way for attendees to ask for help or let you know they have something important to add.
More interactivity: engaging your participants is crucial. With emojis, they get another opportunity to actively participate in the event.
Easier moderation: by displaying emoji for a short period of time, you can keep chaos under control and significantly reduce organizational problems.
Currently, you can use 10 emoji indicating emotions and two status icons. All of them will be displayed in the AV window. Important: you must have the camera and/or microphone on to use this option.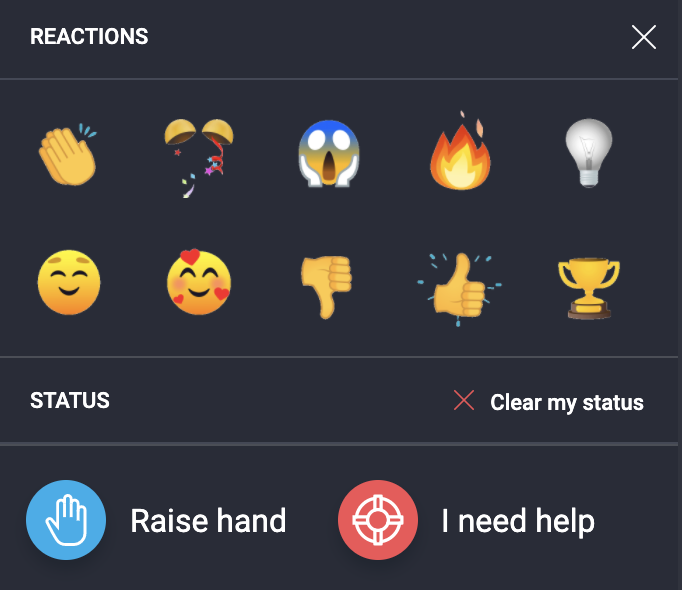 With live emoji you can, among other things.
Show interest,
Support an idea,
Take part in a quick vote,
Congratulate another participant,
Ask for a vote,
Raise an issue.
Status icons can be used in parallel with reactions.
Where you can find live emoji?
In the mobile app, you can use the live emoji by selecting the three dots shown below your AV window.
The live emoji will be displayed for 15 seconds in the AV window.
In the browser version of ClickMeeting, you will find the emoji icon in almost the same place: between the screen sharing button and the settings.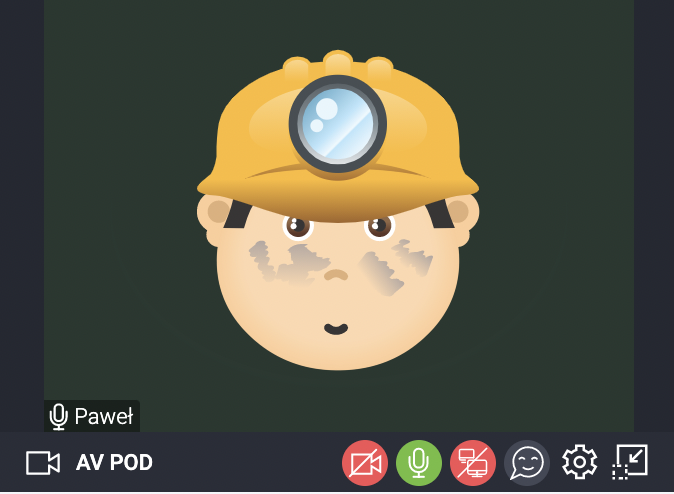 Chat in the mobile app
Chat plays a very important role in almost every event. Very often, it is where the best ideas are coming from, and where participants share their insights or concerns.
From now on you will always find the chat in the mobile application in the same place: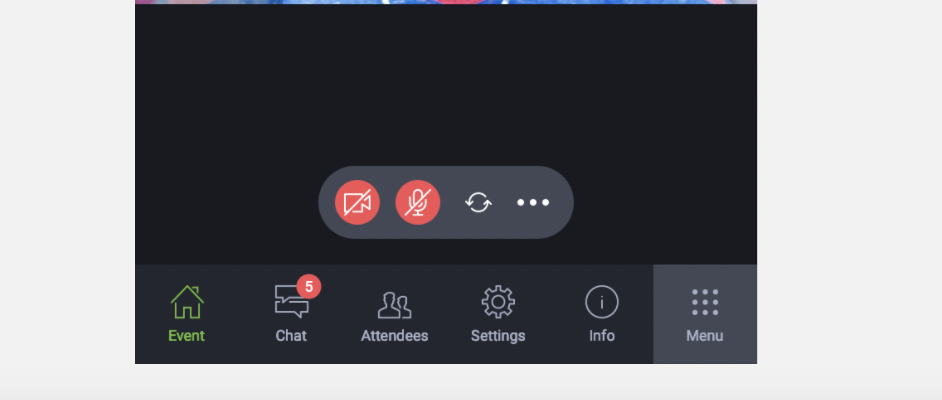 Just select the appropriate icon in the bottom bar to expand the chat window and start a conversation. Of course, there you can also use emoticons sorted by thematic categories, which will make the communication even more interactive!
Recording an event
Some changes also apply to recording your events. Currently, to start recording, you must first start a webinar or online meeting. However, the recording option is disabled in preparation mode:

This way you avoid recording the preparations for the event by mistake, which sometimes required you to cut the finished recording yourself and made it a bit difficult to automate your work. You also gain the certainty that the file will contain only what you are willing to share with others.
Camera mirror view
We believe that online meetings are perfectly capable of replacing those that take place face-to-face. Of course, the way you see your interlocutors plays a key role. Currently we have enabled mirroring by default so that you can feel as if you are in a real conversation. You can of course change this option at any time in the AV Window settings.