Video conferencing, online meetings, and webinars have been on an immense rise over the past few months. And frankly – they still are. Since the pandemic turned everything inside out, the number of online events went through the roof. In this article, we will break down video conferencing as a tool and show you how to put it into play! Let's go!
Before we dive in, let us give you an up-to-date overview of what's happening in the business. As we highlighted in our latest report, every week, we have noticed 375% more online events than before COVID-19. Those events have gathered a 560% bigger audience.
There's a lot of more valuable data we have for you here, but first – the definition of a video conference.
We need to ask ourselves – what is video conferencing?
What is video conferencing?
Video conferencing is a real-time, audio-visual form of online communication, organized with the help of browser-based, desktop, or mobile applications. This technology helps to connect people scattered around the globe and enables them to get together in an online meeting room.
What's the point of using video conferencing systems?
Long before the lockdown disrupted the way we live, video conferencing software has been one of the most crucial means of online communication in terms of private web calls with family and friends. Most importantly, it comes to running a business and educational activities.
Companies of all shapes and sizes have embraced video meetings and web conferencing to cut down the business travel costs, save time, and nuisance necessary to organize traditional, onsite meetings held in office conference rooms.
Introducing a video conferencing solution in an organization was a way to swiftly connect and collaborate with employees, managers, associates, business partners, or freelancers from every corner of the planet.
Aside from other tools for project management, time tracking, or documentation management, video conferencing software has become paramount to keep a ball in the field and to achieve business goals faster and more effectively.
A global switch to online meetings
We all know how it went in March 2020. Everything has changed overnight, and businesses, schools, universities, healthcare institutions, and NGOs (the list goes on) had to quickly adapt.
These visuals from Exploding Topics speak louder than words: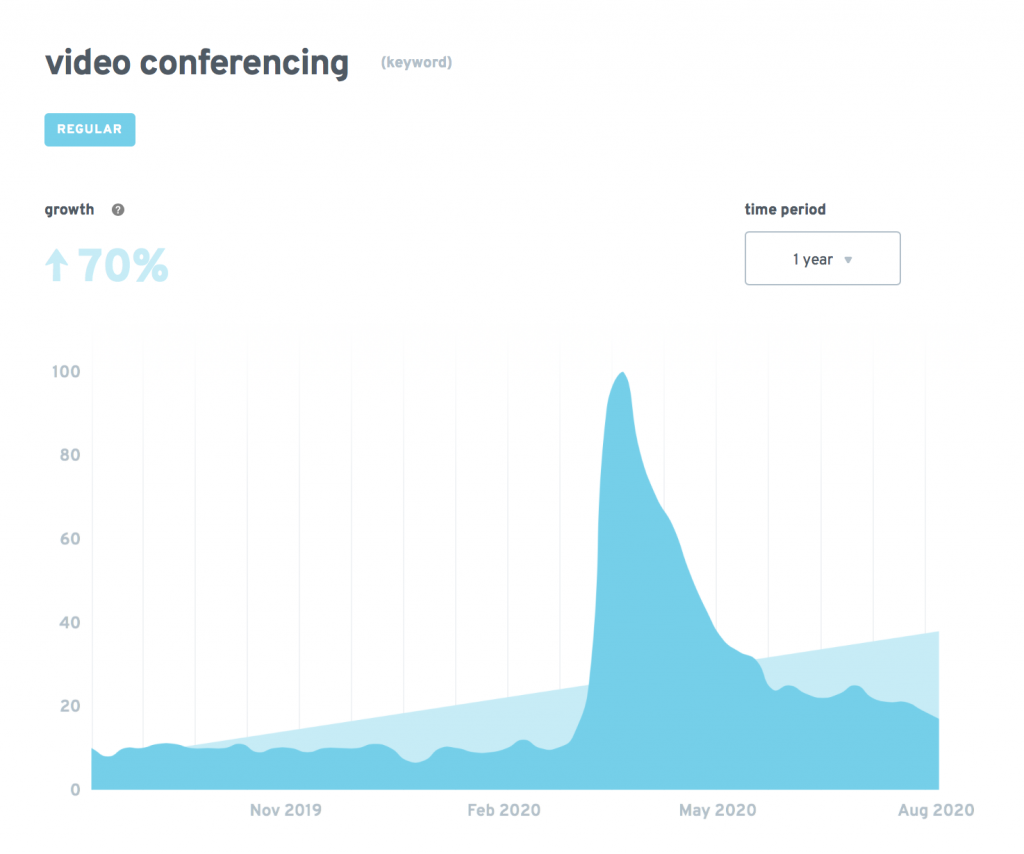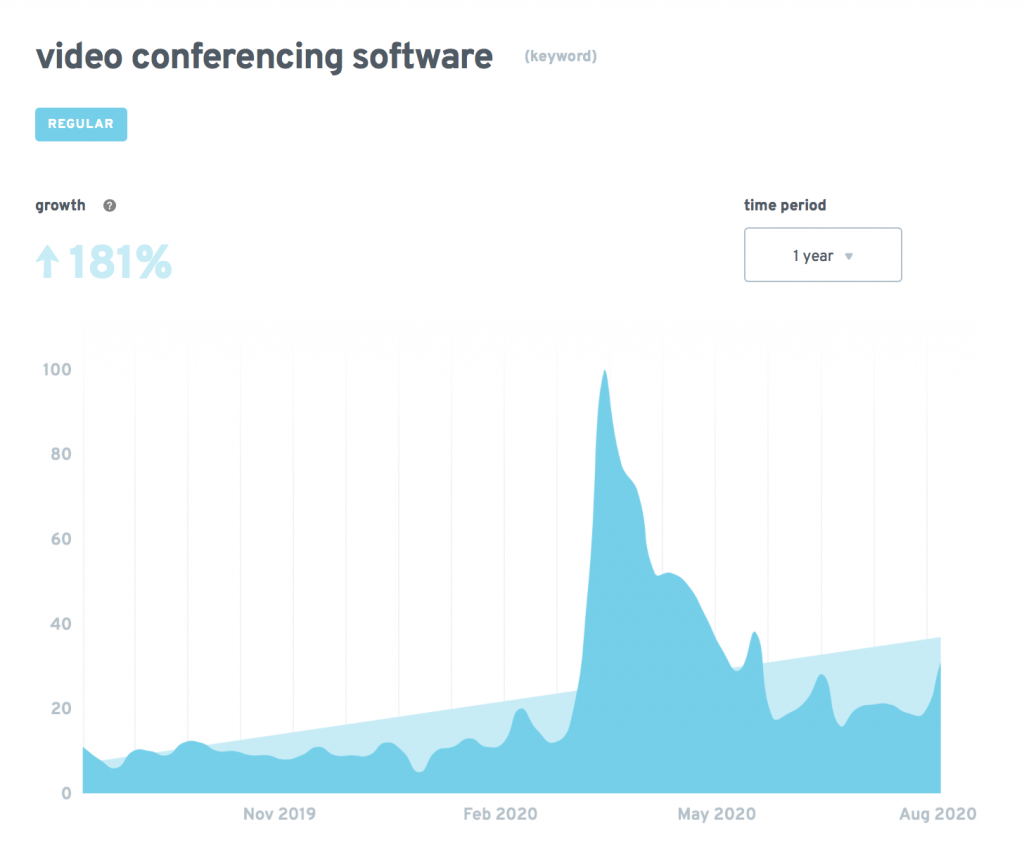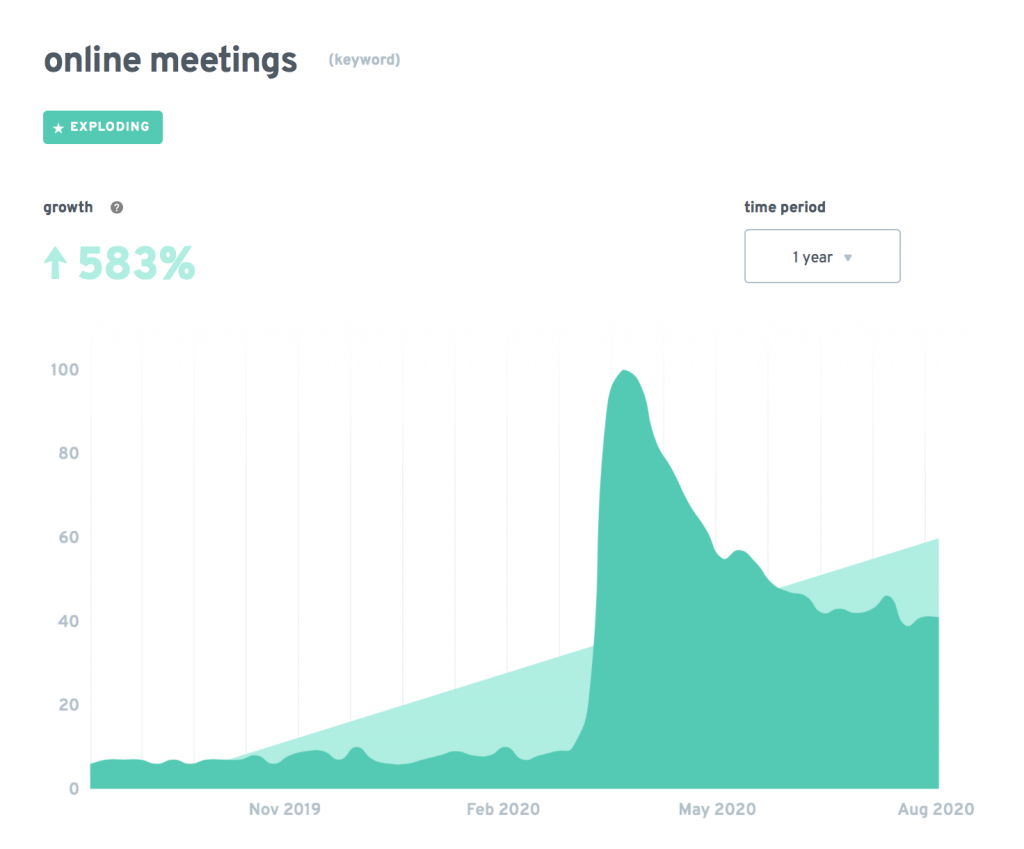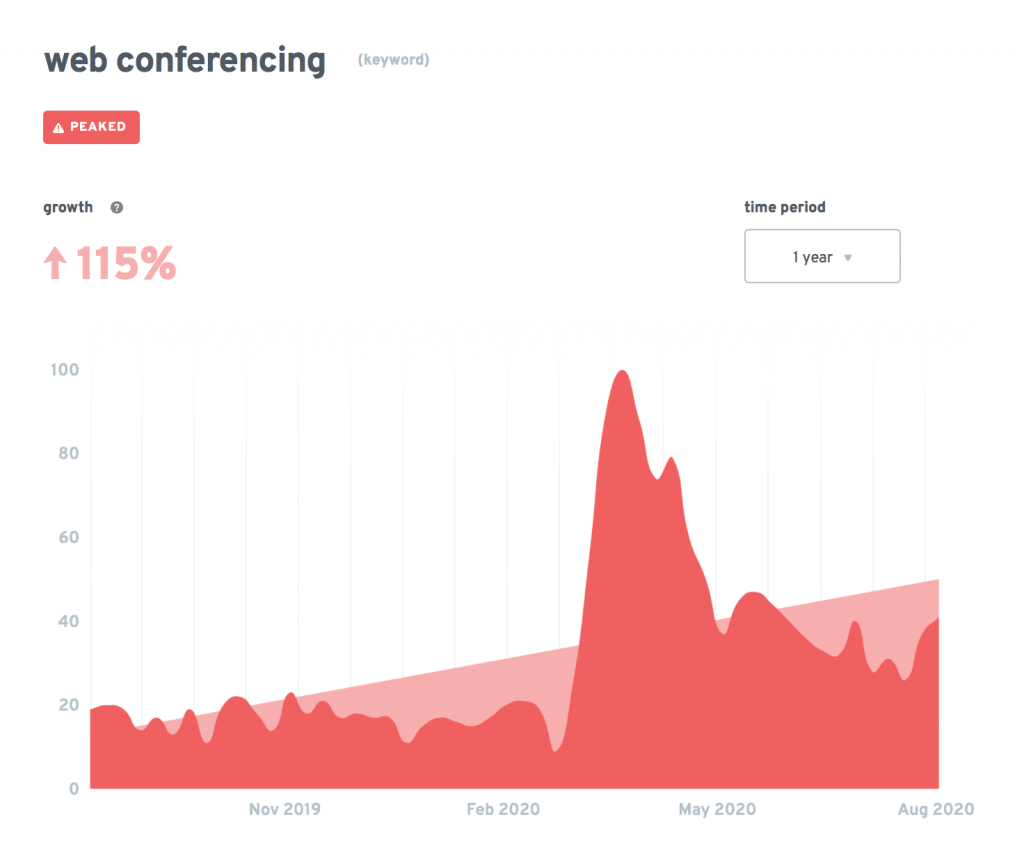 There is no doubt that those topics literally exploded, which triggered us to conduct a survey about using webinars and video conferencing platforms in times of the pandemic.
The results, presented in our in-depth report, are crystal clear – the new reality has changed the business goals landscape for using this technology.
That said, our respondents' answers incline that:
running business meetings and organizing online meetings with employees jumped from 45% to 50%;

project collaboration – improved from 36% to 43%;

lead generating and nurturing went up from 12% to 17%;

organizing virtual conferences has made its way from 11% to 15%;

PR communication has increased in popularity from 9% to 14%;

the educational goal for using webinars and video conferences is still the highest, despite a slight decrease from 48% to 46% of respondents' answers;

running professional training sessions, on the other hand, is still on the rise – 41% before the outbreak, 44% after the lockdown came to life;

the same goes for the employee onboarding and training field, where we're talking about growth from 15% to 17%.
How to do video conferencing right – 4 key elements
OK, so video conferencing and online meetings have become fundamental in terms of obligatory remote work and online teaching. Now, let's take a closer look at vital aspects of introducing digital get-togethers in your everyday work.
1.    Equipment
When it comes to hardware, you obviously need a computer or a mobile device. We will not go into details for describing laptops and smartphones, but we will definitely give you a hand with choosing between a simple webcam or a complex video conferencing system.
We have tested and described them here:
2.    Security first
The highest demand for video calls we have even seen, also exposed a vulnerability for potential attacks, which the history of the Internet will remember as zoombombing. What's hidden under this term, comes down to taking over virtual meetings (online classes, business meetups, and other kind of online events) by trolls and disrupting them with highly inappropriate content, that those meetings' attendees wouldn't like to remember.
What's more, organizing open-to-all online events can lead to harmful data leaks and revealing strategical plans to competitors.
So, choosing the right software for running safe and sound online meetings is the key. Make sure that your platform of choice ensures securing your future events with a password or a unique token.
Like in this video:
3.    Data protection
If you live and work within the EU borders, bear in mind that your video conferencing should comply with the strict GDPR rules.
The latest judgment of the European Court of Justice of 16 July 2020 invalidated the Privacy Shield. It's a system that regulates data transfer rules from the EU to the US and legalizes their processing in the US.
What does it mean for the online meeting environment? Most of the vendors come from the US and have their technological centers on American soil. It means they have to figure out how to adjust to the new legal reality because the Shield is no longer there.
In your perspective, as an online meeting host, it's the smartest move to choose a platform that has its servers and data processing located in Europe.
More on this subject in this article:
4.    Features
As soon as you find the right platform that will ensure you the highest security and data protection standards, it's time for you to check out their toolset. What kind of features should you be looking for?
Audio and video connection – seems obvious, but it's worth double-checking whether your future online meeting platform has all it takes to see, hear, and talk to all the meeting participants. Like this:
Your turn
Naturally, there is a wide array of other tools you would find useful for making friends with video conferencing, but those above are the rudiments.
Meeting students, teachers, business partners, and teammates online is currently an aspect you cannot skip. Connecting them with an audio-video app, packed with multimedia tools, is a way to go.
Download our report about the latest trends and check what industries have embraced webinars, online meetings and video conferences, and their business goals: