Virtual conference, video call, online meeting, or a webinar – in the days of the pandemic-driven lockdown, those tools have become fundamental. There is no other way to maintain communication for businesses, schools, and universities worldwide. But recent events showed that video conferencing could also be vulnerable. In this article, we will show you how to protect your virtual conference from going wrong.
Meeting other people on conference calls is nothing new, far from it. But because this form of communication had to replace onsite meetings entirely, everyone had to switch from one to another. In no time!
Teachers and lecturers are meeting their students in virtual classes; companies' team members are joining daily get-togethers to discuss business projects and everyday tasks.
Work from home, remote knowledge sharing, and collaboration is no longer an enticing and comfortable option to beat a geographical distance between people – it has become a must.
However, reality quickly exposed the downsides of video conferencing.
https://clickmeeting.com/tools/huge-virtual-events
Video calls gone wrong – what can happen?
Technology as such is great, but the devil is in the details. Running or joining video meetings means dealing with possible interruptions. Some of them are funny, but others are rather scary.
Let's start with the light ones that people immediately love to share like this one with professor Robert Kelly who rocked the Internet three years ago:
Oh, my camera was still on?
There is no doubt – legions of professionals are now forced to work remotely. For many, it's a piece of cake, but it can also be a challenge. Because you're at home, it might be enticing to work in your pajamas, cotton sweatsuits, or… boxer pants.
It's totally fine when your teammates don't see you in your pants during a video get-together but remember to turn off your webcam before you stand up. Otherwise your underwear will go public.
Videos that went viral recently also show how crucial it is to disable your camera during your team's online conference, especially when you're going to your bathroom.
Because if you don't, your colleagues (and most probably – the rest of the digital world) will see something impossible to unsee.
Unfortunately, there are other types of interruptions that are miles from being hilarious.
Trolling and bombing video conferences
Jokes aside. If you host a virtual conference, no matter if it's educational or business-related, you need to remember about the security.
Unfortunately, online events are experiencing a plague of trolls, who are disrupting video chats, video calls by hijacking screen sharing options to expose nasty images of violence and pornography.
The terms "Zoom-bombing" or "Zoom Bombed" stands for awful intrusion – hijacking video meetings to disturb their hosts and attendees profoundly.
Whereas those disgraceful acts of Internet trolling can be a real nuisance for the team online collaboration meetups held on video conferencing software, they can cause significant damage to young students who attend virtual classrooms organized by their schools.
According to Alexandra Jokich:
The FBI said it received multiple reports of so-called "Zoom-bombing," including some disturbing incidents in online classrooms. In Massachusetts, for example, uninvited guests yelled profanity and displayed swastika tattoos during school video chats.
Virtual conference done right – how to make it happen?
OK, so what's the solution? How to secure your virtual conference from this trolling insanity? It's super simple! We will show you how to do it with the ClickMeeting webinar software.
After you start scheduling your event, adding a name, and setting up a date, hour, and time zone, you need to define your access type.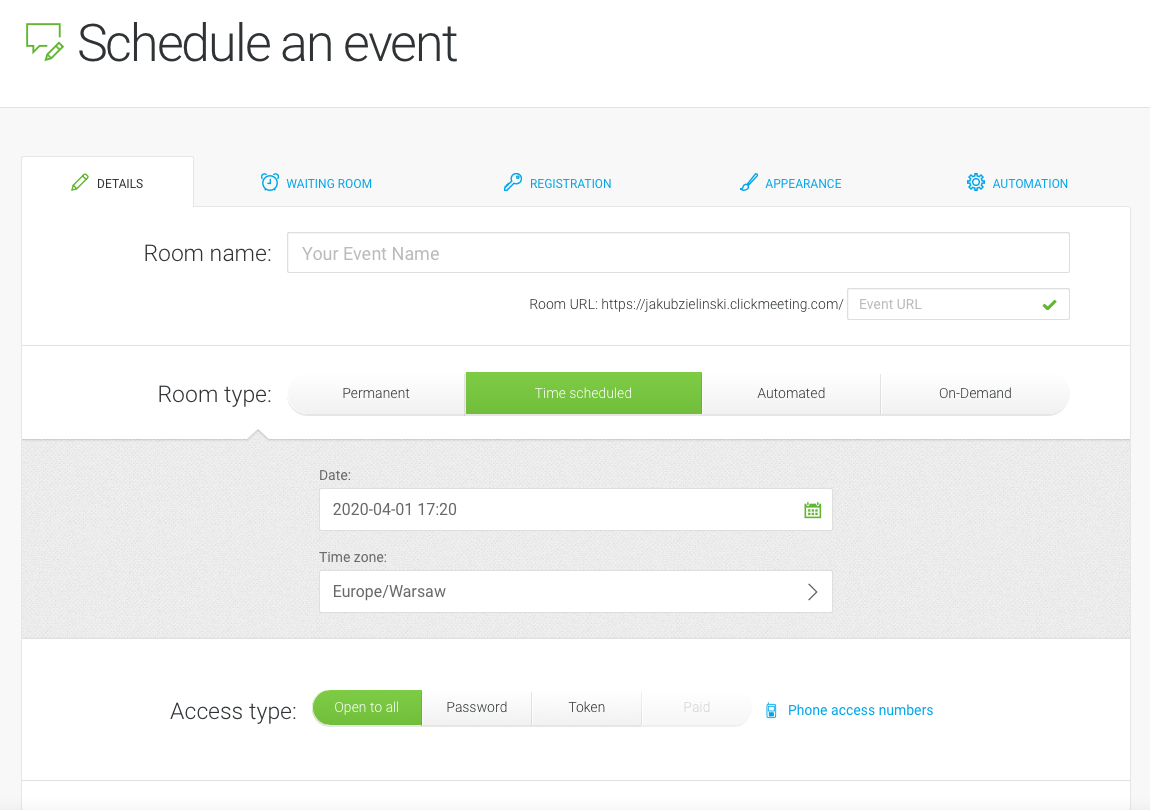 As you can see above, there are three options here:
Open to all. This means that anyone who gets a link to your event can enter it. It's certainly the quickest option to set up your online conference. Still, if you handle confidential data shared during a business meeting, or want to teach your students in an isolated, safe classroom, there are better options to go for.

Password. A password-protected event means that you provide the same password for all attendees by entering it in the field pictured below.

This password will be sent in the email invitation to all your future attendees. To join your live webinar or an online meeting, each attendee will have to type in the password.
This way is much safer than the "open to all" option but to double-secure your video conference, we suggest choosing…
Token-protected access. It's an individual token that enables each attendee to join an event by entering a unique code. An attendee receives a token in the email invitation, and then, after using it, the token expires, so no one else can use it, like a movie ticket. So, it's the most secure way of all!
See how it works in action:
There also another option – scheduling a paid event that comes down to selling tickets to your webinar. It's a dream solution if you run an online course or a training session, and you wouldn't like to be giving away your expertise for free or let any trolling intrusion from the wild compromise it.
Go for a secure video conferencing
Working, collaborating on projects, selling, teaching, and learning – right now, we all have to do it entirely online and remotely. People around the world have to adjust incredibly fast to this unexpected transformation. Unfortunately, it has implied some threats along the way.
Luckily though, there are ways to protect your virtual conferences from bombing and other awful disruptions.
Choose the ClickMeeting webinar platform to stay on the safe side. Try it for free today!
If you're looking for some useful tips for remote working with online meetings, get your hands on our free guide!