The global transition to remote work and remote education has triggered tremendous demand for video conferencing and webinar software. It turned out to be a fundamental tool to keep businesses and learning going. From now on, running and joining webinars comes even more handy – with a freshly released new version of the ClickMeeting webinar app, you can turn your smartphone into a feature-rich video conferencing device!
Before we unwrap our latest mobile application, we want to thank you! You, as our customers, have empowered us with invaluable feedback about the previous app version and hints on what could work better.
You have inspired us to roll up our sleeves and reboot our webinar app to meet your needs and expectations. Again – you're amazing, thanks!
So, let's get to it!
What's new in our just-out webinar app?
To cut to the chase – our freshly released mobile app creates a perfect balance between business-oriented webinar tools, such as streaming your events live on Facebook or YouTube or displaying a Call-To-Action button with undeniable ease of use and compelling design.
A new definition of the ease of use
One of the first things you will notice after downloading or updating ClickMeeting's mobile app will be a captivating and intuitive UX design.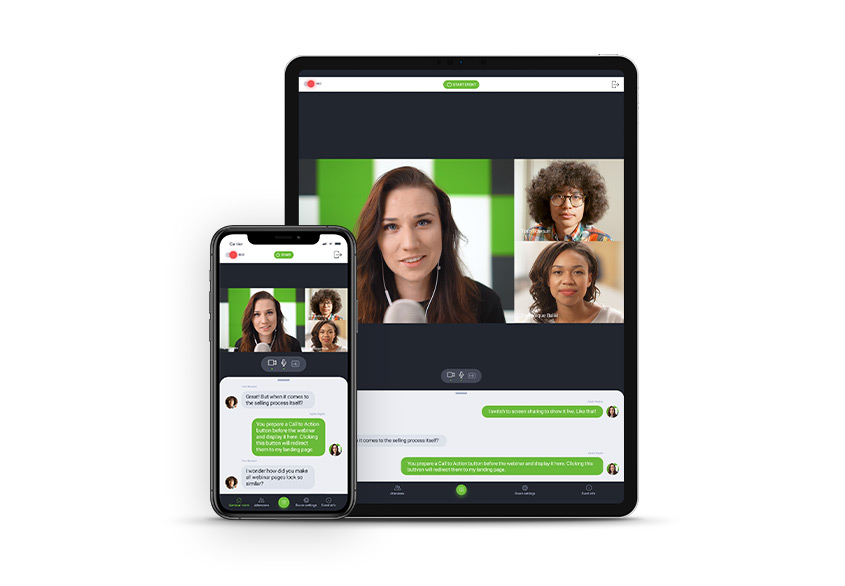 It's not only a matter of esthetics. This app makes meeting your audience both enjoyable and super simple. For instance, you will easily access your virtual conferences and share them on your social media in no time.All you need now is a few taps on your screen, and you're in! All set to meet your audience within seconds!
Stunning audio-video quality
What's more, after you enter your webinar room, you will see how nicely it adjusts to the size of your screen. But the responsiveness is just an foretaste. Right after you start broadcasting your webinar or conducting your online team meeting, you will appreciate the way your audience sees and hears you.
But we're just warming up!
No more screen-swiping
This change will leave all the competitors' apps behind – it's 100% unique. To fully understand that value, you need to put yourself in your attendees' shoes. Each webinar consists of different elements to watch – you as a presenter, your presentation, or a chat window. Your attendee used to swipe the screen to view a presentation, swipe again to see your face, and swipe once more to follow a conversation in the chat window.
Luckily, it's all gone in our latest app. No more screen-swiping! From now on, your attendees will see all the elements on one screen. You won't find this perk anywhere else!
Forget about overloading your battery
Your old webinar app was eating up your phone's battery like a piranha? Leave that to the past. Our latest app will consume significantly less energy from your device.
It means you won't have to worry when it comes to organizing more extended team get-togethers or conferences and having to be wired to the socket most of the time.
Working in the background
Know that feeling when you are blocked from using any other app during your online event, like texting someone or checking your LinkedIn wall? Because if you do, your webinar app usually turns off. Or – even worse, imagine a situation when your attendee is not touching anything on their screen for a while and is just listening to your content. And suddenly, the screen fades, and the event is gone.
Right now, you can easily avoid those mishaps, because our app can work in the background, so your event is not going to turn off when:
You use other apps in the meantime, like sending a message to a friend;

You don't take any actions on your screen for a longer time.
Tools from the desktop version now available in the mobile app
It's not only about simplicity and increased functionality. While working on the latest version of our mobile application, we took good care of implementing tools that you loved from the desktop version of our webinar software.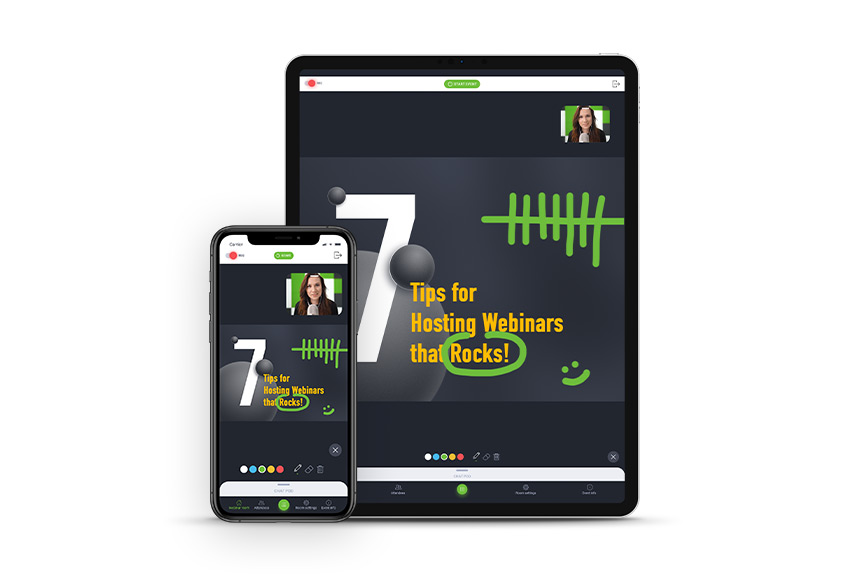 Our app will not only empower you with a must-have webinar toolkit that includes fundamentals like presentation, or a whiteboard. The latest version brings much more features to the table:
Streaming live on Facebook or YouTube
Being active on social media, when it comes to promoting your content, is a must. While webinar itself is conducted inside the application, there is an easy way to take it outside, and present it to a broader audience in real-time.
Streaming live on Facebook or YouTube fits in perfectly as a tool available in the app. Make sure to turn it on and expose your webinar content in front of all your friends and followers on those two social media platforms.
Paid webinars
There is no more direct way to earn money by running the webinars. It's utterly simple logic – your expertise is your asset you wouldn't like to give away for free so, go ahead and organize paid webinars with an entrance fee.
So far, this option was available only in our browser-based webinar platform. With this critical update, you can set it in motion also by using a mobile app on your smartphone.
CTA button
The whole point of employing webinars into your sales and marketing activities is to pitch your leads with your offer at some stage. Adding a Call-To-Action button and displaying it at the right time during your online event is a vital part.
Now, this feature is up and running in the mobile app, so you can easily redirect your audience to a landing page of your choice.
Q&A session
One of the most vital aspects of webinars as a form of communication is real-time conversation with your audience. It's a great way to gather instant feedback from people you're reaching out to – your students, leads, or customers.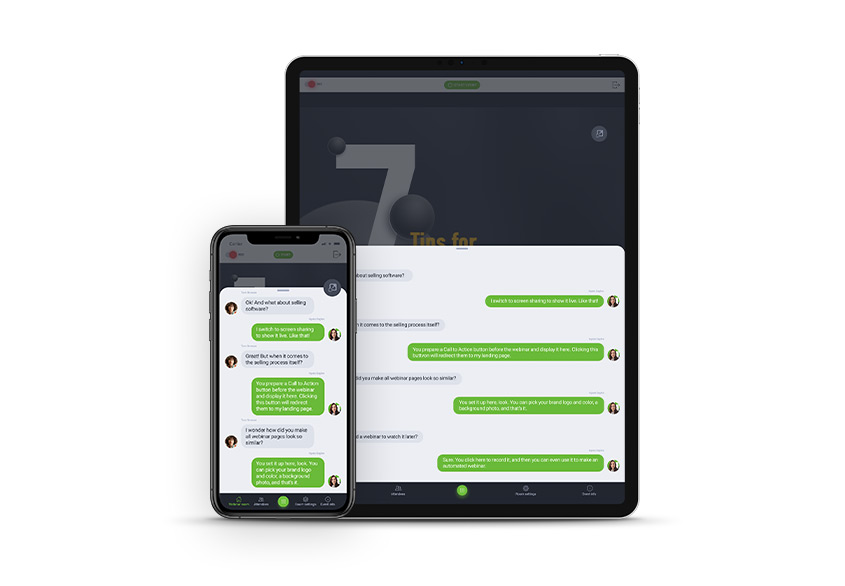 Apart from the chat window, you can now run a moderated discussion by using our handy Q&A tool. It will work perfectly as the last part of your event. And it's a way to show that you are there to clear any doubts and answer any questions.
Integration with your cloud
The last but not least element that shouldn't slip your attention is integrating the app with your files stored in your cloud. Dropbox, One Drive, Google Drive – wherever you keep your presentations, pictures, or any other documents you want to display during your webinar, you can easily upload them and work away.
Put your new webinar app into action
So, that's it! This is our new webinar app ready for you to employ in your everyday remote work and educational activities.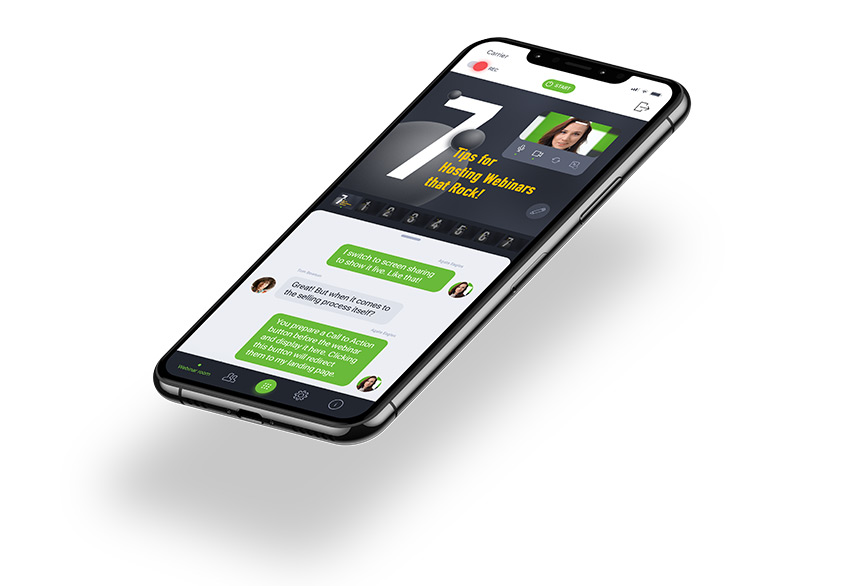 Download the ClickMeeting app today from AppStore , Google Play, or HUAWEI AppGallery. Don't forget to share your feedback with us!