Webinars are THE hot topic among internet marketers. They are among the most powerful tools you can use to raise brand awareness, generate leads and convert leads into happy customers. So what do you need to know to create your first successful webinar? Here's the ultimate to guide for newbies.
TABLE OF CONTENTS:
What Is A Webinar?
How To Host A Live Webinar?
How To Prepare A Live Webinar?
How To Find Topic For Webinars?
How To Promote A Webinar?
How To Prepare Webinar Content?
How To Use Webinars For Lead Generation And List Building?
How Much Does It Cost To Run A Webinar?
Why Should You Have A Webinar Guest Speaker?
What Problems Should You Be Ready For When Hosting A Live Webinar?
Why Should You Brand Your Webinar?
How And Why To Record A Live Webinar?

What Is A Webinar?
A live webinar is a live seminar conducted online. Webinars are also known as web seminars or web conferences. Live webinars allow participants in different locations to see and hear the presenter and interact by asking questions, answering polls and voting. Webinars are commonly used in sales, marketing, education, and HR training.
One of the biggest advantages of live webinars is that they allow you to connect to and interact with your audience, answer their questions, and gather valuable feedback. Sales and marketing webinars allow you to deal with today's demanding buyer, who is interested in the authenticity of your product or brand rather than glossy marketing tricks and slogans.
How To Host A Live Webinar?
To create a webinar, you need access to a webinar platform such as ClickMeeting. You also need a device with a stable Internet connection (not necessarily a desktop or laptop computer – smartphones and tablets also work well) equipped with a microphone and camera to broadcast your voice and image.
Once the above is done, you need to prepare your event and content, and then promote it to attract the right crowd.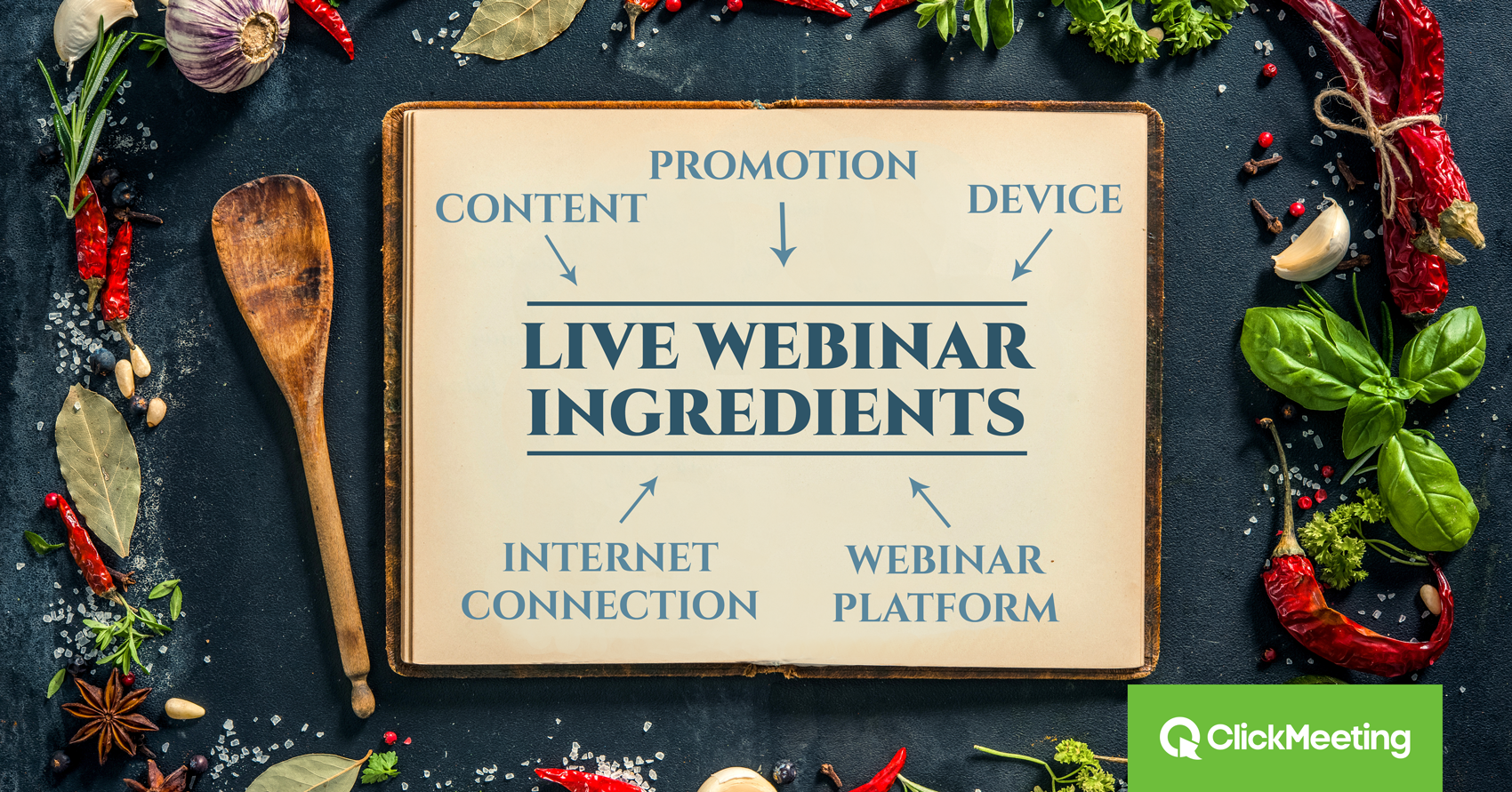 How To Prepare A Live Webinar?
Once you've planned what you want your webinar to achieve, decide on the following:
Find an engaging topic – develop content that addresses a problem your audience may be experiencing.
Set date – If your audience lives in different countries, consider factors like time zones and local holidays.
Create a registration form – The goal is to generate the most leads possible for your webinar. Your webinar platform should provide an integrated landing page for your use.
Set up your platform – Do a dry run to know how to operate it smoothly.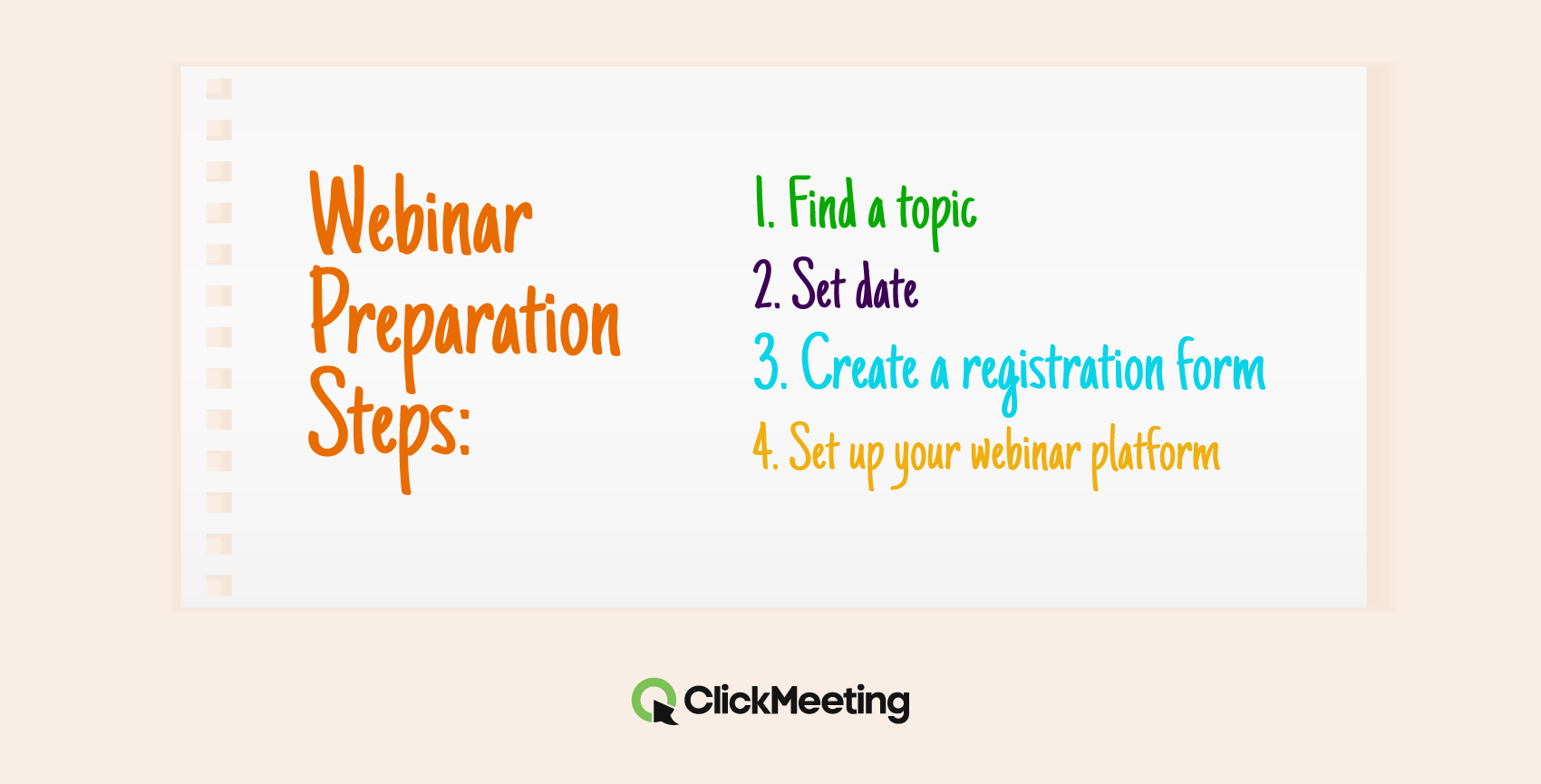 How To Find Topic For Webinars?
Rather than sticking to a particular type of webinar, choose from one or more of these webinar formats:
Product demo webinars – Demonstrate your product to your audience in real time. Demos can increase your conversion rates and produce trust in your product and your brand.
Case study webinars – show your audience how valuable your product is for specific customers. Showcase real-life examples of the benefits of your product. Include a customer story.
Educational webinars – Demonstrate your expert knowledge on a subject related to your product and show how it can benefit your customer. This will benefit your brand and boost confidence in your products.
"Ask the Expert" webinars – This is an excellent way to boost your authority in your industry. Attract an audience that wants professional answers to questions.
Training webinars – Boost efficiency and provide value to select customers. Help customers use your product and get the most out of it.
Q&A webinar – Hold a webinar where the content is driven by questions from the audience.
Discussion webinar – Discussions are an excellent way to present various perspectives on one topic and leverage the influence of panelists to boost your authority.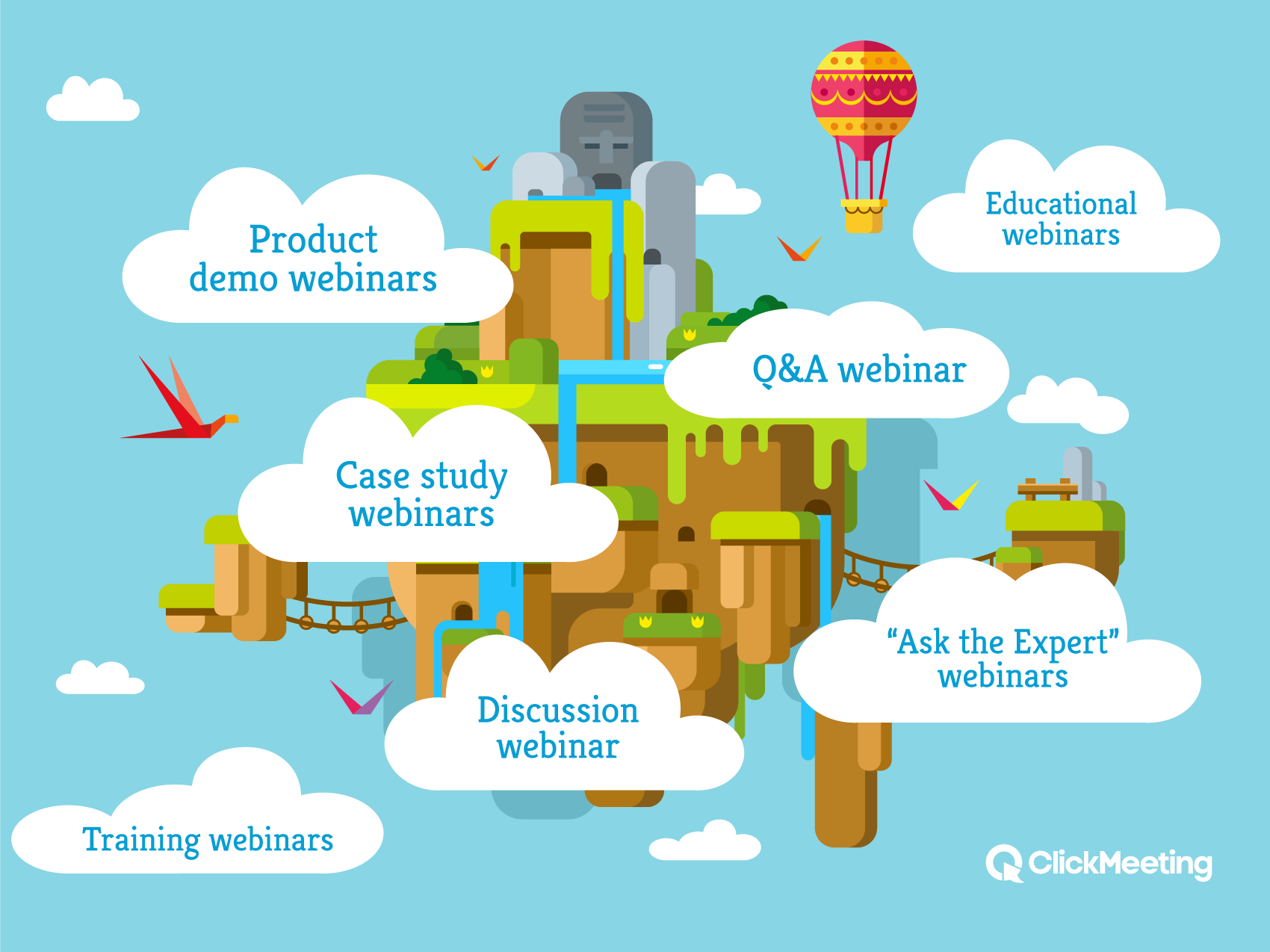 How To Promote A Webinar?
To reach the widest possible audience, use the following:
Social media – Promote your webinar to your contacts on Facebook, Twitter, and LinkedIn, and run an ad campaign to help you reach an even wider audience.
Email list – Run an email campaign to advertise your webinar to your email list.
Your website – Create a clear call to action for website visitors to register for the webinar, and then write a blog article on the topics you plan to cover.
To learn about the promotion process in more detail, check out our Webinar Promotion Timeline infographic.
How To Prepare Webinar Content?
The best method is to break up your webinar content into 3 sections:
5-minute introduction
25 minutes for the main presentation, including 5 minutes for each point you want to make
10 minutes for Q&A.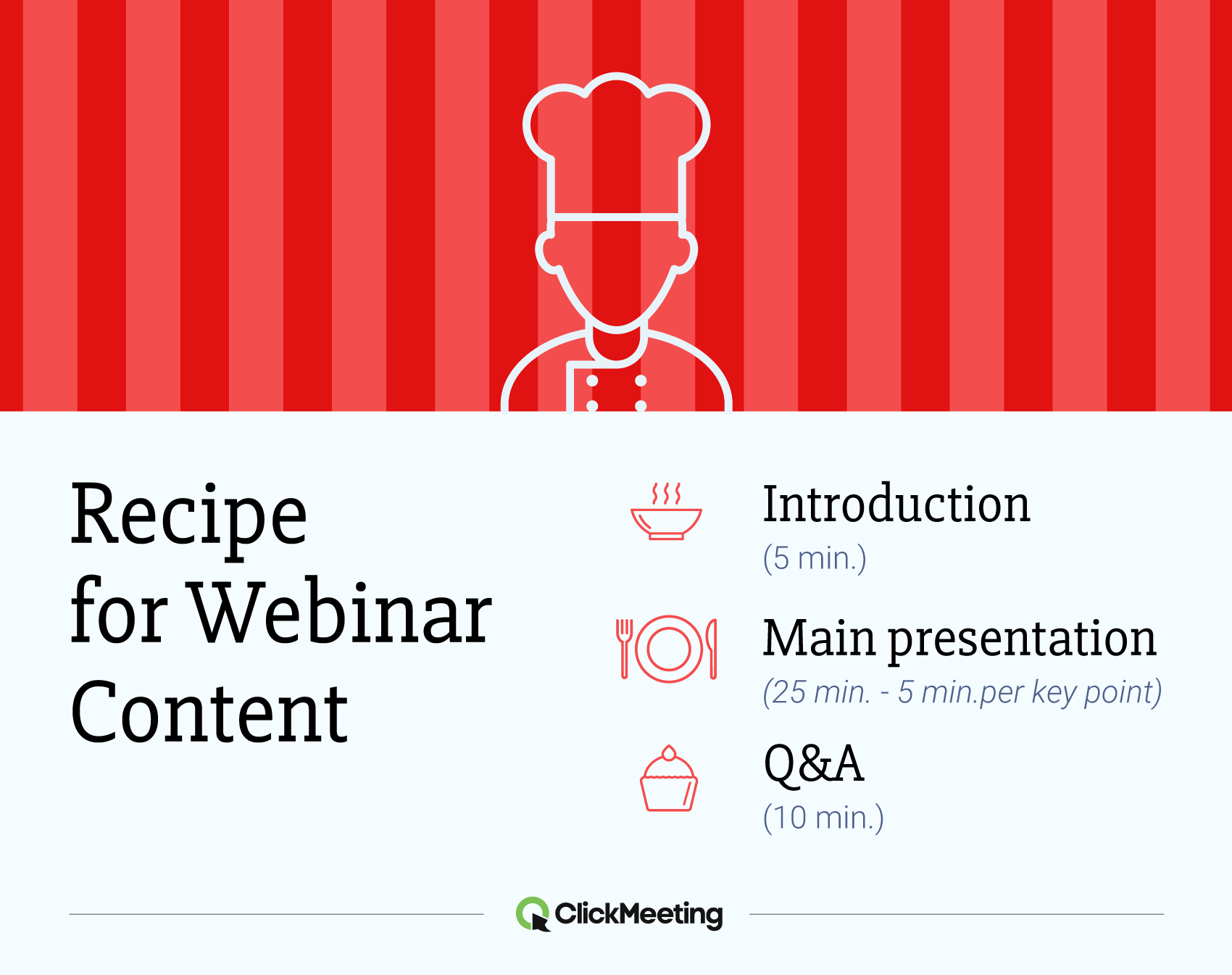 Don't put too much information on your slides. Make them colorful and outline the main points that you want your audience to remember.
Once everything is in place, make sure you practice your presentation. Do a dry run using your webinar platform to make sure you know how to operate it smoothly. Record it and watch your presentation carefully to notice things that need improvement.
How To Use Webinars For Lead Generation And List Building?
Webinars can increase lead generation like no other marketing strategy, because those who register to attend are revealing a level of intent.
Enable registration when scheduling your webinar. Your webinar service provider should provide a built-in registration form.
Choose the details you want to collect about your audience. You can go for basic info such as name and email address or collect elaborate info such as job title, industry, company size, etc.
Export the list of registrants to your preferred email marketing platform and use it for follow-up communications.
Webinars produce high quality leads that are likely to convert to a sale.
How Much Does It Cost To Run A Webinar?
If you worry that running live webinars may be too costly, well, think again. What expenses should you take into consideration?
Equipment – No need to worry. You have a laptop or a desktop computer. Laptops usually come with built-in cameras and mics. You can also use a smartphone or tablet — webinar platforms often come with mobile apps.
Internet connection – You need and Internet connection to run webinars. The higher the connection speed, the better. But aren't you already connected?
Webinar platform – Good webinar software is a must-have. Platform providers let you select from a variety of plans depending on your needs . Before you pay for your platform, you usually get a 30-day free trial.
Your time, expertise and extra resources – Remember that content creation costs money, even if you do it yourself. If you use your own resources or free stock photos, you don't have to pay for them. But if you'd rather buy pictures, include their price in the total cost of your webinar.
Webinar promotion – You need to promote your webinar to let your target audience know about it. Does it cost money? Well, yes and no. If you have a Facebook page or a Twitter account and a number of followers who are potential attendees, simply post a webinar announcement on your page. But to reach an audience outside your community, go for a sponsored post or Google Adwords (PPC). You pay for them, but only when someone clicks your ad. You can also have banners created by a designer and run a large-scale display campaign, but that will add to costs. Everything you need to know about promoting your webinar is in our exclusive e-book, available here.
Guest speakers and assistants – You can invite a guest expert to co-host the event or ask someone to answer questions on chat while you run the webinar. Depending on the terms of your collaboration, you can get their help for free or agree to pay for it.
As you can see, you already have some of the things necessary to run webinars and don't have to pay for them. Now analyze your needs and match your budget to the scale of your venture.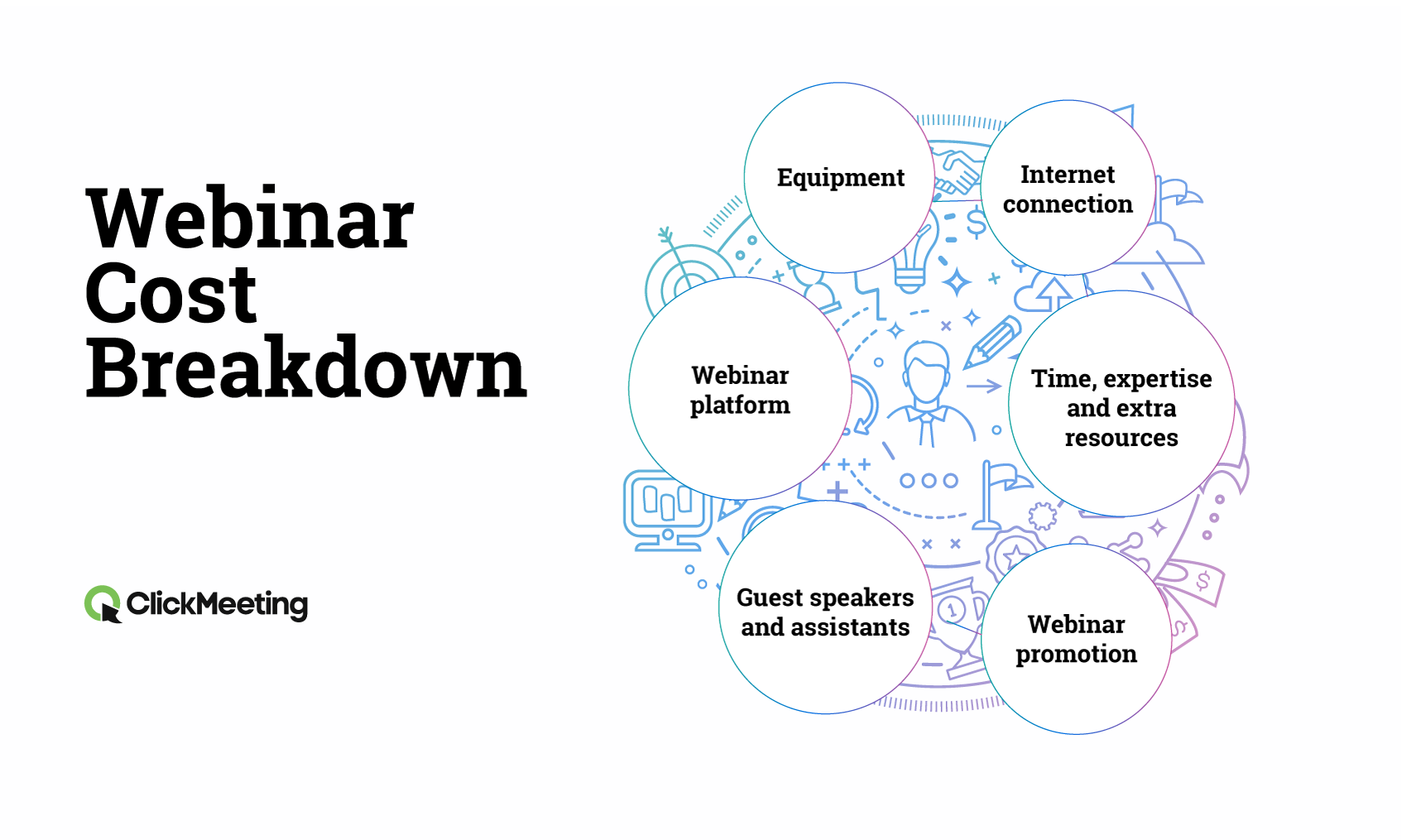 Why Should You Have A Webinar Guest Speaker?
There are at least 6 reasons for having a guest speaker:
Widen your audience – Your customers will be excited to hear from an industry expert, and your guest speaker(s) can promote the webinar to their customers.
Establish your authority – If you're a startup or haven't established your authority, the quality of your guest speakers communicates something about your product and service. If you're an established authority in your niche, one or more guest speakers can enhance your authority.
Make your content more exciting – Your guest speaker will be enthusiastic about a chance to shine in front of a new audience. So when he or she talks enthusiastically and passionately, this adds to the dynamics of your webinar.
Add a new perspective – Your guest speaker brings experience, knowledge, and unique ideas to enhance your webinar content.
Take pressure off you – Time is allocated to your guest speaker, and he prepares and delivers his part, so you have less to do.
Improve credibility of the host – If a respected industry authority endorses your product and speaks with enthusiasm, your credibility improves automatically.
What Problems Should You Be Ready For When Hosting A Live Webinar?
Well, if it's a live webinar, you need to have a contingency plan for every eventuality. A plan will help you know exactly what to do if there's a problem.
Computer crashes or freezes – Log into two devices beforehand (e.g. a desktop plus a laptop or mobile device). If one slows down or crashes, you can easily switch to the other. Also, reduce the number of background tasks running on your presentation computer to avoid processor overload. Make sure your portable devices are fully charged before your event starts.
The internet goes down – Mobile devices now come with a 3G or 4G connection that does not rely on your Wi-Fi or Ethernet connection. Alternatively, turn your mobile device into a temporary hotspot while you reconnect to your main internet connection.
The audio fails – A failure can be complete loss of audio or the line breaking up. Configure the audio settings in advance and do a dry run to make sure everything works. If the audio fails, use the chat system to apologize for the inconvenience and inform participants that you're doing everything in your power to correct the problem. If necessary, contact your provider's customer support via live chat to get help solving the problem.
A guest speaker doesn't show – They could have connection problems. Make sure all guest speakers have a cell phone handy so you can call them and find out the problem. Make sure they know how to use the landline option to call in to the webinar to present. In case of a no show, it's good to have backup content so you can apologize for the speaker and move on to the backup presentation.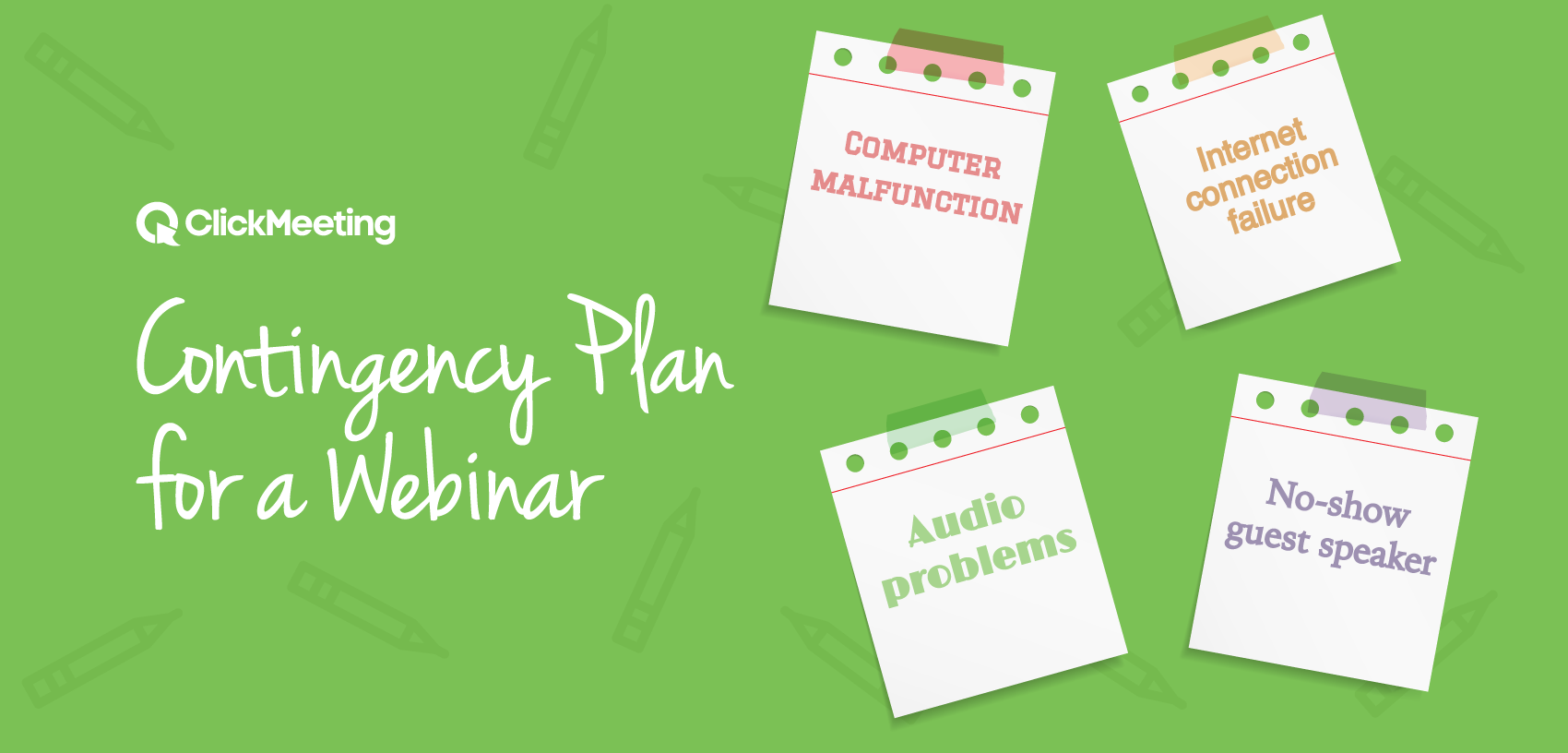 Why Should You Brand Your Webinar?
Branding your webinar means more than placing your logo on each slide. Your marketing brand incorporates everything your company stands for, including your values, goals, products, and how you deal with customers.
Here's why this is so important:
Webinar branding means recognition – When a potential attendee lands on your registration form, he should recognize your brand. That means including your logo, tag line, and a clear, recognizable message. During the webinar, your slides should include your company colors and product messages. These details help put attendees at ease and boost the chance that they will buy your product at the end of the presentation.
Branding sets you apart – Most webinar platforms come with a standard setup that can be boring for your customers who like to attend many webinars. So if you get your webinar branding right, your product will stand out from your competitors and so will your webinars. This can boost webinar attendance for future presentations.
Branding adds perceived value to your webinar – Branding is one of the main ways to add perceived value to your products. If you devote time and resources to strengthening your webinar branding, your webinar will add to the value of your product.
Webinar branding builds authority and trust – Consumers trust brands they are familiar with. The fact that many have registered for your webinar shows that they recognize and trust your product. To build trust, keep you brand image consistent on your products, website, blog, and webinar.
Branding keeps customers loyal – If your customers trust you and look to you as an authority, they will be loyal to your products. So your webinar branding should include engaging, high-quality content, slides, videos, surveys, and post-webinar follow-up.
Branding generates sales – Your customers know what to expect from your brand. By branding your webinar, you create consistency across all your marketing. This boosts your marketing power and makes it easier to rank higher in Google search results. You get more followers on social media and more attendees for your future webinars.
How And Why To Record A Live Webinar?
Your webinar solution needs a recording feature to capture what happens in your webinar room. If your webinar solutions doesn't offer this feature, use an external recorder. You'll also need a microphone and webcam to capture voice and image.
But why record a webinar in the first place?
Not all clients can tune into the webinar when it airs – If a big investor or interested customer can't watch the originally event, they can visit your blog or website to watch what they missed. This way they catch the necessary information and admire you for remembering that when things don't come together smoothly you need a backup plan.
You're more likely to be polished when the camera is rolling – The recording can be distributed and shared on the internet, and millions of people may see it. A recorded webinar suggests a certain level of professionalism that makes you look better – and your business, product, or skills too.
It gives you a chance to improve – A recording is a chance to see what you've done right and wrong. Record your webinars and watch them to see your mistakes and strengths so you can you improve your art until it's effortless.
It's good to create archives – When you record your webinars, you create a seminar that lasts forever. A recorded webinar is instantly archived and can be uploaded or distributed on all your online channels.
Always back up your files – The webinar is valuable content. Don't lose the information just because you don't make a copy. It's cheaper than re-creating it from scratch.
Remember that a webinar can capture your authenticity. So record your webinar, re-use it, and spread it to your target audience.