Live webinars help marketers and sales teams nurture leads and improve conversions. Below, we'll look at what they are, how to host them, and what to do afterward.
What is a Live Webinar?
A live webinar is a meeting or presentation (or seminar) conducted online in real-time. Hence the word web-inar. Some people also call webinars web conferences or web seminars. Live webinars allow participants in different locations to see and hear the presenter and interact by asking questions, answering polls, and voting. Webinars are commonly used in sales, marketing, education, and HR training.
One of the biggest advantages of live webinars is the ability to reach hundreds of people and still maintain the interactivity aspect. To get the idea, we need you to look at running online events from a birds-eye-view:
On one side of the spectrum, you have online meetings – digital get-togethers for teams, business partners, or customers, where up to 25 attendees can turn on their webcams and mics, and quite surely – you can perceive them as interactive at its best!

In the middle, you will find live webinars where the audience grows up to 1k attendees – leads, customers, trainees – everyone highly interested in what you want to share. The beauty lies right here – even though you virtually bring together hundreds of people, it's far from a one-way communication. On the contrary, live webinars allow you to connect to and interact with your audience, answer their questions, and gather valuable feedback during one session. In fact, webinars are the second-most valuable influencer content format.

On the other side of that spectrum, you can come across webcasts, aka huge virtual events, which will give you an option to get your content watched (but without a real-time interaction) by even 10k viewers!
As you can see, there are different types of virtual events to choose from but for the sake of this article, we will focus on live webinars, which marketers love to implement in their strategies.
Live vs. Automated vs. On-demand Webinars
To understand live webinars, it's helpful to look at how they compare to other webinar types as well:
Live webinars. A classic and most popular version of webinars. You schedule your online event to happen at a specific time, and then you meet your audience live. Live webinars are an ideal match for onboarding and training purposes as well as with sales events and product demos.

On-demand webinars. With this option, you pre-record your webinar to release it to your contacts, leads, or students so they can watch it anytime and anywhere they want. If your goal is generating leads and running online courses, on-demand webinars will be a way to go!

Automated webinars. Unlike on-demand events, you schedule automated webinars to take place on a specific day and hour. However, just like above, you need to have a recorded material first and then enrich them with tools like Call-To-Action, a video clip, or a survey. This kind of event goes totally on autopilot, which lets you reinvest your saved time. However, there's also a hybrid model – automated webinars, which you can join as a host to moderate the chat and answer questions in real-time.
Comparatively, live webinars offer more opportunities for lead gen and nurturing. A live webinar format offers more intimate engagement with real humans as opposed to a recorded asset. The main reason for going live with a webinar is to gather hundreds of folks in real-time and get instant feedback on your webinar content.
Here are a few tips to make the most of the lead gen opportunities that come with live webinars:

Enable registration when scheduling your webinar. Your webinar service provider should provide a built-in registration form.

Collect valuable information about your registrants. You can go for basic info such as name and email address or get more details with things like job title, industry, and company size.

Export the list of registrants to your preferred email marketing platform and use it for reminders and follow-up communications.
More than half (63%) of people are willing to share information to access webinars, but it's important to make it worth it.
How to Create Content for Your Live Webinar
When putting your presentation together, be mindful of how much content you cover and the amount of time required. According to Demand Gen's 2019 survey, 63% of people are willing to spend anywhere from 20 to 60 minutes watching a webinar. So, that's a good general rule of thumb to stick to.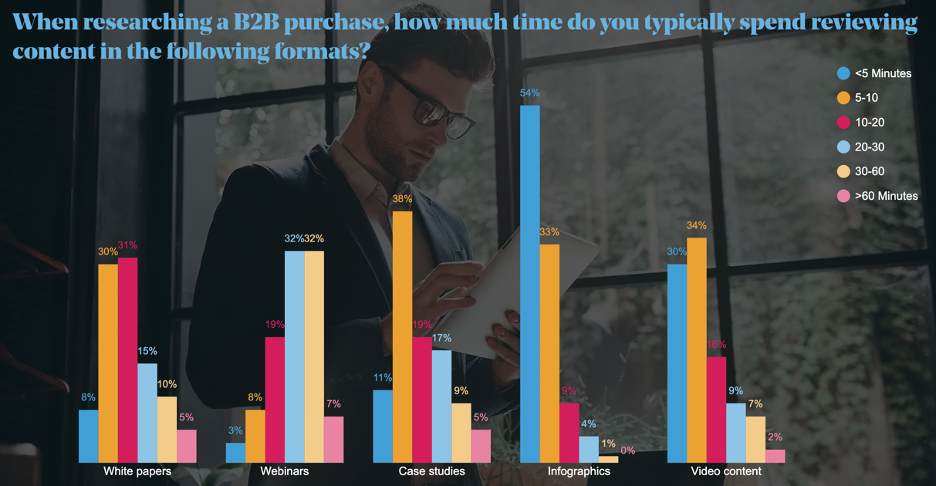 It's also good to note how webinar engagement has shifted due to the coronavirus pandemic. According to our own analysis, while the average duration of an event dropped from 85 to 77 minutes, the average time attendees spent watching and listening to the webinar increased from 53 to 56 minutes.
Generally, you'll want to break up your live webinar into four key segments:
Introduction: keep it brief, around 5 minutes;
Main presentation: 25 minutes, breaking it down into 5 minutes for each point you want to make;
Live Q&A: 10 minutes;
Wrap-up: under 5 minutes.
When it comes to your slides, keep information brief, culling it to the main points you want your audience to remember. It's important not to get stuck talking over one slide for too long because people can easily get distracted, and your goal is to glue their attention to their screens. Use colors, graphics, illustrations, and other visuals to enhance the words. Remember to keep it in line with the rest of your branding and ask your in-house design resources for help if available.
You'll also want to curb the sales pitch in your webinar content.
As buyers continue to stay clear of 'sales messages' — 96% stated that B2B vendors could improve the quality of content by curbing the sales speak — a product demo in a webinar format won't cut it. For example, by having an influencer present on a webinar about a specific topic of expertise, vendors are better equipped to validate their messaging and get the word out about the webinar to the right audience.
Choose a Format for Your Live Webinar
Live webinars take lots of formats:
Product demo webinars. Demonstrate your product to your audience. Demos can increase your conversion rates and instill trust in the fruits of your labor.

Case study webinars. It's beneficial to show the specific problems your product solves for real customers and demonstrate the point of having it. Showcase real-life examples of the benefits of your product through customer stories and consider having the customer on as a guest.

Educational webinars. you can put them to action as virtual lectures, useful for higher education, language schools, and online courses. But they also come in handy for marketing. Imagine this scenario – your company sells financial services and investment consultations, so your educational webinars would be about sharing basic or intermediate knowledge on the subject, for instance – "10 ways to control your personal budget".

Training webinars. Boost efficiency and provide value to select customers. Help customers use your product and get the most out of it. You can guide customers to become more advanced users of your product, and what's most important – to help them achieve more benefits with it.

Q&A webinar. Content is primarily driven by questions from the audience. As a follow-up event, consider covering questions you didn't have a chance to answer during the original event.

"Ask the Expert" webinars. This is an excellent way to establish authority in your industry. Attract an audience that wants professional answers to questions. These are similar to Q&A webinars.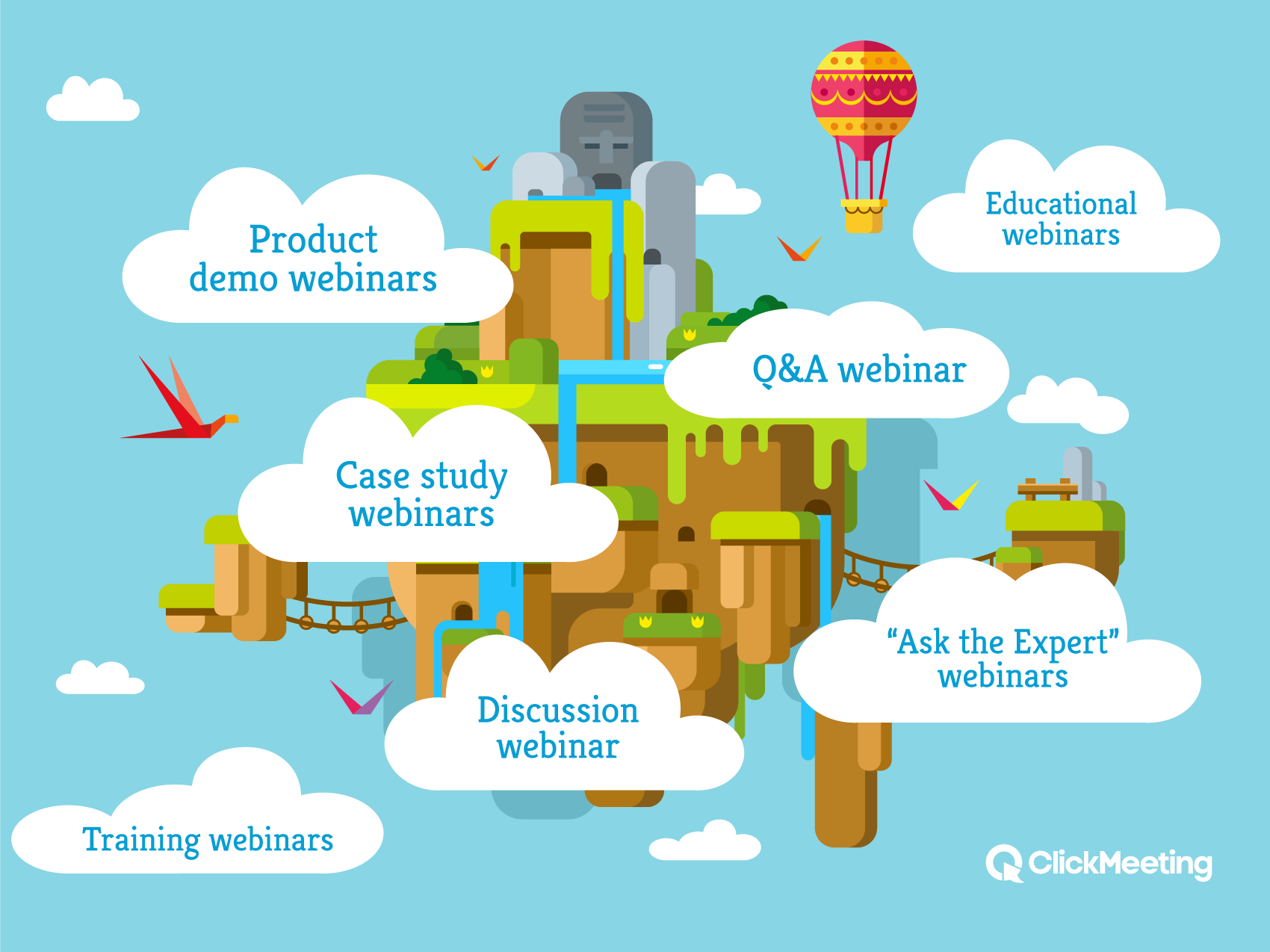 Remember, your customers likely need more than one interaction with your brand to feel trust, let alone be willing to convert. As many as 41% of buyers consume 3–5 pieces of content before making a purchase decision. So, consider how the live webinar works with other content that is presented to your audience, be it case studies, blog articles, emails, etc.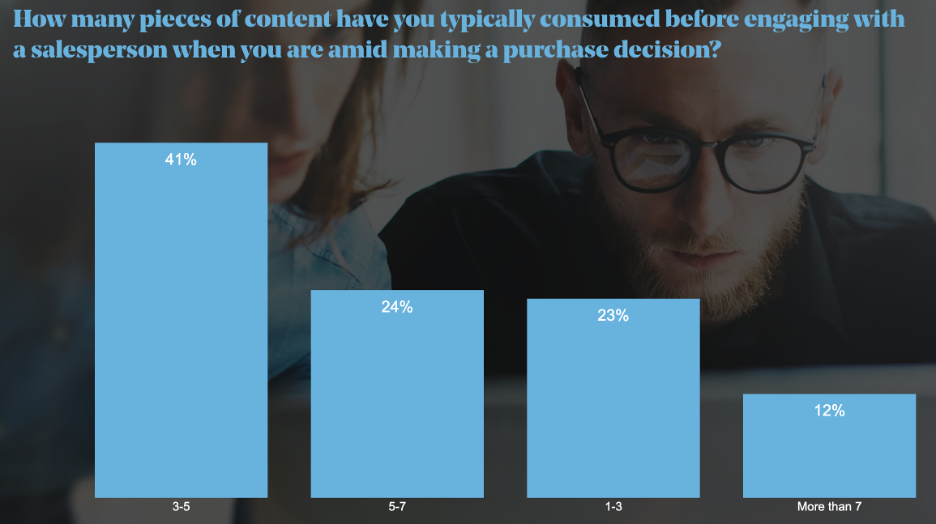 Webinars as such are a powerful lead gen machine. Once you discover great content to share and master the promotional campaigns, you can get even a thousand prospects to leave their emails in the registration process!
It means they pay you with your email. So, your next step strikes as a natural consequence – follow them up with the complimentary content – aforementioned blog posts, case studies, worksheets, eBooks – you name it!
Lastly, those attendees are more likely to become your upcoming webinars' attendees much more than total strangers.
And here's how to take care of that with ClickMeeting's automation tool:
Consider a Guest for Your Live Webinar
Even if you don't take an "ask the expert" or case study approach, guests are a great addition to many live webinars. They make the content more engaging, authoritative, and interactive. Make sure it's a dialogue between two experts with different perspectives.
From Demand Gen's 2019 Content Preferences Survey Report, "more than half (63%) of respondents say they are willing to share information to access webinars (a small dip when compared to last year's 74%). It may emphasize the importance of the quality and speakers on the webinar."
Guest speakers also have the potential to give you access to a new audience, which can help with brand awareness. Pay extra consideration to guests that have a loyal audience of their own.
Plus, this takes a bit of the pressure off the live webinar host while adding a fresh, new perspective from a different background.
How to Promote Your Live Webinar
With nearly 40,000 online events on ClickMeeting per week, there's a lot of competition. You want to stand out and find ways to promote your live webinar effectively. It's helpful to think of live webinar promotion in two phases: encouraging signups and encouraging attendance.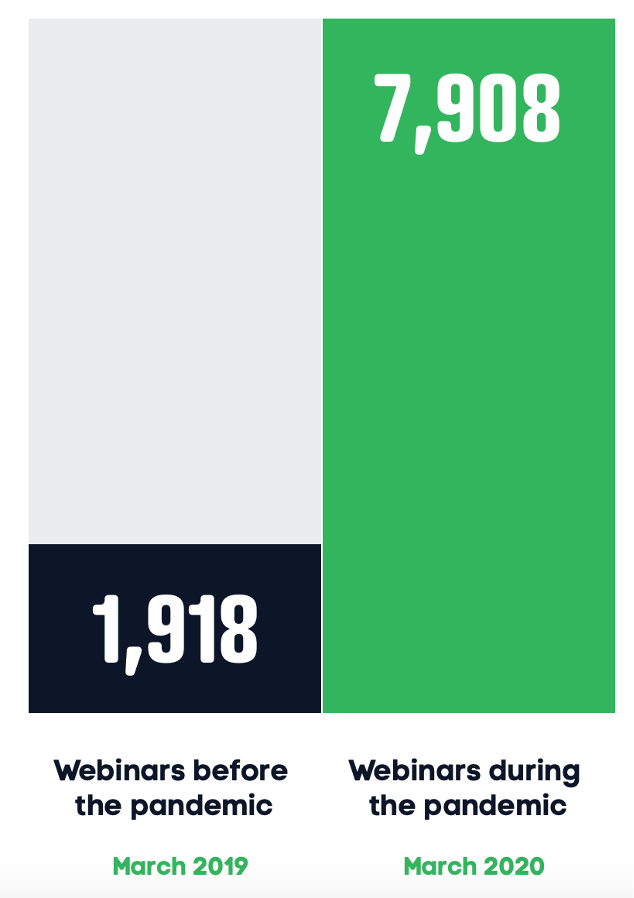 When it comes to signups, you might use some of the more traditional tactics:
Organic social media. Promote your webinar to your contacts on Facebook, Twitter, and LinkedIn.

Paid social media. Run targeted ad campaigns to reach a wider but relevant audience.

Email marketing. Run an email campaign to advertise your webinar to your email list.

Your website. Create a clear Call-To-Action for website visitors to register for the webinar, and then write a blog post on the topics you plan to cover.

Presenters and guests. Ask them to promote with their most engaged channels.

Landing page. Build targeted landing, registration, and profile pages to collect attendee details when they sign up.
Getting the signup is only half the battle, though. There are other ways you can encourage actual attendance to the live webinar event. Two key ways are to send email notifications and calendar invites. Ensure these reminders have all the necessary information to join the live webinar, links, and all.
How to Host a Live Webinar
To host a live webinar, you need to access an online meeting platform with webinar features, like ClickMeeting. You also need a device with a stable internet connection (not necessarily a desktop or laptop computer – smartphones and tablets also work well), equipped with a microphone and camera to broadcast your voice and image.
You'll also need to decide where you're hosting your live webinars. In addition to the meeting platform, you might make the live stream or recording available elsewhere. Here are some resources to get your live webinar on YouTube or Facebook:
Problems to Prepare for With Your Live Webinars
It's a good idea to have a contingency plan for every eventuality. A plan will help you exactly know what to do if there's a problem.
Computer crashes. Log in to two devices beforehand so if one slows down or crashes, you can easily switch to the other. Before you start the webinar, close out of all other programs and tasks that might slow down your machine. And remember to charge fully beforehand.

Internet outages. Get a backup connection, turning your smartphone into a mobile hotspot, or even purchasing a dedicated hotspot device.

Failed audio/video. There's nothing worse than imagining your audience don't hear and see you. Luckily, it's all preventable. You can configure the audio and video settings in advance and do a test run to make sure everything works. With ClickMeeting, you can mitigate these issues by checking up your system (conference server connection, browser, and operating system) and audio output, microphone, and webcam with a system configuration check tool, and shortly before starting your webinar, you can do a final webcam and mic check-up with an AV tester tool.

No-show guests. Get your collaborators' cell numbers so you can contact them directly in this scenario. And it's always a good idea to have backup content in case of a no show.
Once everything is in place, make sure you practice your presentation. Do a dry run using your webinar platform to make sure you know how to operate it smoothly. Record it and carefully watch your presentation to notice things that need improvement.
How Much Does It Cost to Run a Live Webinar?
If you worry that running live webinars may be too costly, you might be surprised. You'll need to consider the following expenses, but it can still be budget-friendly:
Equipment. Bare minimum, you need a laptop or mobile device with a camera, a microphone, and a speaker.

Internet connection. You need a high-speed internet connection to run high-quality live webinars.

Webinar platform. Reliable webinar software is a must-have. We've rounded up a list of the best online meeting tools to consider.

Time, expertise, and resources. Content creation isn't free, even if you do it yourself. Your team's time is money, and outsourcing also costs a fee.

Advertising. If you pay for any advertising and marketing, you'll likely want to establish a budget.

Guest speakers. While some people may do it for free, many experienced speakers might require a fee.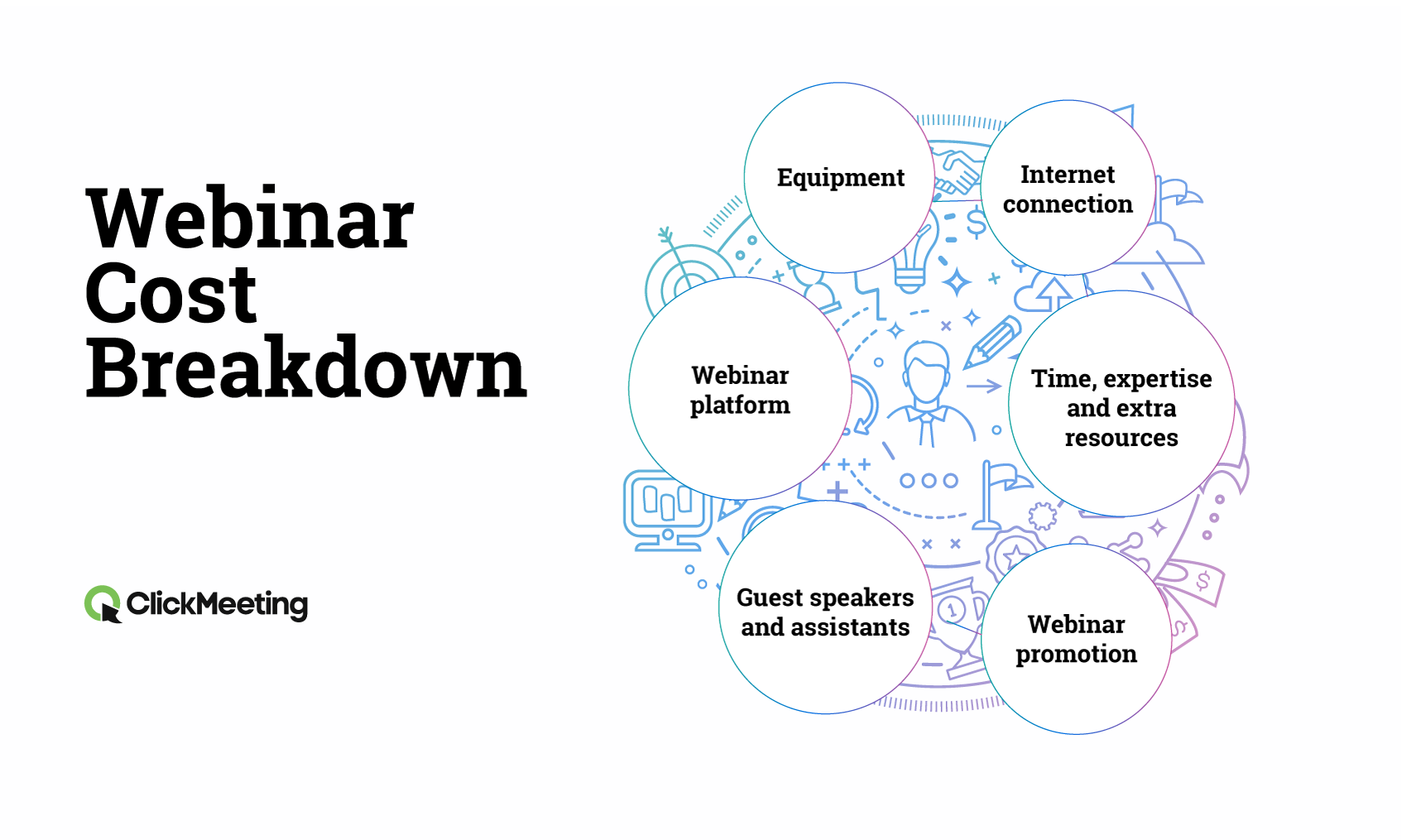 As you can see, you already have some of the things necessary to run webinars and don't have to pay for them. Now analyze your needs and match your budget to the scale of your venture.
Maximize Engagement and Impact with Recorded Webinars
A live event has its advantages, but not everyone can always attend. Their day-to-day responsibilities take priority, and when scheduling conflicts happen, live webinars are often the first to get the boot. That's why it's a good idea to record your live webinars and make them available to both attendees andregistrants.
There are a few key reasons to record your live webinars:
Not all clients can tune in live. If a potential investor or customer can't attend the live event, they can visit your blog or website to watch what they missed.

It's good to create archives. When you record your webinars, you create a seminar that lasts forever. A recorded webinar is instantly archived and can be uploaded or distributed on all your online channels. If you transcribe, there's also a potential for SEO value.

Back up your files. The webinar is valuable content. Don't lose the information just because you don't make a copy. It's cheaper than re-creating it from scratch.

You can improve. View the recordings yourself to see where your strengths and weaknesses are, then work to improve continuously.

Encourage sharing. Attendees can also share the recorded webinar with their colleagues. In fact, half of the professionals share webinar content with employees, the second most-shared content type.

Take advantage of integration. Integrate your webinar and online meeting platform with other tools you use in your business, including marketing and analytics software. This will help you automate your work, achieve even better results, and save time.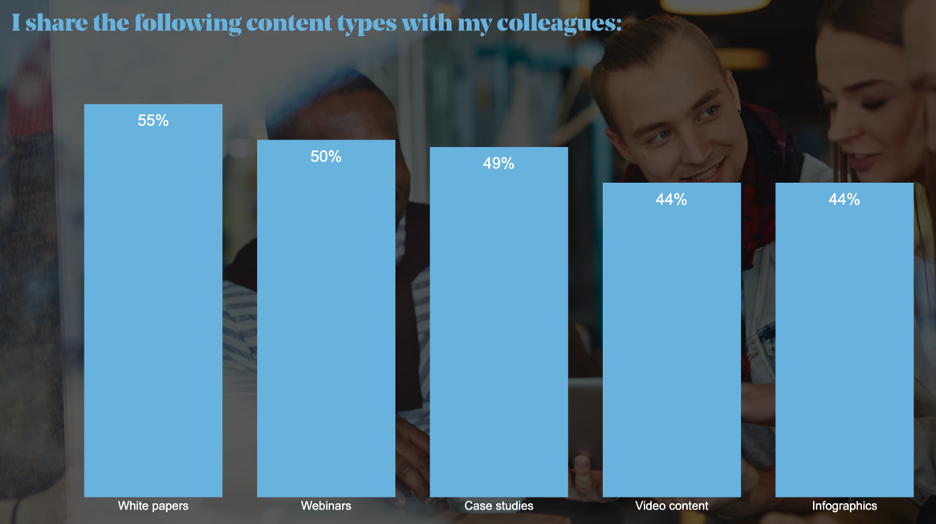 Look for a webinar solution with a recording feature, otherwise, you'll need to use an external recorder, which is clunky and less reliable. You'll also need a microphone and webcam to capture voice and image.
Choose the Best Platform for Your Next Live Webinar
Let's sum up some of the key features to look for in a live webinar platform:
Automated reminders and calendar events;
Easy to use both for you and your attendees;
Landing/registration page build and customization;
Email marketing;
Recording and sharing;
Multiuser capabilities;
Polls, surveys, and moderated Q&A.
ClickMeeting has all these features and more. Learn how ClickMeeting can help you host your next live webinar event!