From Custom Branding, through Automated and On-Demand Webinars, up to integration with Zapier! 2019 was a busy and fruitful year for ClickMeeting. We are going to wrap it all up and hand you a list of webinar tools you can put into play in 2020. May these great features help you build your perfect digital toolbox? 
Yes, it's this time of the year again! Time for a yearly summary, an exciting retrospection to highlight the most significant ClickMeeting product updates that happened throughout 2019.
Now, we must say that it was an amazing year. Why? Because we have rubbed our elbows, to deliver you new webinar tools that you can take leverage to get more leads, customers, or students.
And the results are mind-blowing!
2019 in numbers – the bird's eye view
Let's take a quick look at what have marketers, sales experts, online teachers, HR specialists, and small business entrepreneurs achieved by using our webinar software.
625,735 – this is the total number of online events hosted on the ClickMeeting webinar platform.

These events have gathered up an army of 8,370,170 attendees worldwide! Yes, over 8 million people have joined a webinar room to learn, to make a purchase, or to meet and collaborate.

How long were these webinars? Well, the average time duration was 84 minutes! That's nearly an hour and a half of a web conferencing session. It proves our theory – there's no such thing as too long video content.

Are webinars profitable? Can you earn money by sharing your knowledge with video conferencing? We checked the results of using our Paid Webinars It turns out that webinar hosts have sold entrance tickets for their events on ClickMeeting for a total of $366,000! So, when are you planning to start selling your expertise with webinars?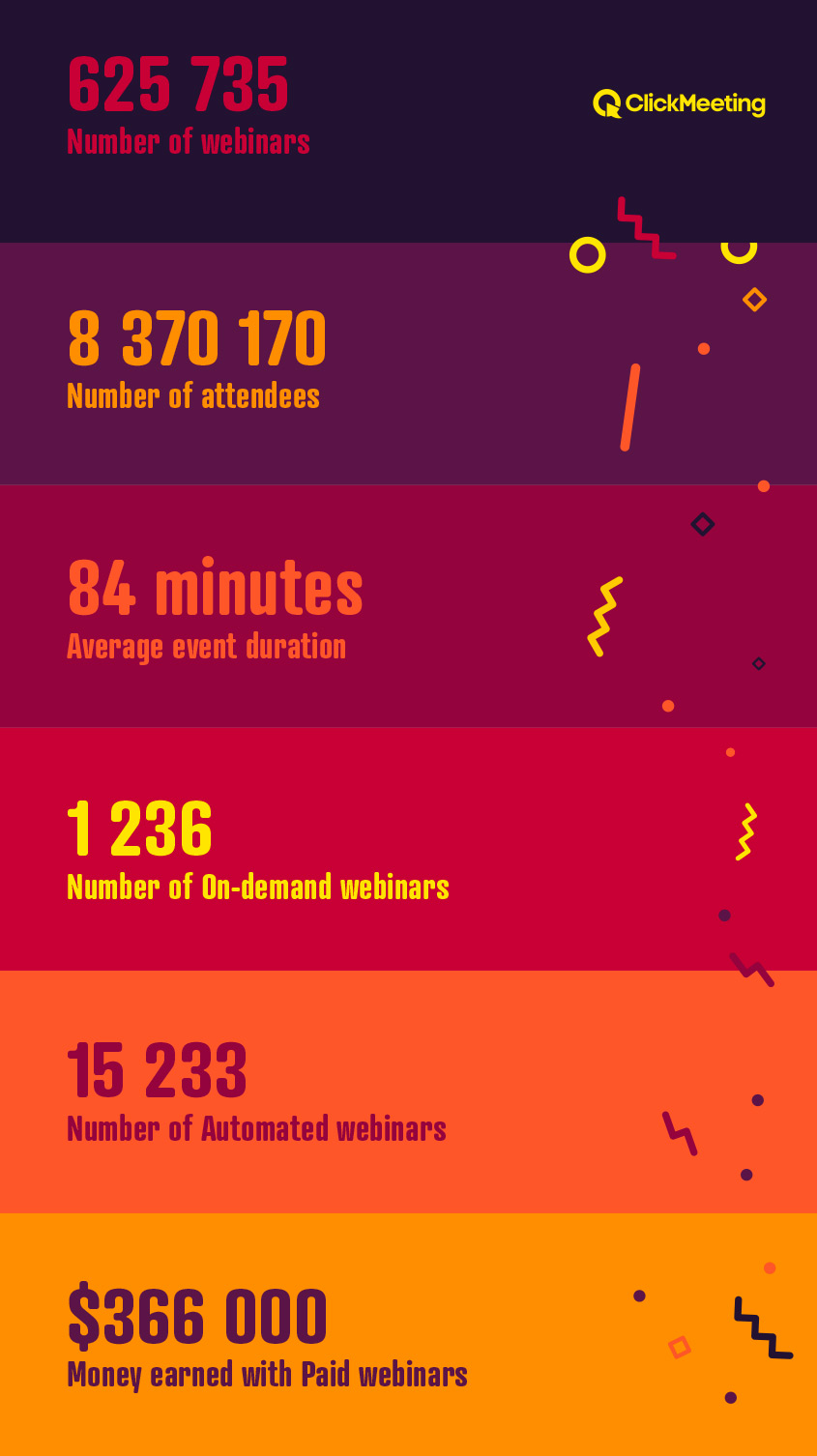 OK, these numbers are staggering, and they prove that a boom for webinars is out there, and it's not going to end anytime soon.
Now, let us walk you through the seven webinar tools we have launched in 2019:
1.    Custom Branding – let your audience recognize you in seconds
Let's face it – we're living in a world of making decisions in nanoseconds. Although psychologists and media love to remind that you have only seven seconds to make a first good impression, we dare to say that in the digital reality it is less than that.
Take browsing websites on your mobile as an example. How long will you wait for a page to load before you get annoyed? According to Instapage:
Data from the search engine giant indicates that over one in two mobile internet users will abandon a web page if it doesn't load in 3 seconds.
Three seconds of your audience's patience. Not much. We're making this point to outline that you have about three seconds to impress your leads, customers, students, or project partners with the professional look of your webinar pages.
With the Custom Branding feature, you can take good care of it in no time. With just a few clicks, you can make your webinar pages:
Look neat and trustworthy;

Match your brand identity and your industry;

Show your attendees what your webinar is about.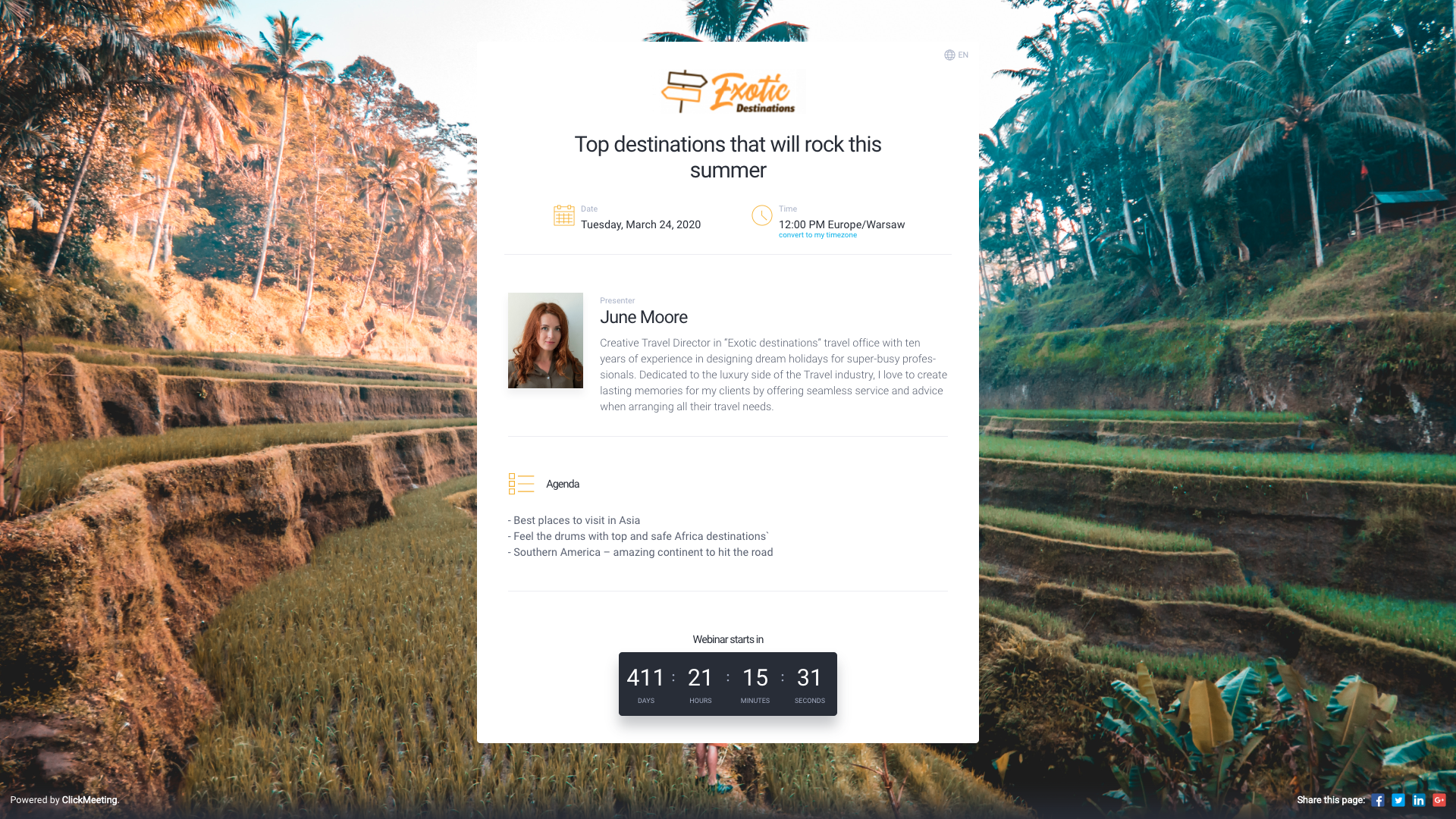 How does it look in practice? You upload your logo and select colors that will be a match for your brand's visual identity. Finally, you explore a vast, Unsplash photo base to choose a stunning, professional, and free photo to be displayed on your:
2.    Automated Webinars – go on autopilot and save loads of time
It was another milestone in our product roadmap. Although hosting live online events and meeting a target audience in real-time still rocks the scene because of the engagement and building stronger business relationships, it requires time and effort to keep it going.
OK, let's do a bit of storytelling here. Your company has developed an outstanding web application, and selling it through product demo webinars became a part of your sales and marketing strategy. So, you have hosted a few online events showcasing your app, and boom – a significant percentage of webinar attendees converted to customers.
However, your execs decided to scale it up. Enter new markets. And you know what that means – more live webinars and less time for the rest of essential activities.
But what if you could automate your work and do webinars more often, AND – in different time zones? Well, this is where Automated Webinars enter the stage.
We launched this feature to take the repetitive work off your shoulders and to maximize your business results.
How do Automated Webinars work? It's perfectly visualized in this short video:
3.    On-Demand Webinars – lead generation engine
On-Demand Webinars also come in line with a desire to save your time and improve your results. Just like automated events, on-demands come down to reusing the recording of your webinar and let it work away on your behalf.
What's the difference between Automated and On-Demand Webinars, then? It's all about the distribution of your webinar content. If you want your event to happen at a particular time, for instance, on Friday, 6 p.m., GMT+1, and after that, another one to be on air on Monday, 8 p.m., GMT-5, you will go for Automated Webinars. All your attendees will join your webinar room at a specific date and hour, but the webinar itself will go on autopilot.
But if you want to give your attendees a chance to watch your event in their own time, then On-Demand Webinars are a way to go.
As soon as you release it into a digital stratosphere, it starts to do your presenter's job for you. You can as well publish it and then go for an around the world trip because people will join your webinar whenever it suits them.
Why else should you use on-demands? Because they are a dream tool for lead generation purposes. How so? On-Demand Webinars work as gated content, meaning – your prospects will have to pay to join your event with their e-mail addresses. And as long as your content is worth it, they will do so without hesitation.
This way, they will become your leads, and their e-mails will automatically land in your CRM.
Turn your imagination again. You recorded a webinar about the financial trends in 2020, and you released it as an on-demand event, and then locked yourself up in a mountain cabin for two months to finish your book about personal finances.
During your two-month stay, more than 700 people have registered and watched your event. So, at a time you come back to town and get that book printed, you will have 700 e-mails waiting there in your CRM. That's 700 potential buyers highly interested in what you offer.
How to create an On-Demand Webinar? Watch this video to find out:
4.   Webinar cycle – build your growth-oriented webinar scenario
The moment of signing up for a new SaaS platform to start using a new tool is exciting, but scary too. It's hard not to feel overwhelmed with the arsenal of features, tools, and integrations.
Learning all of it from scratch, starting to being good at it, and getting business benefits out of it – it takes a heck of a time, digging through resources and trying to put all those elements together.
We know the feeling. That's why, in the middle of the year, we have come up with a new approach. We didn't want to leave you on your own with all the features and say: "OK, there you have it, work it out somehow."
On the contrary, we wanted to connect the dots for you and build a cycle with specific stages of running webinars, indicating what tool and what integration to use and when.
Also, we have created the webinar cycle method to give you a growth-oriented alternative for the traditional funnel approach.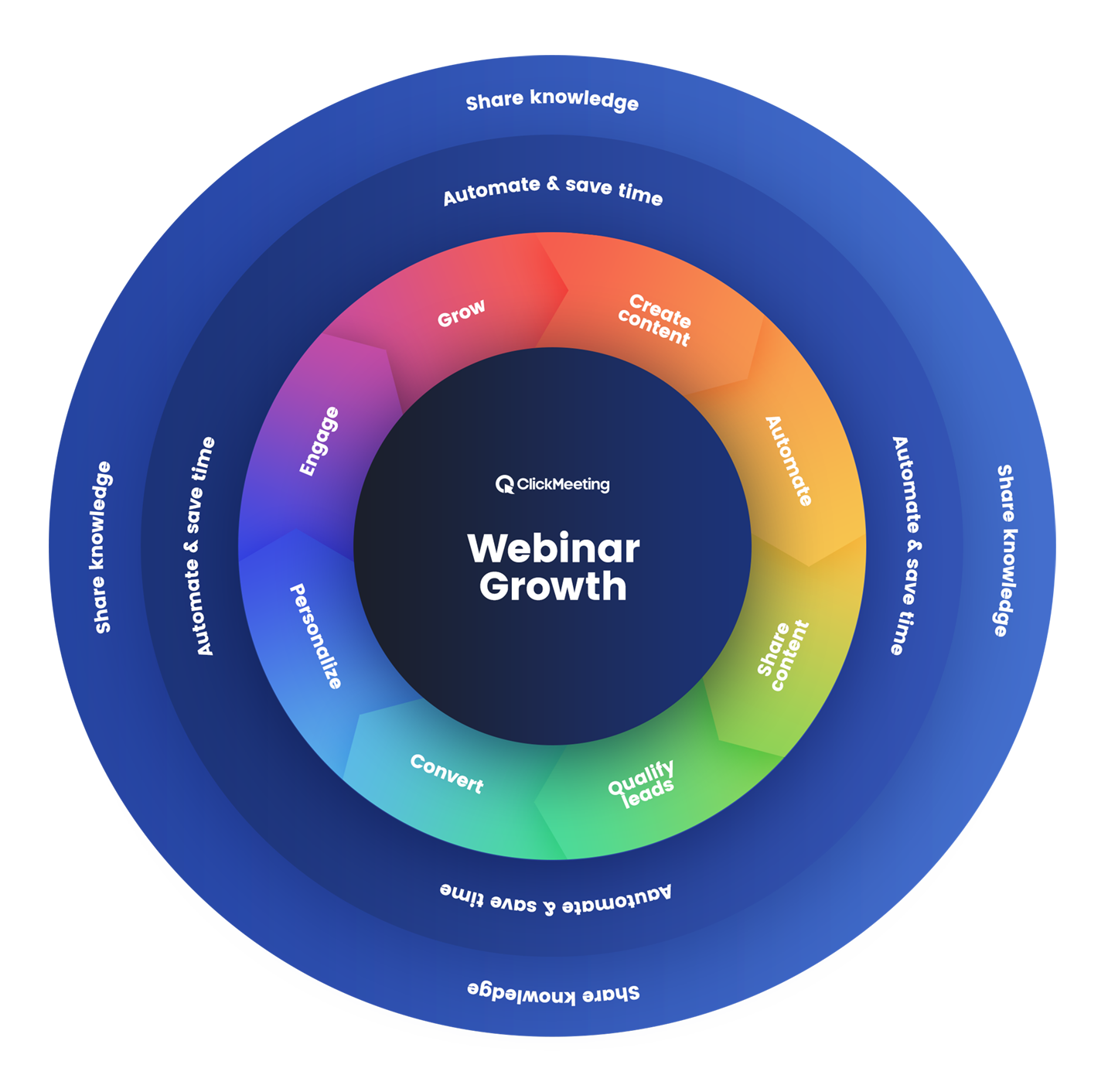 Cycle brings all the bits and pieces together:
Custom Branding;

Scheduling live, automated, on-demand webinars;

CRM, social media, analytics, and remarketing integrations.
But also, it brought new automation tools to your marketing table, including the essential one – automated follow-up actions.
Here's how it looks like in practice:
5.    New screen sharing – your seamless webinar experience
The next product improvement this year was all about delivering you a seamless webinar experience as a host, the audio-video quality.
As our guest webinar host, Owen Video, said:
If there are any difficulties whatsoever, then people are gonna abandon your webinar like an old-school ghost town, leaving you in a pit full of despair.
That's a bit emotional and hyperbolic, but you can see where Owen is getting at.
To make you feel confident as a webinar host, and to make sure that your audience will see and hear you perfectly, we have implemented the WebRTC technology.
But that's not all!
The second improvement touches the vital webinar feature – the Screen Sharing. We know it's the essence of a successful online event to have all the tools work smoothly.
That's why you can showcase your desktop to your attendees with a native, browser-based screen sharing tool. This way, no technical issues or installation pop-ups will stand in your way to demonstrate your product or teach a complex subject by showing what you do on your computer.
This is how it works:
6.    100% mobile-friendly, no-install webinar room
The golden age of mobile is a fact. Quoting after Hosting Tribunal:
Mobile internet has grown 504% in daily media consumption since 2011.
It applies to a webinar and video conferencing environment, as well. Busy professionals are very likely to join online meetings on the move, with their smartphones and tablets.
Having that in mind, we have launched our webinar room as a responsive mobile version. It means that your attendees can now watch and listen to your webinar on their mobile devices without installing the application!
The only things they need to join your event is the link and the browser. Why is it so important? Because you're making the process much easier for them and clearing the way will make more registrants click the final button and become your webinar audience.
Fewer steps for them to take, higher conversion rate you get!
7.    Zapier integration – connect your webinars with hundreds of other applications
Our last webinar treat boils down to launching our integration with Zapier. Why does it deserve your special attention? Because integrating your ClickMeeting and Zapier accounts opens hundreds of new opportunities to orchestrate your webinars with other sales, marketing, and project management activities!
This integration perfectly corresponds with the idea hidden behind Automated, On-Demand Webinars, and the webinar cycle approach. By turning this on, you are about to get rid of hours of unnecessary and mundane work. As a result, you can reinvest your saved time in anything you need!
How does it work? It's an "if-then" logic. It sets up triggers that can release numerous actions on other applications of your choice.
Why do you need it for your webinar business?
Imagine that scheduling your next webinar can unleash the entire campaign on your social media. Picture a situation when each new person who registers to your event is automatically exported to your CRM. And those are only two examples out of many possible!
How to set it all up? Everything is here:
Are you ready to take these webinar tools with you?
2020 is just about to start, and most likely – you're in the middle of creating your action plan on how to achieve better business results.
Turning the green light to webinars is a step in the right direction. Make sure you reach your leads, customers, students, or business and project partners with a set of powerful webinar tools!
As a ClickMeeting team, we wish you all the successes in New Year!