Video conferencing – does it require enormously expensive equipment to organize it at a professional level? Do you have to surround yourself with a ton of hardware and overload your budget? Or perhaps there's a way to make your online video meetings smart? Let's take a closer look at what kind of camera you can choose that will do both – ensure the compelling audio-video quality of your conference and go together with video conferencing software.
Although video conferencing as a form of business online communication has become a necessity, rather than a luxury, there's still plenty of ways to look after it. And – loads of questions and doubts, because the multitude of hardware and software solutions out there, can be intimidating.
First off, the technological barrier – naturally, you don't have to be an expert in implementing complex systems in your company's premises.
Second, nobody should expect that you know how to stack up audio and video gear and make it work with a piece of software.
So, how to find a solution to run online business meetings and webinars to maintain high quality? And – how not to ruin your budget at the same time?
In other words – what's a good but economical video conferencing system?
Why is video conference equipment so expensive?
There are numerous reasons to embrace video conferencing. Your company needs to coordinate online communication with employees, franchisees, or business partners scattered all over the country. Or – you are about to reach your leads and customers with engaging product demo webinars.
Whichever your case is, you know for a fact that delivering a seamless experience for your audience, is crucial for you as a brand.
That's why it makes total sense to dedicate one physical room in your office to connect with your remote team members and leads.
---
SIDENOTE:
This is how we set it up in ClickMeeting's office: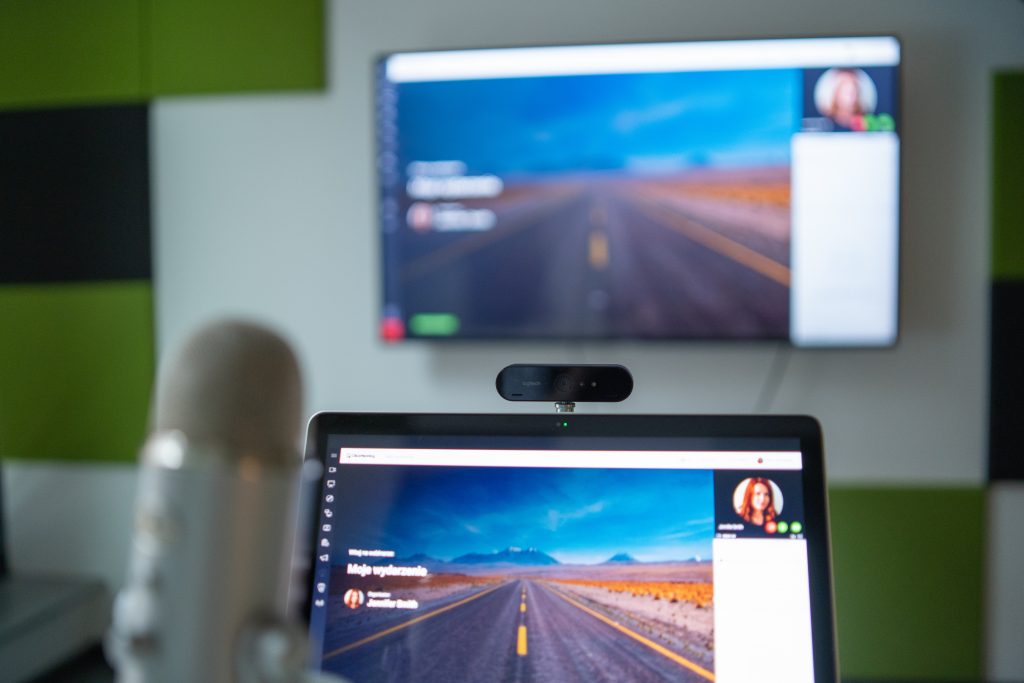 ---
You might get tempted to invest in some heavy-duty and complicated equipment. Connor Cawley from Tech.Co took top vendors from the market under his microscope.
Here, we're going to take a look at a few products to get the big picture:
Polycom RealPresence
Polycom RealPresence offers some complete top-shelf hardware kits categorized in Group Series. Quoting after Cawley's article:
The Group 310, Group 500, and Group 700 all come with the Polycom Group microphone, EagleEye camera, power supply, cables, remote, and a codec. Users will have access to enterprise-grade video conferencing capabilities, as well as high quality audio and a number of collaboration features.
If you feel enticed by the vision of those all-inclusive sets, you need to prepare yourself, however, for explaining it to your CFO (or accountants), because the pricing here starts from $2,999 and goes up to $16,999.
Cisco Webex DX Series
A slightly different, yet still high, price range will be waiting there for you if you take Cisco Webex DX Series into consideration. This offer breaks down into two models: DX70 and DX80, and both of them integrate video conferencing hardware with software. Following after Cawley again:
These come with 14-inch and 23-inch screens respectively, and mounted cameras for easy communication. Both are built as an all-in-one desktop collaboration hub with HD video and audio, which could even replace your current phone setup.
Now, if you decide to give it a go, you will be facing spending $3,250 (for DX70) or $4,490 (for DX80).
Avaya XT5000 Room System
A third example of video conferencing equipment would get a round of applause if you worked in a bigger company, mostly because of the nine-way multi-party calling, which enables smooth collaboration between several teams.
This system gives you a chance to choose from five available cameras and two microphones.
The pricing, however, is pretty serious and ranges from $8,000 to $10,000. Ouch.
How to setup a video conferencing system on a moderate budget?
Okay, so as you could see above, purchasing a comprehensive video conferencing system equals handling many elements, and involves some severe financial commitment.
Right now, we're going to cast some light on a cheaper and easier alternative. Instead of overinvesting in advanced hardware kits, you might consider matching video conferencing software withplug & play cameras.
At ClickMeeting, we are right after testing a set of video conferencing cameras offered by Logitech, and it's a perfect time to pull back the curtain:
C930E Business Webcam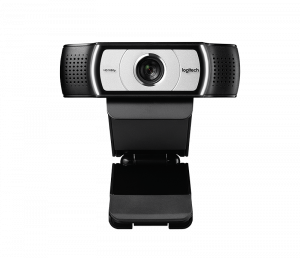 We're starting with the least expensive option. C930 webcam delivers the quality of business video meetings in a much better way, comparing to built-in webcams.
It has all you need to broadcast live webinars with sharp video, and to ensure the quality of your team meetings with a 90-degree field of view and 4x digital zoom.
This device will especially come in handy when you're constantly on the move. It's small, light, and easy to mount it on your laptop, or to place it on your tripod (if you have one).
When it comes to payment, you will be looking at the price of $129.99.
Brio Ultra HD Pro Webcam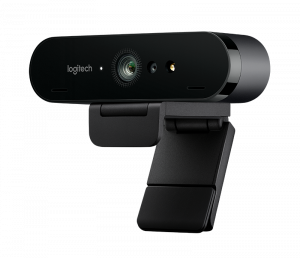 It's a level up from C930, and honestly – we have been using the Brio Webcam long before we launched these tests, and we're pretty much happy with its performance.
What we can say about the vision, is that is powers up your live streaming with much more vivid and deep colors. Another advantage – it comes with the application that unlocks more possibilities for the quality of your broadcasting. You can take much more control over the vision, by manually adjusting the temperature of colors, contrast, brightness, or field of view.
The quality is what Logitech itself strongly underlines:
Our premier 4K ultra high-def camera offers 5x digital zoom, high frame rates, outstanding low-light performance, HDR, and RightLight™ 3.
---
SIDENOTE:
What's also worth mentioning, both C930E Business Webcam and Brio Ultra HD Pro Webcam come together with build-in microphones.
---
All in, Brio Ultra is a fine choice if you are serious about achieving business results with webinars, selling online courses, or delivering your message to your teammates or business partners.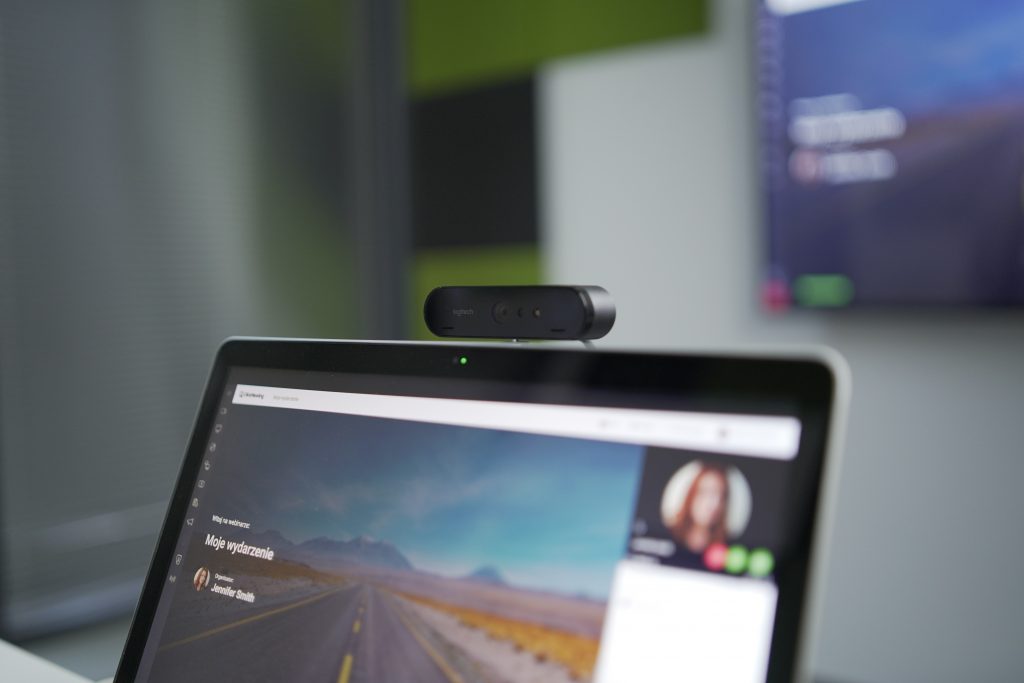 The price for Brio Ultra HD Pro Webcam is $199.00.
MeetUp

If you're looking for something more than a webcam, and your main aim is to create an efficient virtual conference room, then choosing the MeetUp system is a step in the right direction.
Even though the colors provided by Brio Webcam were natural and lively, the MeetUp proves that it can do even more.
Moreover, the name of this video conferencing kit tells it all. It's a dream solution for team get-togethers because of the impressive wide-angle camera. With the convenient control pilot, you can move the eye of the camera forward and back without losing a razor-sharp quality, and sideways – with the ability to show and focus on each team member or a presenter.
But what we love most about this product is the built-in microphone. MeetUp is a definite winner when it comes to the sound quality of your meeting.
As for the sound – it's one of the aspects that you wouldn't want to gamble on. There's nothing more irritating when you don't hear some of the meeting's attendees because they are too far from the microphone. This is where Logitech's MeetUp fits in perfectly – even if someone sits on the other side of the table, the sound is still fine.
How much for this one? It's between $899.00 and $1079.99.
Rally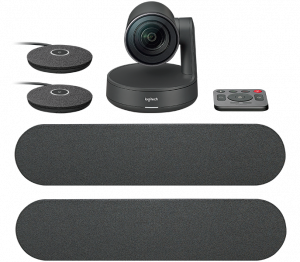 OK, what we covered so far from the Logitech menu, was webcams and a meetup small kit. Right now, we're facing an advanced video conferencing system close to those described at the beginning of this article. But cheaper.
What this all-inclusive system includes?
Camera
Speaker
Mic pod
Display hub
Table hub
This set is also designed for meetings and online collaboration. As it was in the MeetUp option, the Rally system is empowered with a handy pilot where you can zoom in and out and move the camera eye to find participants seated in different parts of the table. The feature that is particularly pleasant is that you can save two preset positions of the camera and get back to them in a second simply by clicking one button on the pilot.
Unlike the C930E and Brio Ultra webcams, the Rally system is hardly for running online events on the go. On the contrary, it's a piece of equipment you would install for good in your most popular conference room.
You don't have to worry, though, that it will look messy and you will stumble over the cables on the floor. Let's give it to Logitech:
With a Display Hub and Table Hub to keep cables neat and organized, Rally components and the meeting computer remain securely out of sight.
But what the producer intensely points out is studio-quality video and amazing sound experience.
As you can guess, Rally is the most expensive option from the four we have tested on ClickMeeting's premises. Here's the price range: $2,099 – $2,599.
What is the best video conferencing solution?
So, we walked you through different options for gearing up to organize your video conferencing work. By now, you most likely found the answer to the following questions:
What's a good but economical video conferencing system?

How to pick out a good webcam?

What are the other items needed for video conferencing?
As we mentioned earlier, you don't have to drop a heavyweight expense on your financial department's back. Accelerating business results with the help of video conferencing doesn't have to be a luxury. On the contrary, it can be affordable!
Going for Logitech webcams hides more profits than just saving up on a hardware. All their products we have tested are compatible with a webinar and video conferencing browser-based software, like ClickMeeting!
All you need to do is to plug in your webcam into your USB port and play for your live broadcasting.
And finally – when it comes to the cost of creating a video conferencing account, the pricing of the ClickMeeting platform starts from $25 a month!