Follow-ups done right are as vital as running a webinar itself. Creating a thoughtful webinar follow-up email campaign will help you to stay in touch with your leads, customers, or students. Once your online event is over, it's time to take action. How to make an impact on people who joined your event? How to attract those who didn't show up? And lastly – is there a chance to do it all automatically?
Let's leave aside your business purpose hiding behind webinar hosting. Just for a couple of seconds. Think about the immensity of work you need to invest in organizing webinars. Your time and effort you have poured into:
Identifying the needs of your target audience,

Assembling all the know-how and insights,

Transforming your knowledge into compelling webinar content,

Scheduling and promoting your online event,

Hosting your webinar.
That's a long run. Now, you wouldn't like it to be just burning muscles. To cross the finish line and to continue building your online business stamina, you need to take these final yards with follow-up emails.
Here's why:
The power of webinar follow-up email
OK, before we get back to the business needs that pushed you to fire away webinars in the first place, let's define webinar follow-ups as such:
What are webinar follow-ups

Webinar follow-ups are a post-webinar follow-up email campaign. It's a set of actions designed to reach your prospects, leads, customers, students, business partners or team members with additional resources.

You can empower all your webinar attendees with your presentation or other materials, link to the webinar recording, and your key message encouraging to action you want them to take.
So, let's see what you can achieve with the help of follow-ups:
Get more leads
Before you sigh and say to yourself something like "yeah, right, the entire planet is trying to teach me how to score more leads", have a look at this figure:
2890
This is how many leads one ClickMeeting's customer has generated by sending webinar recordings after their online events. It took this particular company less than a year to make nearly three thousand prospects to leave their email addresses in exchange for the webinar recording.
The above example shows the potential of webinar follow-ups as a lead generation tool. The secret, however, hides in the quality and relevance of your webinar content. As long as it delivers valuable knowledge, your prospects will have no problem with paying for it with their email addresses. And sending follow-ups will make it super-easy.
Convert leads into customers
Every serious buying decision starts with education. The entire content marketing works on these dynamics, and webinars, as a whole, serve as a premium content format.
So, if you made your leads gravitate towards your Live, Automated, or On-Demand Webinars, you have most likely made the most of the Call-To-Action button, redirecting them to your landing page with a sign-up or a buy-now form.
It will work on some of your leads, but certainly not on all of them. Not mentioning the leads who registered, but eventually didn't join your online event. This is where follow-ups come in handy.
In a perfect world, all the registrants would show up on your webinar. Moreover, your content would be so compelling that all the attendees would click the "buy now" buttons long before your webinar comes to an end. But the reality is more challenging – explains Tomasz Bołcun, Brand Manager at ClickMeeting.
On each step of your webinar customer journey, you will be losing some potential customers, and that's normal. What you can do to diminish the effects? Make the use of sales and marketing technique – follow-up actions. First of all, you should resend invitations to your leads, who forgot, or didn't have a chance to join your webinar. Second, with tools like Survey or Chat under your fingertips, you can evaluate your performance as a webinar host. Find out what was missing and include those elements in your upcoming webinar to encourage more leads to buy your product or service. Lastly, you can use follow-ups to create a bond with fresh customers. Let them know that you treat them seriously and empower them with some extra materials to make them stay with your brand for longer. – underlines Tomasz Bołcun.
Sell more online courses
When we sat down to create a highly-detailed scenario to use webinar cycle for running online courses, webinar follow-up actions were on our top-priority list.
Why? Because setting a bait with a set of free webinars giving a sneak-peak preview of your educational offer, is one thing. The crucial part is about following-up your potential online students and attracting them with:
Some bonus (written, audio, or video) materials,

The recording of your webinar,

Invitation to another open webinar – a free lesson of your online course.
Picture this – you're releasing a set of five free On-Demand Webinars to the wild, promote them and let your future students watch them anytime and anywhere they want.
After a while, you will be able to analyze the statistics and choose the webinar topic that had the best performance when it comes to the number of attendees.
Next, you take this topic, enrich it with some insights, and schedule a free, live webinar. This event has one ultimate purpose – get your attendees to sign up for your entire online course. A strong CTA button will be inevitable, followed by an enticing click trigger. That has to include a bold promise – you need to emphasize what your students will achieve by enrolling and graduating your course.
Still, you will hardly score 100% of course sign-ups. Some of your attendees will hesitate, so you'll need to look after them. How? With a meaningful follow-up email.
That's the moment when you can play with a special offer – the first lesson for free or a time-limited discount.
OK, so the question is – how to put webinar follow-up emails in action? And most importantly – how to save your time in the process by getting automation onboard?
5 steps to create automated follow-up rules
The big idea behind ClickMeeting's webinar cycle framework is to take the hard work off your shoulder with automation features. In this case, you are facing setting up webinar follow-ups and letting your webinar platform send all the messages for you.
It will be happening within your webinar account. Here's a quick way to do it:
Step 1: Schedule your event
Your starting point is about scheduling your webinar.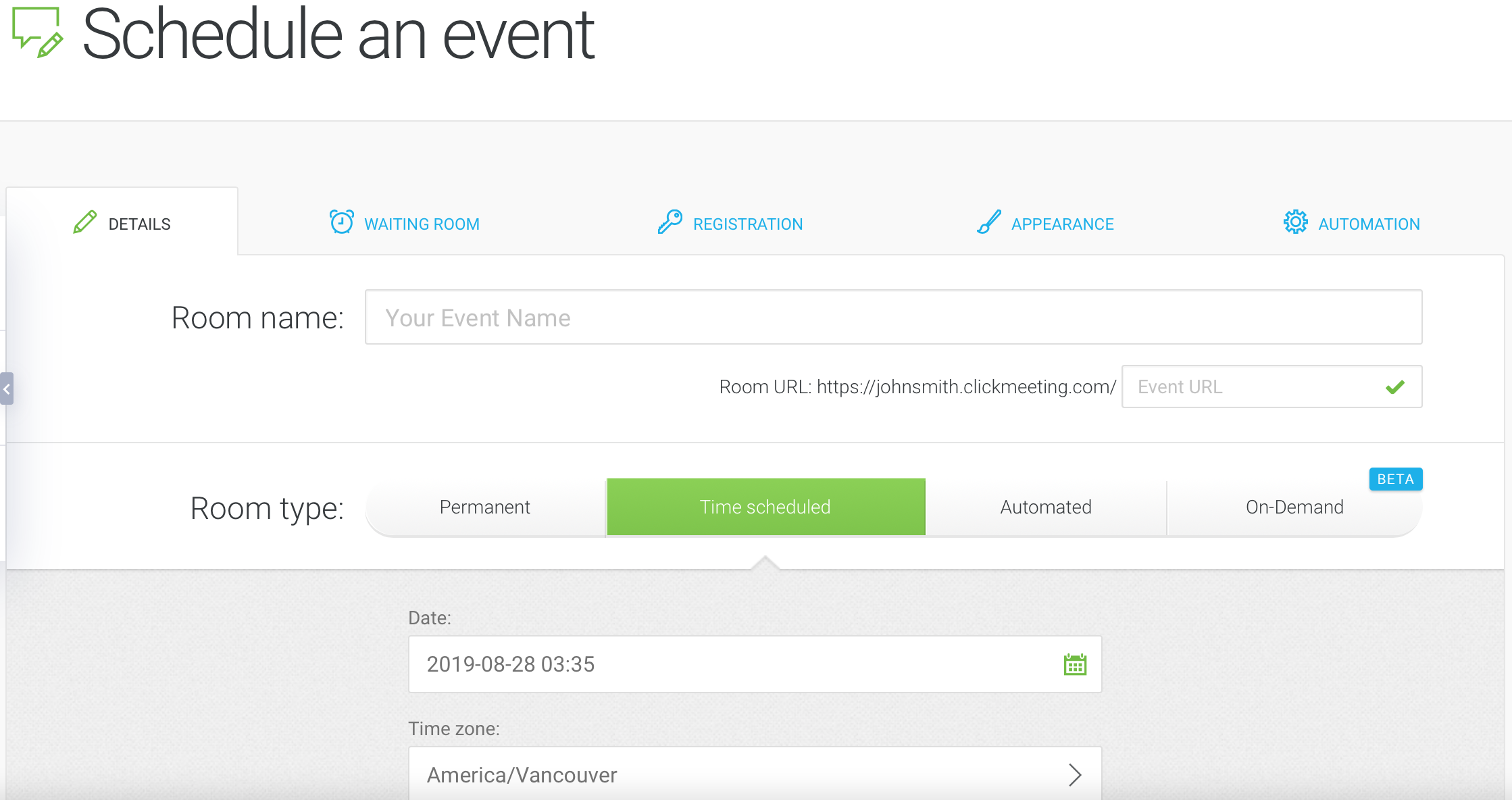 After choosing a name and deciding on a type of your event (Permanent, Time scheduled, Automated, or On-Demand), click the Automation tab.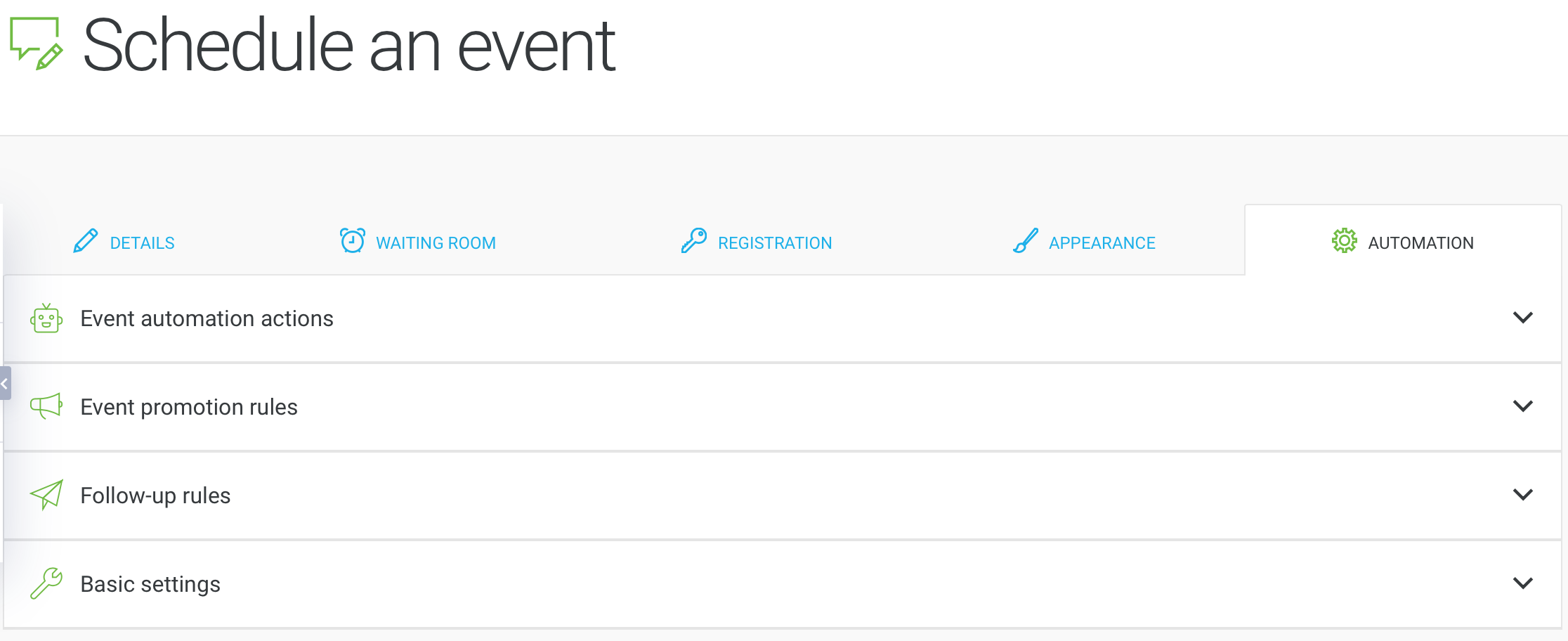 Next, expand the "Follow-up rules" section.
Step 2: Set up your Thank-you page

This little trick will redirect your webinar attendees to a previously prepared thank-you page. Once the event is over, all the people you gathered in your webinar room, will land on your website.
Now, it's up to you what kind of message you will have prepared for them. Would it be just about saying "thank-you"? Or perhaps you will have a ready sign-up or buy-now form waiting for your leads, customers, or students?
Step 3: Set up your Thank-you email

OK, it's time to take good care of your webinar attendees – people who registered and showed up to your event.
Write down a Thank-you message, quickly sum up your webinar highlighting the most crucial elements of your presentation. Take a few minutes to sweeten up your email and strengthen the relationship with your future customers.
Will you be trying to trigger them to take action at this stage? It's your call! Remember about all the perks you can include in your Thank-you email: files, link to your webinar profile page, a webinar recording, or a certificate – if the webinar is a final lesson of your online course.
You can also ask for the feedback which will give you a fantastic overview of how your audience regards your performance as a webinar host.
Remember to leave the green switch on, and your Thank-you emails will be sent automatically after the webinar is over.
Step 4: Set up your Follow-up email

As we emphasized a couple of paragraphs up, not all your leads who registered to your webinar will actually join to see and hear you during the event itself.
And it doesn't mean you have to be resentful. Most of the time, people are too busy to remember and attend live webinars (hence the power of On-Demand Webinars).
Don't give up on them! Attract them with a captivating follow-up email! Like before, put down your message, add files you want to share, and add the webinar recording.
This way, all of the absent leads or students will get a chance to consume your webinar content.
This will also go on autopilot, without any additional work from your side after the webinar.
Step 5: Set up invitations to upcoming webinars
OK, maybe it will be too emotional for you, but this tool is pure gold! With these automatic invitations, you can spin your webinar cycle to generate more customers or students.
The above automatic messages are sent either to attendees or non-attendees. Here, you're dividing your contacts with the same metric and inviting them to different upcoming events.
For example, imagine students who attended a webinar called "The Introduction to Digital Marketing". They will be interested in diving deeper, so it would a smart move to automatically invite them to another, more intermediate webinar – "The Foundations of Digital Marketing Strategy".
On the other hand, those students who registered but didn't attend (remember that they already received a recording) might not be clear on what they want to learn at this stage. So, you might invite them to a different event, with a parallel topic, for instance, – "The Introduction to Social Media Marketing".
OK, it might feel overwhelming at first, but it's insanely simple! To make it even easier, we have prepared a video tutorial, showing you step-by-step how to create all the follow-up actions:
Are you ready to try automated webinar follow-ups?
All in, professional follow-ups are as essential as running the webinar itself. By setting these automatic rules, you will stay close with your audience and encourage leads to take actions valuable for your business.
Take ClickMeeting on a test drive, and try automated follow-up rules and other webinar cycle features for free! 30 days, no credit card required.