Call-to-Action is the core and the real reason for every successful marketing campaign. CTA button is the entrance door to any online business offer and a proven way to increase a conversation rate. It works for reaching B2C and B2B audience, and specifically – for achieving marketing goals with webinars! Whether you run product demos or host online courses and training sessions, the winning CTA should be your goal.
How to get there? How to attract your audience and make them hit the button? This is where copywriting tricks come in!
The significance of Call-to-Action
CTAs are primarily used to tell your prospects about next steps, like signing up for a webinar or a free trial of a software platform. It's important to consider your future CTA when you are planning a new sales campaign. It will serve as the driving force behind most of your outreach efforts.
Serious digital marketers can't live without them. CTAs are the main point of creating marketing campaigns. They are the bottom line for every landing page, PPC ad, or email campaign. Regardless, whether it is a first sales pitch during a product demo, or a tactic plan for upselling or cross-selling your products to your target audience, creating a striking CTA should be on the top your interests! Even your webinar registration page could use a strong CTA!
Top sales and marketing specialists know that words are powerful, and they respect the value of copywriting. How you write your CTA could determine whether or not you accomplish your biggest goals.
Whatever your goal is, writing better CTAs is a great way to accomplish it.
Here are the:
11 ways to improve your copywriting and inspire action in all your prospects.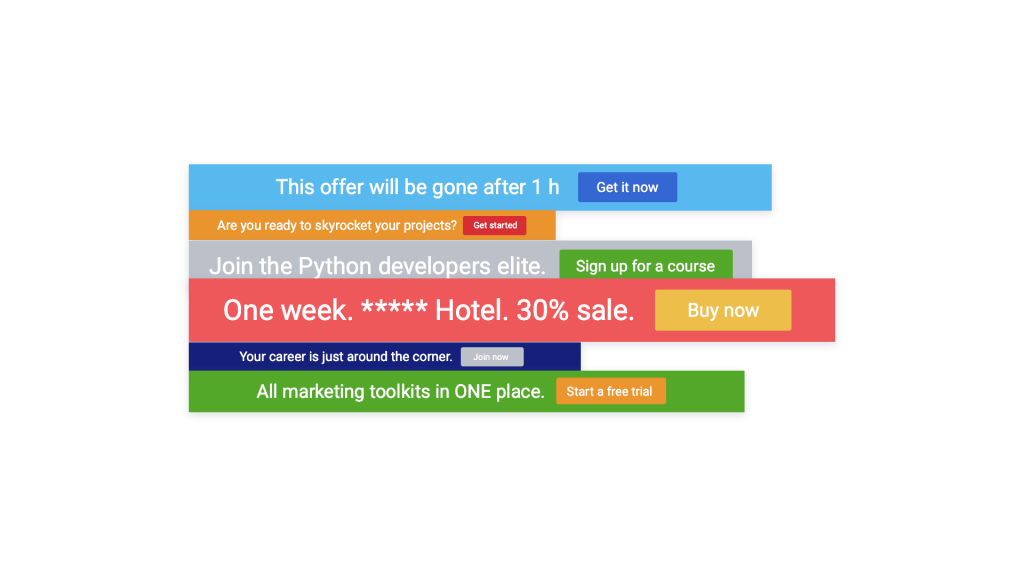 1. Talk the talk
Research your audience and find out what terms and phrases they use on a daily basis. If you use buzz words they recognize, they are more likely to trust you. It's also an easy way to prove you know what you're talking about when you give them advice. To find out about the specifics of their industry, their main problems, and the nuances, dive into questions asked on Quora, discussions held on Reddit, and highly-detailed posts published on social media groups.
2. Trigger them
Emotions are an essential factor in every sales and marketing campaign. CTAs are no different. Is your audience more motivated by joy or fear? Learn what makes them tick and use it to help phrase your Call-to-Action.
3. Put your CTA to the test
Like most digital ads, you can perfect CTAs through real-world testing. Experiment with different words, punctuation, and offers. It may take a little trial and error. But testing your CTAs in the real world will help you understand how to sell to your unique audience.
4. Offer something worthwhile
Why should a prospect listen to your CTA? Are the benefits of following through made crystal clear? Give them something they will actually want and make sure they know what it is before they click the button. No matter how well written a CTA is if the offer stinks no one will care to follow through. If your offer is great, on the other hand, you'll need to make sure your copy makes that obvious.
5. Sound friendly
Use conversational language when writing your Call-to-Action. If you include worn out or spammy phrases, it will be very off-putting to your audience. Instead, word your offer as if you are talking to a friend. Unless your brand presents a more serious and professional image, casual phrasing is best.
6. Make it urgent
A great CTA lets the reader know that if they're going to take action at all, they have to do it now. Let them know that spots are limited or that the offer expires after a certain amount of time. Viewers who are on the fence will be persuaded to take action now rather than wait and take it later (if at all). Make sure to embed a sense of urgency into your copy.
7. Be brief
Less is more when it comes to writing CTAs that sell. The fewer words you use to get your point across the better. Prospects have short attention spans. They want to know the WHAT and the WHY as fast as possible. Help them get there sooner by writing the least amount of copy possible.
8. Use the active voice
Passive phrasing is a CTAs number #1 worst enemy. It's a severe form you need to exclude from all your marketing communication formats. Regarding a call-to-action button, using passive voice also kills any urgency you've built up elsewhere. Be direct and use present tense action words in every message.
9. Provide value
Your effective Call-to-Action needs to communicate the value behind the action. Even if the prospect doesn't buy your product, what do they stand to gain from clicking that button? In addition to making it worth their while (as mentioned above), prospects need to see why following your instructions will benefit them beyond the immediate offer.
10. Promote your persona
Your brand voice should carry through your copywriting. What image have you already used to promote your brand? Make sure your CTAs emulate that language too. A cohesive and robust persona makes prospects more willing to do what you ask them to.
11. Consider how to display them
The location of your CTA can help determine what you write. If you host a webinar, will you use call-to-action pop-ups? Will they be placed in the middle or at the end of your presentation? Or perhaps both? Either way, make sure your CTA copy makes sense with the information they hear or read right before they see it.
A way to convert your webinar attendees into customers
According to the findings included in our latest State of Webinars Report, it is absolutely worthwhile to invest your time, money, and efforts into creating compelling content marketing with the help of webinars. Regardless of whether you aim to showcase your e-commerce platform with a product demo, or to monetize your expertise with certified training sessions, webinars have a proven record of success at all stages of the sales funnel.
Video content marketing in general, and webinars in particular play a vital role in achieving impressive results, starting from the early stage (awareness, interest), the middle stage (consideration, intent, and finally – the last stage (evaluation, purchase) of the funnel.
Since you are convinced about the significance of starting webinars in the first place, you need to be sure that all your records will eventually pay off. Meaning that your prospects and qualified leads gathered in your webinar room will ultimately convert into customers.
How to do that?
Two weeks ago we submerged into a topic of making an impact with the well-designed webinar pages. The first impression matters a lot, therefore creating a customized and professional webinar page design, should be your starting point. As soon as your registration page, waiting room with meeting agenda, profile page, and webinar room itself impress your target audience, you are ready to prepare your event.
Analyze your presentation and consider when it will be the best time for a Call-to-Action to appear. Create a copy that will trigger action you want your future clients to take. Try how it works, and analyze how it influenced the traffic on your landing page. In the end, it's about evaluating your KPIs and measuring the overall score of transactions or filled sign-up forms.