It's a perfect time to make friends with Product Design Workshops. Why? Design approaches have recently become a trendy way of refining product ideas. You can use them to validate project team's initial assumptions, to check if the product development process goes in the right direction and the company doesn't risk spending money on something customers don't need.
According to the results of Design Maturity Model, a research conducted by InVision in 2018, 28% of respondents used design approaches to reshape some features of their products or services. 70% of companies that participated in the survey employ design teams to create whole products, services or their entire product portfolios.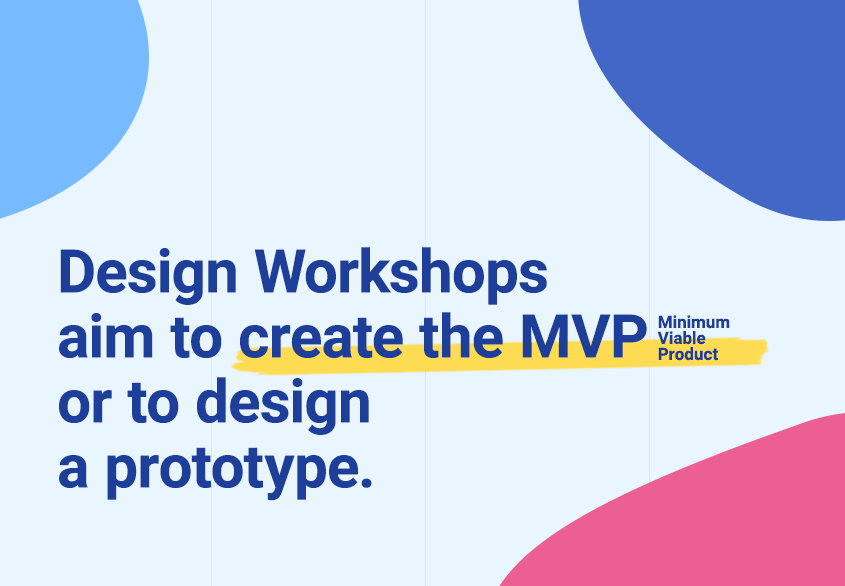 More and more companies that want to define their initial product ideas and have their new solutions developed by software houses decide to take part in design workshops. Such workshops aim to create a product with enough features to be tested, also known as the MVP (Minimum Viable Product). The second goal is to develop a prototype, based on the ideas generated at the workshop, ready for testing by future end users.
Workshops – a critical stage in the process of product development
The main reason to organize Product Design Workshops is to precisely define the client's expectations towards the service provider, e.g., a software house responsible for product development. Often, at the initial stage of development, the idea is quite vague. The client knows what kind of app they want to create, but they don't know which features are essential. During the workshop, you can brainstorm your initial ideas and take a closer look at how end users are going to use your product.
Another kind of workshop where you can present a brilliant product idea and need to refine it is a design sprint. A design sprint is a proven method of solving problems through designing, prototyping, and testing ideas with users. It is a tool for developing a hypothesis, prototyping an idea, and testing it in as real environment as possible without having to invest much.
Thanks to the workshops, both parties – the company willing to create a product and the one that's going to develop it can:
identify future users of the solution
review initial product assumptions
come up with a clear vision of the product
estimate the real costs and time needed for the development
decide which features are the most necessary and should be developed in the first place
create a prototype that end users can test immediately
avoid spending money on a solution end users don't want/need
take a closer look at the problems users would face
generate solutions to these problems and choose the best one
The workshops usually last a few days, however, in the case of design sprints, the time is strictly defined – it shouldn't last more than five days. Many people from both parties – a product owner, a scrum master, business analysts, project managers, and developers – need to take part in the process.
Is it possible to run a remote workshop?
Often, the client and software house are located miles away from one another. What can they do to take part in a workshop? They can meet half-way but what about the time needed for travels and money spent on bringing everyone to the workshop venue? The whole venture may turn out to be costly and time-consuming.
In addition to that, many software houses are virtual teams, with no physical office. Every member of the team works from a different location. They may be scattered around the world, communicating via Slack, Trello and sharing resources via Google Drive. They use the same tools when talking with clients.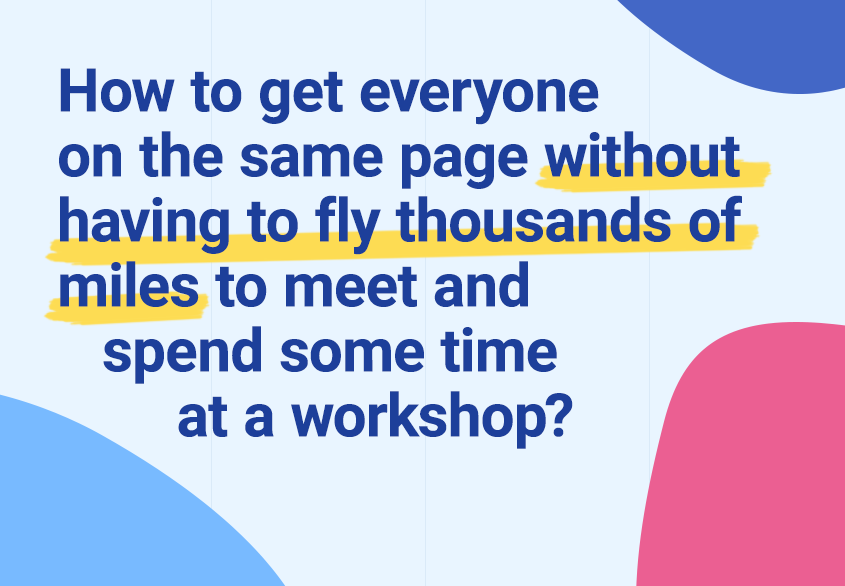 How to get everyone on the same page without having to fly thousands of miles to meet and spend countless hours at a workshop?
That's pretty simple. Use a remote collaboration software that lets you gather all necessary participants in one virtual meeting room in real time. Choose one that offers handy audio and video features and provides tools that make it possible to perform various tasks during the meeting, such as taking notes, sketching, or drawing.
Run the entire workshop remotely
In this article, we are going to convince you that it's possible to get a large team of people to collaborate on complex issues despite working from different locations. We are going to encourage you to start using webinar platforms to run your product design workshops.
Why is a webinar platform a great tool for a remote workshop?
There are plenty of online collaboration tools out there but have you ever considered listing webinar platforms among those that make it possible to run effective remote meetings, let participants talk in real time, share knowledge and produce valuable outcomes? If not, consider them as a must-have if you are planning to organize remote workshops and you are looking for a solution supporting your challenge.
Why is that?
A webinar platform lets you organize a meeting in real time and invite as many participants as you wish. In addition to that, it offers a wide range of tools thanks to which your meeting will be much more than just an audio/video broadcast. It will be just like a real meeting whose participants can:
interact with host and one another
talk in front of the camera
have a conversation via chat
ask questions and answer them
share resources with each other
take notes and sketch in real time
run questionnaires and surveys
Which webinar features will be helpful during a remote workshop?
Webinar platforms provide you with a set of tools that let you organize an interactive, dynamic and very fruitful meetings related to such complex issues as product development, idea generation, and refinement.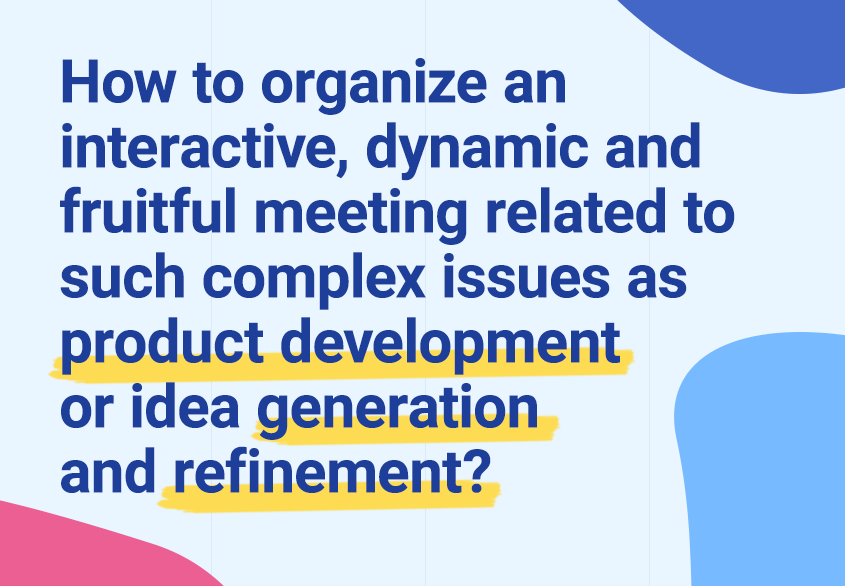 Which features will come in handy? Take a look at the list below:
How to run a product design workshop on a webinar platform?
Step 1: Invite participants
Before the workshop, send personalized invitations with a link to the webinar room and a short tutorial on how to join the meeting. Don't forget to mention the time and date of the meeting. Emphasize the fact it is going to take place online and let attendees know how long it is going to be.
Prepare the meeting agenda, containing the aim of the workshop, the tasks you are going to do and what will be the outcome. Make the agenda available in the webinar waiting room, so everyone waiting for the meeting to start can take a look at it.
Step 2: Welcome attendees and do an ice-breaker
Some of your attendees will show up a couple of minutes before your webinar begins. To engage them, make sure you enable a waiting room with an agenda.
At the time specified in the invitation, turn your camera on and greet the participants. Make sure everyone is present – ask them to wave to the camera or write something in the chat window to confirm. Start with a quick ice-breaker. Choose one that can be done remotely, in front of the camera, for instance, ask everyone to introduce themselves in a few sentences.
Step 3. Do the work
During a traditional product design workshop, specific tools are used to refine product idea, prepare user profiles and identify the ways they are going to use the solution. During a remote workshop on a webinar platform, you can make use of them as well.
Are you going to work on personas? Use the virtual whiteboard available on most webinar platforms to note down your future users' characteristics. You can also prepare some slides with photos, most important features, key points, behaviors, aims, etc. and when you are done, use the presentation tool to show your findings to the rest of the group.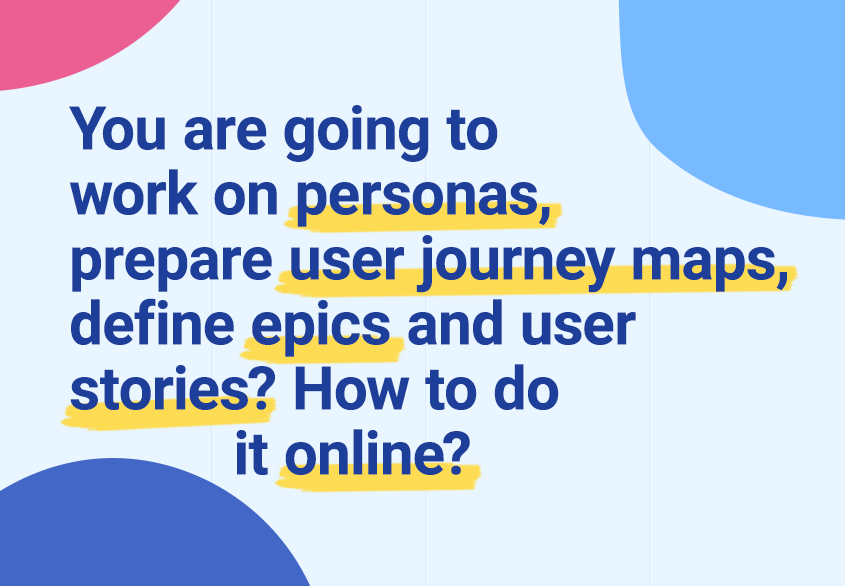 For sure, you are going to prepare user journey map or define epics and user stories. You will need sticky notes for these tasks. How to use them at a remote workshop? You can ask every team to work on their part of the task and then take a picture of the wall covered with sticky notes to make a presentation out of it. You can also use Trello and then share the screen to show your board to everyone else.
What to pay special attention to at a webinar workshop?
During a remote workshop, everything must go as planned, without any interruptions or unexpected events ruining the atmosphere and making it hard for the participants to work effectively and in a comfortable environment. That is why make sure you have taken care of the following issues:
Access to the webinar platform. Everyone should be able to join the meeting without any problems. Before the workshop, check how many participants you can invite.
Good video quality. Make sure the cameras capture the entire rooms in which the teams will be working. People might forget they are taking part in an online meeting, wander around the room and as a result, go outside the camera's field of view. You can avoid it using a wide-angle camera.
Good moderation of the meeting. A remote workshop may be a novelty for many of your participants. Take proper care of them. Start with a good introduction and explain how you are going to work. Shortly present the features you are going to use to make sure you are all on the same page, and no one feels neglected.
Discipline. Your remote participants may get distracted, especially if the workshop is long. Make sure you do short breaks and try to keep your attendees engaged and focused all the time. Call them by their names, ask about their opinion on a given topic, request  them to come in front of the camera and share the results of a task, talk to them via chat, etc.
Click's Tip:

It's essential to make the most of the knowledge gained during these events and work on it later on. To do that, you will need professional materials documenting everything team members said during the workshops. A perfect solution will be to record the entire event. It will let you get back to the critical moments in workshops anytime you want. – explains Rajmund Dziemaszkiewicz, Product Owner at ClickMeeting.
A remote products design workshop? That's possible!
So, there you have it – a product design workshop done remotely. As you can see, it is possible to organize and run such meetingsentirely online. Now, you can start planning your own – take a look at the features ClickMeeting provides and get down to preparing your very first webinar product design workshop.