A vision of organizing a huge conference is giving you a headache? Renting an expensive venue, booking flights, coordinating accommodation and catering; not to even mention the pain of gathering hundreds of attendees from all over the world in one city. Well, it doesn't have to be that way! Your big event can happen entirely online!
"Nonsense! We want to do something really complicated, too complicated to present it online. Webinar platforms can't cope with that. Besides – we don't have time and resources to learn new software from scratch."
Wait a sec:
You can easily move your high-maintenance and huge events to a digital world with web conferencing room. It's closer than you think.
It's in your browser!
More and more companies decide to take their big events online. The main reason is simple: they want to save both the time and money they would have to spend on travels and accommodation if they tried to organize a traditional meeting.
How to do it? Is there a chance to achieve it with an outside-the-box approach?
From this article, you'll learn how our clients dealt with that challenge. Read on to find out how they planned their great webinars and how our team helped them accomplish their goals.
Help clients organise a huge webinar? Challenge accepted!
Three of our clients planned to host massive events for international audiences. Their needs were far beyond the standards:
1000-2000 participants located in different parts of the globe
several dozen presenters, also scattered around the world
in one case – a several-hour-long event that had to be conducted without any interruption
For each of these companies, it was quite a challenge to set up, plan and host an online event on such a scale. Either they had never tried webinars, or their needs were unique and challenging to make come true (if they wanted to pursue them on their own).
They needed a real Support Team and a dedicated account manager – someone who would deal with the technical stuff. Someone who would give helping hand and train their employees and teach their presenters how to operate the platform. Someone who would advise them on all the dos and don'ts of the webinar world.
The clients asked us whether they could count on us and get some help. For ClickMeeting, it was like a Batman sign in the sky. Although it required a new way of cooperation between the team and the client, we stood up for it!
We took it on our shoulders, provided our clients with full support and took up the following tasks:
planning and organizing the whole event on behalf of the client
conducting training for several dozen presenters
making sure everything goes according to the plan
our people's remote and on-site support during the event
#1. A software product demo for 1500 attendees
Our client, operating in the North American market, wanted to make an online product demo webinar to showcase a new cloud solution to their clients from Canada and the US. Company's sales managers assumed over a thousand people would take part in the show.
There was one problem, though:
They have never hosted a webinar before, and this one was supposed to be an impressive one. For us, there was only one possible solution in such a case – we would plan and organise the webinar for them!
In the initial stage of the preparations, all the client had to do was to set up an account and provide us with the materials. Based on them, we came up with the event scenario and the agenda; we prepared the presentation and the final survey.
Then, we took care of the webinar branding in line with the client's visual identity. We designed a layout for the registration page, the waiting room, the webinar room, and the thank you page.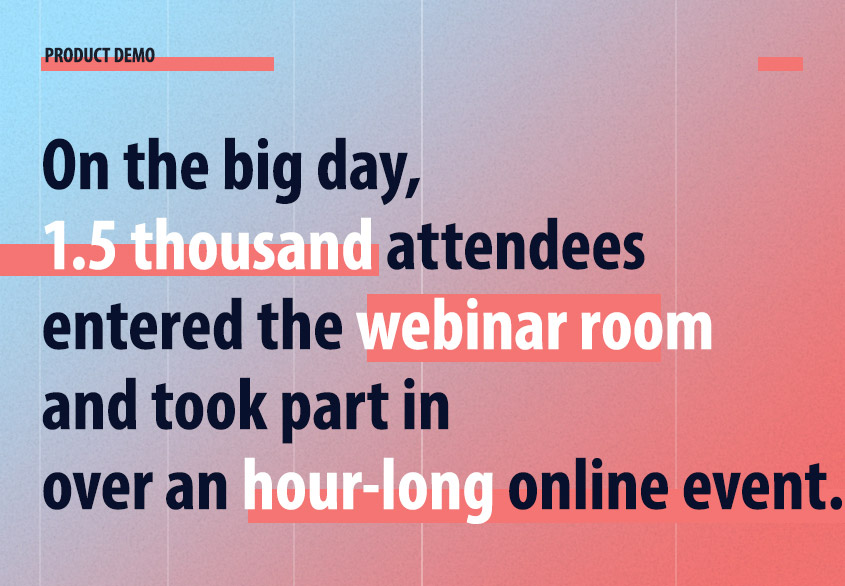 Rehearse and go!
When the technical and content aspects of the webinar were ready, it was high time for a rehearsal. We invited their sales managers to a series of the so-called dry runs, during which we ran the webinar and rehearsed it step by step.
Together with the client, we decided which presenter was going to take over and when. We told them what to do if something didn't go according to the plan. We tested our plan B – a set of extra slides the presenters would show if they had problems sharing the screen or playing a video from YouTube. Everything had to be taken care of before the Zero Hour.
On the big day, 1.5 thousand attendees entered the webinar room and took part in over an hour-long online event. Two ClickMeeting team members supported the client on-site, and two developers were available online, ready to step in if needed. We didn't have to bother them, though. Nothing wrong or unexpected happened during the event.
Our work didn't finish with the end of the webinar. After the event, we provided the client with the bungle package with all the stats and the chat record. Thanks to that, they could then take good care of their new leads.
#2. Spectacular transcontinental education conference
A 9-hour-long conference for 2 thousand participants, 29 speakers, located on three continents and one moderator – can such an event be hosted entirely online? Our client took up the challenge and made it a success.
The conference, devoted to the new techniques used to teach English, was attended by the world's renowned ELT experts.
The biggest challenge, in that case, was the fact that the lectures were supposed to be conducted in 3 separate blocks simultaneously, just like at a traditional conference. Depending on the ticket, an attendee could switch between the blocks or be assigned to only one of them.
We created subaccounts within the client's account to enable each presenter to "go on stage" independently and give their speech. We also made sure parallel sessions – a feature that lets you run several webinars at the same time – were available.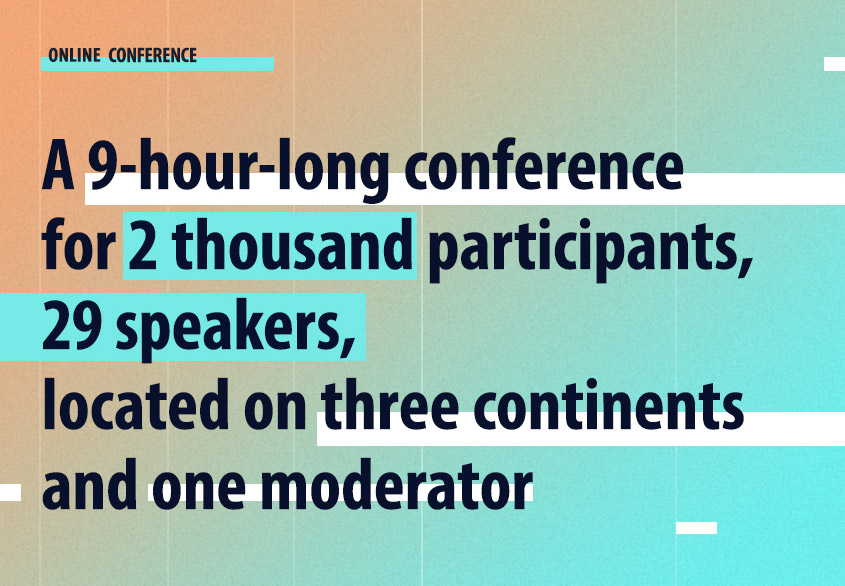 Learning new platform – how to jump over it?
Soon, another task was waiting for us. The speakers were totally unfamiliar with the webinar technology. We took care of it, because we wanted to let presenters focus on the lectures instead of struggling with technology. We had to run comprehensive training for a group of 29 lecturers located on 3 continents. During the meeting, each of them got a detailed plan of their presentation and hints on what they were supposed to do.
We emphasized the fact that with an event like that one we had to make sure servers didn't get overloaded. That's why we prewarned them they would get their access 5 minutes before their time slot. They were supposed to join after the previous speaker left "the stage."
How did they do? Excellent! All the presenters gave their speeches without any problems or obstacles. The client got very positive feedback from participants and considers hosting another conference, entirely online, in the future.
#3. An internal town-hall / AMA meeting
A large webinar event doesn't have to be designed solely for external audiences. A company can use a webinar platform to hold an internal online meeting for its team. It's a great idea when the organization has a vast network around the country and gathering all its employees in one conference hall could be costly and time-consuming.
Our client, a big retail company, selling products on international markets was on a lookout to gather employees from 22 branches scattered all over the country. The CEO wanted to meet the entire team to break some news, reveal the plans for future development and present new ideas for the employee evaluation process.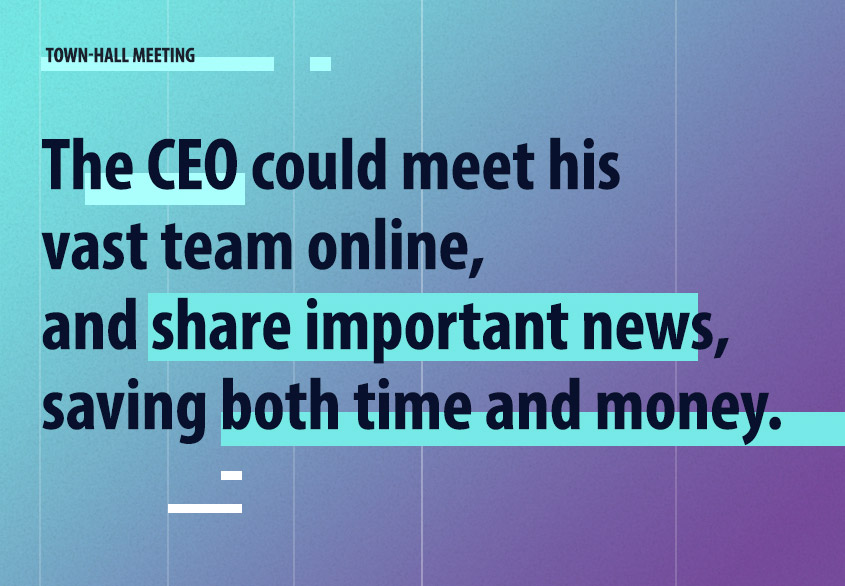 One clear message delivered to all team members, in one time.
This town-hall meeting was super important, and they wanted it to be an excellent experience for both the CEO and the attendees. In that case, we decided the only way for the client to feel secure and get proper support was to have our people on-site, ready to give a helping hand whenever it was needed. Two members of the ClickMeeting team went to the client's HQ to make sure everything was taken care of and well prepared.
At that event, data security was a crucial issue. During the CEO's presentation, confidential data were to be presented. Only employees could have access to them, so we had to make sure only members of the team could register, enter the webinar room and take part in the presentation. That's why each person got a token invitation to be able to join the meeting online.
The webinar was a great success. Employees from all the branches around the country could meet their CEO live. The CEO could meet his team and share important news, saving both time and money at the same time.
Don't be afraid to scale up your event
Organizing huge events on webinar platforms isn't a distant future scenario. It's happening now!
Don't hesitate to make some room for spectacular online events in your business and marketing strategy.
And if you worry that you won't be able to deal with the technology and the organizational matters – our team is here, ready to give you a helping hand. As you can see, we have plenty of experience.
Are you ready for a scalable webinar solution for your business? Contact our Business Development Team today!