With 1.8 billion websites currently online, it's critical to stand out from the crowd. To connect with your customers, nurture relationships, and establish expertise, I highly recommend that you take an inbound approach to your marketing and lead generation efforts.
According to Albacross, 50% of leads in any sales or CRM system are not yet ready to make a purchase. How's that for a reality check?
The good news is that hosting regular webinars can help create dedicated time for customers and prospects to engage with your brand to build customer loyalty. Why does this matter? Well, it's no secret that 40% of marketers say webinars are their best lead generation tactic today, and for good reason.
Wondering how webinars can help nurture loyalty among your customers as they get to know your brand? ClickMeeting designed a webinar cycle model for this as a tool to help you nurture leads using webinars, no matter what awareness stage they may be in.
Read on to find out five ways to earn customer loyalty with consistent webinar offerings.
Create a Personalized Foundation for Trust
What is the foundation of customer loyalty? Trust.
In fact, 90% of B2B companies only make purchases from brands they trust. To increase trust in you and your brand, you need to quickly establish a personal connection with your prospects before they become customers.
The 'personalize' and 'engage' portions of the webinar cycle are designed for building trust and personal connections with your customers as part of your overall lead gen and nurture efforts.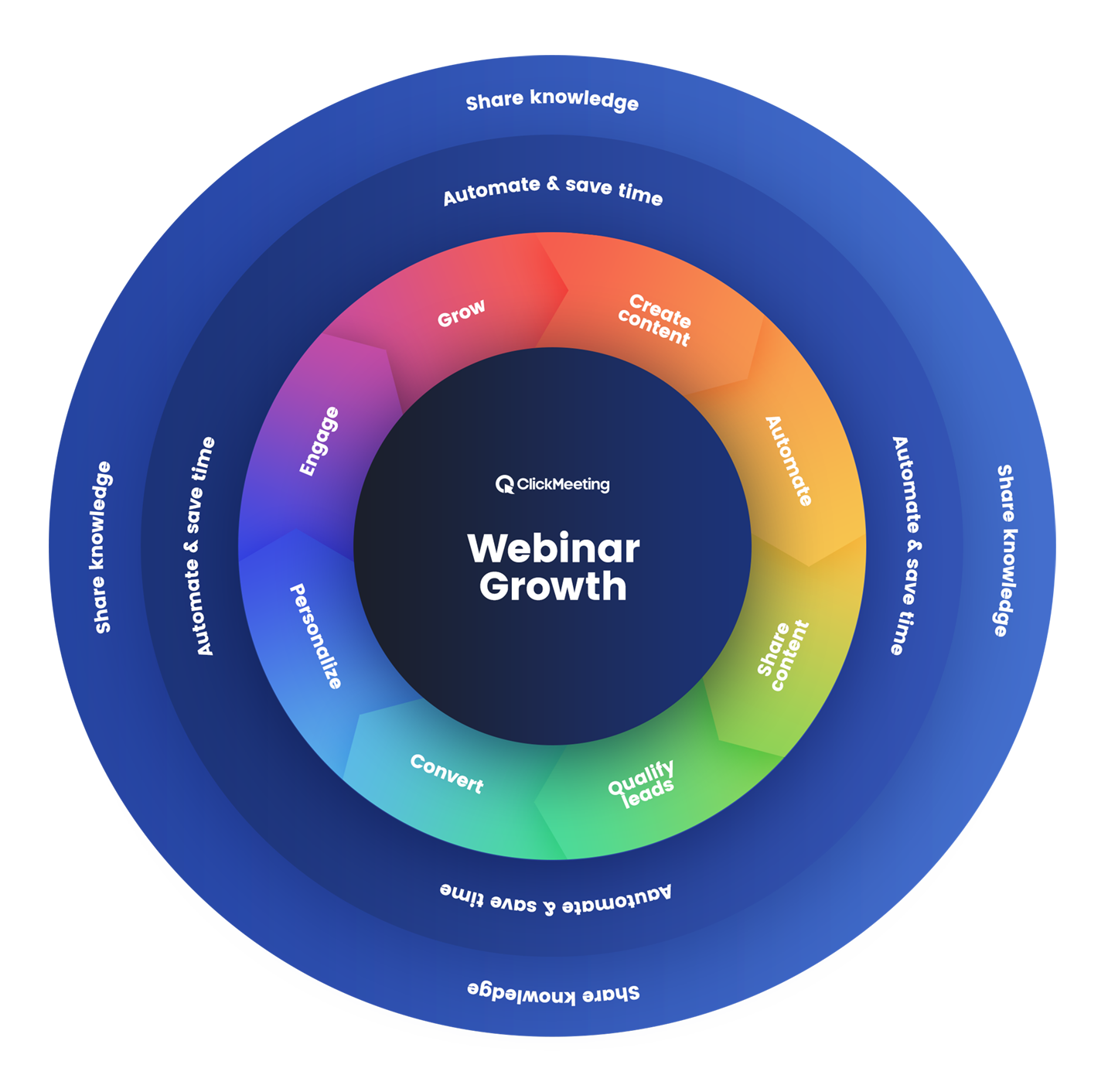 During a webinar, you have the unique opportunity to immediately let customers hear your voice, see your face, and get direct answers to their questions. Eventually, you'll start to notice your repeat attendees and your most active attendees. The questions and answers during your webinars will help you understand their pain points and build their trust in your expertise.
The Q&A part of your webinar doesn't have to be (and shouldn't be) a one-way stream in a webinar. Especially when you're offering webinars to a limited number of attendees, you have the opportunity to get to know each individual and nurture those relationships.
Personal approach
Don't underestimate the value of personal conversation when building trust. You can ask the prospect direct questions to gain a sense of not only their specific business needs but also to better understand who they are as a person.
For instance, a rapport-building question like "I see you're living in X city, what's your commute like?" allows the prospect to relate to it personally, and lets you see how they respond to stress and how they spend their personal time.
It's not enough to just ask questions to build rapport and trust, you need to remember the answers. If you ask a question during one webinar and then ask the prospect the same question a week later, they're likely to be wary about your actual interest in engaging with them and may actually trust you less.
Be sure to take notes of what you ask or and listen to the prospect, so you won't forget the conversation.
Establish Expertise
To grow your lead base and build connections, you need to establish that you're an expert in your field and that you can offer solutions to your customers' problems.
It's more common than ever for buyers to research products and services before making a decision and to continue the analysis as they engage with brands. To improve your brand loyalty, you need to be the one providing the content that your customers find during this research process.
Inbound marketing philosophy is all about creating genuinely valuable content for prospects to find as they engage with your brand. If your prospects and current customers have questions or concerns, be the person to provide answers (rather than your competitors).
The inbound methodology is one of the core principles that guided the development of the webinar cycle. Each stage of the cycle is created with the core idea of sharing your knowledge to help your lead go through each stage of the purchase process, from initial awareness to ongoing brand loyalty.
It's not enough to share written information if you want your prospects and customers to retain it. You need to provide content in multiple formats, on several outlets if you want to be found and have your message retained.
The power of audio-visual premium content
After all, people only retain 10% of the information they hear three days later. So how do you boost that number? When it comes to education and retention, audio-visual mediums tend to work best. Viewers claim they retain 95% of a message when they receive it through video rather than reading it.
If we're talking about a complex topic like generating QR codes to engage customers, it would be helpful to use detailed visuals like the ones below from Beaconstac: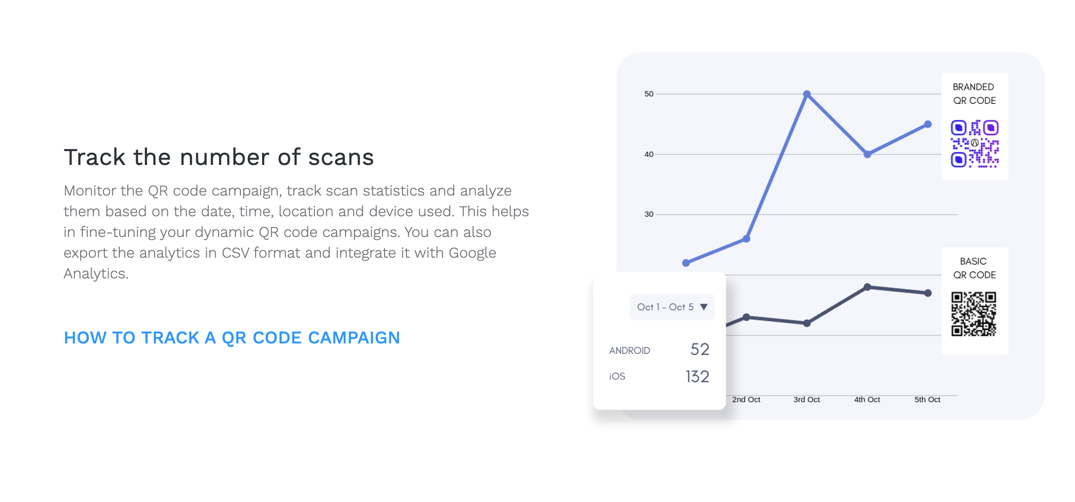 Could you imagine talking about QR codes for half an hour without any visuals? Yeah, I'd say no one would retain that information. Plus, did you know that during the purchase research process, roughly 66% of B2B buyers seek out webinars before making a decision? See why webinars are so powerful?
Webinars give you a unique opportunity to share knowledge with your customers and establish expertise. You have the simultaneous opportunity to directly answer questions that prospects may have during their purchase process and take advantage of the impact of an audio-visual medium.
Do you want to take it a step further? We highly recommend repurposing your webinar content into podcast episodes to share your audio content with more people
.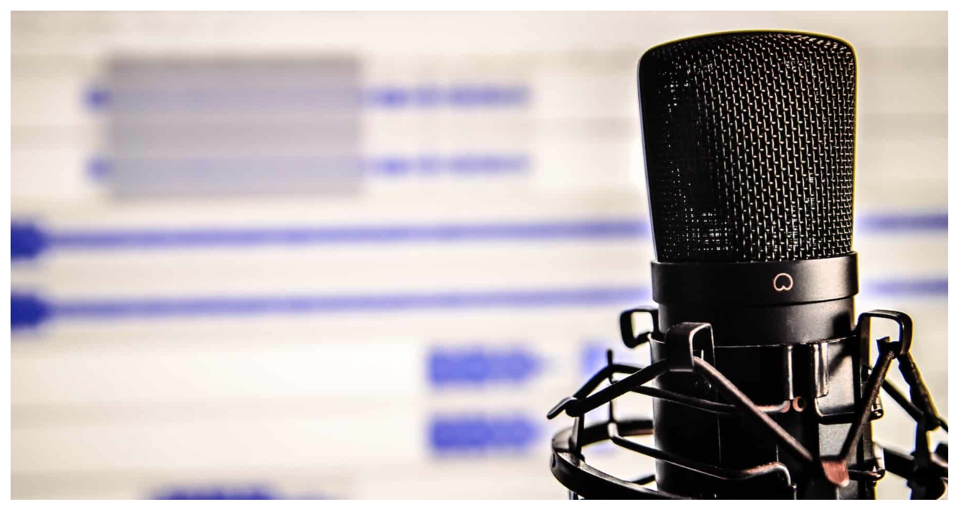 This helps to cover those who may not be able to jump on a live webinar but can consume your content in the car or on the train during their morning commute.
And when your webinar attendees become customers? Be sure to continue serving them content through other mediums and do not leave them out to dry. You can add them to your email list for ongoing newsletters, video content, and value-packed blog posts.
Let's suppose you're an affiliate marketer and write a round-up post on your blog on the best VPN services in 2020:
Even though you just hosted a webinar for services you want the prospects to sign up for, sharing this type of content, comparing competitors, and speaking with founders goes a long way in building trust.
Then, you can even create a more in-depth post based on the top choice and send webinar viewers there. In this example, it could be a more detailed NordVPN review post like this one: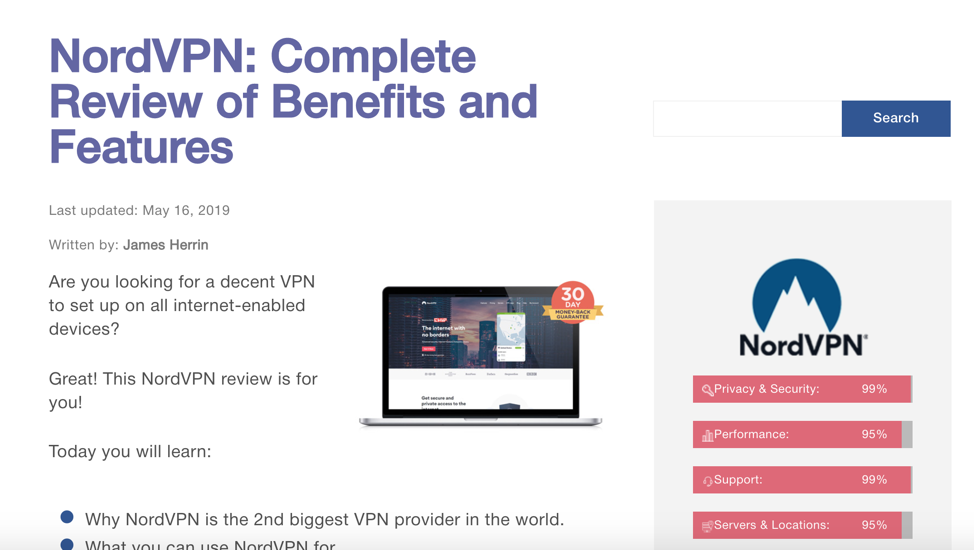 Be sure to share this type of content with your email list as it also serves as another touchpoint like we mentioned earlier.(remember how it takes eight, roughly?)
You should invite your prospective customers to engage and ask questions at every opportunity possible. They may not always have time to hop on a 30-45 minutes webinar, so be sure to meet prospects whenever they can and deliver content in all forms.
If you're not sure how to set something like this up, check out these marketing workflows that can help you streamline the process.
Provide Regular, Polished Content
The "create content" and "share content" phases of the cycle are all about providing high quality, valuable, engaging content to share with your audience. It's not enough to offer content that showcases your knowledge. You need to do so regularly, and you need to do so with the highest standards for production and quality.
Offering polished content reinforces your professionalism and expertise and helps meet your customer expectations.
Video keeps the throne
Your customers want and expect consistent content, especially when it comes to videos. 85% of marketers say that video is an effective way to get attention online, and webinars provide the opportunity to vary the type of video content and engagement you offer.
However, it's not enough to just jump on a webinar with an ancient headset and your laptop's built-in webcam. Customers' expectations call for quality in addition to consistency. If your webinars have poor sound or video quality, your message will get lost, no matter how valuable it may be.
As you map out your webinar strategy, take the time to plan your script, and create slides or line up the various windows you'll need to have open for a smooth experience. There are few things less engaging than waiting for a page to load or video to buffer during a webinar.
You also need to make sure that your hardware matches the quality of your content. Test your connection speed in advance of your scheduled webinar to ensure that you don't run into any  connection issues and invest in a podcast-quality microphone and HD webcam to create a great webinar experience.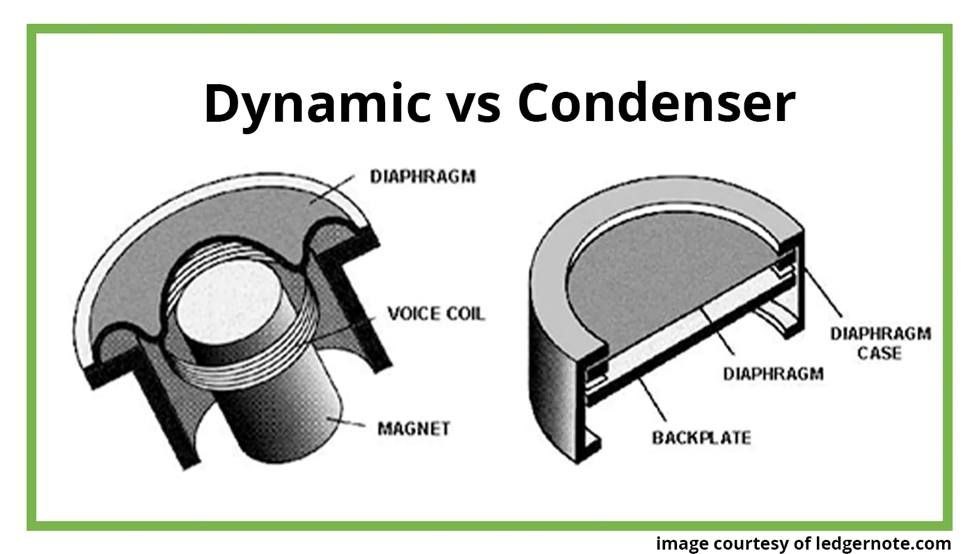 While you're getting in the groove of creating and sharing content, you should also be automating. Automated webinars only take about 20 minutes to create and let you reap all of the benefits of live webinars with minimal impact on your calendar.
When you automate webinars, you'll be able to schedule dates, send out reminders, upload pre-recorded videos, and send automated thank-you messages to attendees. Your attendees can also be added to your other email automation workflows and receive invitations and reminders for upcoming events.
Try adding your attendees to a drip campaign that triggers once they watch the webinar that then provides them further content like an eBook, for example: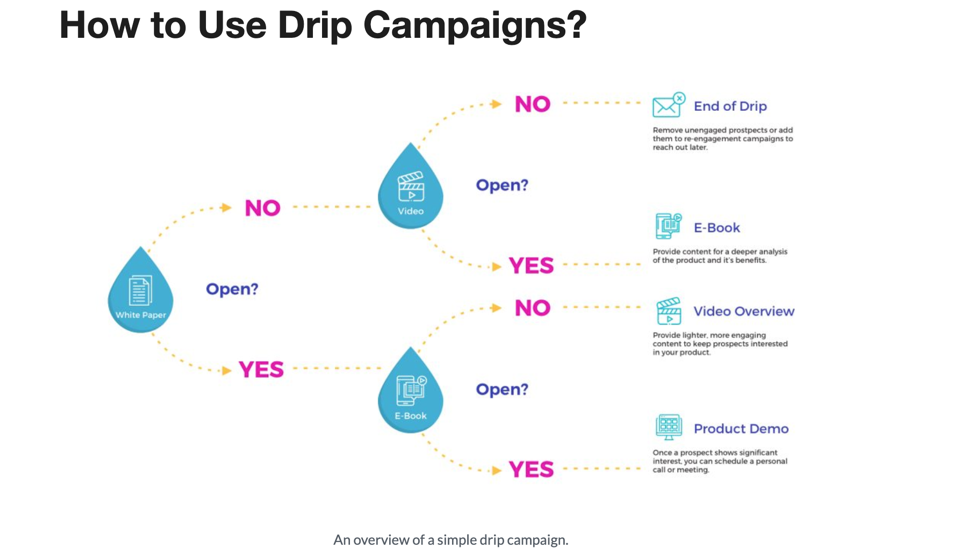 Drip campaigns help automate your lead nurturing process by staying at the top of the prospective customer's mind.
Simplify Onboarding & Expand Product Knowledge
The "qualify leads" and "convert" portions of the cycle are directly related and particularly important for building ongoing customer loyalty. Generally speaking, it takes roughly eight marketing touchpoints to qualify a prospect when performing market segmentation. Webinars can give a jumping-off point for those touchpoints.
Once a customer registers for a webinar, you should send them a thank-you email that lets them know what to expect and a reminder a day or two before the webinar. Try incorporating user-generated content to further boost trust as Monday.com does below by highlighting customer stories on their landing page: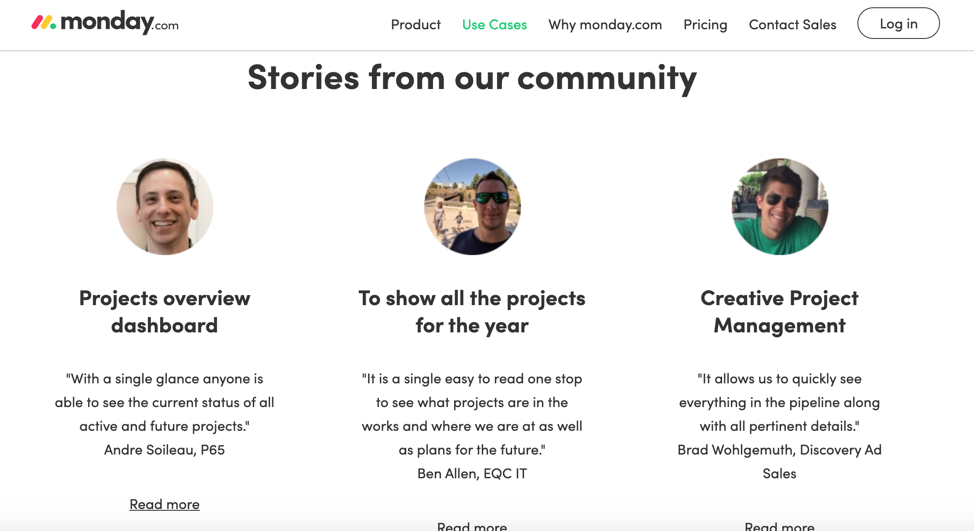 You can include stories like these in your emails that go out to prospects and webinar attendees as well. In short, the more content your leads are willing to engage with, the more qualified they become.
It also shows that they're already interested in what you have to say and are more likely to trust you and continue to engage with your post-conversion. When you're ready to showcase what your product can do, webinars are there to let you share your screen and educate your most qualified leads and new customers about what they're going to receive from your company.
Be sure to let prospects know what to expect in your reminder and try throwing in a workbook or other materials to keep your viewers engaged: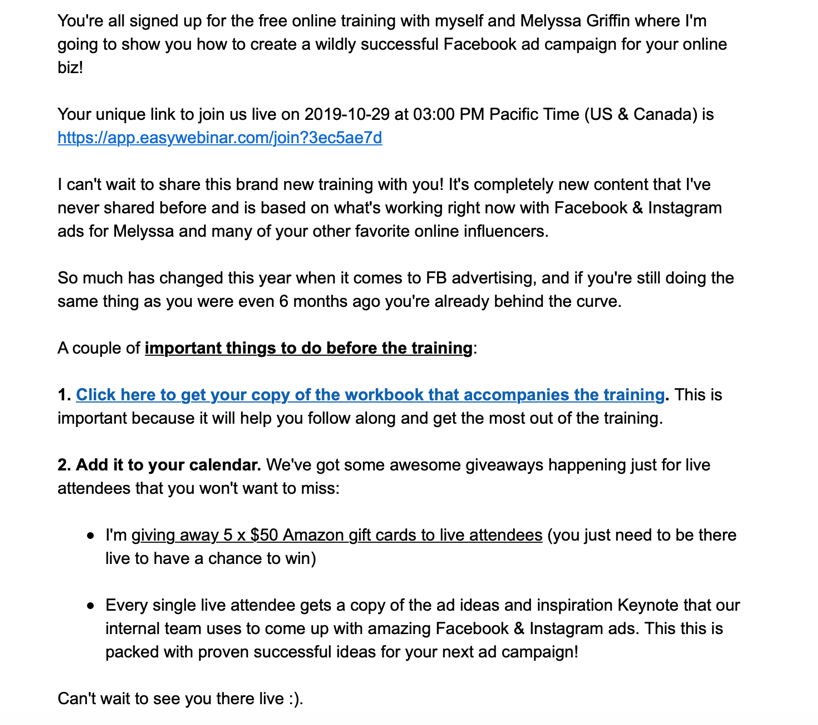 Another great tactic you'll see above is using FOMO (fear of missing out) to encourage people to show up by offering giveaways. You don't want the reader to feel left out. Make the incentive that good to attend, if you know what I mean.
Onboarding new customers
Once you reach the convert portion of the cycle, webinars remain useful for onboarding new customers. New customers interested in accelerated adoption and highly qualified leads might benefit from the same or similar webinar content.
SaaS web monitoring and social listening company Brand24 offers webinars to their current customers and pre-qualified leads to demo their product. Some of their webinars for new customers have reached 500 attendees!
The key to getting those numbers? Pre-qualification of leads and attendees. Brand24 extends the exclusive invitation to attend the webinars for onboarding and new certificates, rather than customers being forced to seek out this training on their own.
Receiving a personalized invitation from a company rather than seeing an ad or seeking out your own learning material creates loyalty for a few reasons. You're able to inspire a sense of community, monitor engagement in pre-webinar emails and calls, and engage one-on-one with your most valuable contacts.
This individual engagement in the lead-up still gives each of the 500+ attendees a sense of exclusivity and investment in their own success with the product.
Offer Individual Follow Up
Personalization and individual engagement don't just occur before and during your webinar, but also after. Personalized follow-up, through email and ongoing conversations, is an important part of your webinar funnel.
There are key ways to follow up after a webinar: when the event is scheduled, on your thank-you page and thank-you email, your follow-up email, and future webinar invitations. With the webinar cycle model, you can even set up automatic invitations to your future webinars, stringing together your automation efforts between webinars.
Sending personalized follow-up emails to each of your webinar attendees can help continue to establish your expertise and your investment in each prospect's needs. When you send an email with a personalized element, it's 26% more likely to be opened than a standard email, and you can have up to a 14% higher click-through rate and a 10% higher conversion rate.
The automate, engage and convert stages of your webinar cycle are all about making those connections to the next level while using technology to save time.
While this might seem like a lot of work, using an email scheduling tool can help you get a glimpse at your sign-ups and start composing individual follow-ups before the webinar has even happened. Type up thank-you drafts that are scheduled to send shortly after your webinar ends, and additional follow-up emails in the days after.
Ongoing webinars and follow-up conversations from your sales and product support teams can be similarly automated with a calendar scheduling app. By effectively leveraging a tool like this, you can centralize calendars for both your internal team and your customers so that no conversations get missed.
All meeting attendees will get reminders about the upcoming webinar, and their information can be used for further lead nurture and email automation efforts.
Pay attention to not only the leads and customers who respond to your individualized follow-up efforts but also to those who don't. If you have a lead who attended a webinar then suddenly went silent, you should take a step or two back in the cycle process to see where you might have missed the mark.
Offer new opportunities for engagement and solicit feedback from those leads who may have cooled off.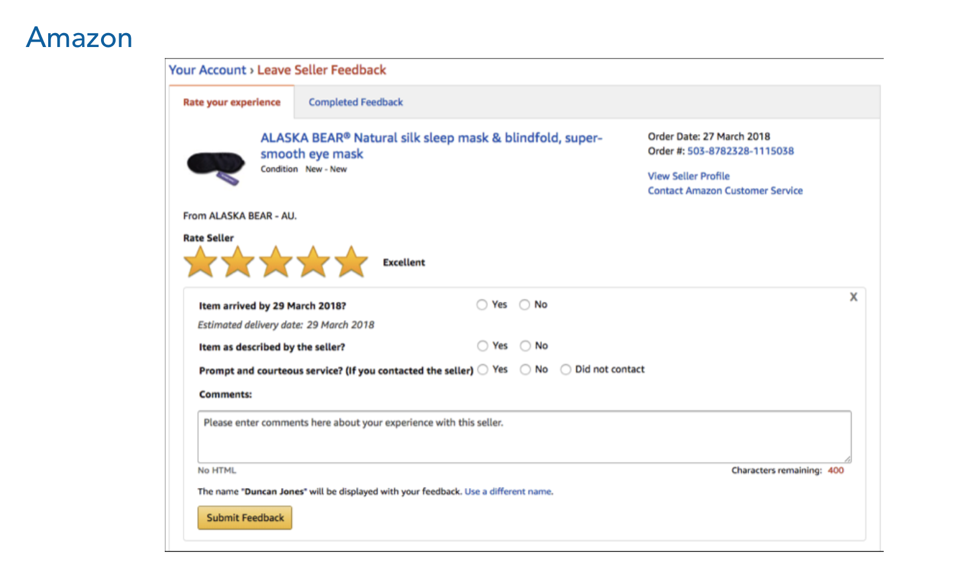 You can engage with past customers to ask for feedback about how you could have done better like in the example above from Amazon.
Try using webinars as an opportunity to form focus groups that can help your ongoing service and product development efforts. According to GetVoIP, if you act on negative feedback and continue to respond, your customers are 97% more apt to be loyal to your brand.
Conclusion
The webinar cycle model is designed to give you all the tactics you need to do what matters most for creating customer loyalty: sharing knowledge.
Your customers don't develop trust in your brand along a linear path. They need ongoing support, engagement, and education to develop and maintain loyalty to your brand, and the cycle methodology lets you meet their needs on a consistent, ongoing basis.
To meet their expectations, you and your team need to operate in an agile rhythm of content creation, lead nurturing, and engagement. The webinar cycle is carefully designed to help you do that.
With a fully integrated webinar platform that works directly with your CRM, email marketing, social media, sales, and automation efforts, rolling out the webinar cycle with your sales and marketing teams becomes a breeze.
---
Author: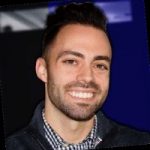 Adam Enfroy – a thriving blogger with 175k monthly readers at AdamEnfroy.com, former Head of Digital at BigCommerce, an SEO consultant and affiliate marketer. Adam teaches bloggers how to scale like a startup in 2019.