No marketer must be convinced that content sells, and good content sells splendidly. Creating content obviously involves some cost and effort. But what if you could prepare a content machine that would allow you to make money without too much work?
The goal is simple: create content, convert it, and use it in other channels. So by taking one action, you gain material that may be used in your strategy for a long time. What's more: it becomes a starting point for creating more content, and over time you discover that you've managed to capture a solid chunk of virtual space without a huge investment. Sound like the marketing Holy Grail? Nothing could be further from the truth. Behind this mechanism, as behind any successful marketing strategy, there is simply a well-thought-out strategy, the right tools, and consequence.
Keep reading to learn how to turn your webinar into a marketing machine.
Repurposing doesn't have to be boring
The history of repurposing and reusing content is likely not much younger than creating the first piece of content. After all, if something you've already spent a lot of time on just works, you can't waste that potential. The phenomenon known over time as content repurposing has been evolving for centuries. On the other hand, modern content marketers have learned their lesson and mastered this art. Sometimes, unfortunately, the desire to recycle and multiply is so great that recycled content takes the place of the original one. And the audience notices the problem.
Content repurposing is effective, but at the same time, it requires an even greater dose of feeling and creativity. So, unfortunately, it sometimes happens that marketers become prisoners of developed schemes.
What might they look like? You create a blog article, then pick out a few neat pieces and copy them word for word. Voilà! A series of social media posts is ready – in one fell swoop, you've managed to get both Facebook and Instagram, Twitter, and LinkedIn. By the way, you can also prepare a newsletter – just add a short introduction and a standard ending. And then? You collect a few articles, copy them and release them as an ebook. You manage to save a lot of work. And the result? It's easy to figure out what's going on.
It's not that matrixes don't work. On the contrary, they do, and using them is worth (and even desirable!). However, they require good preparation and creativity.
Switch between formats
Any marketer woken up in the middle of the night will declare that the future (and present) belongs to video formats. Why? It's very simple: the audience prefers them, and the most popular platforms also follow their preferences. So surely this translates into the work of marketers? Certainly not always. Especially when it comes to content repurposing.
Let's face it: while we realize that intensifying video marketing efforts is necessary, most organizations still rely on the mass production of written forms. The explanation is clear: it's simpler (and, in most cases, cheaper), especially in the context of content repurposing. After all, almost every marketer should be able to rewrite a few sentences, not even mention the well-known ctrl+c -> ctrl+v sequence.
That's why content repurposing can sometimes be so tedious.
But that doesn't mean at all that you have to abandon written forms and fully replace them with video. For the marketing machine to work, it must skillfully use different formats. But, contrary to appearances, it doesn't have to be complicated or expensive. If you choose the right tools, several other benefits can also be achieved.
Your webinar is the starting point
Let's start with webinar marketing. This strategy will help you take care of more than just lead generation and cover the entire sales funnel. It can also become the engine of your content machine. So how do you do it? Below you'll find a few possibilities.
Let's start with a live webinar. You organize an event. You acquire leads, finalize sales while the webinar is still in progress, provide answers in a Q&A session and establish a deeper relationship with your audience. Finally, the event comes to an end. What now? Content starts working right away, assuming you take advantage of automation.
A follow-up message reaches all attendees. There you can, for example, provide additional content (a link to an article on your company's blog?), encourage them to visit your site or share discount codes.
Then, to both attendees and those who registered but eventually didn't show up at the event, you can send a thank you message and a recording of the webinar.
Are you planning a follow-up? That's a great idea. You already have a base of attendees who are sure to be interested in new content.
And don't forget that you can broadcast the event itself on Facebook or YouTube and embed it on your website or blog, for example.
The recording can also automatically appear on your profile page or YouTube channel (of course, you can include links to these places in the emails mentioned earlier).
There's a lot of it, right? And so far, we haven't even reached the repurposing itself. These are just processes you can automate even before the event starts. All it takes is a skillful setup to avoid often exhausting and tedious work.
What to do with a webinar recording? Start repurposing!
Every live webinar ends, but you can easily give it a new life. All you need to do is use the recording correctly (since you plan to record your webinar, right?).
Let's start with how you can prepare on its basis… subsequent webinars.
Automated webinar: You can set up events that will take place on autopilot based on the recording. From the attendee's perspective, everything looks like a live webinar: they register for the event (which means more leads), get a link to the room, log in and participate in the webinar. They can even chat with you and use other interactive features if you feel like it.
On-demand webinar: you can offer attendees access to content at any time. It's also a great way to generate leads and provide interactivity.
It's high time to go beyond the webinar and online meeting platform. So here are some proven ways to repurpose webinar content that we've managed to test ourselves at ClickMeeting.
Publish a recording on YouTube and create a webinar library
Preparing video content is difficult and expensive, which is why your company's YouTube channel is empty? If you host webinars, you no longer have that excuse. With the available integration, publishing a live webinar recording is just a few clicks away.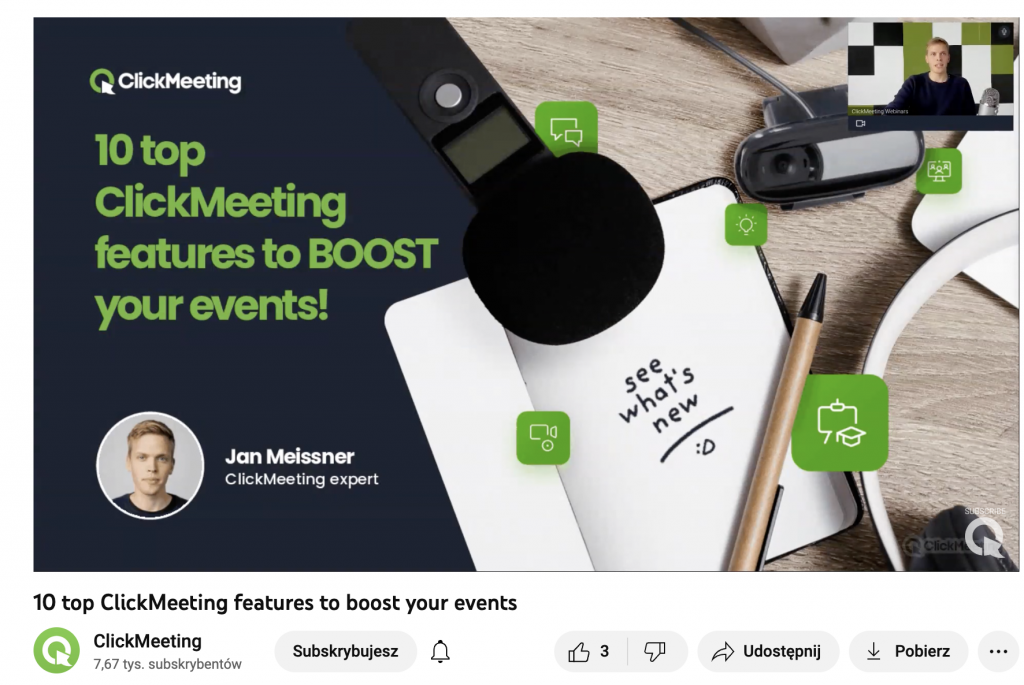 Once you've collected more recordings, you'll have a really impressive library filled with expert knowledge. You can compile thematic playlists, create your own knowledge zone and offer your audience convenient access to content.
Even more video content
In modern video marketing, short forms are becoming increasingly popular. They are favored by social media and are also used for preparing ads.
If you have a webinar recording, you can easily and quickly prepare shorts as well. All you have to do is fish out the most exciting parts. This way, you will gain a lot of video content that will engage your audience and encourage them to take a specific action, including participating in the next events you host.
Prepare a blogpost
Are you looking for inspiration for your next blog article? Prepare a text report of your webinar! You can include a recording and a transcription of the event (you will certainly find the transcription history download feature available on platforms such as ClickMeeting helpful). You can simply describe the issues presented and offer your readers a webinar summary. Of course, this is an excellent way to share your expertise and follow-up materials.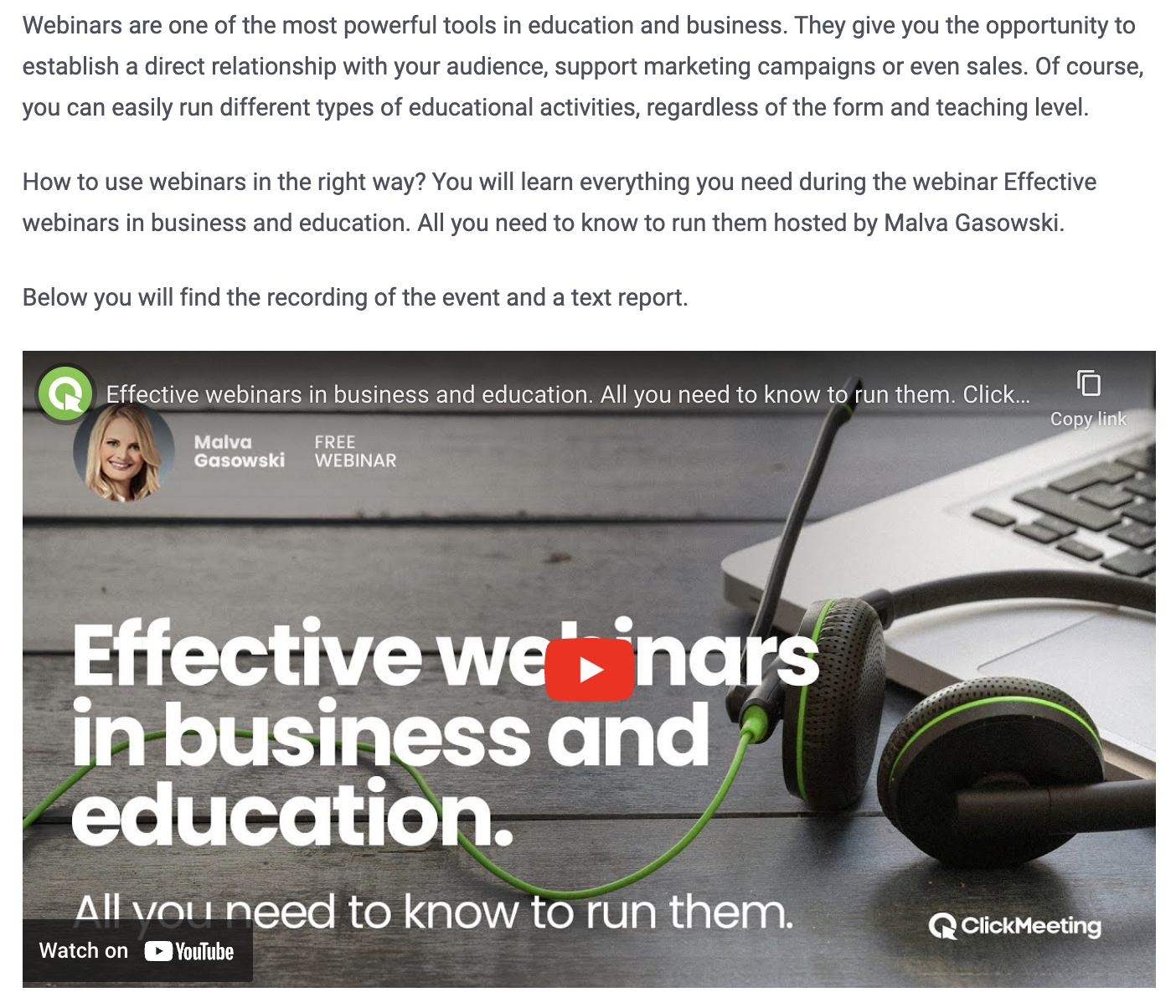 Go one step further and find an idea for an ebook
A webinar, first and foremost, means sharing knowledge. However, in the process, there are often subjects that require a broader examination. In addition to the blog post, for example, you should think about preparing a guide in the form of an ebook. You can acquire even more leads with it and establish an expert position in your branch.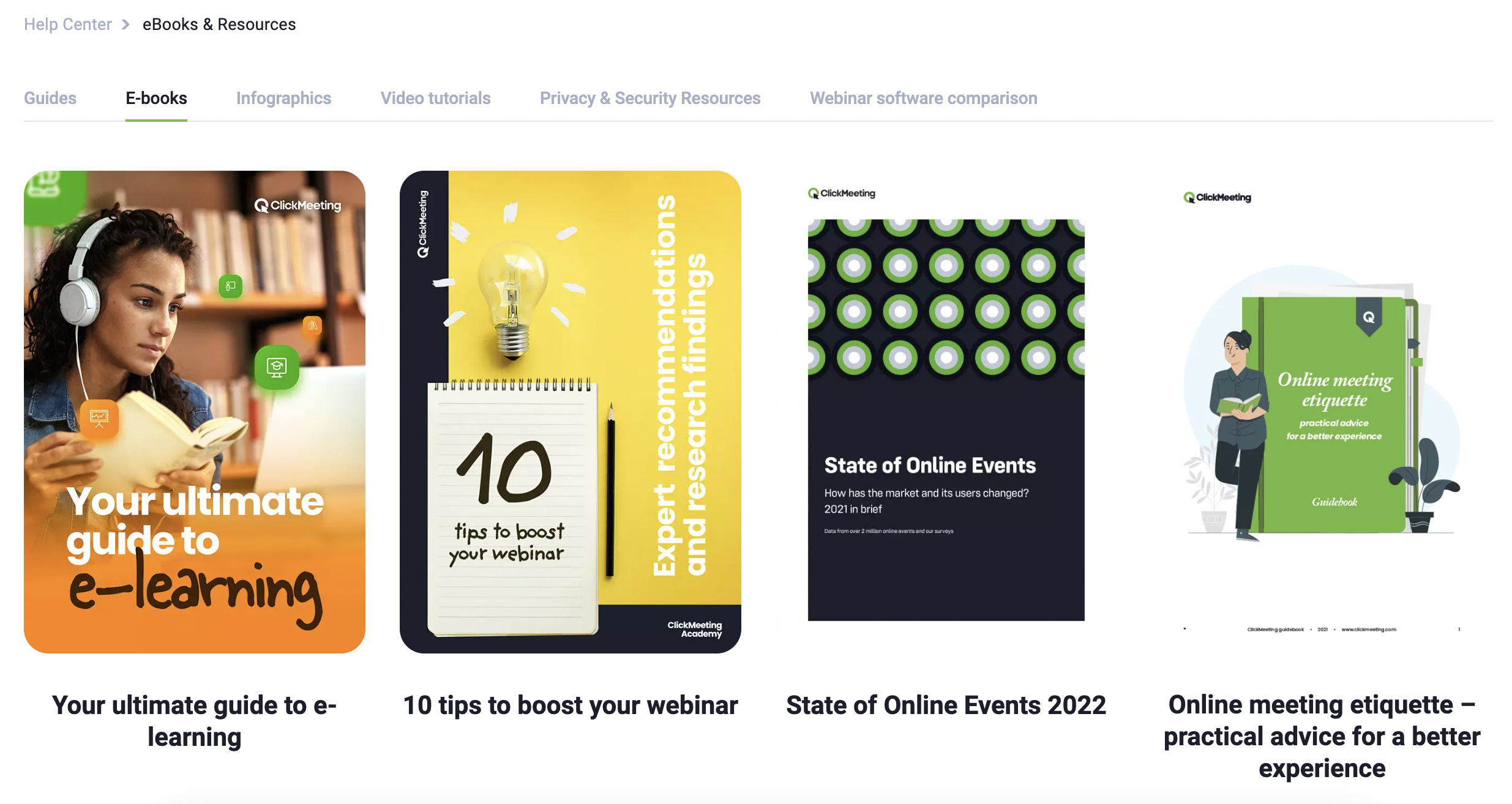 Social media posts are almost ready
Using the content mentioned above, you also get robust material to use on social media. Especially those that reward expert content. And as for expertise: invite industry-recognized people to your events who can deliver substantive content. New audiences will also follow, and your reach will definitely increase.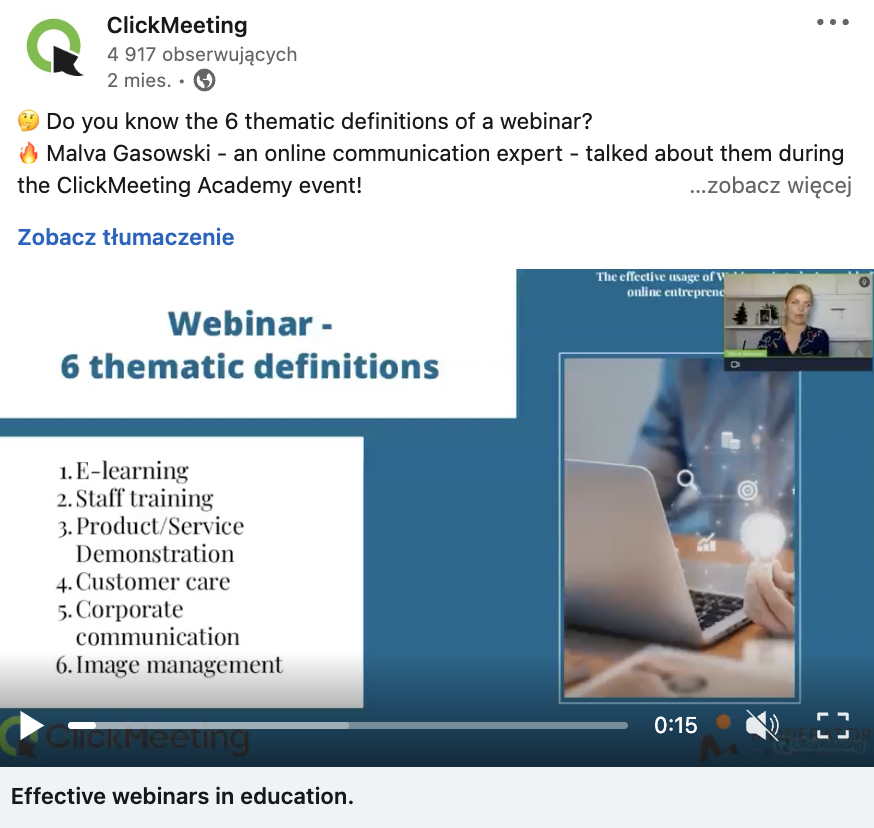 How about a podcast?
A webinar lets you tell fantastic stories. However, many users prefer to experience them in the form of a podcast. Basic technical skills are enough to turn your event into an audio recording. You can then post it on popular platforms. This additional channel provides you with even more reach and your audience with far more opportunities.
A course, or even a certified course
Organizing online courses is extremely easy. The webinar format works just fantastic in this respect. Using recordings, you can quickly prepare a complete course, which will be completed with an automatically issued certificate (do I have to mention that registration means more leads?). By the way, feel free to join our free course on webinar marketing!
Repurposing doesn't have to be boring, and video marketing does not have to be expensive
And finally, the most essential information: you can achieve all of this by reducing your workload and costs. If you are terrified of the expenses that video marketing entails, webinars are the best way to avoid them. Almost certainly, everything you need is within a few meters radius (of course, if you are currently in an office or home office). All you need is a camera built into your laptop and a headset.
Of course, you will also need the right tool for webinars and online meetings. You will test ClickMeeting without any fees or payment card details. You have up to 30 days to do so. And after that? Effortlessly choose a plan tailored to your expectations and needs.