Yes, it's time to introduce our new feature: On-Demand Webinars! Get ready to boost your lead base and enhance your rank in the webinar business. How? Glad you asked! Here is a step-by-step guide.
Webinars are a powerful way to deliver useful content as a live event, scheduled to happen at a particular time. But what if some of your attendees couldn't attend on time? What if they missed it because of their work hours, or because they live in a different time zone? Now, with On-Demand Webinars you can ensure that your valuable webinars can be seen at any time.
On-Demand Webinars – what are they?
To put it simply, On-Demand Webinars are pre-recorded webinars, which enable your attendees to access them anywhere & anytime they want. That's already huge, but there's much more to it! This feature empowers you with real tools to generate more leads and enhance your reputation as an expert in your niche. How? Let's dive into it step by step.
Step 1: Create a Live Webinar
Your starting point is scheduling & creating a live event. The crucial part is to record it. There are two ways to do that:
Go to the upper right corner in your Account Panel and choose Account Settings from the drop-down menu. Then, go to the Advanced Setting tab and click the Recording Auto-Start checkbox. Then, click "Save," and now all your events will be recorded automatically.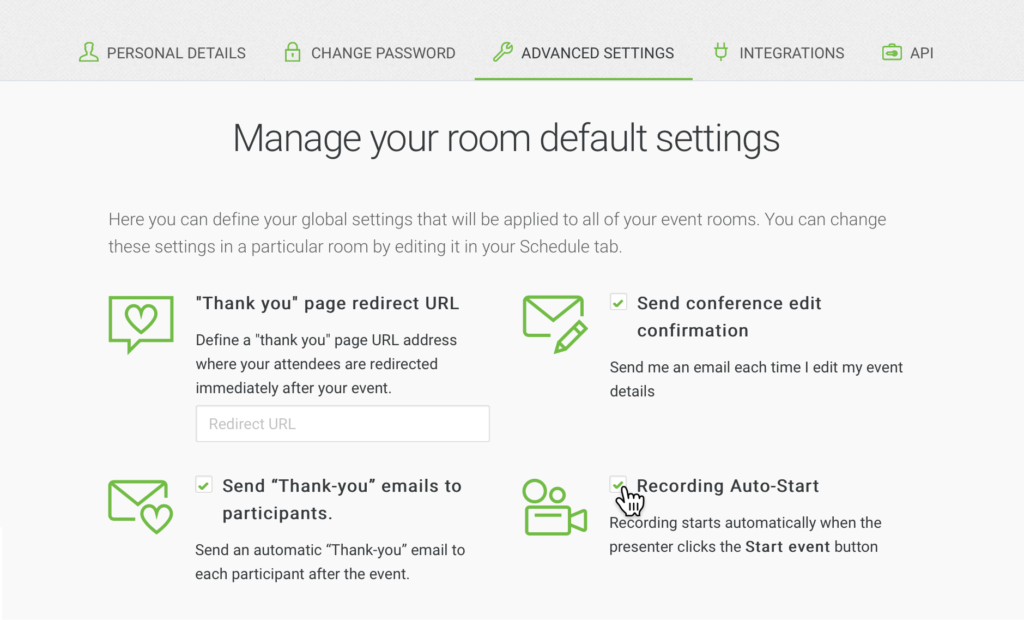 The second option is to create an event and click the "Rec" button on the top bar in the webinar room.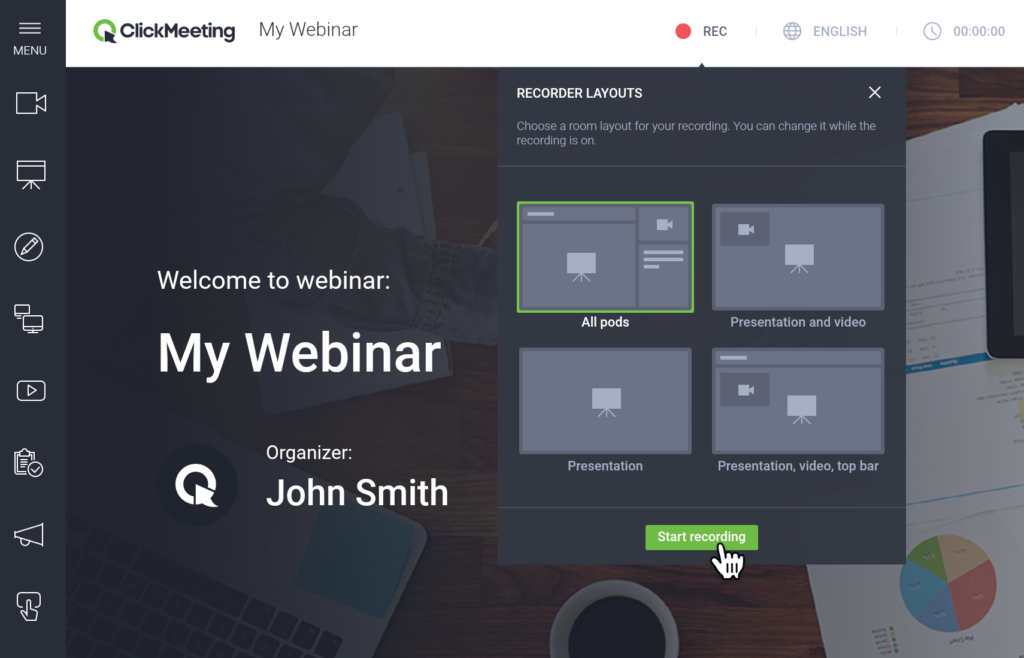 Step 2: Publish & Send
Now, you have your webinar recorded. Great! The second step happens after the webinar.
Go back to your Account Panel. Click on "Storage" in the upper right corner of your screen. Then choose "Recordings" from the drop-down menu. Pick an event from the list, click "actions" on the right-hand side, and select "publish".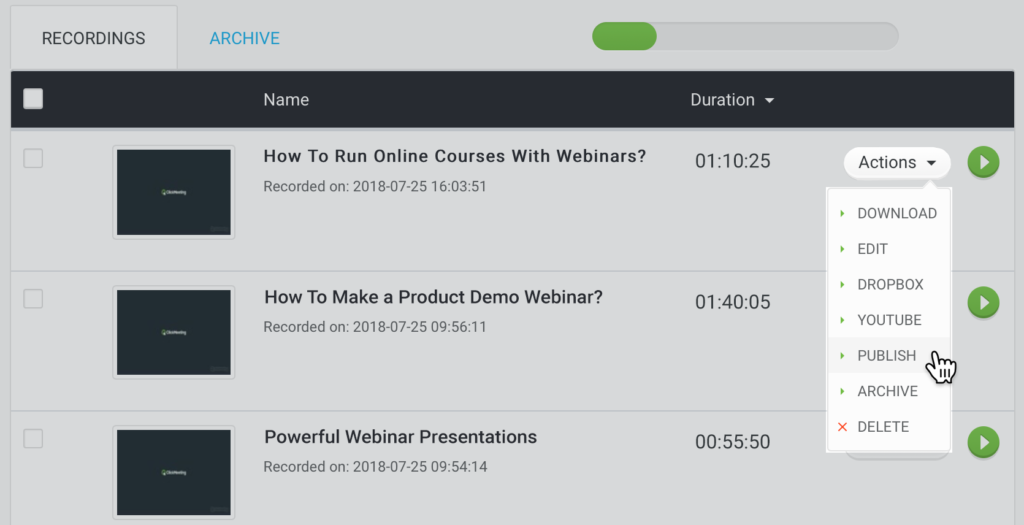 As soon as you click "publish", you will see a pop-up. That means the pre-recorded webinar is published on your profile page and ready to share with your attendees. (Please remember to add the on-demand webinars section in your profile page appearance settings). Now you can: 1) Copy the URL to your webinar and send it further, 2) Share it on integrated social media accounts, 3) Or simply click "Send" to e-mail your attendees & registrants the webinar access.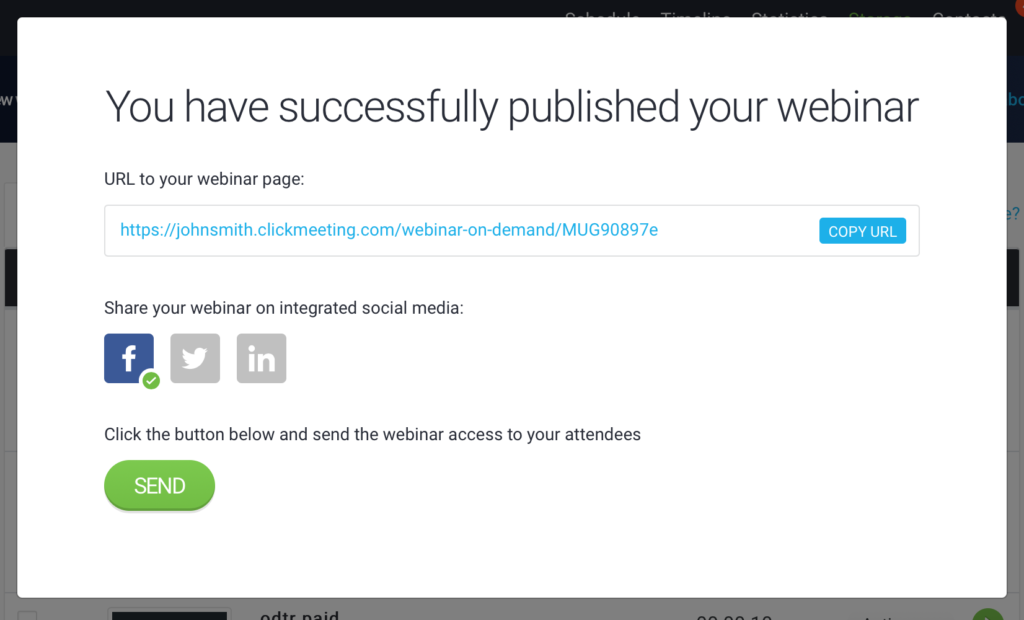 Your attendees will receive an e-mail with a link to your on-demand webinar and have unlimited access to your pre-recorded event. This means they can watch it wherever and whenever they want to!
Step 3: Follow-up & Share
There are other ways to invite your audience to join your on-demand webinar. Our Product and Web Development Team made sure that our new feature integrates with social media. In seconds you can share your recorded event with LinkedIn, Facebook, Twitter, and Google+.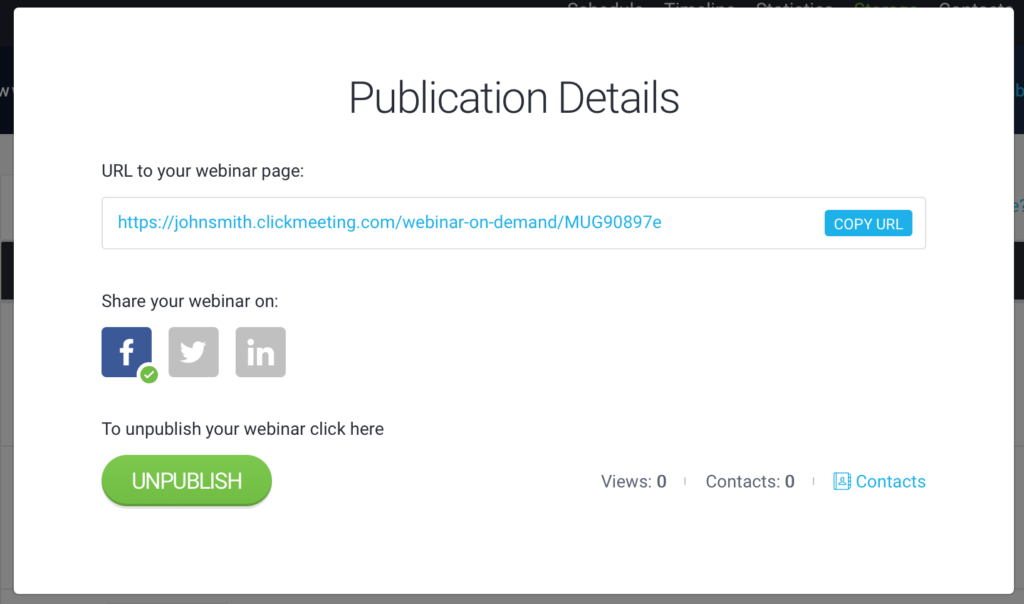 Last week we explored the meaningful role of follow up e-mails in targeting leads after your webinars. On-demand Webinars provide an opportunity to enhance your communication strategy. Sending access to the recordings after the webinar is a perfect way to follow-up.
Discover 7 benefits of On-Demand Webinars
Here are the benefits you will get with On-Demand Webinars.
Share your pre-recorded webinars and promote your valuable webinar content.
Set a new standard of generating & nurturing leads. Share it with your social media and other channels to reach potential clients. To get access to your on-demand webinar, they will have to enter their e-mail address in a special pop-up that will come up. They will get a link to your on-demand webinar, and you will have their e-mails to add to your lead base. It's a win-win situation!
We have already mentioned the huge importance of follow-ups. Your Live Webinar is not the end of your relationship with leads. After the webinar, you can send them an e-mail with a summary and a link to the recordings. Your attendees can come back to it at any time, with no calendar limitations.
Serious marketers divide their target audiences into a few segments. With On-Demand Webinars you can do the same. Group your attendees according to the different topics of webinars. Target them directly with the content they find most attractive. Invite them to your next relevant webinar.
If you are just getting started with webinars, you don't have to go live (at first). Start with pre-recorded webinars to build your lead base and then attract them further with a live webinar.
Record a perfect webinar and then share it as long as you want. On-demand Webinars are a fantastic option to produce a stunning piece of content and let the world watch it anywhere & anytime. It's a brilliant solution if you run online courses and pieces of training.
Decide which content you want to distribute with On-demand Webinars. You are totally in charge.
Ready to become a webinar heavyweight champion?
On-Demand Webinars will give a superpower to your webinar business. Reaching more leads with your high-quality content will become much easier, and you will award them with unlimited access to your pre-recorded events.
Ready to start? Log in or buy your account today! If you're not a ClickMeeting user yet, use our 30-day free trial, no credit card required!