Without a shadow of a doubt, the most valuable assets within every organization are their employees. Careful selection of suitable personnel is the key, not only to the quality of job performance, but also to enormous cost savings in the long run. Today, online recruiting is the best way to reach a wide variety of potential candidates.
Recruiting online, including initiating first contact, is easy, via posting an ad on the company website or reaching out to candidates via social media.
Often, the goal is to set up a telephone interview.
Isn't a telephone interview impersonal? And what about first impressions? Face-to-face contact?
Yes, telephone interviews can be impersonal. It doesn't have to be like that anymore…
A fast-growing trend in recruitment 
Today, let's focus on the second stage of an online recruitment process —  interviewing the candidate remotely.
If we recruit candidates from around the world, we encounter logistic issues.
In a situation there a potential employee is based halfway round the world and unable to meet us in person, telephone interviews and email contact are the usual tools for assessing their skills and competence.
Personally, I find these methods quite "impersonal," as they are restrictive and can mislead the recruiter when making a final decision.
With the easy accessibility and a variety of features and online meeting tools, organizing an interview using ClickMeeting is an ideal solution.
It's just a matter of getting used to the idea.
Check equipment and settings
Adjusting the equipment such as microphone and the camera are the first things to be done.
Correct microphone volume adjustment is an important factor that contributes to the quality of the meeting and has a major impact on how both sides come across. Screaming or whispering might be wrongly perceived as being too loud, too shy — you name it.
Your appearance counts
Both parties should remember that an online interview is the real deal, and the same rules apply as for an in-person interview.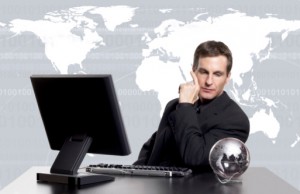 It is crucial that appearance be immaculate, that proper dress code is applied, and that body language is controlled during the meeting.
Make sure the background stays neutral or is branded with company logos.
I recently heard about a case in which an interviewer conducted meetings from his bedroom wearing his PJ's. As easy and comfortable as it may sound, it certainly does not build a professional image and can be off-putting for a potential candidate too.
Practice, practice, practice
Allow yourself to take time for preparation. Practice your tone of voice. Work on articulation, select appropriate body language, and make sure your gestures are not over the top.
All of the above need to be done beforehand, so you don't spend half your interview checking yourself out in the camera window, fixing your hair, or doing all sorts of different facial expressions, just because you are not happy with the way things look on the camera.
If it helps, try to think outside the box; for instance, I tend to imagine I am a host of my own TV show, which helps me in the presentation. It always works great.
Share your experiences
I am very curious about whether you have tried online interviewing. What works for you? What do you struggle with? I'd love to hear your feedback.
Best, Dom