ClickMeeting is a European platform for webinars and online meetings that focuses on security, privacy, stability, and innovation. We refer to these factors as European values, and they guide us every day in the development of our product.
Operating in the modern world offers great opportunities. But it involves certain risks and challenges too. That's why keeping your data safe, implementing strict standards for data processing, and making ClickMeeting both powerful and accessible to all are some of our most important goals. Get to know us better and learn why you should use our online meeting and webinar platform.
For us, Europe is not just a place. It represents a set of values that are helping change the world for the better. Online communication tools play a crucial role in this. And through our platform, millions of people educate others, grow their business, share experiences, and gain knowledge — no matter where they are.
Join the ranks of thousands of satisfied customers and find out how ClickMeeting can help you.
Why should you choose ClickMeeting?
Learn a few facts that show how ClickMeeting can make your job safer, easier, more efficient, and more rewarding
GDPR & Privacy: your privacy is our top priority.
EU-based servers: your data never leaves Europe.
Security of your event room:we secure your events using advanced methods.
Thousands of satisfied customers: see what our customers have achieved using ClickMeeting.
Support & Knowledge Base in your language: our experts will answer your questions in your local language, whenever you need.
Invoicing in Euros: simple accounting using a common European currency.
Easy access: your attendees can easily join every event.
Expanded capabilities: with ClickMeeting, you can organize everything from small meetings with co-workers to huge events with thousands of people.
From the heart of Europe to the entire world
At ClickMeeting, we're proud of our European origins. The core of our team sits in Gdansk, Poland, and that's where we create the solutions that have already helped over 370,000 customers from 111 countries grow, share knowledge, and collaborate effectively.
And our base is not just a matter of location. It's also a binding commitment. European standards call for continuous improvement, care for customer satisfaction, and the utmost safety.
That's why, when you choose ClickMeeting, you can be entirely confident that we'll do everything we can to keep your data safe and that your events will continue to grow. We're evolving every day by paying attention to your voice. What's more, by working with us, you're supporting an EU-based company trusted by thousands of users worldwide.
Gdańsk is inhabited by nearly 500,000 people. And the city is not only our headquarters. It's also our inspiration. During its history (which spans over a thousand years), it has transformed many times and remains the best proof that diversity pays off. This is the birthplace of, among others, Daniel Fahrenheit, Jan Hevelius, Arthur Schopenhauer, and Lech Wałęsa.
The Gdansk protests also symbolically began the process of decommunization and liberalization of the countries of Central and Eastern Europe, which is reflected in the European Solidarity Centre. The desire to bring people together and create a friendly space that's open to all is a priority for our team.
Acting in accordance with GDPR regulations
Every webinar and online event is an excellent opportunity for people to meet, educate, collect leads, and share contact information. However, we give you more than just an opportunity to engage with participants from around the world. We also care about privacy: both yours and that of your attendees, be they teammates, students, or customers. Every day, we work to ensure that the security methods we use are as effective and innovative as possible — while we apply the same processes, whether you're based within or outside of the European Union.
As a European company, we're also required to comply with the GDPR: both as a data controller concerning our customers and as a processor of personal data relating to webinar participants. In that respect, we use the appropriate technological and physical security measures to protect your data while ensuring our data processing methods are fully compliant. At the same time, we see the GDPR vision not only as an obligation but also as an inspiration. Setting data protection standards is one of our most important goals, so we develop our own security policy, train our employees, and implement new solutions, all so that you can feel secure.
Why is GDPR so important?

GDPR (The General Data Protection Regulation (EU) 2016/679) is an EU regulation for the protection and processing of individuals' personal data. The document came into force on May 25, 2018. And it represents one of the most extensive catalogs of privacy standards and principles, ensuring the protection of the rights and freedoms of individuals in the virtual world.  According to the declarations of Věra Jourová, Vice President of the European Commission, it is supposed to set a global standard for data protection alongside best practices in data processing.
Our servers sit in the European Union
Only data-driven businesses can succeed in today's digitized world. ClickMeeting is such a company, as are many of our customers. To that end, ensuring data security is our priority. To meet growing demands, we constantly evolve our infrastructure, above all, focusing on improving our security procedures.
Our entire infrastructure, including all databases, sits in the EEA. Therefore, all the data you entrust to us (including your participants' data) is processed in the European Union in accordance with applicable law.
Moreover, we only use certified data centers, which have combined the following certificates:

ISO 27001, PCI DSS, SOC 1, HIPAA, NEN 7510, CISPE SSAE 18 SOC 1, SOC 2, PCI DSS v3.2 Tier III Certificate issued by Uptime Institute Tier Certifications

We have thousands of satisfied customers. See how we support them
We proudly support partners in Germany, France, Spain, Italy, Great Britain, and many other countries — both in Europe and worldwide. Their success is the best motivation for us to constantly improve our product and services. See how we help them in their work and learn what you can achieve with ClickMeeting.
In March 2020, many European businesses could continue their operations through video conferencing and webinars. Here are the most spectacular growth of online events organized on ClickMeeting in selected European countries.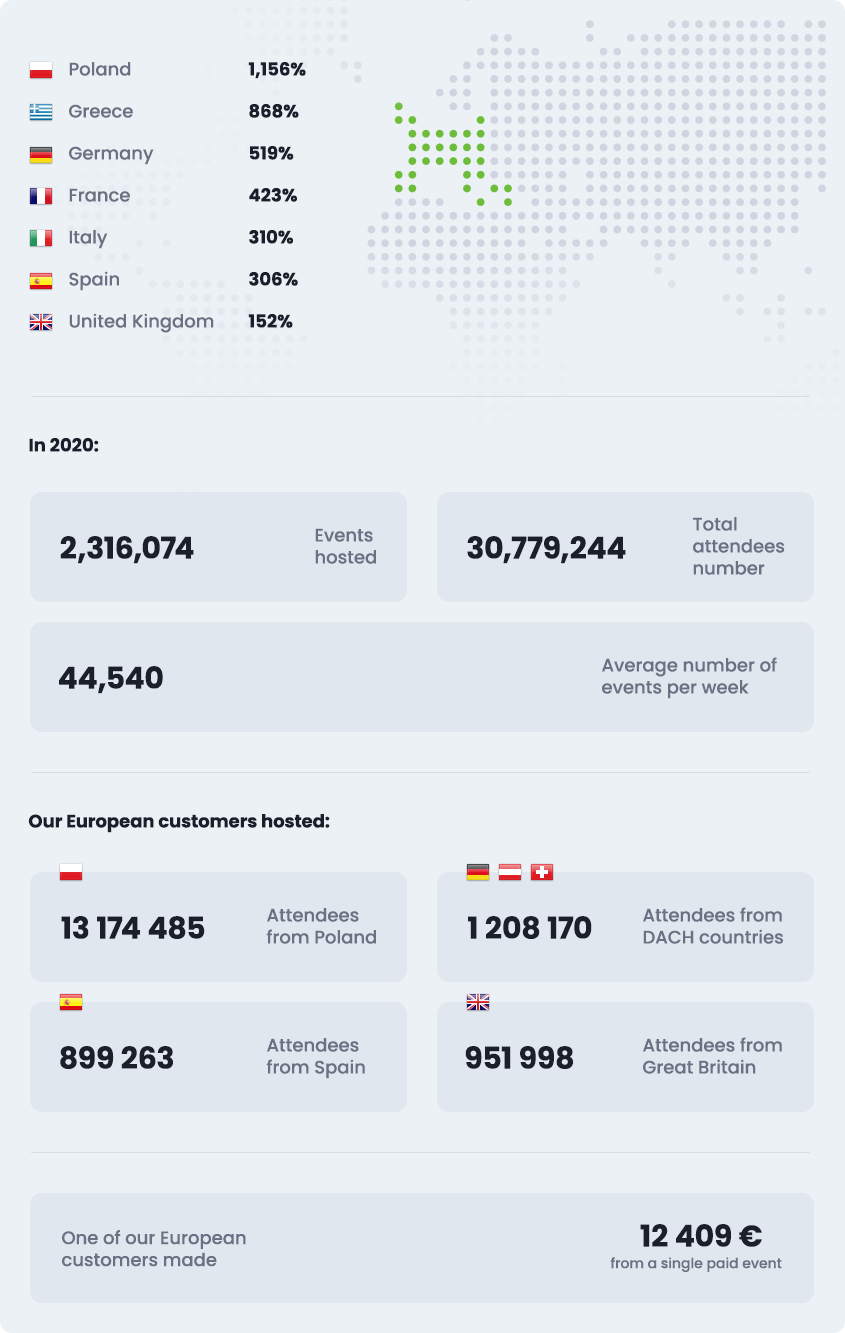 Safety both in the event room – and beyond
We use our extensive security procedures for more than just keeping your data safe. We put them at your disposal. That means that when you choose ClickMeeting, you get powerful tools to share secure access to your event. You can even anonymize participant data and use moderated chat to take full control of your event. But the options you choose are entirely up to you.
Token
Password
Room secure
Waiting room
Anonymized chat
Paid events with secure payments
Simple and secure billing in Euros
An essential aspect of the European community is the promotion of entrepreneurship and the removal of barriers. We all feel at home in Europe, no matter which country we're from. This is why, with ClickMeeting, you can easily settle invoices in Euros. And the transaction is completely secure, while you can pay using your credit or debit card by selecting different payment schedules.
One tool, many goals
Even though ClickMeeting is simple and intuitive, we give our customers plenty of options. Our online meeting platform lets you host small, intimate events (like team meetings and classes with students) as well as massive webcasts with thousands of participants. Automated and on-demand webinars are also available, allowing you to expand your business and simplify the learning process for your users. You can choose from a variety of plans, reflecting the needs and capabilities of small and large companies alike, including exclusive, customizable services for enterprise users. That's why ClickMeeting is trusted by small, local businesses, large organizations, and academic institutions.
See all features, or take a look at our price list to choose the best option for you and your attendees.
See how much you can do with one click
The power of the internet comes primarily from its ability to connect people, regardless of location. At ClickMeeting, we hold this belief close to our hearts. That's why we've created an advanced platform that's still simple and intuitive to use. In just a few clicks, attendees can participate in your event without having to download additional software because ClickMeeting works in the browser — and you can manage your account and events the same way. That said, there are desktop and mobile applications available for all users. And these add customization options for you and your participants, whether you're creating or attending online meetings.
ClickMeeting also allows you to integrate various solutions to manage your business, sales, marketing, and education processes, helping you use the platform more efficiently and automate much of your work.
You can even connect ClickMeeting to payment systems such as PayPal and PayU, allowing you to quickly and securely sell access to webinars. And we offer integrations with Zapier, CRM systems, Moodle LMS, social media platforms, document management systems, online calendars, WordPress plugins, analytics, and remarketing tools too.
We speak your language and provide full customer support
Our users can get support to make all ClickMeeting features easier to use. Our platform is available in multiple languages. You can also chat with experts, learn more about our tools, and read our blog. Learn how to use ClickMeeting and find out practical ways to grow your business.
See what language versions we have prepared for you.: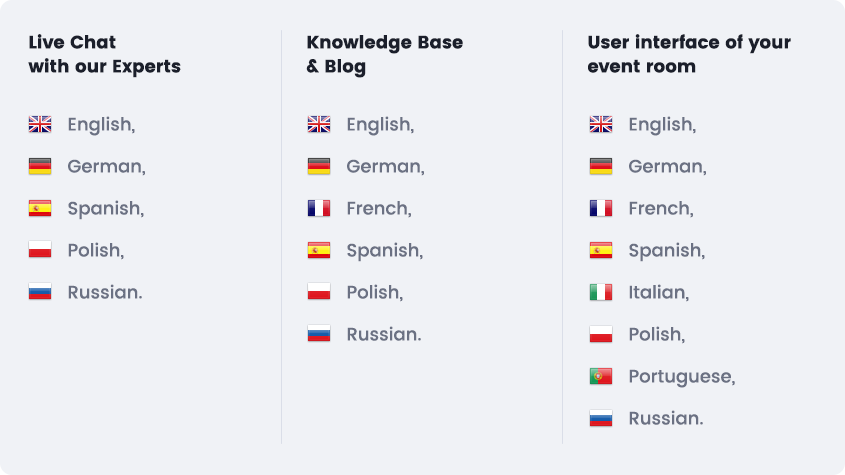 Ready to move your events online? Do it with a reliable partner
We provide you with a 30-day free trialTest live, automated, and on-demand webinars with up to 25 users, as well as features like breakout rooms, file storage, and recordings. Give ClickMeeting a try and see how our platform can change your online events for the better.
Any questions? Our customer success team is happy to help. Send them a message in your local language, and they'll do their best to clear any doubts, helping you see what you can achieve with ClickMeeting.
If you're looking for a scalable, customizable solution for your business, don't hesitate to contact me. I'll be happy to outline the specific features we can offer. These include multiple meetings and large online events with up to 10,000 attendees. Send me a message, and I'll prepare a customized quote.