Since The End of the Privacy Shield in July 2020, data security became the main concern for many SaaS companies serving global customers. When the European Court of Justice made a statement – we were prepared to ensure secured video conferencing technology.
What did we do to get the best server capacity in Europe to host thousands of live webinars during the pandemic outbreak? Read on to find out how we did it with OVHcloud.
The challenge caused by the global pandemic
To give you the full story, let's back up a bit to early 2020. At the beginning of 2020, ClickMeeting has already seen steady growth. And we anticipated it would continue. Back then, the main plan for 2020 was to increase our server capacity, security, and move it to Europe. The goal was to get great bandwidth, a reliable power to serve global audiences, and provide even more security to our customers' online events.
Then, March 2020 came, and everything changed.
Countries went on lockdown. Remote work was introduced in a matter of weeks in even the most reluctant companies. The need to connect with customers and colleagues via live webinars and remote online events grew almost overnight.
The impact of the pandemic on the education sector was immense. Schools and universities had to introduce online classes and virtual training once government-mandated lockdowns started. Educators all over the globe found themselves in need of a reliable webinar solution to help not only with traditional in-class education models but also workshops and work training. Since many of them, and their students, struggled with how fast the tech-world is taking over traditional learning, tools that help them had to be easy to use and intuitive.
The business landscape in which we operate took a sharp U-turn, and we, as webinar software providers, have experienced growth like never before.
To back it up with numbers:

March 2019:
We hosted 60 thousand online events;
With 870 thousand attendees.

March 2020:
We hosted 300 thousand online events;
With over 3.2 million attendees.
Impressive, isn't it?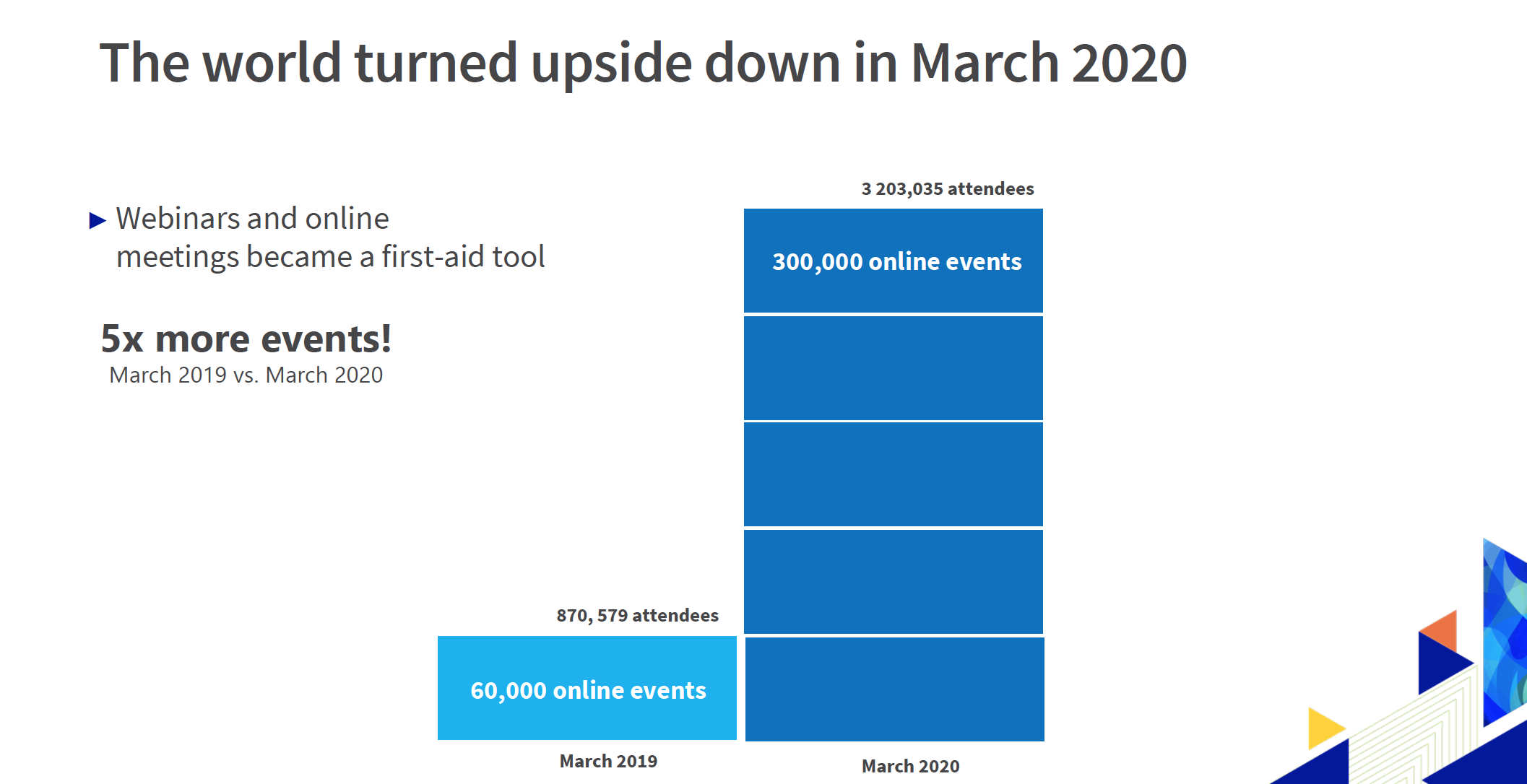 We saw the growth all over the world, especially in the United States, Russia, and Brazil, but the most spectacular growth was in Europe. Let's look at the map:
France increased by over 400%, Germany's score grew over 500%, Poland – the most spectacular score of almost 1200%, Greece near 900%.
And this is how suddenly the plan to complete server upgrade was crucial.
Not in a few months, but now.
The entire server infrastructure had to be updated urgently to match the increased traffic and host files, recordings, notes, audio-video streaming, or storage. That's some serious scaling up! So, we moved quickly with the help of OVHcloud.
Secure servers in Europe – a top priority
Our partner, OVHcloud, was proactive in offering tailored solutions for such a fast scale-up. Within just a couple of weeks, we were able to multiply our core servers' infrastructure. Moving it to the European soil, on the other hand, required a few months to complete.
The main server location – the migration
What was most important for us was the fact that our partner offered the quickest server delivery process for our specific locations in Europe: Warsaw, Frankfurt, London, and Strasburg. It was a matter of a few minutes to set up a server and add it to the infrastructure.
Also, by default, we had unmetered bandwidth on a 1 Gbps public network link with a 2 Gbps burst feature that was perfectly suited for our needs. After all, hosting thousands of online conferences, live webinars, and remote classes at the same time, globally, requires a truly powerful backend.
ClickMeeting's core server infrastructure was migrated from the United States to Europe early this year.
Backup server locations
We set up our main and backup locations in two different data centers in Europe, and thanks to vRack technology, it works as a secured private network.
From a technical standpoint, it's worth mentioning the use of decentralized load balancers with entry points for traffic from the Americas as well as from Europe.
It is very easy to expand this infrastructure, based on increasing needs from our customers, because we are not limited by the capacity of rack cabinets.
Local network bandwidth was also upgraded as we experienced a great need for the main and backup server locations to be fully synchronized in real-time.
GDPR ready – data fully secured
After doing all of this in early 2020, a couple of months later, the European Court of Justice ruled that the Privacy Shield does not give enough protection to European customers.
Everyone from small-scale startups, through agile SaaS to big global corporations has to make sure that customers' data is not transferred outside the EU and processed further in the US. As European citizens, we don't get the same level of control over what happens to our personal information when it leaves Europe.
Happy to inform – with ClickMeeting, a video conferencing technology provider, this problem doesn't exist.
All customer data is safely stored in the European Union – protected under GDPR. Our HQ is based in Europe, and we are experts in data protection law when it comes to cross-border, global business.
DDoS protection – as a standard, not a luxury
Amid the pandemic and remote work popularity, ClickMeeting's traffic grew massively. Because of that, we've experienced numerous DDoS attacks. For years, we've successfully avoided any distributed denial of service to harm our operations in any way. Unfortunately, due to a new situation we were in, one of the attacks exceeded current DDoS protection capabilities and caused a few hours of downtime.
That was unacceptable. We're talking about millions of users and hundreds of thousands of customers globally. It was crucial to prevent this from happening in the future with new servers.
OVHcloud offered DDoS prevention technology as standard. What is great about it is the fact that ClickMeeting European servers are under the special care of DDoS VAC systems.
How does it work? The system is based on monitoring, listening, and filtering bad traffic in real-time. Not just from our own secure server network but all networks of this provider. Servers scrub the bad traffic, and customers experience no disturbance. Any attack that could potentially be expanded from any other unsecured network is stopped immediately, and the system prevents it from spreading to our own secured network. At the same time, ClickMeeting's secured server network is constantly monitored and filtered by DDoS VAC.
Now, that's what we call prevention beyond everything.
Moreover, we can now easily manage all of our servers using a web interface or API and get unlimited traffic. It opens endless scaling opportunities: no matter how large the webinars, online meetings, or remote training of ClickMeeting customers organize. We will handle it all.
With improved video conferencing technology, we are ready for the future
Now, with all of the upgrades made to our webinar software, there are no surprises. ClickMeeting is ready for the future.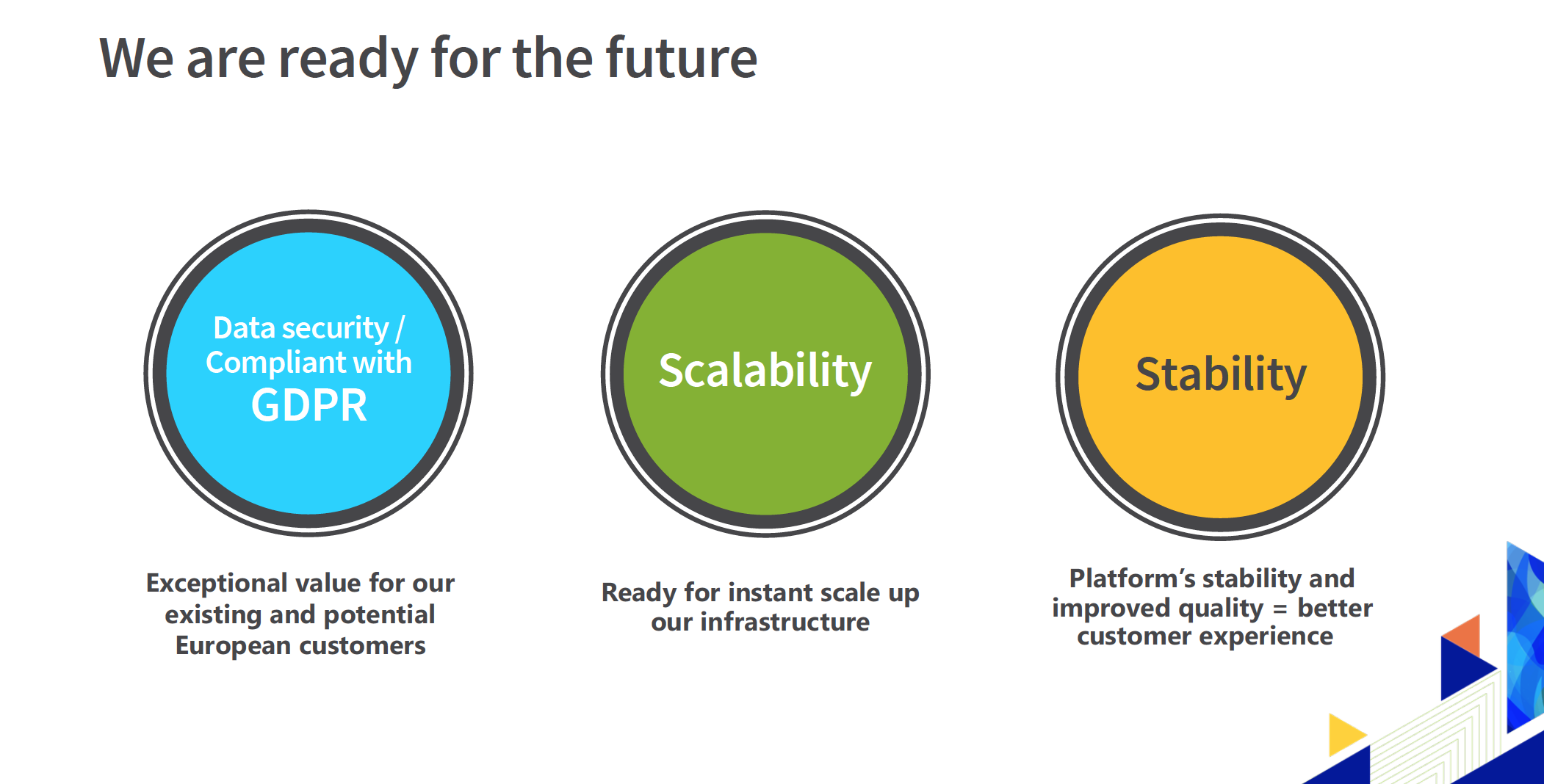 The server migration and transitions helped us in many ways. How? Let's just give a few to start:
We now have more reliable servers and offer better help to our customers as a webinar service provider;

Greater stability means better customer experience;

No matter how large the online events of our customers are – we are there to support them with unlimited scaling options;

We are fully compliant with GDPR and guarantee this to our customers;

New businesses from all over Europe (France, England, or Germany) decided to try and stay with us for longer;

Our team can now focus on product updates and development to give even better tools for customers who organize online conferences, remote trainings, or live webinars.
So, if you are looking for a truly reliable webinar service provider – be sure to give ClickMeeting a try. No matter if you only just began to learn about online events or if you are an experienced large-scale webinar organizer – you will find ClickMeeting as a scalable solution worth exploring!