Is your video conferencing activity safe and sound? The exposure of Zoom's flaw has taken over the technology and business websites and rang the alarm for businesses using their software on Mac devices. How to minimize the risk of camera hijacking and malware attacks when it comes to your webinars and online meetings? What's the alternative for video conferencing desktop application? Let's find out!
Companies of all sizes, coming from every industry operating on the web, use video conferencing tools on a regular basis, for internal and external communication.
This kind of software serves you for generating leads, demonstrating your product for potential and existing clients, for online education and training sessions, and finally for business collaboration within teams and projects.
Regardless of the purpose, the security of computers and confidential data should be on the top of your list. That's why journalists and bloggers reacted immediately to news about the vulnerability of the Zoom video conference app on Macs.
Media highlighted the security issue in the architecture of the desktop application. According to the Zak Doffman's article in Forbes, or to this article in The Verge, there was a threat of webcams and other applications taken over without users' permission.
Although Zoom has taken actions to fix this problem, the choice between two types of video conferencing software applications remains vital.
Browser-based software instead of desktop app
Although installed applications can entice you with seamless user experience, the above crisis reveals the weaknesses of this approach.
The problem with the desktop application is that you need to trust the software vendor completely. However, it doesn't give you any assurance what he did implement in the application and how will it interact with your device. What's more – potentially, a desktop app can cause more damage in your operating system compared to web applications that are isolated to your browser window. –
says Bartłomiej Bałdyga, IT Director at ClickMeeting.
The alternative is also easy to use, and it doesn't require any installations. Therefore, it minimizes the threat of other people taking over your webcam thanks to built-in permission solutions in modern web browsers.
With browser-based video conferencing software, you can smoothly run webinars and online meetings and make them more secure.
Check out ClickMeeting's Security Policy document
We have always been serious about our clients' concerns about webinar software's security. Here's one of our FAQs and a bold answer to this crucial question: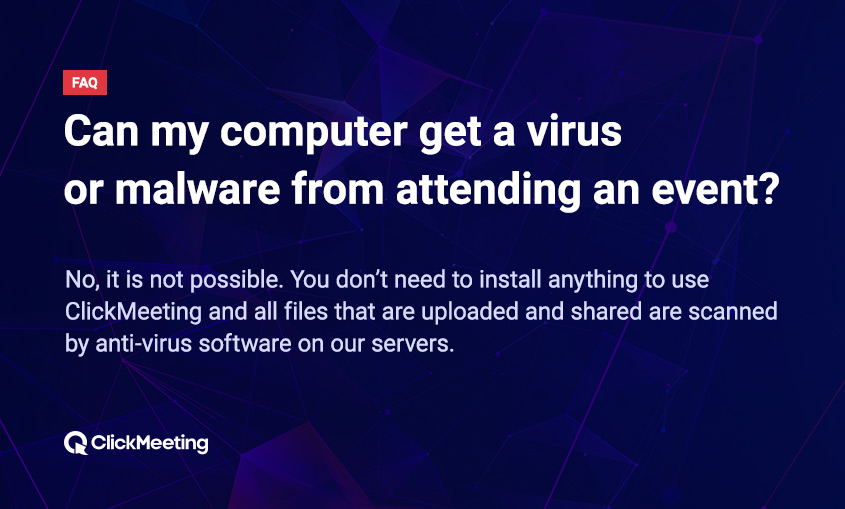 But that's not all! There are other advantages of not installing a video conferencing software on your device:
Why should you go for a no-install approach?
The comfort of the online event attendees comes first. They can join your business online meetings and webinars, without any previous preparation.
As Rajmund Dziemaszkiewicz, the Product Owner at ClickMeeting argues:
When you are an online event host, you care about the number of gathered attendees and their user experience. That's why it's essential to make things easy for them. With a browser-based webinar platform, you can enable them to join an event without having to download or install anything.
This aspect plays a huge role, especially when you organize a single, ad hoc event, where your clients or partners can join "on the move."
What also matters is that each of us has its own likes and dislikes, and that applies to the browser as well. Perhaps some of your attendees prefer Safari, and other Chrome, or Firefox. With browser-based webinar platform, you can make it easy for all of them with minimizing the actions attendees need to take when it comes to joining your event.
Moreover, I don't need to be attached to one device if I want to organize my event. When I'm traveling, I can run a webinar or an online meeting by simply logging into my account in a browser. –
Underlines Rajmund Dziemaszkiewicz.
Security first
During the last decade, video conferencing brought sales, marketing, education, and business communication in general, to another level. Thanks to webinar and online meetings platforms, you can reach and meet your audience and business partners scattered all around the World.
However, Zoom's case shows that there are no ideal and totally safe solutions, and if you have second thoughts about installing anything on your computer, you can always choose a browser-based software.