Launching new products and features, revamping services, or entering new markets. Medium and large companies are accelerating their long-runs to stay in the game of increasing their sales results. What is your strategy for getting more leads and customers? How do you make them stay with your brand for longer? Discover webinars! A premium video content marketing tool that moves the needle for enterprise sales teams.
How many times a week do you deal with terms like lead generation, conversion, customer retention, or churn rate reduction? Beyond count? Yes, you're right! These metrics are something more than just sales and marketing buzzwords. They have become deliver-or-die factors dictating the rules in the digital business world.
So, how do you manage it?
Most likely, you are familiar with building and executing strategies, following methodologies like a funnel or a flywheel, and juggling with digital marketing tools like social media, e-mail marketing, and content marketing. What about the results? Do you find them blooming? Moderately satisfying? Or is it just about remaining the status quo?
You can take your sales efforts to a higher level, by embracing webinars. It's a video content marketing format loved by sales and marketing experts from technology start-ups and scale-ups, SaaS companies, banks, and other B2B and B2C enterprises.
Your audience is hungry for knowledge
Valuable and relevant knowledge has grown to become a highly-demanded currency. As Internet consumers, we are all on a constant lookout for information and insights that will solve our problems.
The online courses boom was ignited by this significantly strong need. Entire businesses have thrived on selling unique and searchable knowledge. Starting from solopreneur online teachers, through academies helping their students in gaining new professional skills, up to huge learning platforms, like Udemy.
But knowledge-sharing doesn't end on selling and running online courses.
Businesses of all sizes have employed this trend to their communication with prospects, leads, and customers. This is where the phenomenon of content marketing came from.  It shows people HOW to solve their problems and achieve their goals. Naturally, with the irreplaceable help delivered by the company's product or offer at the end.
When you think about it – knowledge is also a fundament of the SEO power. Your leads are always looking for answers and they expect them really fast.
SIDENOTE:When it comes to B2B, such a process takes longer, because the decision is more serious, and requires more long-term encouragement.
So, how can you leverage that trend and inject it in your company's everyday reality?
Webinars as your ultimate knowledge-sharing tool
There is no better tool to deliver knowledge in an efficient, interactive, and engaging way, than with webinars. With this video conferencing weapon, you can catch your leads' and customers' attention for nearly an hour!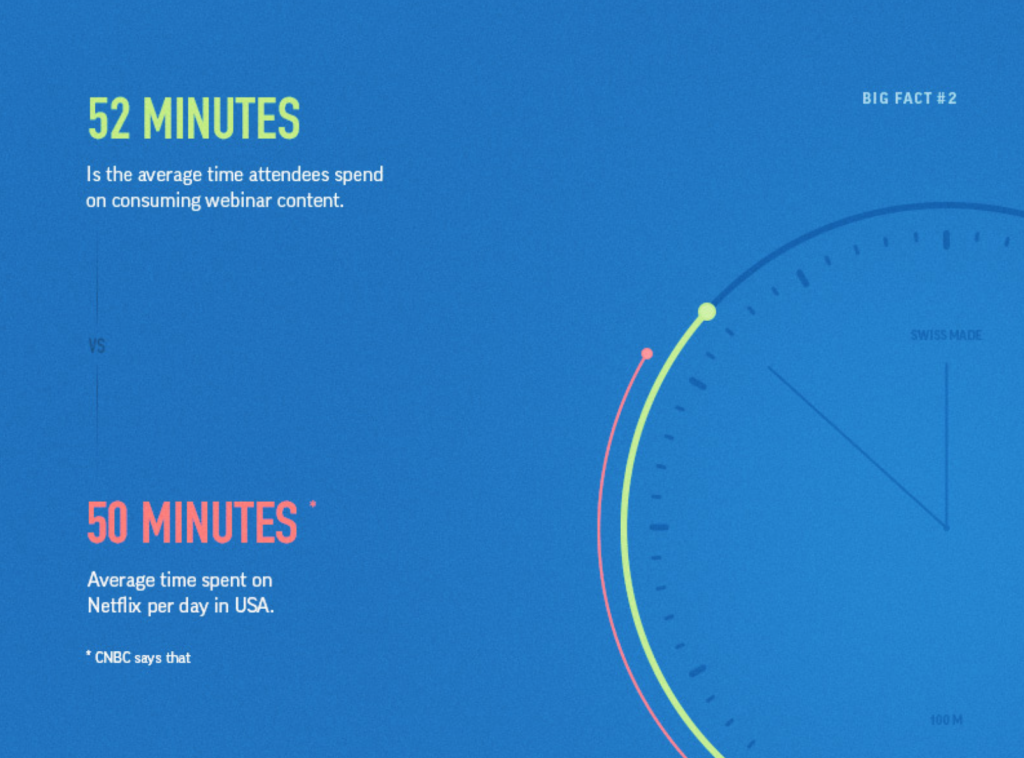 In what another possible way can you make your audience stay for that long, presenting what your brand and product have to offer?
Let's give it to ClickMeeting's Product Owner, Rajmund Dziemaszkiewicz:
In my opinion, there is no better way than webinars to effectively share your knowledge with large groups of people, regardless of where they are. Knowledge sharing is now a must-do for every business, and empowering leads with relevant content brings them closer to your brand.
Another proof of webinar efficiency is that marketing trendsetters such as Buzzsumo, HubSpot, or Coschedule are making the most of webinars to attract their audiences with the most valuable and deep-dive content.
To get a birds-eye view, take a look at some findings taken from this years' State of Webinars Report:




As you can see, it turns out that webinars as a video marketing tool are a solid method to deliver knowledge about product or service and drive significant sales results.
How to put it into action?
Make the most of your team
Start from the inside. To be able to highlight the values of your offerings to your future customers, your company's team members have to know the product inside out.
And we're not only talking about your sales department:
Your company is also empowered with a customer support team. This is an invaluable outpost dedicated to communicating every bit and piece of your product with the outside world.
Last, but not least, your marketing squad also needs to know your product perfectly. Otherwise, how would they, as marketers, promote it at every stage of the buyers' journey?
The squeeze all the productive juices out of your company's team members, you need to take real good care of the training. There are two stages you're facing:
Onboarding;
Product updates.
Webinars do their job perfectly in both of these cases. They are geared up with all the tools you need to showcase your product and explain the most complicated offers.
But most importantly – webinars save your company's time, money, and effort of managers responsible for the onboarding and training activities. Especially, if your enterprise has many branches scattered around the country, or even around the globe.
As soon as you employ webinars to your internal communication and turn your sales, marketing, and customer support specialists into your product natives, it's time to go outside with your knowledge sharing:
Bring value to your audience
Regardless whether you're starting to generate your web traffic, or you have already grown a stable audience, webinars will play a huge role at each stage of the funnel (if you pursue it):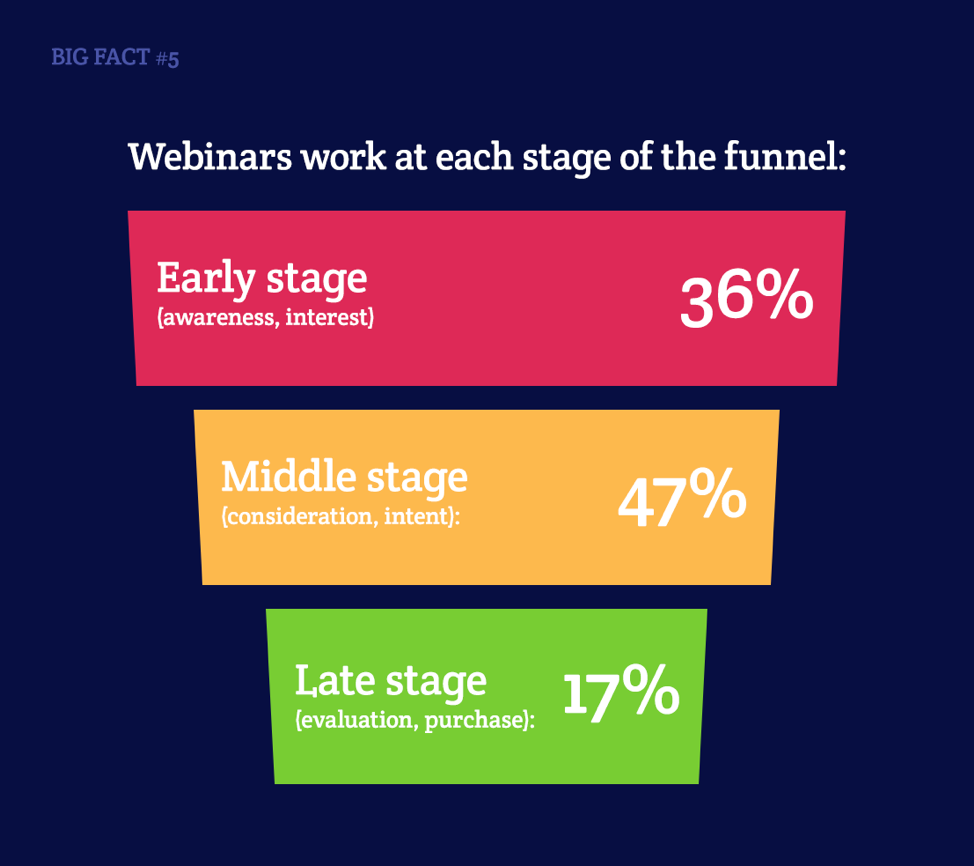 As we have outlined in our What is a Webinar? The Complete DNA Behind Video Conferencing article, there are different types of webinars, when it comes to the purpose of using them.
A particular type of webinars stands out as a rocket-fuel sales engine, and that is a product demo webinar.
This kind of online event was created for one cause – to showcase every single corner of a product, without telling or writing abstracts about it. Armed with tools like screen sharing, you can demonstrate how your product works and HOW it will solve your audience's problems.
Knowledge sharing is the key. If you only push the results with persuasive sales techniques, it may work for a while, but in a longer perspective, you will have to face dealing with a churn rate.
However, if you foster your target audience with actionable insights and know-how, if you teach them how your products will make their headaches go away, you will create a stronger bond with them as your customers.
Moreover, product demo webinars done properly will increase their appetites and make them ask you for more of your expertise!
Last, product demos not only will do the trick before your future customers' buying decision. With the help of this type of webinars, you can onboard and train existing customers, or make the most of cross-selling and up-selling techniques to boost sales results of your related products!
Are you ready to achieve it?
Recognizable and successful brands all over the world have injected webinars to their sales and marketing strategies. And you know what? It works!
Download your copy of our extremely actionable free eBook today and elevate your sales metrics like never before!