Learning Management Systems play a significant role in the e-learning theatre. Universities, colleges, and other educational institutions worldwide have fallen for using Moodle to create and manage their learning spaces. However, if you want to transform your LMS platform into a fully-functional online education environment with live sessions in virtual classroom, you will need to integrate it with a webinar software web application. In this article, we will show you how to achieve it.
E-learning is no longer just an opportunity for universities; it's a must. Online education is much more than just a global trend, that it's worth-while to follow. Teaching with the help of web platforms is a huge business sector and a new pillar of an academical offer.
To cast some light on the scale of the phenomenon, let's take a look at these statistics. Already in 2017, the global e-learning market has generated $176 billion, and prognosis for 2025 estimates that it will reach $325 billion.
E-learning in higher education
The above stats are impressive business-wise, but how does it relate to the higher education institutions? According to the 2019 Online Education Trends Report created by Best Colleges, students are bolder in embracing e-learning:
77% of students declare that distance learning is more or the same attractive as getting an education on campus.

88% of students claim that choosing online education will pay off.
How do schools perceive this trend? The same report underlines that 99% of higher education administrators admit that the demand for e-learning is growing or stays at the same, high level.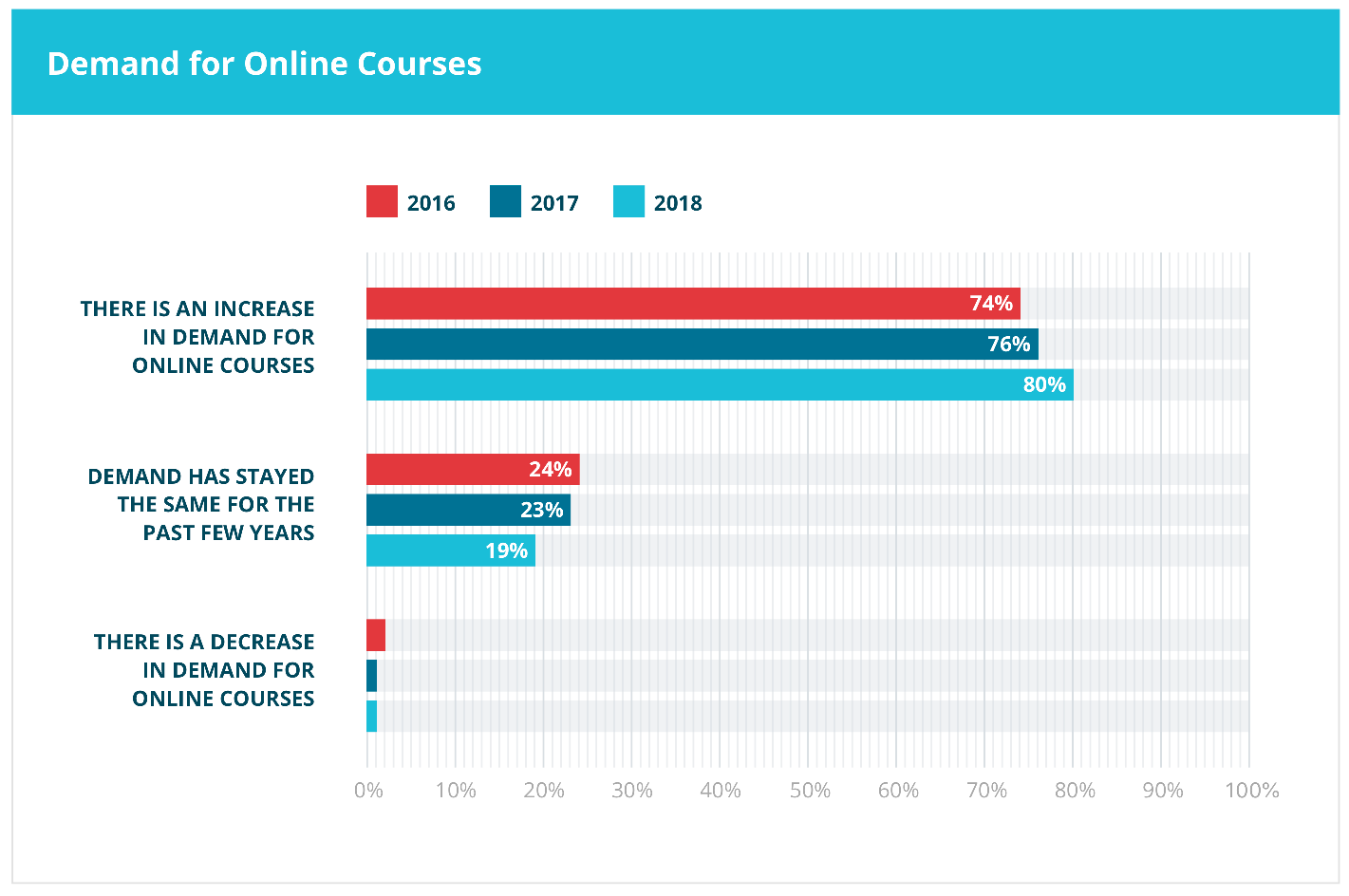 The truth is, education is easier to access than it has ever been. Students can enroll in courses and studies without having to worry that the university is hundreds of miles away.
School's reputation is not a key factor
The Internet's, new technologies', and mobile apps' explosion have changed the teaching landscape for good. The technological expansion has implied massive changes in behavior and needs of more mature educational consumers. When it comes to those students who are too young to remember how it was before the digital revolution, such needs were created from scratch.
Universities need to adapt to those needs and demands. Millennials, Gen Z, or digital natives also called as Generation C (Connected, Communicating, Changing and Clicking), are much bolder with setting expectations towards brands, employers, and higher educational institutions.
The traditions of a college or a university aren't the most important case. Digital natives want to be impressed with the online education offer, on web and mobile applications, or a mobile version of the school's website.
To conquer their hearts, academies need to redefine the communication towards this generation and apply new technologies to their teaching offers.
Why webinars?
From all the web solutions out there, it's hard to come up with a tool that would be more suited for delivering knowledge than webinars.
To get the best picture, you can perceive webinars as virtual classrooms or virtual lecture rooms.
By getting webinars on board, academies can take their educational offers to a higher level and ship it worldwide. They can reach students located in other cities, regions, or even countries.
What's even more compelling is that teaching with the help of webinars is also giving a helping hand to the disabled students. Enabling them to study at home, without the necessity to commute to campus is pure gold for them.
How do webinars work for e-learning?
The heart of a webinar is the webinar room. In terms of teaching students online, it's a virtual lecture room where you can run lectures and seminars with the help of a browser-based, secure video-conferencing application.
What's happening in a webinar room is a situation where students gather up to watch and listen to their lecturers and get the most of their knowledge.
Apart from the obvious audio/video tools that make the online teaching sessions possible, presenters upload their presentation to the webinar room and sprinkle it with some additional video clips to make the event more attractive.
But that's not all!
Sharing knowledge can be even more effective than in traditional lecture rooms. Thanks to the Screen sharing tool, you can walk your students through a complex topic, showing them step-by-step how to solve a certain problem. The Whiteboard feature with drawing tools can easily replace a physical board hanged on the wall.
What about communication with students?
Despite common concerns, webinars are far from the one-way communication tool. You can communicate with your students by:
Live conversations on Chat or answering questions in the Q&A mode,

Turning the microphone on for a chosen student,

Evaluating knowledge with Polls and Surveys,

Receiving feedback from students after the event is over.
Moreover, there can be two lecturers running an online seminar together!
Why Moodle is not enough
To fulfill their e-learning needs, academies are making the most of LMS platforms like Moodle. Let's take a look at how Moodle describes their core value for the education sector:
Moodle enables you to create a private learning space online full of engaging activities and material. You will always have full control of all your data and the way your staff, students and clients are on-boarded into the system.
This global, open-source platform serves well as an e-learning control-center, a sphere where you can coordinate all the teaching activities and communication.
However, Moodle itself is not able to cover the entire potential of online teaching. Why? Because it doesn't have the tools to conduct a live online lecture or a lesson within an online course. With the Moodle panel, you can't gather your students in a virtual lecture room.
Fortunately, as Moodle highlights, you can integrate the platform with other software solutions and fill in the empty spaces. That's why, if you already work with this LMS, you can easily balance it by creating a link with the webinar software platform.
This way, you can take full leverage of the e-learning power and reach students scattered all over the world, including the disabled ones.
How to integrate Moodle with ClickMeeting webinar platform
We're not encouraging you to drop Moodle or any other LMS solutions and switch to webinars instead. Far from it. On the contrary, you can reinforce your learning management system with video conferencing web application and make your e-learning strategy complete.
The integration process is incredibly easy. Here's what you need to do:
Log in to your Moodle account. Click Site Administration on the left-hand side panel, choose Plug-ins from the drop-down menu and click Install Plug-ins.
Download your plug-in from here!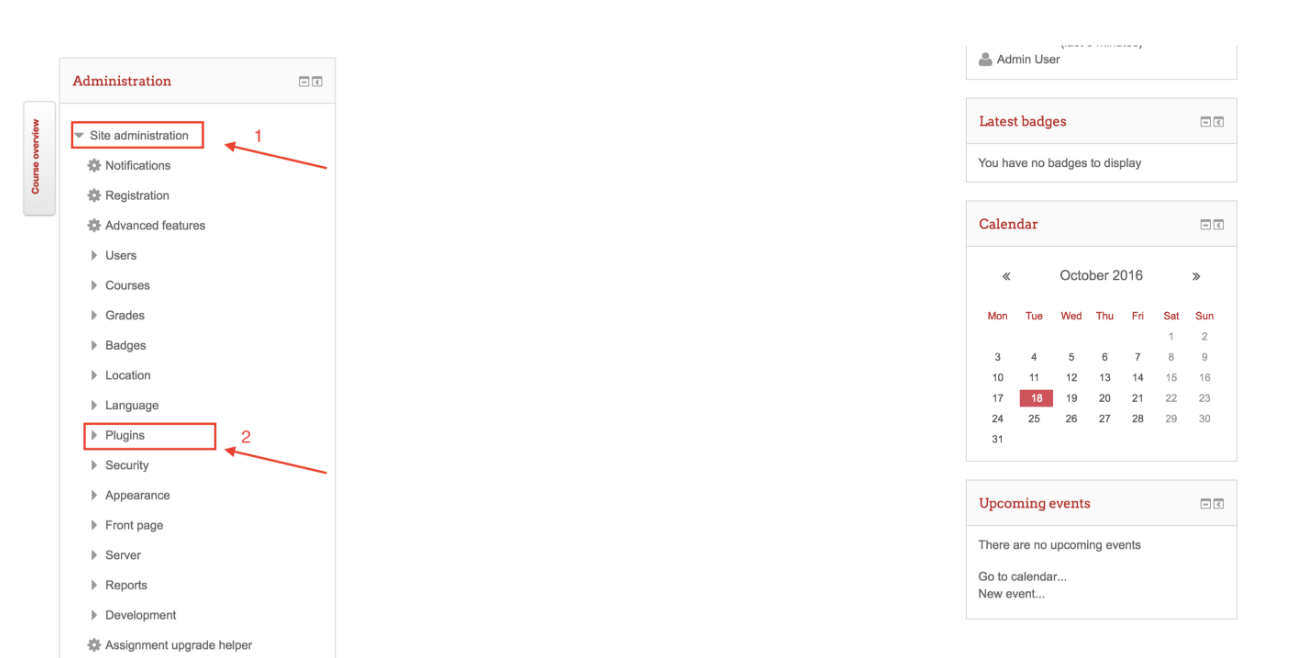 Go back to Moodle and add the downloaded plug-in on Install Plug-in site, and then click the INSTALL PLUG-IN FROM THE ZIP FILE button.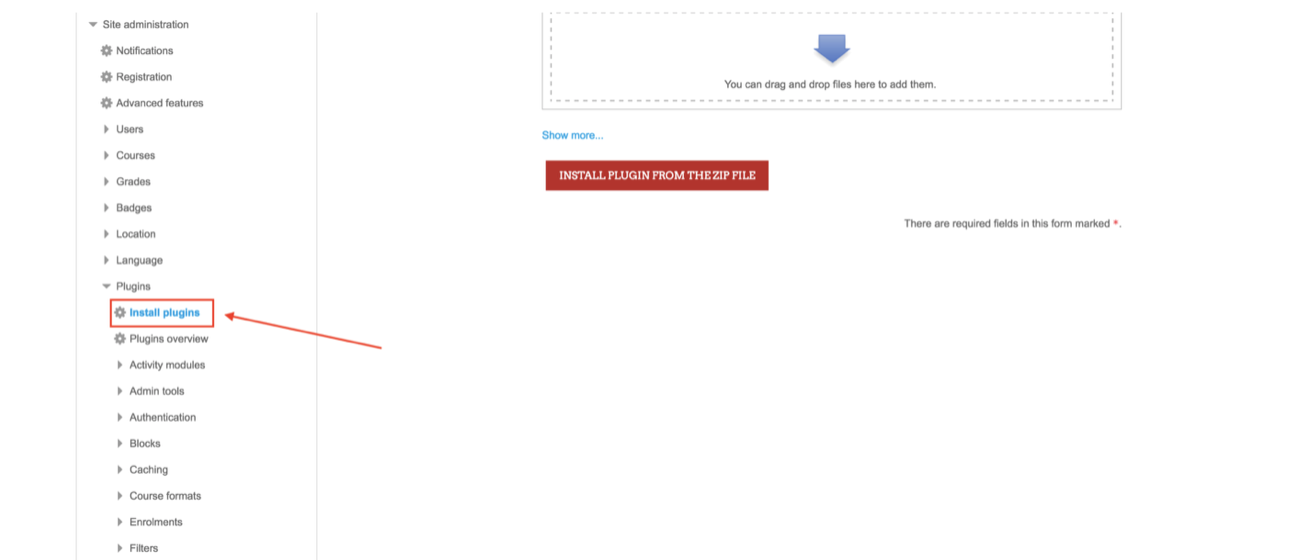 From the drop-down menu on the panel to your left, choose the Plug-ins Overview tab. Click Account Settings next to the ClickMeeting plug-in. Now you need your ClickMeeting API key. To get it, go to your ClickMeeting Account Settings. In the upper-right corner of the screen, click the API tab, and copy your API key.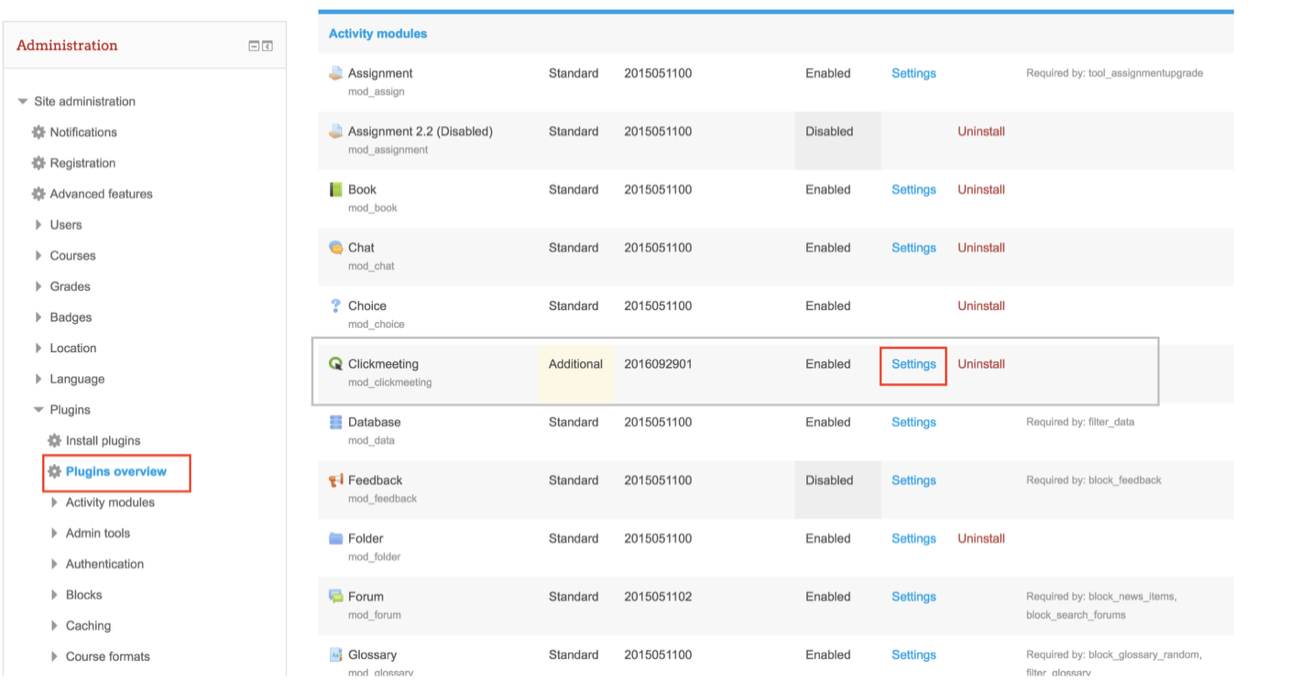 Go back to Moodle and paste your API into the API KEY field.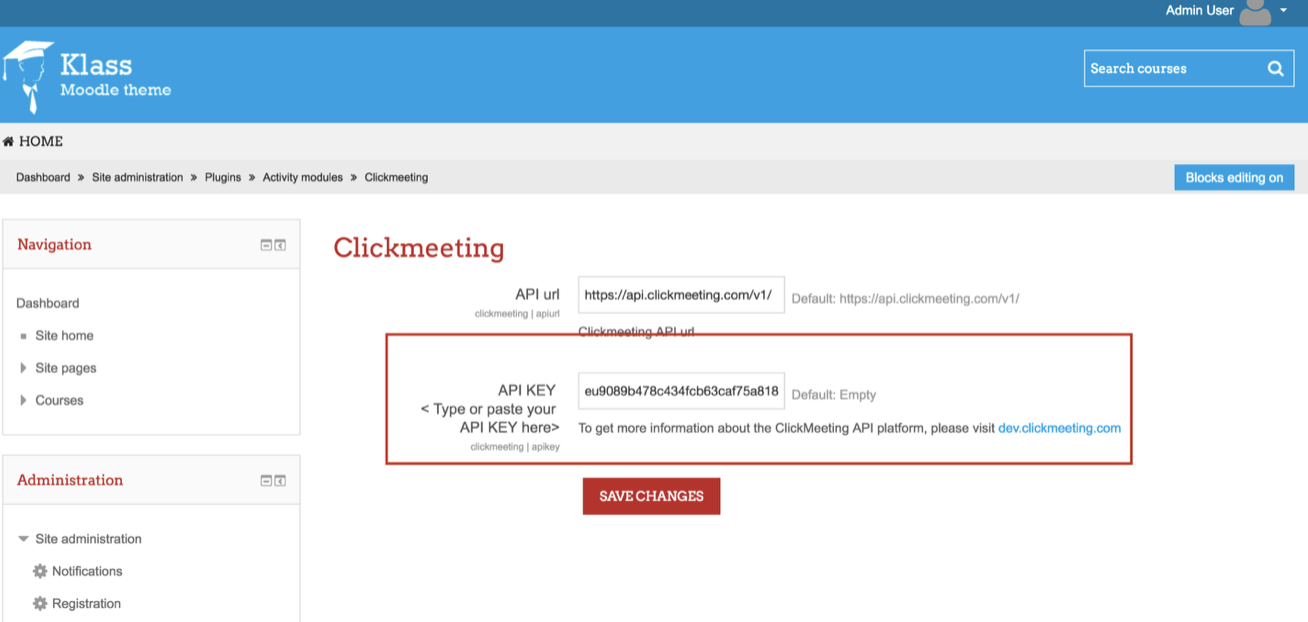 As soon as you have completed the integration, you're all set to plan and organize webinars from Moodle panel. After creating your online event – a lecture, a seminar, a students' consultation – in the LMS, both you and your students will be able to join in with a simple click.
You will all, however, land outside your learning management space, and that will be the ClickMeeting webinar room. Right there, you will meet your students and continue the live, online teaching experience.
Here's a quick way to do it: 
How to create a webinar from Moodle panel
Go to the Dashboard and click on any course you have created in Moodle. Next, click a certain topic. Then, choose the Virtual Class from the list on the pop-up.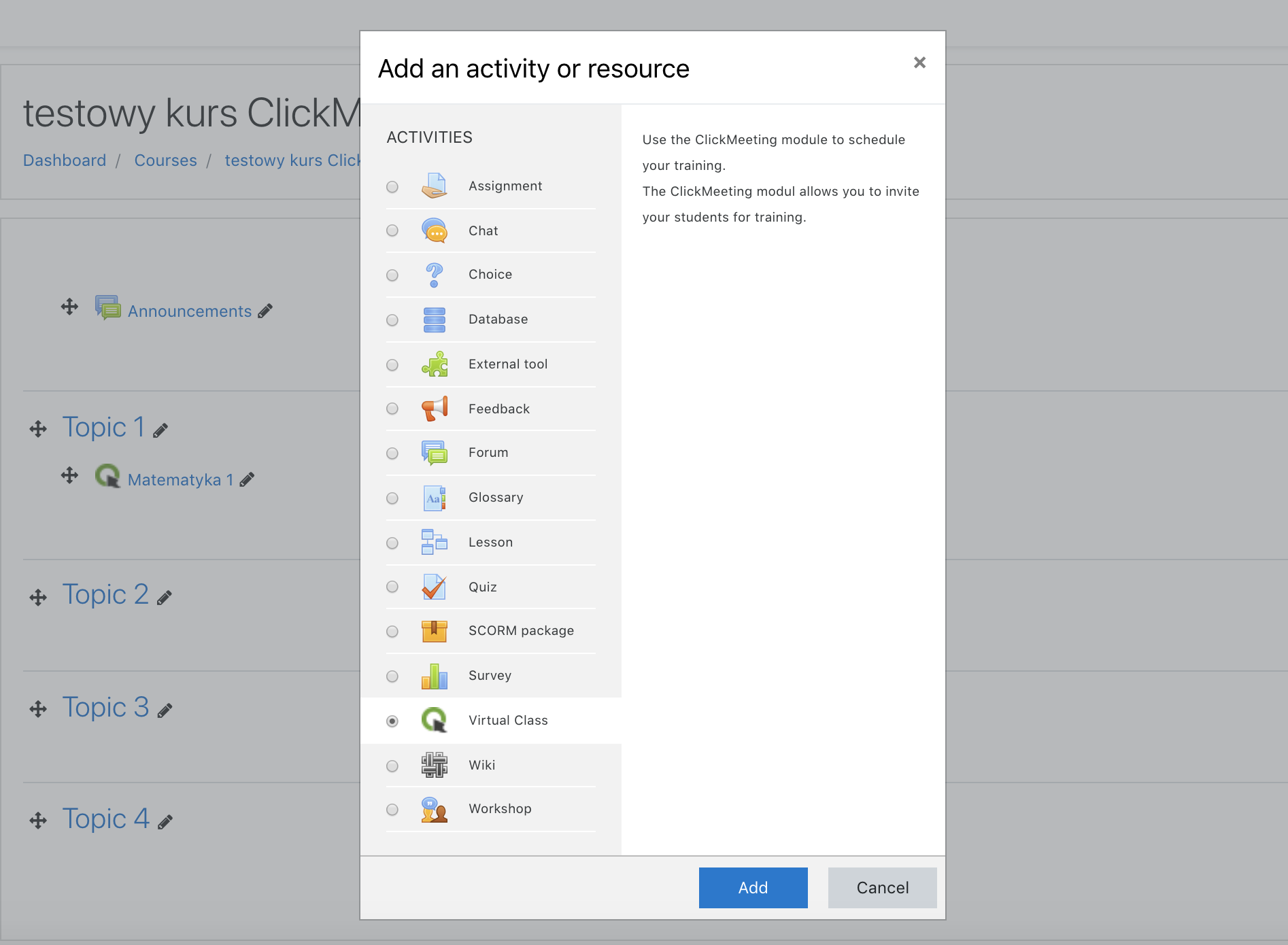 Name your online event and add a relevant description of your webinar topic. Next, select "Webinar" as your Room Type, and add some more value to your students by pasting the agenda into the Waiting Room Message.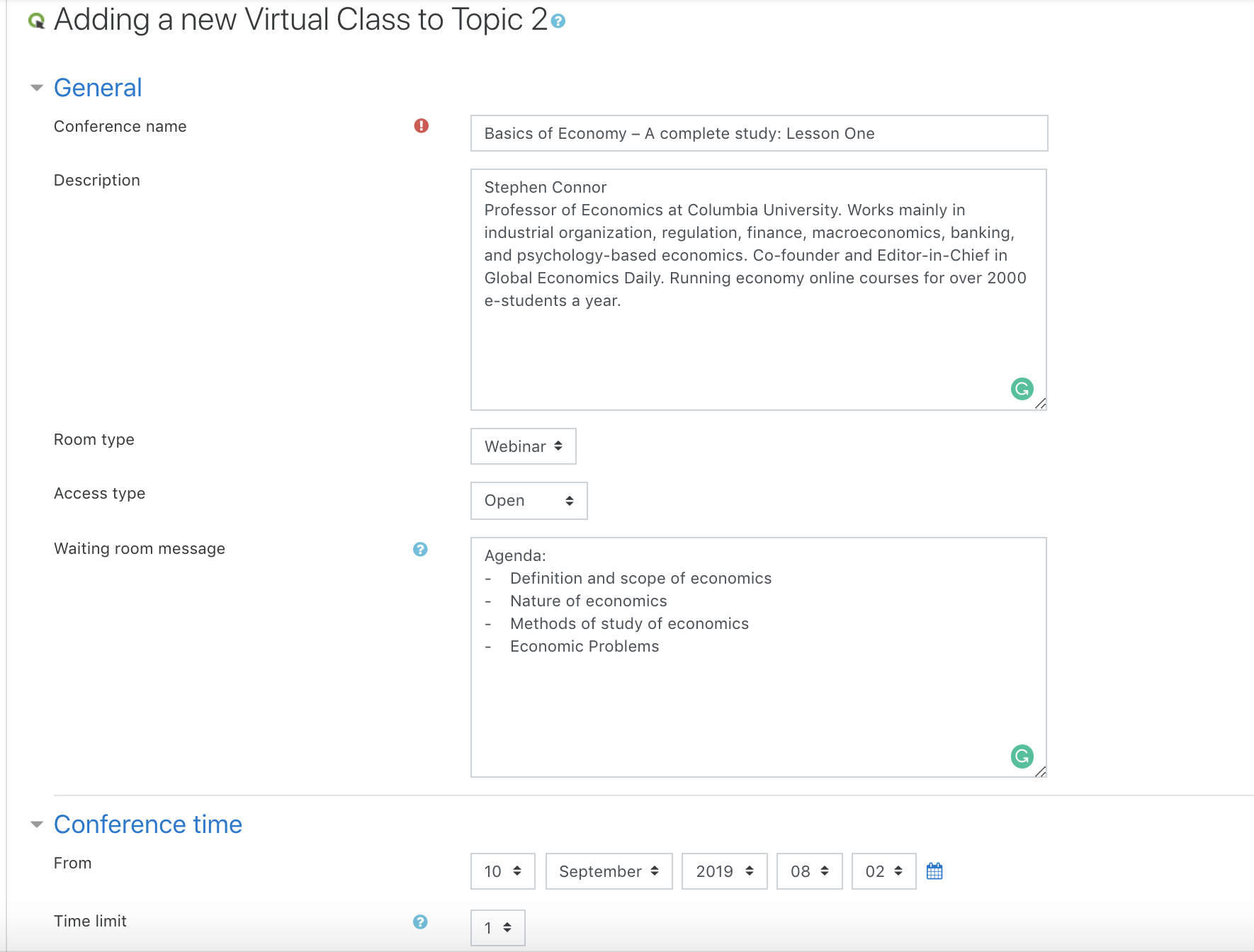 Finally, select the date and the hour of your meeting with students. As soon as you're ready, click Save and Display.
Your event has now been created and exported to your ClickMeeting event timeline. You and your students can also enter the webinar from the Moodle panel. All you need to do is to click the Join meeting button, and you'll be taken to your webinar room.

You can also embed your ClickMeeting webinar room on your website, or a blog (more on that in this article).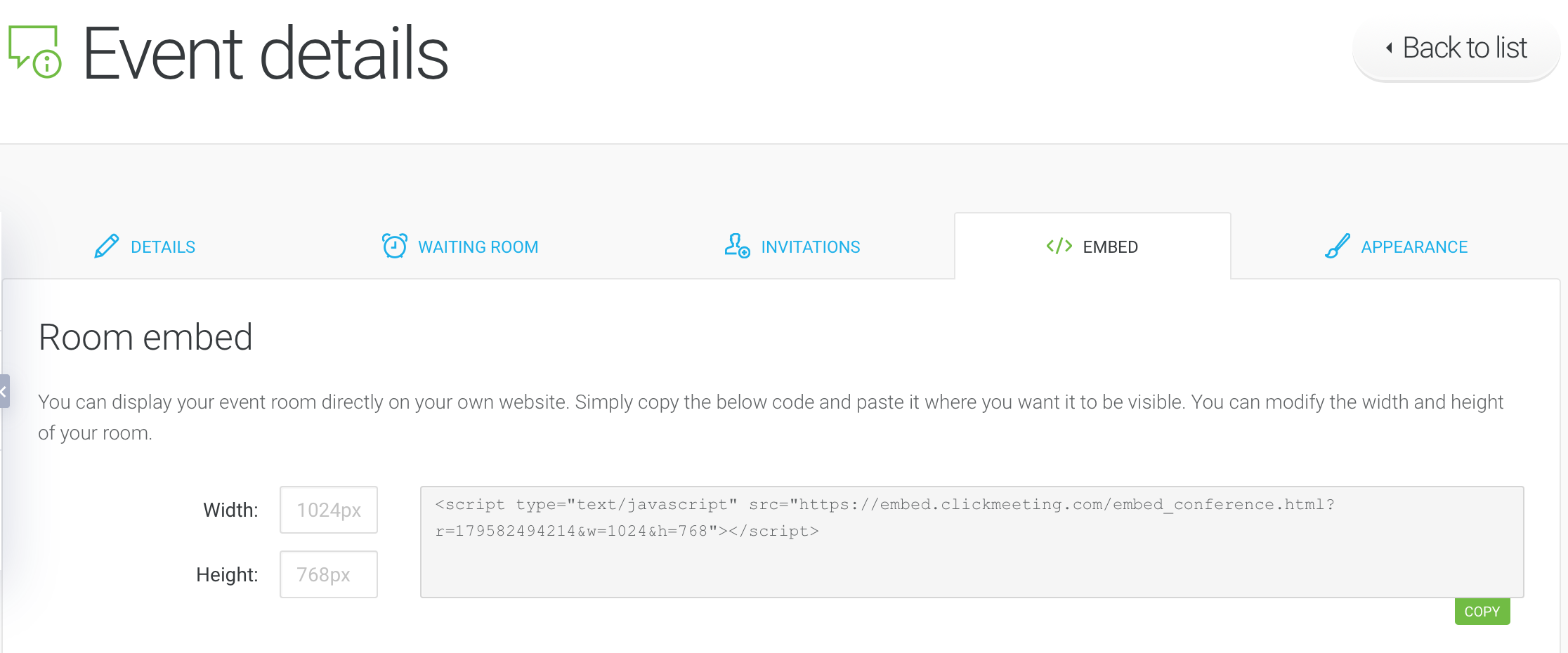 API – much more than just a second option 
Now, if you need more features in your Moodle panel than only scheduling virtual classes and joining the webinar room, and you have some developers (or software development students) working in your academy, then you're facing brand new opportunities!
You can make the most of the API resourcesavailable in the ClickMeeting DevZone. Use our code samples to develop your Moodle panel and enrich it with tools like:
Event recordings lists,
Chat lists,
Files lists,
And much more!
Obviously, it requires additional work like hiring a developer or, if you feel strong with writing code, doing it by yourself. However, making the use of ready methods, it won't be rocket science to hugely improve the functionalities of your Moodle dashboard hugely.
Okay, but what if you're not managing your online teaching activities on Moodle but another LMS platform? Our API resources come to the rescue here as well! With our code, you can smoothly integrate with any other learning system or even develop your autonomic one!
Are you ready to take your e-learning to another level?
As we outlined in the beginning, online teaching is not optional, and most of the universities and other educational institutions are aware of that. Coordinating e-learning activities from Moodle is a way to go, but you can achieve more impressive results with including webinars in your every-day work.
By integrating your LMS with webinars, you will able to meet your students in virtual classes and teach them more efficiently!
Ready to start? Sign up for a free trial today and integrate your Moodle with ClickMeeting.