Acquiring new customers is a challenging task. To be able to do this at all, you must first effectively reach them and build the right relationship. The starting point in the world of digital marketing is acquiring contact information. How do you convince potential customers to share them? A lead magnet will prove irreplaceable.
Generating leads is one of the most important tasks marketing specialists have to deal with. In fact, it is becoming more and more demanding as time goes by. Users are well aware of the value of their contact information and the potential risks of sharing it. However, the context changes with the use of lead magnets – the additional benefit is able to convince them not only to provide the data but also to establish a closer relationship with the brand. In this article, you will learn how to prepare a quality lead magnet, automate most of the activities and use webinars for this purpose.
Lead magnets: what are they actually?
To define what a lead magnet is, you need to understand how the lead generation process works and what is a lead itself. You can read more about this in our article on lead generation. In a nutshell:
A lead is your potential customer's contact information.
Lead generation comes down to acquiring leads followed by analyzing and classifying them.
To acquire contact information, you need a form with relevant fields such as name, email address, and contact number. No matter what your business is, you are surely well aware that internet users are not always willing to share these details, especially if their relationship with a company is just getting started. So you need to convince them to do so. This is exactly why you need a lead magnet.
A lead magnet is a kind of reward that a user receives in exchange for providing their contact information. It usually takes the form of attractive content that is easy to distribute.
Acquiring new customer data, as you can see, is often of a transactional nature. Both parties benefit from it.
Lead magnet examples
Lead magnets can be very diverse. Of course, they can be found not only in virtual space. Some examples include free admission to conferences, product sample, various gifts or lottery tickets. In this article we are obviously interested in digital marketing, so we are going to focus on digital formats. What can serve as a lead magnet? Here are the most popular solutions:
ebook
access to closed social media groups
premium content, e.g. comprehensive guides, workbook, templates
discount
industry reports
tools, e.g. pre-configured spreadsheets, access to applications and programs
access to trial versions of products
individual consultations with an expert
online courses
access to webinars and online events.
What is a good lead magnet?
An ideal lead magnet should feature several important qualities. Importantly: it needs to be tailored not only to the needs of the users, but also of the marketers that benefit from its potential. It is worth paying attention primarily to:
Appealing to a target audience – effective lead magnets simply have to present a specific value that will convince the audience to share their data.
Accessibility: in the online world everything happens at lightning speed. The recipients must be able to access the lead magnet immediately after submitting their contact information (of course, this is slightly different in the case of a live webinar, but submitting the information equals signing up for the event).
Intuitiveness: lead magnet is not everything. It is usually accompanied by other technological and marketing solutions, such as a sign-up form or landing page. To encourage customers to share their data, you need to make the whole procedure as easy as possible for them.
Expertise: Creating and sharing a lead magnet is a great opportunity to create an expert image and ensure brand recognition and reputation.
Automation: lead magnet can be quite an organizational and technological challenge. By automating tasks, you can significantly streamline your work and achieve even better results.
Webinar – the perfect lead magnet
There is a reason why one of the most popular & best lead magnets is a webinar. A virtual seminar entails a number of benefits both from the perspective of potential clients and hosts:
Video formats are undoubtedly the future of marketing. They are also the most preferred by users themselves. A webinar allows you to create compelling video content that can then be used in various other channels.
Engage your audience effectively: a webinar is a great opportunity to interact with your attendees. You can also convince them to visit your website or make a purchase.
Easy data acquisition: In the case of other lead magnets, the preparation of the registration form itself or the landing page where the form is embedded can be quite a problem. This is completely different if you decide to use a webinar as a lead magnet. The event registration form will allow people to provide details. Within the webinar platform, you will also be able to intuitively create other content.
Reduce costs: Whether you choose to host the webinar yourself or engage industry-recognized experts, you will achieve significant time and cost savings over other formats such as a report or e-book tutorial.
Support content recycling: By hosting one webinar, you gain several opportunities to use the content in the future. You can even upload the recording to your YouTube channel, and when completed with a text summary, it will make excellent material for your company blog post.
Create a lead magnet step by step
No matter which lead magnet you choose, the basic elements of the lead magnet preparation process will be the same. In this tutorial, you will learn how to do it using a webinar as a lead magnet.
Plan compelling content
In order to persuade potential customers of your business, you must first of all know their expectations and interests well. This will give you the opportunity to create an event that they actually feel represents measurable value. Importantly: it should not be directly sales-oriented. Lead generation is the beginning of the process of acquiring a potential customer and a great time to present your brand in a positive way and build an expert image.
For example: if you sell bicycles, it might be a good idea to organize a webinar on the most important issues before setting out on a long journey. An event on how to create a training plan for beginner cyclists is also likely to be very popular and prove a great way to achieve leads. If you rely on presenting products that can be found in your online store, a lead magnet is unlikely to work: few people will choose to provide their contact information in exchange for purely marketing content. Of course, this doesn't mean that creating sales webinars doesn't make sense. They bring great results, but they work well in the later stages of the funnel.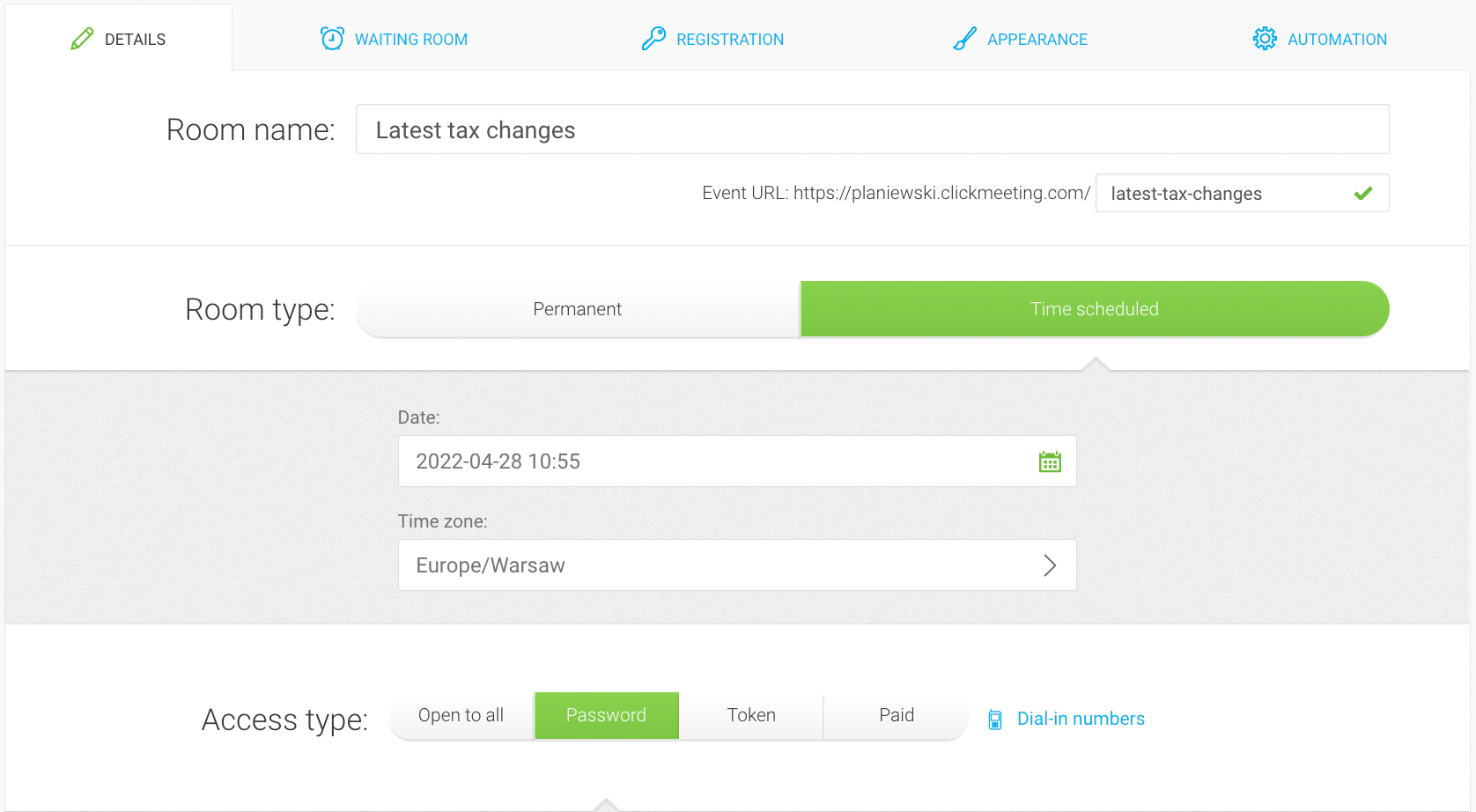 The same principle applies to other formats as well. Whether you rely on a webinar or an ebook, the lead magnet should first and foremost be appealing to people who are potentially interested in your area of expertise. The more emphasis you place on content value, the higher the effectiveness.
Consider involving additional people
Of course, you can easily prepare a lead magnet on your own. In the case of a webinar, you may be at the same time the host and the presenter, and also take care of its promotion. Very often companies decide to work exclusively in-house, which is perfectly justified: after all, they usually employ specialists in many areas who can deal with very diverse issues.
At the same time, a good way to reach out to potential customers would be engaging an expert recognized in the industry. A well-known name will certainly increase the prestige of your event, and translate into its substantive value. With the right choice of speakers you will be able to even more effectively promote your product or service, demonstrating new areas of application. There are several formats available. You can quickly prepare a mini-conference on a selected topic. An online course that helps your participants gain new competencies will also work well.
It is worth turning to people recognized in the industry when creating an ebook with a guide or report, too. Placing their opinions within the content would not be a demanding task, but it will significantly influence the attractiveness of lead magnets.
Prepare a form to collect leads
The primary goal of lead magnets is to acquire leads. Therefore, you need a form that makes it possible for your visitors to provide contact information.
If you use webinars as your lead magnets, the task will be very simple. The form that collects leads will also be the registration form for your event. However, you need to pay attention to the details it includes.
Remember that leads very often contain personal information. Therefore, you become their administrator. You must therefore inform your participants how you process their data and what happens to them. You can read more about good practices regarding privacy during webinars in our guide.
In order to acquire a lead legally, the user should agree and accept the terms and conditions of the event. In the ClickMeeting registration form configurator you can easily enter your own checkboxes and additional fields to help you generate leads effortlessly.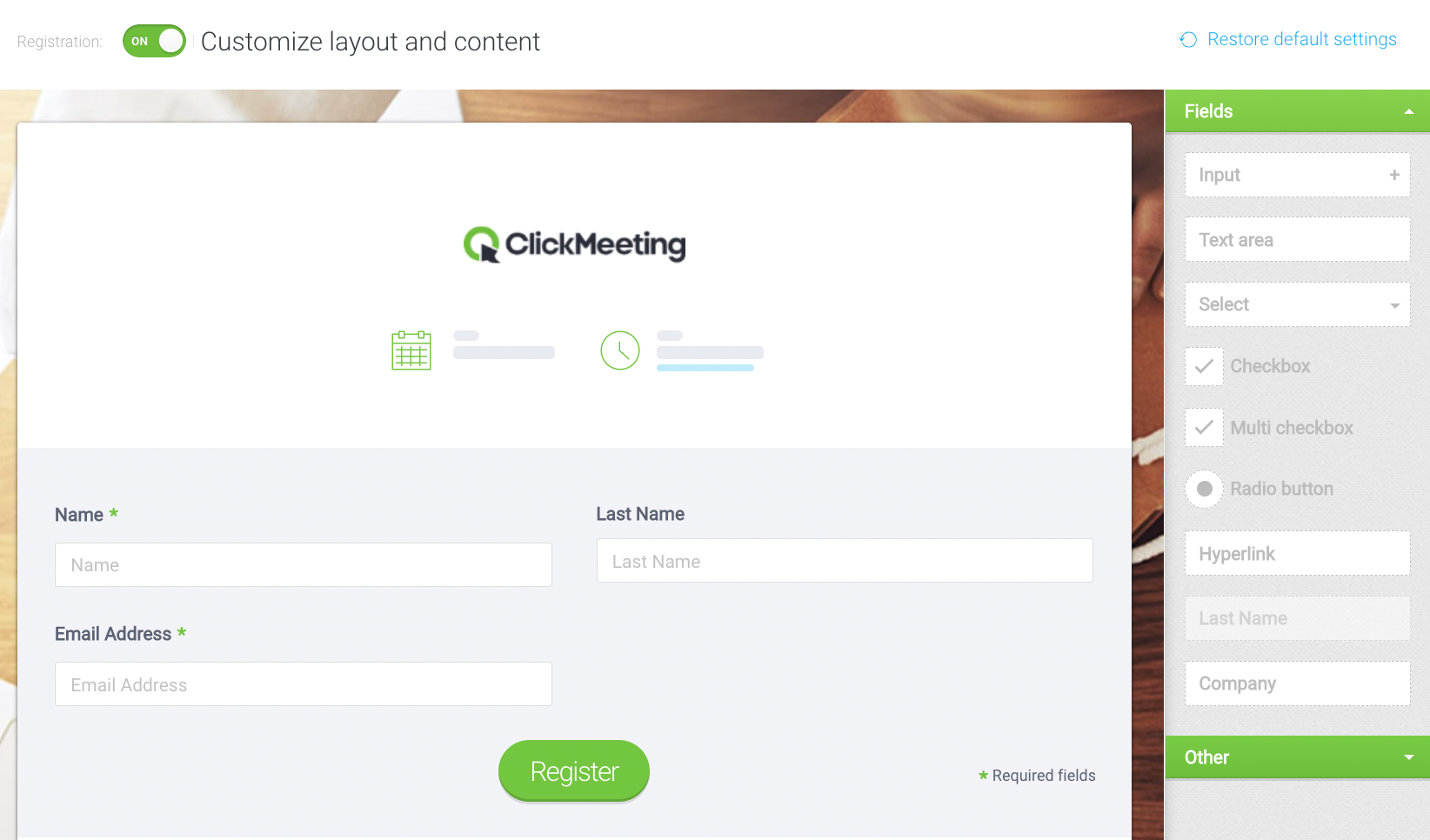 Promote lead magnets
Acquiring leads primarily involves reaching out to your potential customers. So, you need to take care of proper promotion of lead magnets. For this purpose, you can use the potential of social media advertising and reach for the power of content marketing. Also take care of your registration form page. With ClickMeeting webinars, the task will be much easier because you can manage the content and style of all your content conveniently from one place. You'll also be able to coordinate your pre-event and post-event messaging.
Don't forget that a lead is just the beginning. In the next step, you need to classify them in the right way and build a lasting relationship, allowing them to join the circle of your customers.
Automate events
What's important: a great lead magnet wouldn't just be a live webinar. You can automate the entire process even further by creating automated webinars (they will start at a specific time and run "on autopilot") or on-demand webinars. How does it work? All you need to do is prepare a recording of the event (a recording of a previous live webinar will also work here), add interactive elements and place it within your webinar. The principle is simple: you prepare the webinar once and acquire leads without any limits.
Want to test a webinar lead generation? With ClickMeeting, you can do it for free! You don't have to provide your credit card details either. Take advantage of our 30-day free trial period.