Webinars are fantastic marketing tools.
With them, you can interact with your target audience in real time, engage attendees on a personal level and forge deep connections, and even boost sales numbers.
But here's the thing: webinars will only benefit your organization if people actually attend them. If you can't get a crowd to show up, there's really no point.
This begs the question: how do you encourage attendees to, you know, attend your webinars? There are lots of ways. One of the most basic is to send webinar reminders.
In this article we'll explain what webinar reminders are, tell you why every webinar host should send them to their audience, and teach you how to easily craft effective reminders.
What is a Webinar Reminder?
A webinar reminder is exactly what you think it is: a simple message that reminds audience members to show up for the webinar they recently registered for.
Webinar reminders can take a variety of forms. You could, for example, call potential attendees on the phone and leave them a voice message. Or send them a quick text message. More often than not, though, webinar reminders are sent via email.
Why? Because everyone has an email address. And, more importantly, usually don't mind when a company uses it to contact them. Emails can also be automated to send at predetermined intervals, which makes this communication channel super convenient.
Why Should You Send Webinar Reminders?
You should send webinar reminders to improve event attendance, keep your audience engaged before your get-together starts, and prepare people to buy your products.
Let's talk about each of these three things in greater detail:
Improve Attendance
Your target audience is busy. They have jobs to do, families to take care of, Netflix shows to watch. They want to attend your webinar—if they didn't, they wouldn't have registered for it. But with so much going on, there's a good chance they'll forget about your event. Webinar reminders prompt people to attend the webinars they've registered for, improving attendance.
Keep Your Audience Engaged
Successful companies are always looking to publish new content. It makes sense. The more content they publish, the better chance they have to engage their target audience. Webinar reminders fall into this category. By emailing potential attendees to tell them about your upcoming event, you'll give yourself fresh opportunities to connect with potential customers.
Prepare Attendees to Purchase
Finally, webinar reminders can help prepare your attendees for the sales pitch you're going to give them during your webinar. Spoiler alert: your messages can contain more than just the date and time of your next event. They can announce speakers, tease product demos, and more. When used correctly, webinar reminders will prime attendees for purchase.
5 Simple Tips to Improve Your Webinar Reminders
So, how do you craft effective webinar reminders that encourage people to attend the online events they've registered for? It's pretty easy: just implement the five tips listed below!
1. Include Important Information
First things first…
Make sure your webinar reminders include all of the important information about your event. This includes things like when your webinar will take place, who will be speaking, what topics said speakers will cover, and how to log into your webinar platform of choice to attend.
If you forget any of these details, your webinar reminders won't be as effective as they can be. So double-check your messages to make sure all of this critical information is included.
2. Send More Than One Reminder
One webinar reminder is better than zero webinar reminders. But in an ideal world, you'll send multiple messages to potential attendees. That way there's no chance they miss them.
Just make sure each message is unique. Here's an example of a sequence you could send:
Message #1:

A confirmation email, right after someone registers for your webinar.

Message #2:

A reminder email, sent one week before your webinar takes place.

Message #3:

A second reminder email, sent one day before your webinar takes place.

Message #4:

A third reminder email, sent the morning of your upcoming webinar.

Message #5:

A thank you email, sent after your webinar takes place.

Message #6:

A follow-up email, prompting people to download the

webinar recording

.

Message #7:

A second follow-up email, sharing additional resources with attendees.

Message #8:

A final follow-up email, promoting future webinars you plan to host.
What's so great about this sequence? First, it includes multiple reminders. There's little chance that potential attendees will miss this many emails in a row. It also includes post-webinar content, which isn't necessary, but helps with audience engagement.
3. Benefit from Automation
You need to send multiple webinar reminders to those who register for your online events. But doing this manually is way too much work. That's why we suggest using automation. So it involves additional tools? Not necessarily! Everything you need can be found at ClickMeeting.

While setting up your event, go to the automation tab. There you'll be able to manage, among other things:
Webinar reminders
Thank-you emails
Follow-up emails
Invitations for next events.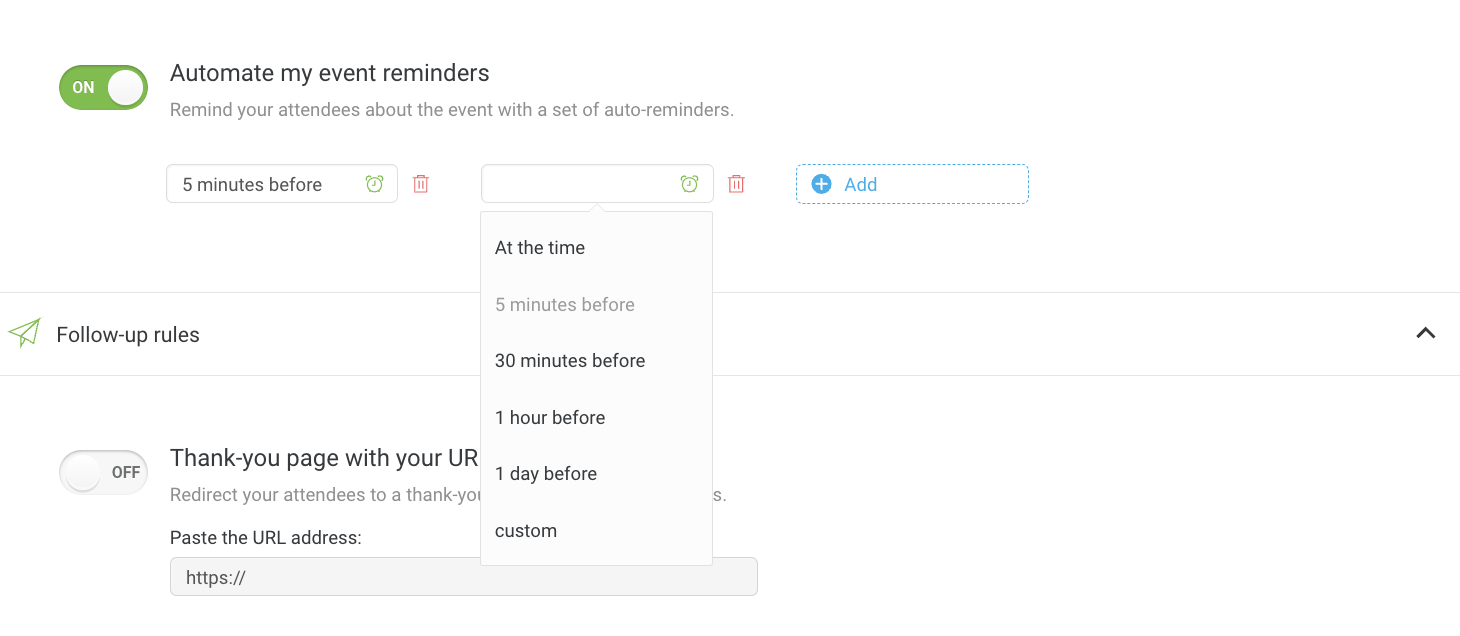 As you can see, you can set when reminders messages are sent to your attendees.
Think of how much more productive you'll be when you don't have to manually send dozens of emails every couple of days. Hint: so much more productive!
4. Focus on the Benefits of Attending
We know what you're thinking…
"This is all good information. But what do I actually say in each of my webinar reminders? Do I just keep telling my audience what time my event will be? Or is there more to it than that?"
Great question! You definitely do not want to send your audience the same message over and over again. This will only frustrate them. It may even prevent them from attending. They'll think, "If their emails are this annoying, how awful will the actual webinar be?" No bueno.
Instead, focus on a different benefit of your webinar in each reminder email. Maybe your first message introduces a guest speaker. Then the second message teases a prize attendees will be able to win if they show up. Then the third message… You get the idea.
Each webinar reminder you send should include essential information like the date and time of your event. But they should also include unique content to keep your audience engaged.
5. Learn From Your Past Mistakes and Successes
Last but certainly not least, analyze your past webinar reminders.
What worked and what didn't? Did specific emails get opened, read, and clicked-through more than others? Have you had more success sending five or eight message sequences? What kind of content does your target audience seem to respond to best?
There are a few different ways you can find out this kind of information. First, look at the analytics dashboard inside your email marketing service of choice. This will give you plenty of information regarding open, click-through, and unsubscribe rates, as well as other metrics.
Second, ask your webinar audience what they thought about your reminder sequence? Did they like it? Why or why not? What do they think you should do to improve it?
One of the easiest ways to get answers from webinar attendees is to send them a post-webinar survey, which you can do with a tool like ClickMeeting.
Send Better Webinar Reminders
If you want people to show up for your webinars, you have to send them webinar reminders. After reading this article, you know exactly what your company's reminders should contain.
Side note: have you chosen a platform to host your upcoming webinar on?
We recommend ClickMeeting. Our solution is user-friendly and powerful. With it, you can customize the attendee experience; engage them with screen shares, digital whiteboards, and in-app polls; and record the entire event to use as future marketing collateral.
Sign up for your free 30-day trial of ClickMeeting today. We won't even ask you for your credit card! If you like the platform, you can continue using it for as little as $25 a month.