Getting people to join your webinars is critical. If your webinar attendance rate is far from what you expected, time and effort you invested in creating your online events will go to waste. How can you increase the number of your webinar sign-ups? What are the factors that can also make your audience experience smooth and drive your attendees to come back to your webinar content? Let's drill into it.
This premium video marketing format works as a magnet for digital businesses. Sales, marketing, HR specialists, and online teachers have implemented webinars in their ongoing activities.
However, there is one obstacle that can be like an itching in the throat for regular webinar hosts, and as a roadblock that can scare away the newbies. This particular pain point is all about attracting your audience to register for and join your webinars.
How to increase your webinar conversion?
Not all of the people you invite to your online event will eventually come to the webinar room when the time comes. And it happens for plenty of reasons. Even though attendees can relatively easy click the "register" button, the impulse passes, and the closer to the event, the more considerate percentage will not show up to watch and listen to your webinar content.
Yes, the conversion term applies here too. The magic is to convert your webinar registrants into attendees.
Although the lack of time, forgetting, or personal issues can come in the way for some who don't join the event, there is one crucial aspect you CAN take under control.
And that is – TECHNOLOGY.
No-install webinar application
The "mobile-first" rule is the one you can't ignore when playing a webinar game. Put yourself in your potential attendee's shoes for a second and think what the most convenient way would be to attend an online event when you're on the move.
Would it be handy to download the application on your mobile device? You might be OK with that (although it would be another piece of software on your phone), but you may also find it too intrusive. It's a risk that your audience will regard it as too much hassleand will abandon your event before you even say "Hi" to those who joined.
Or – would it be more pleasant if you didn't have to download or install anything?
Quoting after TechCrunch, mobile apps are still on a roll (especially for Millenials), but it's getting harder and harder to influence users to install a new one:
A majority of users (51%) still don't download any apps in a month, says comScore.
Having in mind that we all require our web and mobile tools to be easy, we have introduced the latest version of ClickMeeting's webinar software in a Responsive Web Design. It means that your webinar registrants can join your event with no sweat – by simply clicking the link and opening the webinar room in a mobile version of their browsers!
ClickMeeting's Important Fact:

We have rolled up our sleeves to make our webinar platform compatible with most popular Internet browsers, such as Google Chrome, Safari, Mozilla Firefox, Opera, Edge (Chromium).

Moreover, taking into account that a significant number of our customers come from the Russian Federation, we are proud to announce that our webinar software also works with the Yandex browser.
This way, you as a webinar host, can eliminate the technological roadblock for those of your prospects who are not comfortable with installing new apps on their devices.
Go for security with the browser-based webinar platform
The necessity of downloading and installing software can be a nuisance even if your target audience prefers to consume webinars on their laptops. And that's not just because of additional time they would need to spend on the process (even though people are so in a rush that they roll their eyes over for every further pop-up window or a button to click).
The real deal is security. We're living in a crazy world, where our sensitive data is at stake, and we are all exposed to potential spyware attacks.
The problem with the video conferencing desktop applications is that they can leave backdoors to your computer wide open and you're not even aware that someone from the outside can see you and hear you just because you had installed an application on your PC.
Web applications, on the other hand, work within your browser, so choosing this type of software, you keep your webinar activities and your attendees on the safe side.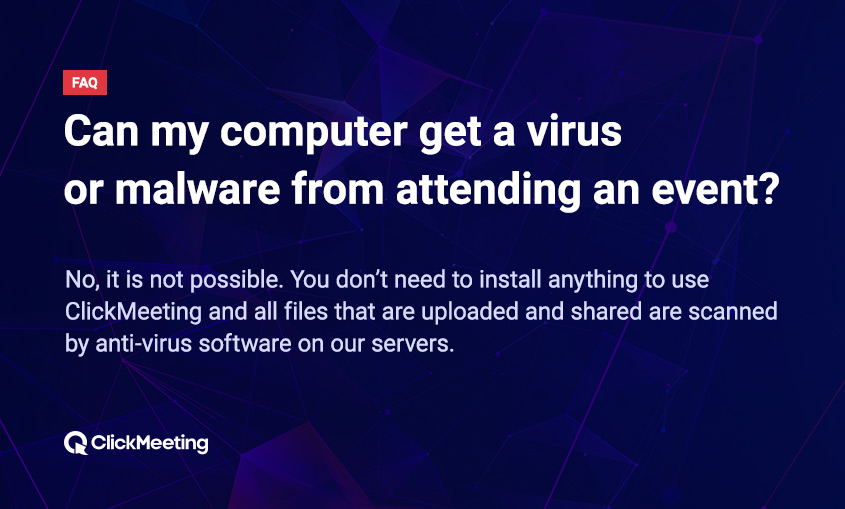 So, as long as you make sure that you provided an easy and secure way for your audience to join your webinars, you can move on to the next question:
How to deliver a seamless webinar experience?
Imagine a thrilling scenario. Although you have managed to gather an impressively large audience in your webinar room, and the knowledge you assembled to share is top-notch, some technical issues are coming in the way. Audio and video start to stutter and what's even worse – your screen sharing is not working.
Attendees start to bounce from the conference room and your entire event is falling apart. Sounds like a nightmare? We know it does, but luckily that's preventable.
First off – the audio-video quality. With ClickMeeting, you host webinars with sound and vision based on the WebRTC technology, so your attendees will see and hear you perfectly.
Second, the Screen sharing feature is the sole of communication between you and your leads, customers, or students. There is no better way to walk your audience through a product, an application, a document, or a complex topic than to showcase it through by sharing your screen.
If that doesn't work, you're losing impact you want to make on your attendees. To rule that threat out, and to ensure you with the seamless webinar experience, we have introduced a native Screen sharing option. By opening the tool with your browser, you will make sure everything will happen smoothly. And again – you won't have to install anything to run engaging and efficient webinars.
Here's how to do it:
Are you ready to hack your webinar performance?
Naturally, other factors are hiding behind the webinar success, such as the effects of social media, PPC, display campaigns to drive attendees to your event, or the quality of your webinar content.
However, you can easily get rid of two major obstacles to improve your webinar performance:
Removing the technological drawback for your mobile attendees by letting them join the event with a simple tap,

Ensuring the seamless sharing of your desktop with the native Screen sharing tool.
Are you ready to start? Sign up for a 30-day trial today and test your 100% no-install webinar application for free!