Worried that promoting your webinar will be expensive and time-consuming? It doesn't have to be that way at all. To increase your reach and stay in touch with your attendees, you can use the builders included in your ClickMeeting account. In addition, you'll gain even more options with the automation available in all Automated plans. So check out how to do it!
Prepare personalized invitations
An expert image requires not only high-quality content but also a consistent style. At ClickMeeting, you can easily customize all your content to fit your brand and ensure that you achieve some additional value.
Start with personalized invitations for your attendees. In ClickMeeting, you can customize invitations according to your branding and the webinar theme. You can find this option in the Appearance Settings in your account. You'll customize the email layout, presenter's profile, links, or event schedule. Feel free to add images, text, or downloadable files. Remember to save your changes. Everything is ready to go!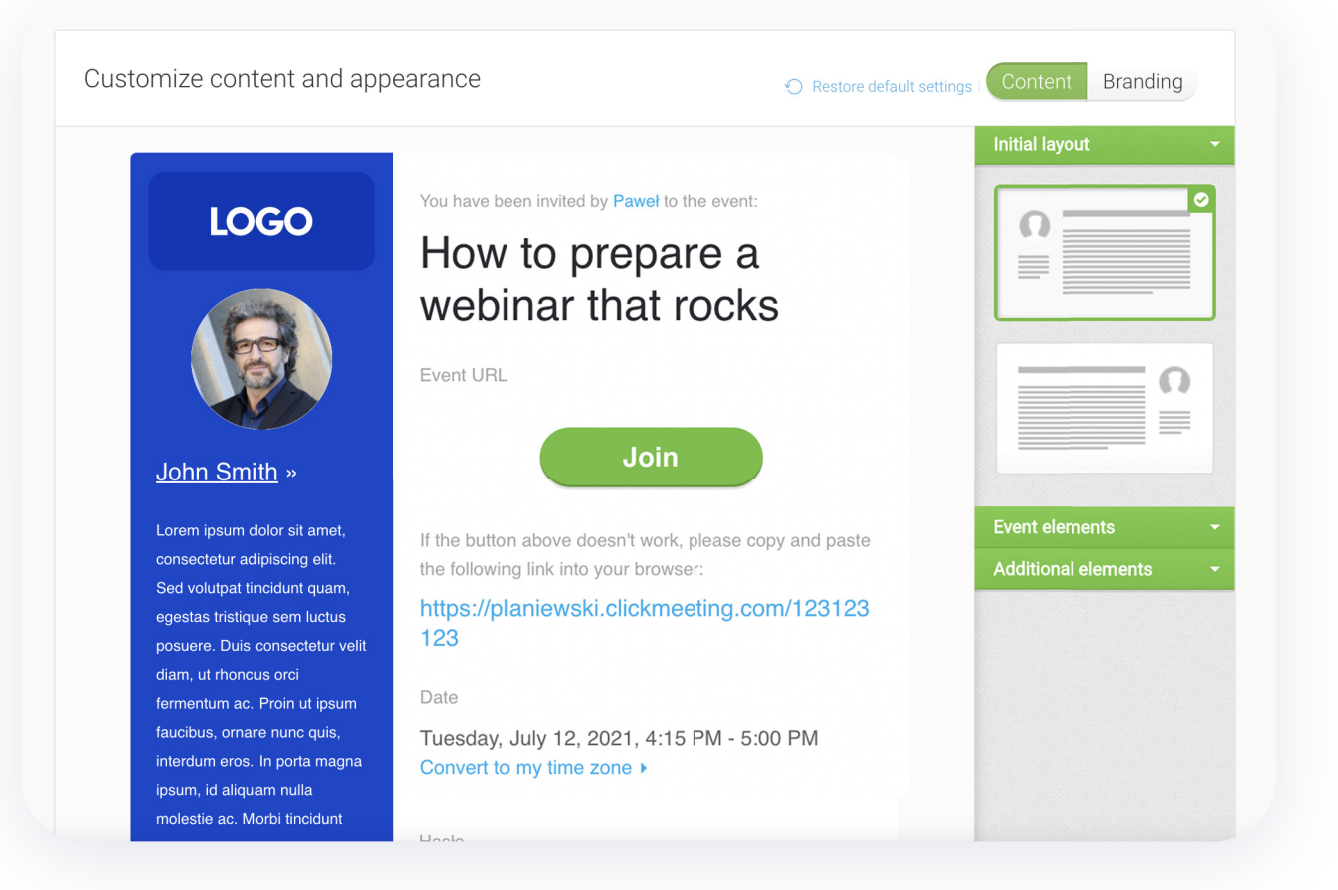 In the same section, you will also change the appearance settings of the event room and profile page.
Prepare an attractive registration page
The event registration page is another piece of content you should customize. It's unique for each of your webinars, and it's the place that every attendee will see regardless of whether you send direct invitations or promote sign-ups through a separate landing page.
On the registration page, start by customizing the required and optional fields. This is an important step, as it will determine what data you collect on attendees (and, for example, export to your CRM system if you use integration). With the registration form, you can create a contacts database that will allow you to reach people interested in your brand with your communications (including those regarding future events).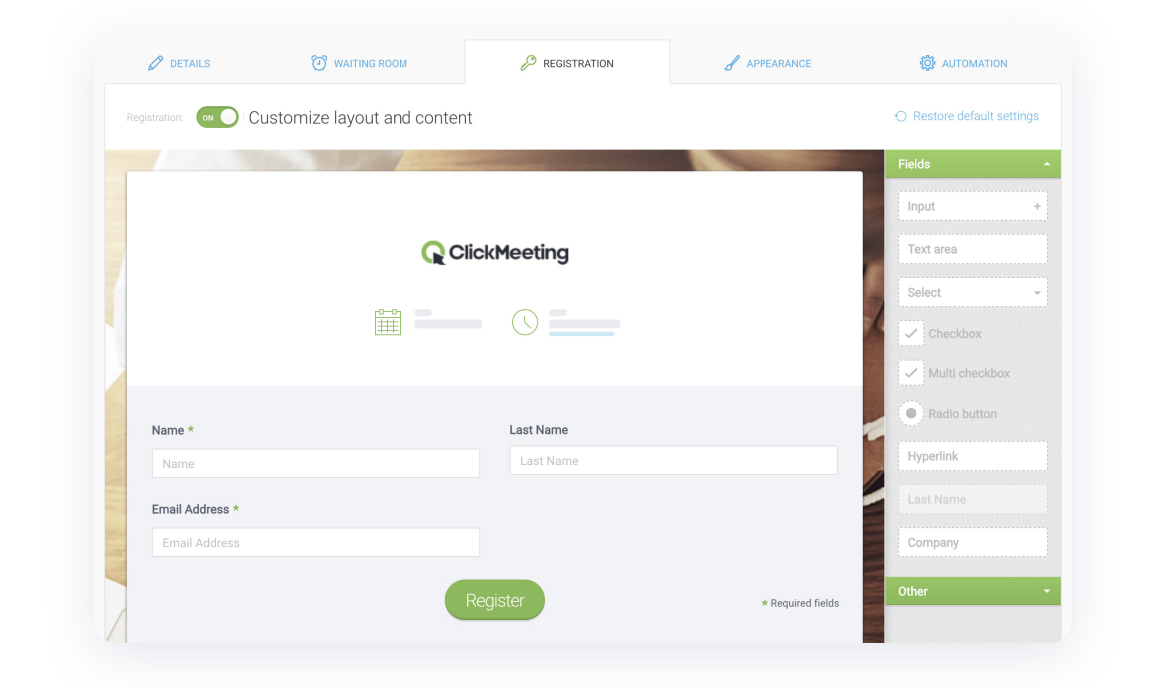 In the end, you can look at the additional options at the bottom of the page. Here you will set, for example, redirection of attendees to a website of your choice.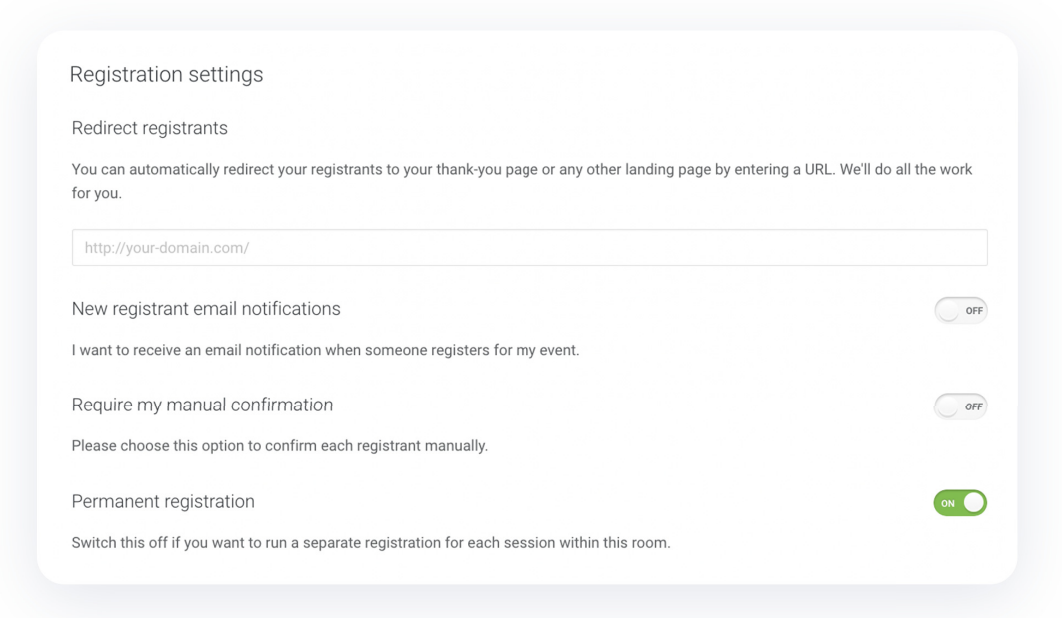 Using this option, you can convince your audience to take an action you are interested in. For example: during a webinar, you encourage attendees to register for a language class. You display a CTA button with a link to the registration page. In addition, by adding a redirect, you can display a page with a list of other language classes they can sign up for at your school.
In the event registration section, you can also enable notifications for each registered attendee or activate a manual confirmation. It's a helpful safety feature to verify each attendee and ensure that only a selected group shows up for your webinar. For example, no one with an email on a competitor's domain will drop by.
Manage your contacts in your address book
If you don't already have an address book, it's worth learning about its benefits. The book's purpose is not just to import contacts and catalog them. It primarily allows you to invite people to your events and then send them follow-up messages or other communications. Each of these contacts comes with key data, such as email or location. Based on these, you can create groups and run personalized events. Use the Export option if you want to transfer the data, for example, to your CRM platform, where your sales team will take care of warming up your leads.
 Automate email communications
Emails are still one of the most important communication channels in digital marketing. They will also help you communicate with your attendees and people who might be interested in your webinar. Go to the automation section to learn about the available options.

When planning an event, don't forget about promotion and follow-up activities. The first ones will help to ensure that attendees remember exactly when the webinar is taking place and what the topic is. Using Automated Event Reminders will help you increase the percentage of webinar attendance and, consequently, conversion. In ClickMeeting, you can specify when attendees should receive a reminder to their email inbox and how many reminders should be sent.

After the event, it's a good idea to use several follow-up options. First, you can set up a thank you page with your URL. It will be displayed to everyone at the webinar right after the event. This is a great way to redirect attendees to a landing page with a call-to-action button.
For example, if you had a webinar urging people to sign up for an online birthing school, it's a great idea to display a page to sign up right after the event. Attendees are much more likely to sign up immediately after the webinar rather than several hours or days after the event.
Another important step is an Automated Thank You message to those who attended the event. This is a step that attendees expect and a place where you may include some valuable materials. For example, in ClickMeeting, you can add a link to your profile page, a certificate of attendance, a recording of the event (or other files from your file library), and a button asking for feedback.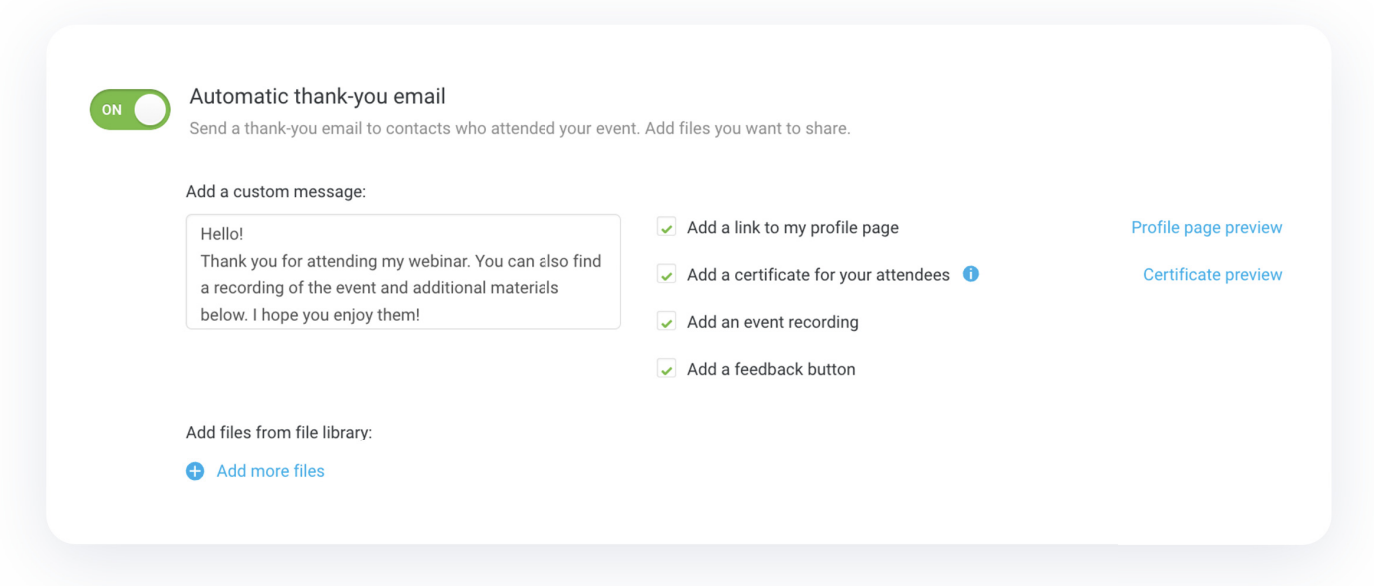 A certificate can also be an important part of your marketing plan. After all, everyone likes to receive confirmation of learning something valuable. At ClickMeeting, the process of issuing certificates is simple and fully automated. All you have to do is check the appropriate box in the thank you message section.
An equally important step in webinar promotion is the Follow-up Message. Attendees interested in the event's content will be eager to look at the follow-up materials, increasing the chance that they will complete the action you expect – such as visiting your website or signing up for future webinars.
You can also contact people who didn't attend the webinar despite being registered. In the content, it's worth reminding them about the event's topic and encouraging them, for example, to watch the recording (which you can attach to the message automatically). This way, even though the attendee didn't actively participate in the webinar, they still have a chance to learn about the content and get closer to your company.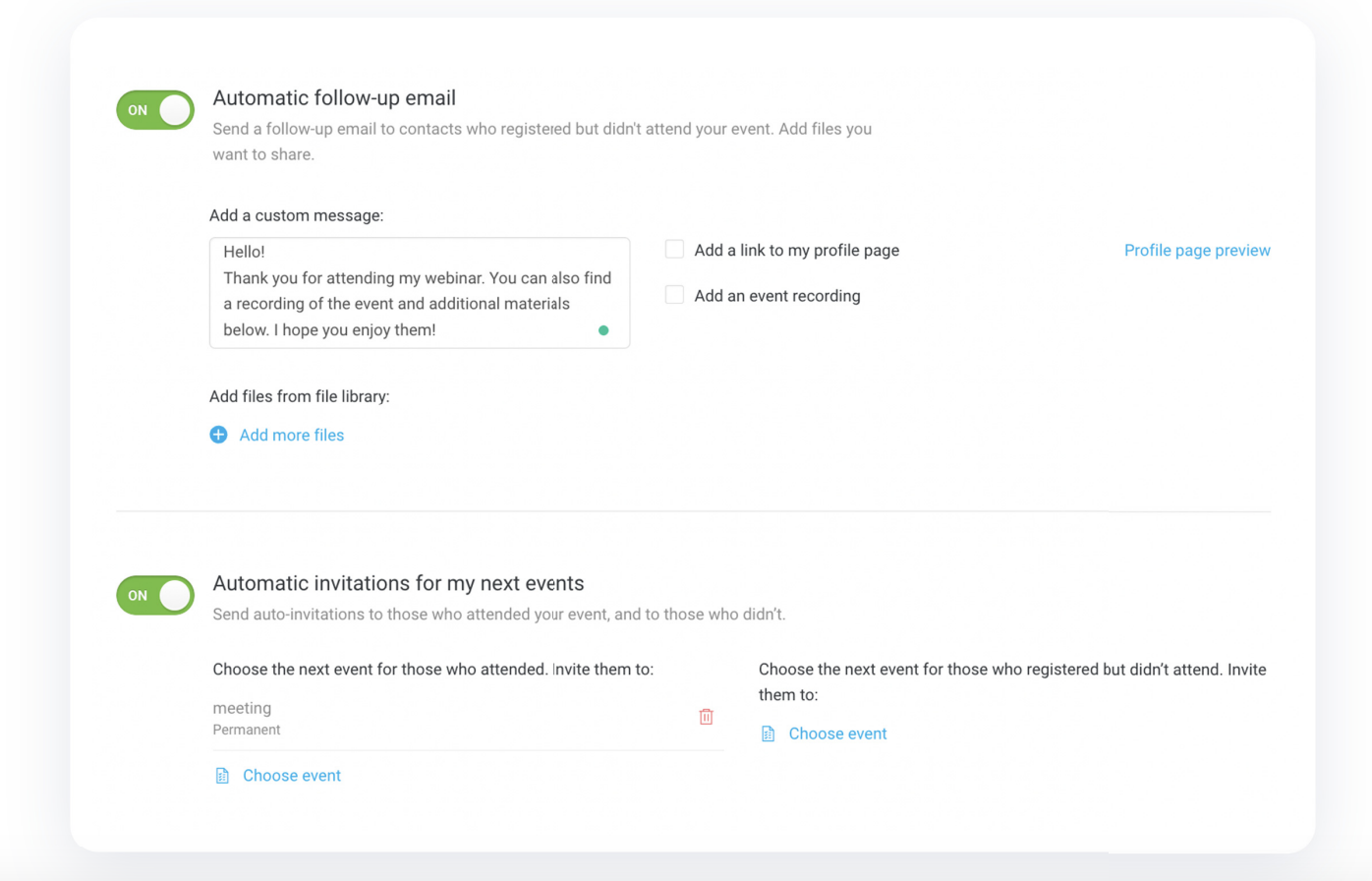 The last follow-up step can be an Automated invitation to the next event. If you are hosting a series of webinars, inviting people who have registered for one of them will increase the number of attendees and allow you to succeed!
Want wider reach? Broadcast on YT or FB!
If you're wondering what else you can do to promote your webinar, one more option will come in handy. Engage your community, that you've already gathered on Facebook or YouTube. You can set up ClickMeeting to auto-stream your event on social media. This will allow fans from these channels to view live webinars, react, and tag other people potentially interested in the content. It will expand your reach and enhance your image as a specialist among your fans.
By the way, you can also automatically post your webinar recording on YouTube after the event.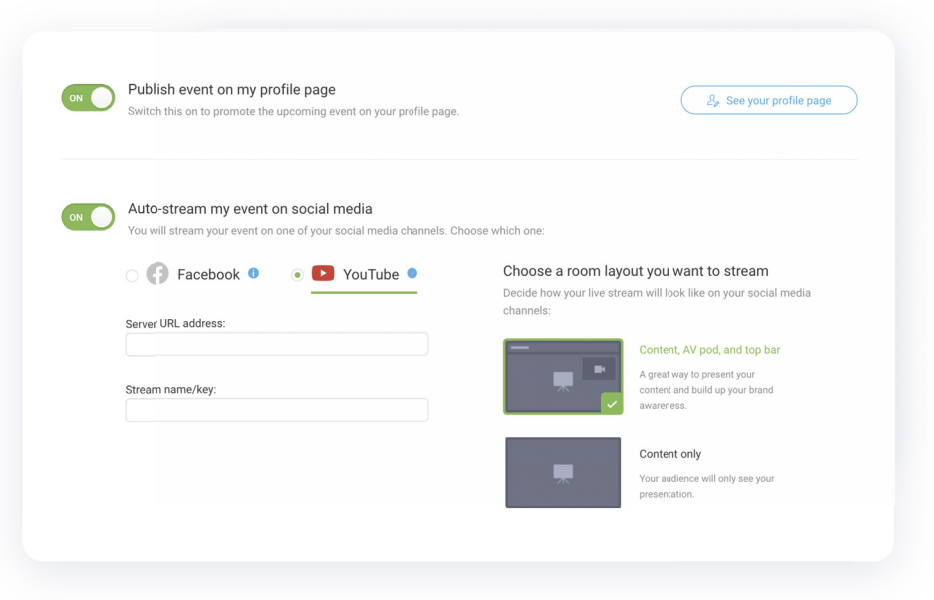 Looking for more? Benefit from the integration
You can take a few more steps to promote your events effectively. If you already have customer relationship management tools in your company, you can integrate them with ClickMeeting and enjoy an automated data flow. Using integration with Zapier, for example, you can link ClickMeeting to more than 1,500 applications. In addition, you will automatically connect with tools such as GetResponse and Pipedrive. This will make it easier for you and your employees to work with customers and create a single marketing space to manage the webinars and conversions they provide you with.