Every marketer will surely subscribe to the statement that effective marketing should be built on video formats, expert content, and a direct relationship with the viewer. Seems like you need many different strategies and tools to combine these factors? Nothing could be further from the truth. All you need is to leverage the potential of webinar marketing.
Sharing knowledge has become much easier thanks to webinars, that is, virtual seminars. Today, all you need to meet experts, listen to their lectures, ask questions, and dispel doubts is access to the Internet. Also, anyone can host professional webinars. So this tool has caught the interest of not only educators but also marketers who use online events in content marketing activities. What benefits do they bring, and how to get the most out of webinar marketing? Read on to find out!
Webinar marketing: what is it actually?
You have probably attended or at least heard about a webinar organized by a company whose offerings you are interested in. Quite often, such an event is not about direct sales. A language school, for example, may create a meeting to prepare for the high school exams, a bicycle store webinar on how to prepare for your first competition, and a travel agency meeting with a recognized traveler.
On the other hand, there are also many events that take a quite serious approach to sales. The language school can offer paid courses as part of a webinar, a bicycle store can demonstrate the latest models of road bikes, and a travel agency may present an offer of last-minute trips. Of course, in each of these cases, it will be possible to decide in real-time and, for example, go to a dedicated landing page.
This is exactly what webinar marketing can look like. It's a set of extensive and diverse activities using webinars in a brand's promotional and sales strategy. It is one of the most versatile and flexible tools that will work great for any business.
What does webinar marketing give you? Learn about the pros!
Now that you know what webinar marketing is, it's time to move on to the benefits you'll reap by applying it. Then we'll take a closer look at them and share some tips that will help you achieve the desired effect:
At each stage of the funnel and more: brand awareness, lead generation, lead nurturing, direct sales, upselling, customer education, PR. Basically, you can use webinars in any area of educational and promotional activities.
You build an expert image: good content should show your expertise. A trusted brand is created by experts in their field. And nothing helps so much in creating an expert image as webinars.
Streamline content marketing: efficient content marketing is based on content repurposing. The principle is simple: you create one piece of content, then modify it and share it across other channels. A webinar works perfectly for this.
Automation: effective marketing is based on marketing automation. And once again, the rule is simple: to achieve the best results and save time, you need to automate as many processes and activities as possible. With a good webinar platform, you get this in a bundle and benefit from additional opportunities through integrations.
All tools in one platform: comprehensive marketing activities require access to an extensive workshop. But if you decide to create webinars in ClickMeeting, you will find almost all the necessary functions in our platform. Among other things, you can create forms to acquire leads, manage your participant base, broadcast on social media, and communicate with your audience.
Convenience: you can run professional webinars from any location. Want to make money while sitting in a comfortable chair at home? No problem. Really – a professional studio and professional equipment are not required.
Low cost: content marketing brings great results, but there's no denying, it often costs a lot, too. Preparing an e-book, podcast, or video is usually more expensive than a webinar, and these popular formats don't allow you to interact directly with your audience.
Webinars in your sales funnel
Webinars are one of the few types of content you can use at any stage of the sales funnel and later when working on customer retention and upselling.
Of course, different content formulas will work well at each stage of the funnel, and that also means you'll need slightly different tools available in your webinar room.
In the graphic below, you'll find suggested webinar types for each stage of the funnel: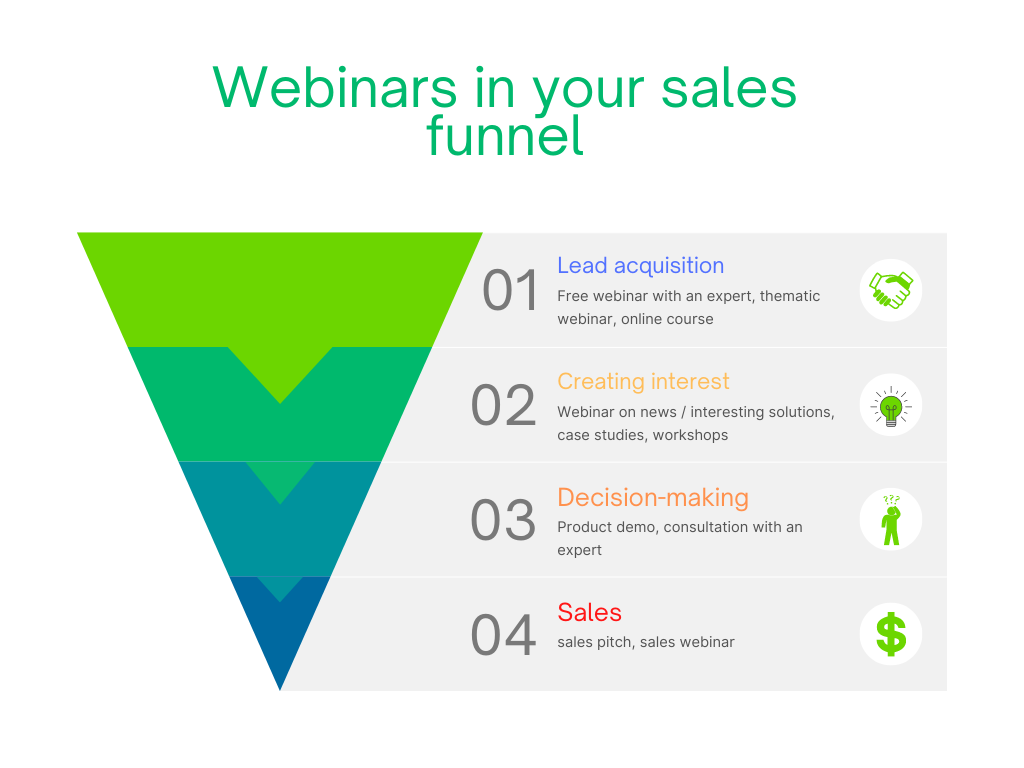 What might it look like? Webinars in practice
Well, what might all this look like? Let's say you run specialized training courses both online and onsite. How will you reach your customers?
To start with, think of an open, free webinar on a topic relevant to your industry. For example: the tax law has recently changed, and you have training for accountants in your offer. Admission to the webinar is free, but…. not really. Participants must share their contact information to receive a link to the event room. This is how you managed to get leads. And not just any leads, because you can be sure that the participants are interested in the topics you cover.
An open webinar can be hosted by a trainer who deals with this in your company. Of course, this event will not exhaust the topic. First of all, open events usually last 45 minutes to an hour, taking into account the Q&A session as well, so there is simply no time for that. Besides, you ultimately want people who are really interested in the topic to choose the training or course you have prepared, this time obviously paid one.
Ok, the situation is as follows:
the promo webinar has ended,
the email with the recording and follow-up messages were sent to participants and people who registered but did not attend the event,
during the event and in the messages sent, there were, of course, links to a website providing the opportunity to purchase access to paid courses,
Some of the participants of your open webinar have already signed up for the paid training at this stage, but some are still hesitant. Let's now deal with this second group. Of course, in this case, too, we will reach for webinar marketing.
During the nurturing phase, you can, of course, offer further open webinars on similar topics. This way, undecided people will be able to find out that you are worth trusting. A consultation meeting with an online expert may be a good option. Recordings of archived webinars will also be useful, and you can simply send them to trainees as a follow-up. For customers who express interest in your offerings and want to learn more about them, you can offer a demonstration with a salesperson in the form of a webinar. During such an event, you may present a personalized offer prepared for a specific company.
Of course, webinars are not everything. To be more effective, use other channels and tools as well. A great way to reach a wide audience is through paid advertisements. And don't forget about social media activity and SEO – a domain with high visibility will help you get valuable traffic and even more customers. Work out your own original method of promotion!
All right, but then what? Webinar marketing will also work well at a later stage. You can address people who are already benefiting from your training with further promo webinars, which will help them gain even more priceless knowledge. This way, you can encourage them to take more courses.
Check out how leaders benefit from webinars
We have an interesting case study for you to see how much you can gain from the marketing use of webinars.
Verte Training Center makes excellent use of webinar marketing in its strategy. The company is primarily engaged in training HR and payroll, and accounting experts. In 13 years, Verte has delivered more than 6,000 training, with more than 100,000 satisfied customers.
The most important initiative in this area is the series of free HR Wednesday webinars. The events, dedicated to specific legal, HR, and payroll issues, are held every Wednesday at 9:00 a.m. What has Verte been able to achieve so far? The numbers are impressive!
In total, more than 30,000 unique users have participated in the webinars of the HR Wednesdays series,
On average, about 6,000 people register for each webinar.
HR Wednesdays is not all, however. In parallel, the Verte Center also organizes other series of free webinars targeting experts in other fields. For example, ABC of Accounting and Taxes addresses tax and accounting issues, and HR Mornings focuses primarily on shaping the soft skills of HR professionals.
Hosting free webinars, also in the form of cycles, gives excellent results and can become the basis of the marketing strategy of a brand wishing to shape an expert image: – At the moment, free webinar cycles are the main promotional tool and the main tool we use to create a community of HR and tax professionals," declares the owner of Centrum Verte, Katarzyna Bielecka, in our case study.
The way to generate leads: webinar lead generation and lead nurturing
If you want to effectively generate leads, you need a lead magnet to attract users. Obviously, a webinar will work perfectly in this role. Above, we showed you how the whole mechanism can work. Let's recall: you create an open, free event on a topic that may interest your customers. The form of "payment" for entry is leaving their contact information, which you can use in further marketing activities.
Now we'll take a look at what the whole process looks like from the technical side. And no, it won't be a very elaborate paragraph because the whole thing is really simple, and you don't need additional tools for this. All you need is ClickMeeting.
To acquire leads, when creating an event, go to the "Registration" tab and enable registration. This will give you the ability to edit the registration form.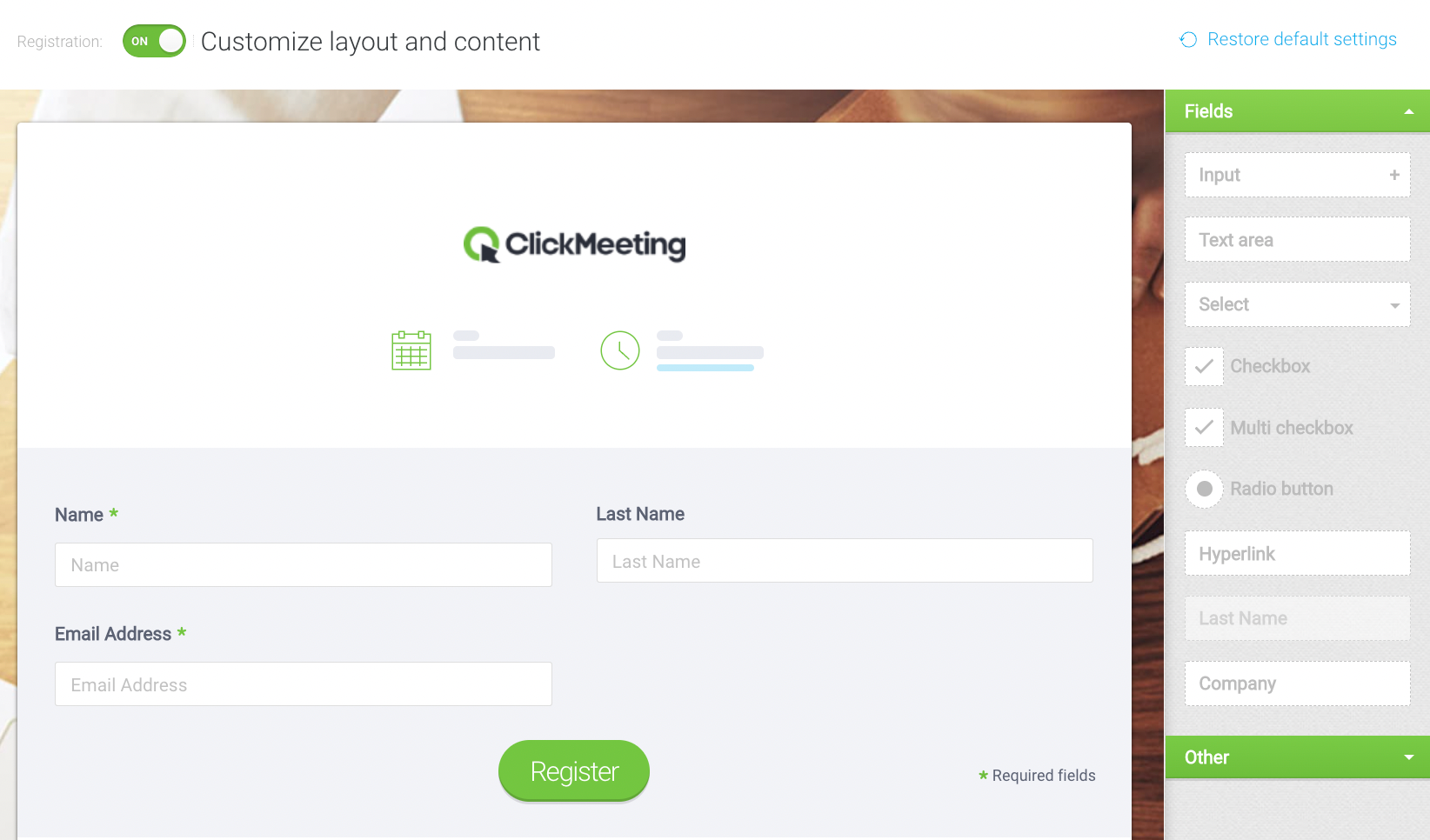 In the next step, add a checkbox with marketing consent (you can use both mandatory and optional fields). We cover this topic extensively in our privacy e-book.
Bravo! That's it. Now participants registering for your webinar will leave contact information. Of course, remember that their processing can only occur under certain conditions. In any case, follow the applicable regulations, and if in doubt, contact an expert.
Naturally, obtaining data is just the starting point. To view them, go to the address book, which you will find in the side menu. There you can also divide contacts into groups and export them to .csv, .xls, or .vcf files. You can also import data from a file or enter it manually. This way you will streamline communication and combine information from different sources.
This will be useful, especially if you are working on lead nurturing. All you need to do when creating subsequent webinars is to invite participants who have attended your previous events. If you assign them to specific groups, you will be able to do this much more precisely. For example, reach an audience that is interested in a specific topic or a group that is close to purchasing or particularly active at events.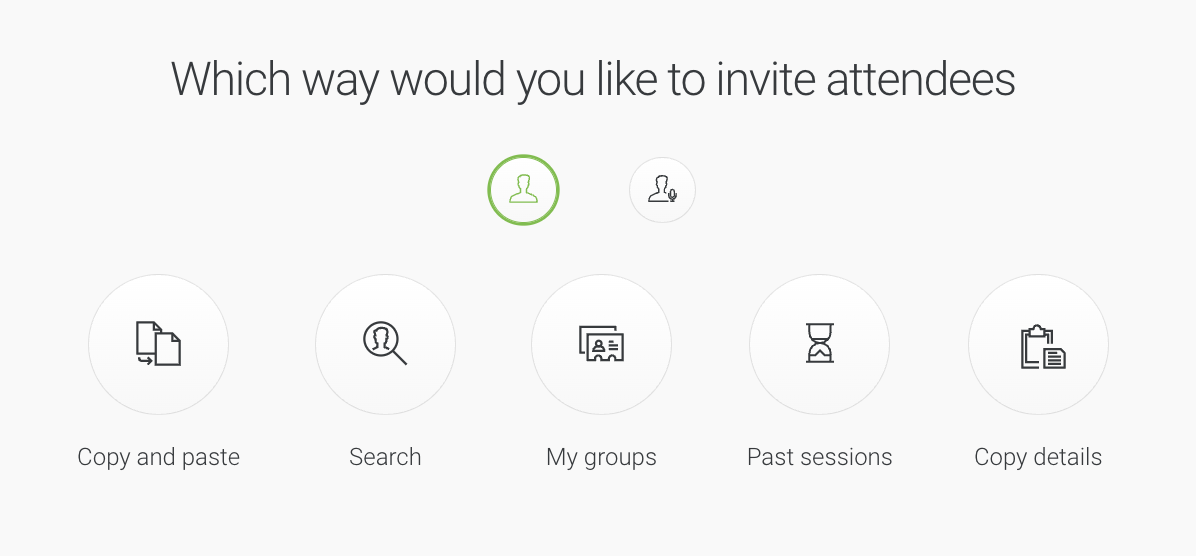 Of course, you'll be able to manage your audience and your relationship with them even better if you use CRM software. With ClickMeeting, you get integration with HubSpot, Kaep, and Pipedrive, among others. You can also reach for even more options with Zapier. And don't forget about analytics: you'll get comprehensive data about your business and your webinars' success with Google Analytics, for example. The more information, the better your webinar marketing.
Direct sales during the webinar
The goal of all your marketing efforts should, of course, be sales. In this regard, too, webinars will do an excellent job. The right format will be a video product demo – this way, you will advertise both a physical and digital product.
What will you need? First of all, a button containing a CTA that will encourage your audience to go for your offer.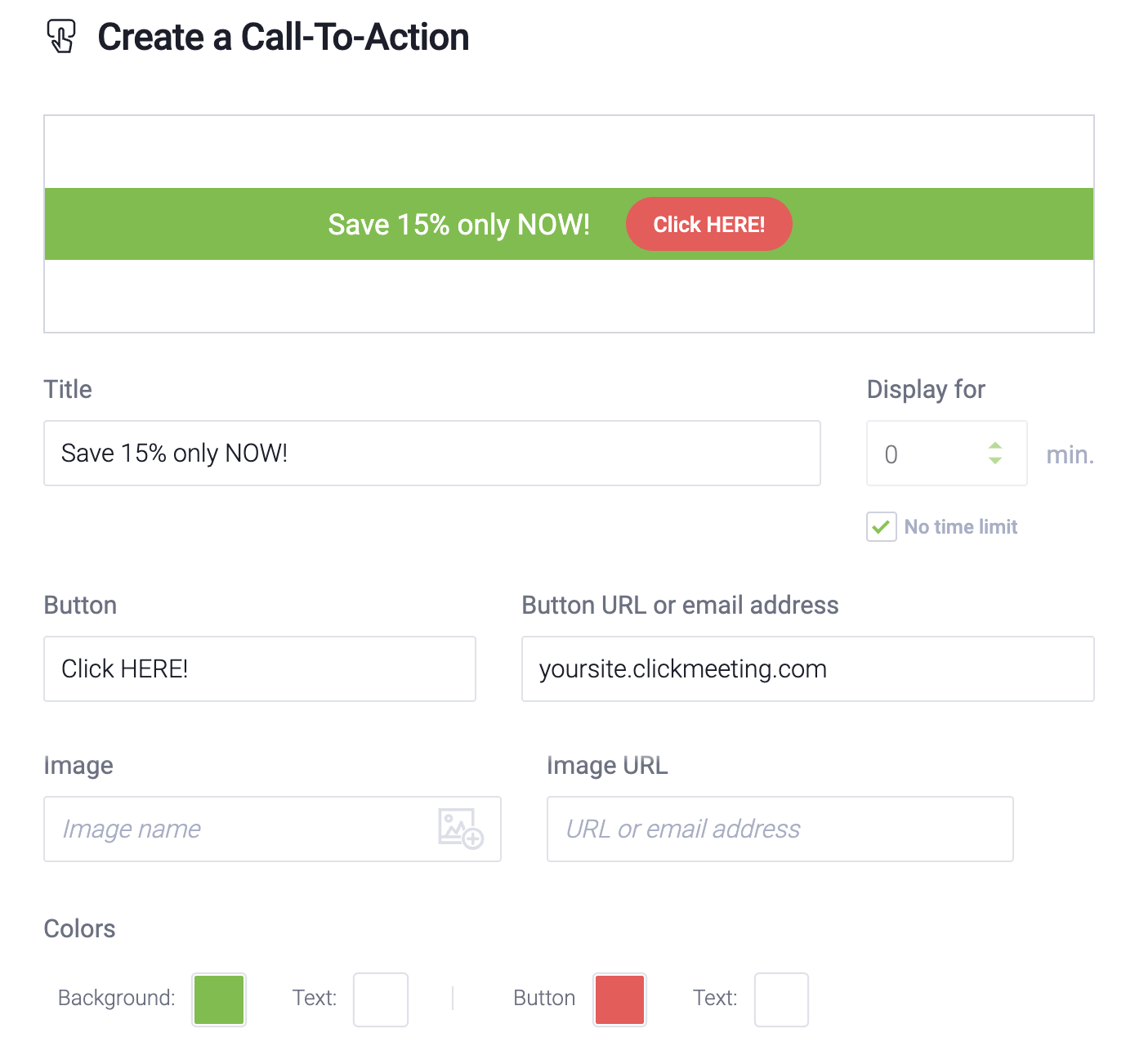 You can put any text or photo you like there. But above all, include a link directing to, for example, the product page of your online store. This will allow your audience to decide and finalize the purchase in no time.
Automate lead generation with automated events
To grow your business, you need to reap the benefits of automation. This also applies to online events. The presenter doesn't need to be available live during the webinar at all to engage attendees and automated (held at a specific time) or on-demand (the user can access it at any time) webinars work perfectly as lead magnets.
How does it work? On the same basis. You create an event and configure a registration page with the appropriate fields. The difference, however, is that you don't have to be present during your live event. Attendees will see and hear a pre-set presentation. They will also be able to ask their questions during the Q&A session or click on the CTA button and move to your website. The pre-set communication will also reach them.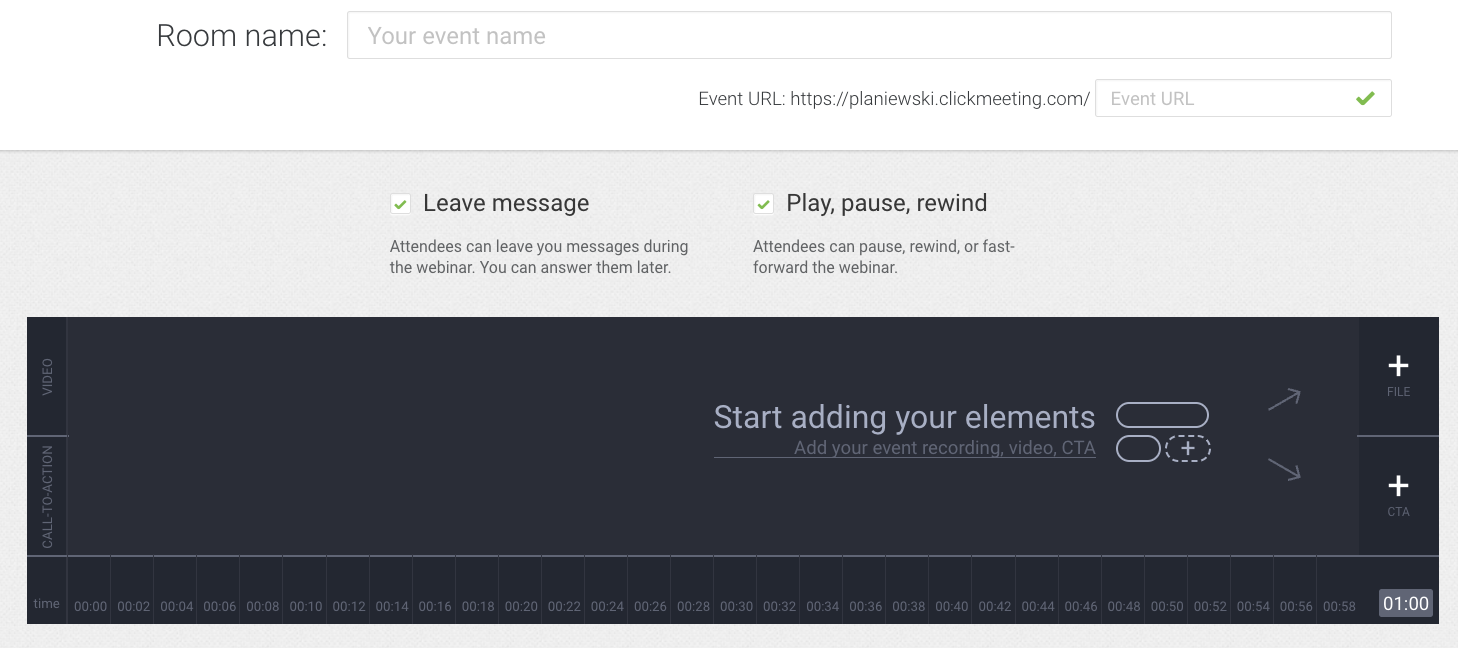 And what's important: preparing an automated or on-demand webinar itself will not be a problem for you. You can use a live webinar that has already taken place or reach for other video files. Thanks to an intuitive wizard in the form of a timeline, you will edit the entire event.
What do you need for webinar marketing?
Do you associate marketing campaigns with high costs and complicated tasks? Webinar marketing is accessible to everyone. There is a really good chance that you already have everything you need:
A webinar platform: this is essentially the only tool that is an absolute must-have if you want to use webinars in your content marketing efforts. Of course, you need to bet on a comprehensive solution that will handle all your activities in this area. In this regard, ClickMeeting will work great.
Laptop built-in camera/external camera: if you want to start making money from webinars and promote your business with them, you don't need professional equipment at all. For example, a USB camera or one built into your laptop will be sufficient. If you take care of the right lighting and learn our 10 tips for a presenter (if you want to learn more, HERE is a free e-book on the subject), you will be able to deliver optimal quality.
Microphone/headset: webinars are all about transferring information. So a true webinar master must take care of the sound quality. But rest assured. Again, headphones with a microphone, for example, the kind you use during team meetings, are completely enough.
Okay, you also need to have expert knowledge or engage experts who can share it with your participants. On the other hand, a good platform has everything you need to convey in an attractive form. At your disposal are, among other things, presentations, a screen-sharing mode or a virtual whiteboard.
And one more thing: content repurposing
Effective online promotion is based on the skillful use of already prepared materials. That's right, we're talking about content repurposing. Live events provide an excellent starting point for creating other types of content. As we have already mentioned, you can use the recording to prepare on-demand or automated events, but it will also work great as another material on your YouTube channel.
Without a doubt, it's also a great type of content for various types of social media: by cropping out the most interesting parts, you'll prepare engaging posts on Facebook or LinkedIn. Of course, you can also use them to create high-impact video ads.
From the perspective of business bloggers, it will be an excellent idea to prepare text reports from webinars. You have attractive and substantive content almost ready, just need to write it down and present it in an appealing form. Of course, you can also supplement this type of material with a webinar recording – everyone can thus acquire knowledge in the most convenient way for themselves.
How much can you achieve with webinar marketing? Learn the experts' results
How effective is webinar lead generation? Our record holder in 2022 acquired 6108 leads through a single webinar. Leaders in the marketing industry are obviously achieving big benefits through systematic efforts. The marketer created an average of 114 events with 2,157 participants in 2022. The industry leader gathered 12,810 participants at 244 webinars. This averages out to more than 52 participants at a single webinar.