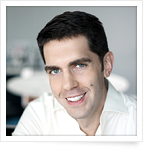 Interview with Simon Grabowski, CEO of ClickMeeting

Hi,
This is my first post on the ClickMeeting blog so I wanted to introduce myself briefly.
I'm Mick and I'm the Business Development Manager for ClickMeeting, and it's my role to look after customer needs.
ClickMeeting has been many years in the making, and we've been upgrading and developing our software so it meets all your business needs – and then some.
I decided to take some time to talk to the CEO of ClickMeeting, Simon Grabowski and ask him what seems to be the biggest challenges that make ClickMeeting such a great fit for you. Plus, I wanted to hear what his motivation was behind the product.
MG: Hi Simon, I wanted to start the interview by asking how you feel now that your product is on the market after all the time you and your team have put into development?
SG: Well, it's a great occasion both personally and professionally. The solution has been in development and was constantly changing over the time since we started this, and I realize that with an Online Meeting product the development never stops. This is an exciting prospect for me to think of, as innovation is a large drive within the Implix organization and and with myself.
MG: Simon, what brought you into the online meeting space?
SG: Well, it began as simply as the fact that I am a business professional. My firm Implix has a number of locations globally, and I needed a way to bring my team together.
My sales team was also very eager to move forward globally, and I needed a solution to let them push sales without the large overheads of travel expenses. After speaking with some fellow business professionals and business owners, I realized that many companies were asking the same questions.
This was 3 years ago, and companies are still asking these questions this very day.
MG: The challenges you mention here I am sure many companies worldwide face and are very apparent. What requirements took you by surprise?
SG: Good question. Our major functionally development began around 9 months ago. Our key goal was to concentrate on reliability. We wanted to ensure the key features such as screen sharing, audio, and video worked 100% of the time. Once we achieved that, we started to add some great features such as personalization of meeting rooms, something that has set us apart from the market, and also touches such as a timer, live polling, and attendee mood.
MG: What are the major fears consumers might have regarding online meetings?
SG: Well, of course the market is constantly changing, and as requirements evolve, so do fears. However, a couple that seems to continue to be around are reliability, and the lack of connection between the meeting attendees.
MG: Do you feel ClickMeeting can overcome these fears for the business professional?
SG: Well, this is a goal we have achieved; however, this will be something we constantly strive to achieve.
Reliability has been one of our key priorities since the conception of ClickMeeting. We believe providing reliability actually affects the second fear of connection. If the host of the meeting can feel confident in the solution, then they can give their entire focus to the attendee.
We put a lot of development into connection. We added video to video chat to increase interaction, and room branding to increase brand recognition, which in turn increases trust overall.
MG: Simon, I will finish with this question–What is the next priority for ClickMeeting in the ever-changing Web 2.0 environment?
SG: Well, as I said, we will always drive towards the key requirements of an online meeting tool in the focus of reliability and connection. What is our priority after this?
We are certainly looking into ease of use and automation. We know that time is also getting shorter for professionals. We want to ensure the tool is easy to use for both hosts and attendees. We welcome feedback from all our users on the solution and how they believe we can improve.
For more information on ClickMeeting visit our features page or reach out to myself at mick.griffin@clickmeeting.com and I would be happy to discuss the solution with you further.
Until Next Time,
Mick