We're more than halfway through 2021, and remote work has become the norm. Even with many teams making their return to the office, tons are adopting a hybrid working model. And some are even saying 100% remote is here to stay. So, the question isn't remote or not—the question instead is how to use virtual events to foster community and collaboration among dispersed teams. And, above all, how do you make those virtual events interesting? Here are a few ideas to get you started.
30+ virtual event ideas for 2021
1. Cooking lessons
One common virtual event idea is online cooking demonstrations and lessons. There are many ways to take this—your team can learn to bake pastries from scratch and prepare entire meals, or just focus on how to decorate some sugar cookies.
Regardless of the type of cooking class you plan to take your team through, it's important to make sure the ingredients are readily available in everyone's location. Send out a shopping list beforehand or use a service that ships ingredients to attendees so you don't have to worry about the finer details.
2. Mixology class
Much like cooking, you can also take your team through a virtual cocktail-making class. Again, make sure the ingredients are easy to get or arrange to have them sent to each attendee ahead of time. If your coworkers are in charge of getting ingredients themselves, remember to provide funds or reimbursement—especially if this is a team-building virtual event.
Remember, not everyone drinks alcohol—and it may even be triggering to those who have experience with alcoholism in their lives. Ensure attendees will be comfortable with alcohol being the theme for the event. You can send an anonymous survey around prior to planning the event to make sure.
3. Beer brewing and tasting
Participating in virtual craft beer brewing and tasting courses is a unique way to bond with your coworkers or customers. As with any event that requires outside supplies, make sure your team has plenty of time to gather the needed ingredients or have them sent directly to your group.
Many breweries and experts host courses to teach the basics of brewing. Adam Ward's Udemy course is a great option for groups to learn how to brew their own beer at home. Similar to wine tasting, beer tasting virtual events allow attendees to explore different types of craft beer.
It is very important to be sensitive to team members who do not drink and make sure they are comfortable with the event theme. Including non-alcoholic beers allows everyone on the team to join in.
4. Wine tasting
A virtual wine tasting is a great way to enjoy time with your team or as a customer appreciation event. You can hire a renowned vineyard or sommelier to lead the group or collaborate with the attendees to develop a custom tasting menu of everyone's favorite wines. A key detail is to make sure the wines are readily available to each of them. Send out a wine list before the event or send the wines directly to your team members.
As with any event involving alcohol, it's important to be sensitive to team members who don't drink and make sure they're comfortable with the event theme. You could include non-alcoholic wines or ciders to give everyone on the team the opportunity to join.
5. Chocolate tasting
A chocolate tasting is the perfect virtual event idea for anyone with a sweet tooth. You can use virtual chocolate tasting as a team bonding event or give it as a customer appreciation gift. Hiring a fine chocolate company like Dallmann Confections to lead the tasting event can take the stress out of making sure each person has the chocolates ahead of time. Some chocolate companies, like Gourmet Boutique, have add-ons like coffees, liquors, and wines that pair nicely with the chocolates.
6. Trivia
Hone your team's collaboration skills with online trivia. This virtual event idea is a cost-effective and easy way to enjoy time with coworkers.
To set up the event, all you need to do is choose the best online meeting platform and the game's theme or topic. There are many online programs with premade games to suit your group, or you can create a list of your own questions. Dividing the group into teams creates camaraderie amongst your staff, and offering prizes for the winners adds to the friendly competition.
7. Murder mystery
A virtual murder mystery party is a fun idea for coworkers to build relationships and use problem-solving skills. This virtual event allows your team to build relationships and think analytically while also boosting morale.
You can hire a professional company to host the event, or a group member can take the lead with downloaded scripts. Attendees can go the extra mile and prepare costumes, props, or even accents to act out their characters.
8. Comedy night
Virtual comedy nights are an entertaining and engaging way to spend time with your team. You can hire a comedian for various events—team-building sessions, sales meetings, staff training, award ceremonies, or just for fun. Choose from sketch comedy, musical comedy, or stand-up comedy to create a hilarious bonding experience.
9. Escape room
Escape rooms create a great team-bonding experience as people have to solve problems together, working towards a common goal: escape. The pandemic has been a catalyst for adapting escape rooms to be a virtual activity as well as an in-person one.
You can organize an escape room on your own, or you can use a company that will facilitate it for you. Confetti, for example, has a virtual escape room offering tailored to corporate customers.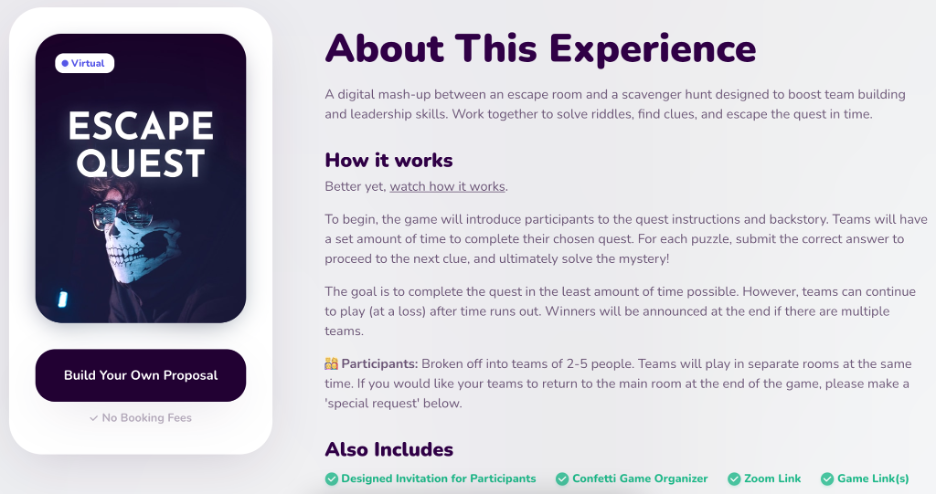 10. Travel
While travel remains at a halt in many parts of the world, you can use virtual events to take attendees on a "trip." Many parks, museums, art galleries, and other places of interest have immersive virtual tours of their spaces and exhibits.
For your virtual event, you can take attendees through an interactive tour of the destination of your choice. You can also reach out to the venue directly to inquire about private corporate tours and programs to tailor something for your unique needs.
11. Board games
Board games are a classic activity to build cooperation and critical thinking skills. Online games are great options for virtual icebreakers, brain breaks, after-work events, or team-building sessions.
You can find many well-known games such as Monopoly, Clue, and Bingo, along with newer games. Make sure everyone has access to the platform, and remember to provide funds for any apps or downloads if necessary.
Alison Pearson, Head of Human Resources at Hal Waldman and Associates, uses Pictionary as an icebreaker. "We've started using the Paint App to play fun and quick games, and our legal assistant and paralegals have been loving it," she says. "The amount of laughter and interaction has been great, and most of our staff are eager to play since they're all so competitive."
You can also make a large-scale virtual event using online games. People Operations Executive at Learnerbly, Crispina Wilson-Jones, arranged a successful holiday party for the staff. "Learnerbly hosted a "Wirtual Winter Wonderland" holiday party for its staff. We gave everyone a Friday afternoon off for a few hours of online fun and sent everyone a food voucher so we could all sit and have a festive meal together. The event was broken into a number of shorter activities like Bingo, charades, and a performance from a magician."
12. Yoga
Yoga has been scientifically proven to have both physical and mental health benefits. Those who practice have more energy and vitality, and yoga also supports good sleep, minimizes headaches, and fuels concentration. It's also the perfect at-home workout that teams can do virtually.
You can hire a certified yoga instructor to lead a virtual class for your team—many instructors have adopted digital platforms so they could continue classes during pandemic lockdowns. Tiffany Lord is a yoga instructor who has created corporate-specific offerings for virtual classes. If you don't know any instructors, you can search corporate wellness platforms and programs to find one.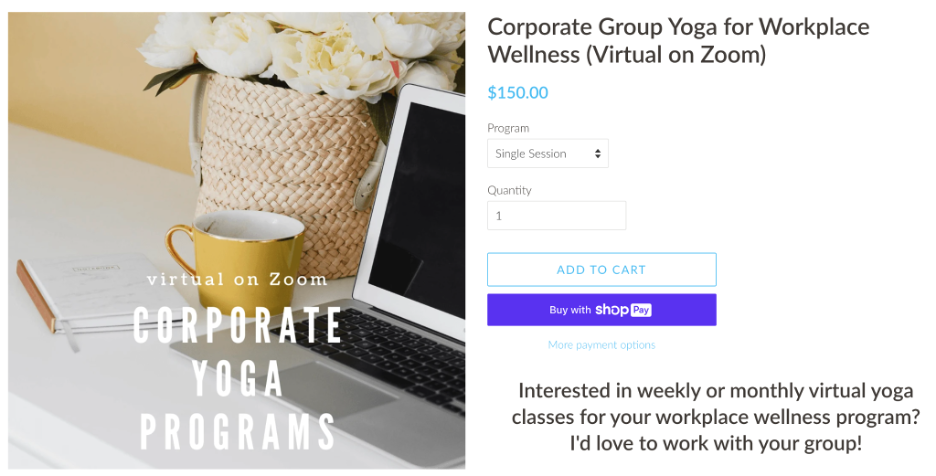 13. Meditation
Hosting an online meditation workshop is a unique virtual event idea that focuses on employee wellness. Studies have shown that meditation can help with memory, problem-solving, and concentration.
You can hire a meditation leader who will carefully craft a guided session and give the group strategies and techniques to use every day to lead a more mindful and positive life. To make the session as effective as possible, send out a survey to the team to find common focus areas for the workshop.
14. Coworking sessions
For teams working from home, employees can encounter challenges with productivity, isolation, and concentration. Your group can find accountability and combat loneliness through a computer screen with virtual coworking sessions.
Schedule your own virtual event with your coworkers or encourage them to find a group of like-minded individuals through various coworking sites like Common Desk. This type of gathering brings back a bit of the office banter with coffee breaks, book talks, happy hours, and more.

15. Photo booth
Virtual photo booths allow your team to interact with others while maintaining a safe distance. If you're hosting an event, many of the photo booth vendors have an embeddable link, so guests have access on any device without needing to download an app. All your attendee needs is a phone or a computer camera to participate.
Some companies, like Snapbar, have festive, customizable backgrounds, and you can even invite a friend to join your photo. Other fun options are photo galleries where all the guests can enjoy the event photos, and you can print your picture for a souvenir.
16. Exhibition hall
Virtual exhibition halls are a creative virtual event idea that allows vendors to showcase their wares and services without the crowds. Guests can roam around to different "booths," and vendors can reach more potential customers than ever before.
Hiring a professional company such as Communique will give you a polished and professional feel to your event. In addition, the virtual exhibition allows vendors to create appointments for live chats or have an open chat policy to allow for several visitors at once. Other room options can be theatre-style settings for guest speakers, networking lounges, and resource centers for guests to access as needed.
17. Live art
Drawing or painting during a live event does not have to be for only an in-person gathering. Virtual portraiture is a special and creative addition to any holiday party, employee event, or customer appreciation online event.
You can hire artists to set up a virtual studio in a breakout room for attendees to "sit" for their portraits. For example, individual paintings by artist Jacky Blue at a Marc Jacobs Fragrance virtual launch party were one of the evening's most attended activities. Not only will attendees have a souvenir to remember the event, but it also gives them a chance to connect directly with the artist.
18. Watch party
Hosting a virtual watch party is a great way to connect teams who enjoy similar interests or hobbies. The options of what to watch are endless- you can choose sporting events, concerts, comedy shows, or binge-watch a favorite series.
To make the event a success, you may want to send out a survey to your staff to get their ideas on what to show. You will also want to make sure that everyone has access to the platform or channel.
19. Brandstorming
Brandstorming blends entertainment and professional development in an entertaining and productive way. This event helps keep the personal connection to your team or customers all while staying up to date on market trends.
Combining traditional customer or team meetings with online games like trivia and interactive elements keeps the attendees engaged. ePromo hosted a successful virtual showcase for their own customers. They combined content about their company's offerings with an hour of entertainment, including trivia and other interactive elements.
20. Live music streaming
Streaming a live music event for your staff is a unique way to show appreciation for your team. You can stream concerts, festivals, or book a private show. Chris McMillan, founder of Stand with Main Street, hosted a virtual concert for his employees to boost morale. "We came up with this idea to help our workers loosen up a bit and give them a break for a short time," he says. "To make it more exciting, we allowed them to download content made by the band exclusive to our employees."
If you can't book an act or find a live event, stream a pre-recorded concert or festival as a team. Send out snacks or meal coupons so everyone can really sit back and enjoy the show.
21. Improv
Improv encourages your team to laugh, communicate, adapt quickly, and build relationships. This virtual event is excellent for groups of any size or industry.  You can arrange a workshop through an improv company or use a group like Business Improv specializing in teaching improvisational skills specifically for corporate training.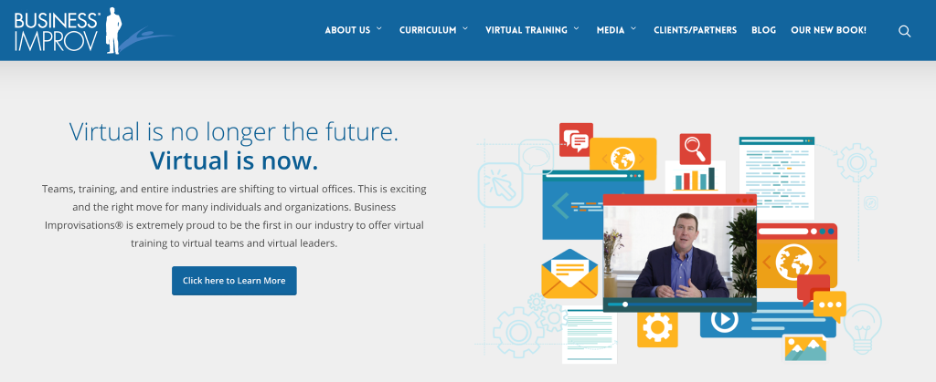 22. Scavenger hunt
A virtual scavenger hunt is a fun way for your team to boost morale and build rapport. Like escape rooms, groups will work together and practice problem-solving and critical thinking skills as they answer each clue.
Create your own personalized hunt or hire a professional vendor to manage the game experience. Consider having prizes for the top finishing teams to add to the friendly competition.
23. Magic show
A virtual magic show can liven up a typical afternoon, a customer appreciation event, award ceremonies, happy hours, conferences, or holiday parties. Attendees will feel as engaged and mesmerized by the illusions and mind-reading as they would during an in-person event.
When booking a magician, it's important to note the show length and how they plan to interact with your group.
24. Tarot cards
A tarot card reading is a creative virtual event to offer your team. The personalized readings can create memorable conversations between your coworkers and build more rapport amongst the group.
Tarot cards may not blend with some of your group's beliefs, so it may be a good idea to send out a survey before the event to make sure everyone is comfortable.
25. Crafts/art
Virtual arts and crafts classes are a fun way to encourage bonding and creativity amongst a group. There are many options for classes, including painting, origami, floral arranging, calligraphy, soap making, cake decorating, or jewelry making. You can also center this type of virtual event around any holiday or theme.
To get a good turnout, send out a survey to get feedback on class preferences. You'll also want to make sure all attendees have the required supplies and resources. You can either ask the attendees to order ahead of time or send the items directly to their homes.
26. White elephant gift exchange
Virtual white elephant gift exchanges are a great way to strengthen your team's rapport and have fun at the same time. You can arrange the event yourself or use a professional site like White Elephant Online to help. Remember to set price limits, rules, themes, and gift delivery options before the event to eliminate any confusion or embarrassment amongst the attendees.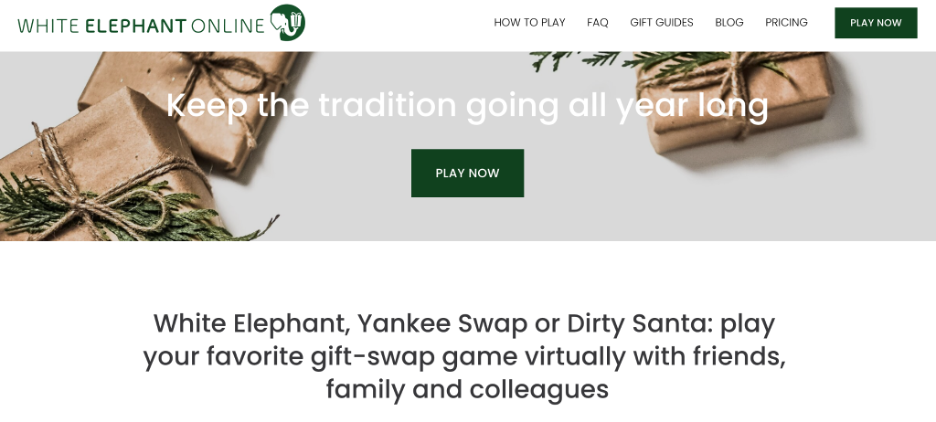 27. Virtual campfire chats
Virtual campfire chat sessions are an incredible bonding experience for teams. The goal of the virtual event is to create opportunities for your group to get to know one another and connect on a deeper level.
The structure of the event is flexible and based on the interests of your group. You can download a list of team-building questions or ask team members to share specific memories, talents, or stories. Carsten Shaefer, Founder and Lead Developer of Trust, finds campfire sessions to be quite effective. "Each week, one member of the team would have 30 minutes to talk about their favorite topic and then everyone asks questions," he says. "In those 1-hour sessions, I learned more about my coworkers than I did when we worked in an office setting."
28. Pet showcases
Hosting a virtual pet showcase is an amusing way to bring coworkers together. Pets have quite an impact on the health of their owners. 93% of pet owners reported that their "pandemic pet" improved their mental or physical wellness over the past year.
You can use this as an icebreaker or as its own event to create a lighthearted mood and find commonalities amongst your team. Satya Parija, Co-Founder & CMO of DoctorSpring, thinks pet showcases are an excellent idea for a virtual icebreaker. "Seeing everyone's pets has helped us connect better because a shared love of animals is a great bridge for that." She suggests letting your team know about the showcase in advance so they can get them comfortable and even dressed up for the show.
29. Happy hour
Happy hours are a common way to encourage team camaraderie. You can also use this type of virtual event as a customer appreciation event. As with any event involving alcohol, it is important to be mindful of anyone who may not want to participate or include non-alcoholic options.
Todd Bryant, Partner and Financial Planner of Signature Wealth Advisors, talks about their virtual team happy hours which feature local businesses. "It's been an excellent way to show our customers appreciation while supporting local businesses who have suffered as a result of the pandemic."
30. Fundraiser
Community outreach and involvement are important to many businesses.  A virtual fundraiser is a wonderful way to continue giving back and collaborating with a group for a common goal.
Robyn Marais of Howler Events has coordinated many types of virtual events and has seen success with virtual fundraisers. "We've seen funds raised for worthy causes and hosted our own DreamStream which raised R1 Million ($69,000 USD) for our local events and entertainment industry who have been without work since the beginning of the pandemic as large-scale events are still a challenge to overcome."
Organizing a fundraiser doesn't have to be complicated. You can host a fundraiser using many of the ideas listed in this article and bring in big money for your charity or organization of choice.
Moving forward with your virtual event ideas
When organizing virtual events for your team and customers, it's important to not turn it into extra work—you want the events to be genuinely enjoyable for your attendees. You don't want to add to their to-do list. Conduct surveys and ask your team individually to find out what types of events they're most interested in. And then, choose an online events platform like ClickMeeting to turn your virtual event idea into a reality.