Ever find yourself at work thinking "this entire meeting could have been an email"? If the answer is yes, you're not alone. In fact, nearly a third of people think that all or most of the time. You may have even seen a meme or two about it.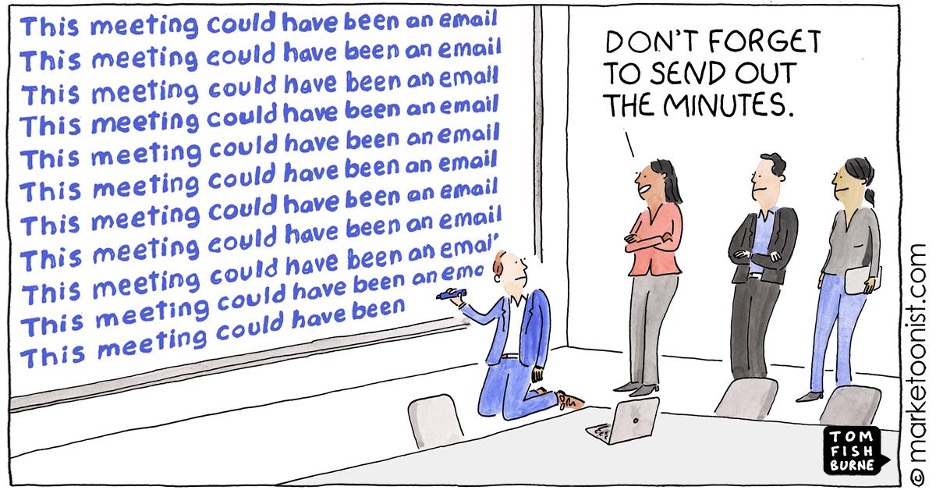 We spend an average eight hours per week in meetings. While some of that time is well-spent, much of it is wasted. For employers, this means damaged morale, wasted time, and less productive workers—especially during a time where we have 13% more meetings than before.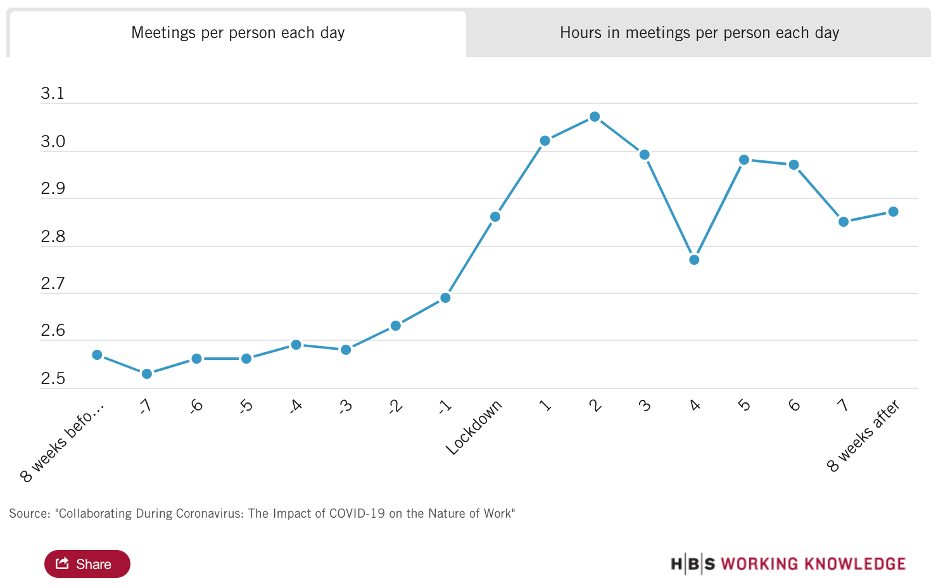 So, how can you avoid taking over people's calendars with ineffective meetings? Let's take a look:
Sort out your tech
Technical issues are another culprit for ineffective meetings, especially when compared to in-person meetings. 41% of organizations have tech issues with virtual meetings, and 31% face challenges getting attendees set up and up to speed with the tech. Lots of people need to learn how to turn their mics and cameras on and off.
You want to make sure all your tech stack is set up well ahead of meeting time. This starts with choosing the best platform for online meetings, like ClickMeeting, as well as your other communication platforms.
From there, get your IT team to set up the software on everyone's machines. Take it a step further and ask your IT team to schedule 1:1 time with each of your employees to help them get set up and learn how to use all of the communication tools at their disposal.
When selecting your tech stack, remember to think about the end users—not just your budget and business needs. According to Gartner research, "workers who are allowed to personally obtain applications prefer virtual meetings more than those who can use only applications provided by their companies." Consider running an internal survey to see your team's platform preferences.
Establish communication processes and systems
Beyond setting up your tech stack, it's important to establish guidelines on how to use those systems. For example, you might establish that all internal emails need to be responded to within 2 business days.

Once you have your communication parameters set, document them and store them in a place easily accessible to all. It's important to distribute the parameters, as well as explain the rationale behind having them.
Create guidelines for meetings
Much like you want to create communication guidelines, you'll also want to set specific guidelines for meetings.
Some of the biggest issues workers have with virtual meetings compared to in-person meetings are that people have poor online meeting etiquette and disengaged attendees. Always give people the benefit of the doubt—they may not even realize they're beind rude. It's helpful to create virtual meeting etiquette guidelines for people to reference.
You might also consider implementing a time limit for meetings. The average online meeting lasts about 65 minutes—over an hour!—though virtual meetings have shortened times by about 12 minutes.
Ask for feedback
Perhaps the first step any organization should take when evaluating time spent in meetings is to ask the team directly for feedback. According to the Survey Monkey survey, ​​70% of workers think soliciting input from attendees would help improve meetings, but only 54% say they've been asked for their thoughts. Plus, 65% think it's up to both meeting organizers and attendees to make sure meeting time is well spent—so they're willing to share the responsibility and get involved.
Run an email survey to your team to ask them their thoughts and opinions about how much time they spend in meetings, how that time is spent, and if it helps or hinders their workflow. Be sure to leave a space for open-ended comments and allow respondents to remain anonymous should they choose.
When the responses are in, read and analyze them carefully. Look for trends, in particular. One insight you might get is that attendees are unclear on next steps and action items post-meeting—in fact, this is an issue for more than half of workers. If that's the case, ensure you add this to your meeting agenda template.
Create an agenda
More than half of workers (54%) believe agendas would improve meetings. So before you schedule a meeting, create an agenda. The meeting agenda should include the following:
Date, time, and location (physical or link to the virtual meeting room)
Who's leading the meeting

Who's attending the meeting, noting optional and mandatory attendees (post-COVID, the number of people invited to each meeting increased by 14%)

Goals for the meeting

Any questions to address in the meeting

Relevant documents or links to reference before/during the meeting
List of topics to discuss, who's leading that discussion, and how many minutes should be dedicated to that topic
Distribute the agenda to meeting attendees prior to the meeting. Some people may respond via other channels and you may find the meeting can be skipped altogether—or at least you can reduce the number of mandatory attendees.
Pro tip: A blank sheet of paper (or a blank screen) can be intimidating. Consider creating an agenda template for people to use and make the process easier—as well as ensure all the important information is captured.
Try other avenues first
While meetings may be the default, encourage your team to collaborate via other channels as well. Just like everything, meetings have a time and place. But sometimes an email, chat, or even screen recording will suffice.
Here are some communication tools and channels you and your team can use:
Chat: Live chat and communication apps have come a long way and many have features and integrations that go beyond messaging.

Email: Email may be considered old-school by some, but it's still an effective and efficient means of communication 1:1 and in groups.

Video recordings: This can include individual screen recordings as well as recordings of online meetings which you can distribute instead of requiring attendance.

Project management tools: For project- and workflow-specific communication, you can house it within comments on files, documents, and project management tools.
Related: Your Guide to Cross Functional Collaboration >
Block times and days for no meetings
Some organizations adopt no-meeting days. This allows people to do really focused work—and it also forces folks to think about whether they really need a meeting or if they can use a different avenue. If something seems urgent, it might be a knee jerk reaction to schedule an emergency meeting. But on these no-meeting days, people can explore other approaches to collaborative problem-solving.
Project management software company Asana has a policy which prohibits any meetings scheduled on Wednesdays. They call it No Meeting Wednesdays (NMW), and while it's not entirely strict, it's rare that you'll see an internal meeting on the calendar on a Wednesday.
Moving forward with your virtual meetings
Meetings aren't all bad. In fact, amazing progress, collaboration, and creative brainstorming can happen in a well-organized and effective meeting. If you have to schedule a meeting, you want to make it worth your time and your attendees' time. Hopefully, the tips above will help you eliminate meetings that should've been emails and turn your virtual workspaces into engaging online meetings.