The 21st century shows a fast and quick engagement of people in various tasks. Gone are the days when people had to find time to meet other folks or take part in conferences for hours. In such a scenario, the host collects several issues for discussing them during one meeting. It is to avoid time wastage, traveling costs, and engagements of numerous people.
However, nowadays, technology made it simple and convenient for us. There are various tools, like webinar platforms, that provide the opportunity to conduct a video conference in real time without wasting time and money. Moreover, the organizations and corporates avail several fruits through it. For example:
34% – Staff Training
39% – Product Briefing
11% – Business Meeting
16% – Other
The webinar is a prestigious tool to grant many advantages regarding marketing. It is designed aligning with modern necessities as well. The actual concept of marketing is to engage customers smartly, so it will result in the promotion of your business.
Below are some of the tips to involve your audience and customers in your strategy.
1. Introduce post-webinar activities
It is a concept of gathering feedback from clients about the positive and negative aspects of the session. Some hosts also benefit from this part by concluding the whole course through key points. The customers may ask queries about various briefings to understand. Moreover, it is possible that the presenter promised to supply a document, presentation slides, audio or specific follow-up detail at the end of the session. So, this is the time to fulfill your commitment and gain your audience's trust.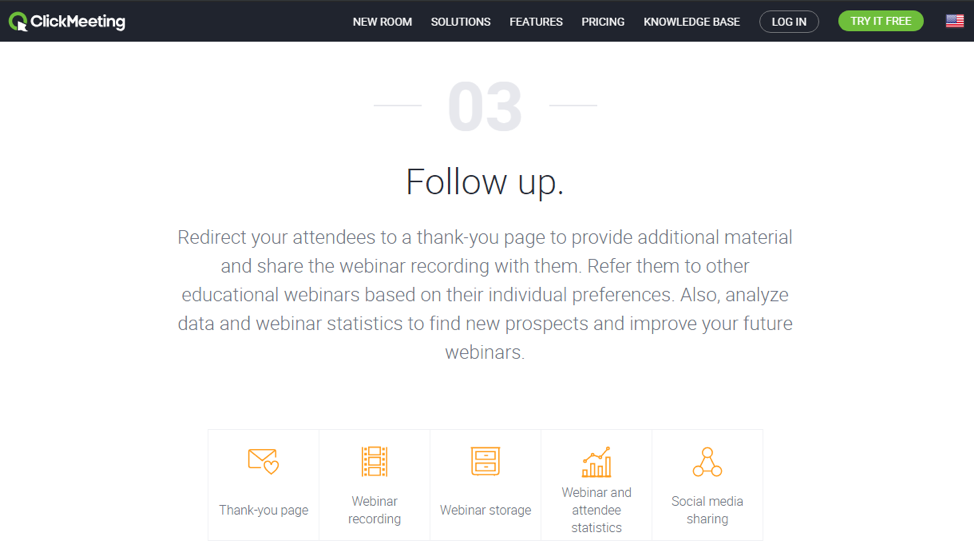 On the next day, you are responsible for sending a thank-you message via email. If any stuff is pending like points of the meeting, the answers to questions, evaluation of all participants and summary of any activity conducted during the conference, send it to your clients without wasting time. Otherwise, you will lose their expectations, confidence and trust.
2. Highlight shared value of previous & current customers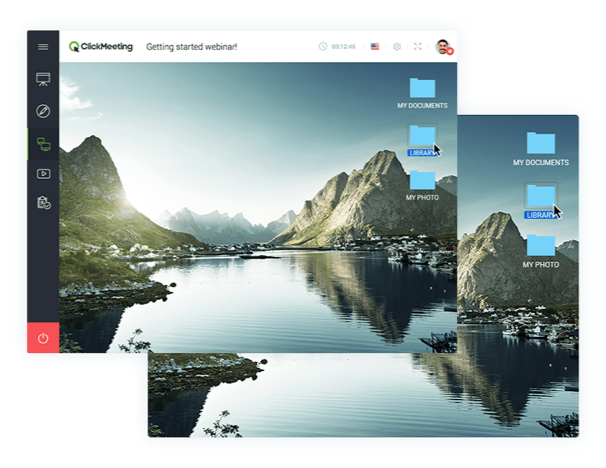 Marketing is based on interacting and conveying believes about the product or services. What's more, one could be able to conceive a concept in a consumer's mind; a stronger relationship could be developed. It is a fact that new customers are more important as compared to the existing ones.
In order to gain loyalty of new customers, as a promotion manager, you can share the comments of existing clients through screen sharing. The webinar will be the best support to achieve this target. Sometimes, the remarks are in the favor while many times it is worse and disgraces the company image. Don't dishearten. Display the bad reviews of the existing consumers first and then present the steps your company has taken to resolve the issues. In such a way, the current customer can trust you.
3. Thought leadership opportunities
The customers are the best partners for establishing a powerful leadership in any business. Sometimes, the corporates learn from one-to-one criticism. However, in other cases, executives analyze the mistakes by observing the behavior and comments of consumers.
The webinar gives the opportunity to discuss the issues through several means:
Conduct polls and surveys and get a tentative justification or results.
Open a private chat to communicate with a particular customer and be aware of his/her personal views.
Set an online meeting with several customers at a time. In such a session, one might convey the issue, and someone else responds to it; elaborate it, give an alternate solution or answer on the company's behalf.
4. Leverage your customer stories
The consumers are the assets of any business. It doesn't matter what you achieve from marketing and other strategies. If you don't have a customer, what will you earn? Investing time to gather customers' success stories can benefit the profession. You can share those stories in two ways:
Written Text: testimonials, reviews, comments, and star-ratings for text lovers.
Vocal Review: 10 to 20 seconds visual clips of consumers talking about your product or services. They may share their own feelings, excitement towards new latest version, suggestions, and a lot more.
While hosting the online conferences, you can share the links of visual stories with other clients. Moreover, post it on your personal social media as well to grow the confidence of the customers.
5. Ask them to Stream your Webinar through Social Media
It happened many times that a marketing person put their effort into manufacturing a great piece of content for the audience, but in reality, the response was near zero or below 5%. Plan your live interaction webinar videos after discussing the content.
Keep in mind that creating a visual clip never means that you would successfully reach people. It must be publicized by spreading words. It may be achieved via emails, the announcements on social media, posting banners on your website, or with the help of a blog post.
Moreover, you have to remain energetic throughout the session to answer every question of any customer regardless if it is a concern with the product, services, facilities, discounts, policies, arguments, criticism, praise, or anything else. Be sure to think from the viewer's perspective before initiating live streaming.
6. Turn them into your Brand Advocates
There are various methods of advertisement. Among them, experienced customers are the best option. If they are satisfied with your merchandise, they could convince other people. Furthermore, the user trusts another human more than the visual clips or printed flyers.
A promotion, thanks to the satisfied customer, is one of the cost-free means. In fact, if you need to sacrifice the costs or give a discount to share good experience among their circle, go for it. The result is definite with one-time low investment. – says Paul Simpson, Senior Marketing Executive from Australian Master.
7. Utilize their waiting time after registration
Many companies developed the system in which a user, who filled in and submitted the registration form, has to wait for getting registered. Such a system takes time to send a confirmation email as several things must be examined to check the authenticity of the user. Usually, the visitors stay on the site for a minute or two while checking their email inbox. If it exceeds, they leave the website.
Therefore, you should prescribe to show most appealing features through a clip to make the customer stay on the website until they get registered. Additionally, you will not lose this customer due to your system backend functionality.
8. Involve them in Exchange Marketing
Have you ever figured out that various people owning particular businesses visit utility stores and malls as customers to buy stuff for their personal benefit?
You need to collaborate with your clients to know what they are doing and what their professions are. Shortlist the most promising customers and contact them for exchange marketing purpose. Set the discounts and offers after mutual understanding.
Both businesses advertise the products or services of others within their own premises through banners, articles, and other means.
This trick is useful yet requires performing immense homework before constructing deals with your consumers.
---
Author Bio:
Stella Lincoln is working as a marketing manager at FreeEssayWriter. She gets her higher education from the University of California, Los Angeles in Marketing & Communication. Apart from this, she provides services at Academist Help as a freelance writer. Stella loves to surf the internet to stay in touch with the latest tech.