Surely you don't need any more convincing that webinars and video conferences are the perfect way to share knowledge, acquire customers or keep in touch with people. However, there are numbers and specific metrics to evaluate the effectiveness of your efforts. They can vary widely, as can the goals you can reach with online events.
How do you set them, and who should you follow? We come to the rescue. Below you will find the most recent results achieved by experts who, like you, use online events in their business and educational activities. Compare your outcomes and see how much you can get with ClickMeeting.
You'll find even more data in our State of Online Events report. Download it to get a closer look at the experts and leaders in each industry!
A number of attendees: how many do record holders bring together?
The basic rule for online events is obvious: you create them for attendees, and their presence allows you to achieve measurable goals. The more people you gather at your webinars, the better. How does attendance look in statistical terms?
In 2022, ClickMeeting users gathered an average of 977 attendees during their events.
An average of 12 people attended the event.
The healthcare industry professionals gathered the largest number of attendees – the average was 4806 attendees over the year and 28 people at a single event.
The record holder gathered 173,967 participants at their events over the year. On average, 74 people attended a single webinar.
What did it look like exactly in specific industries?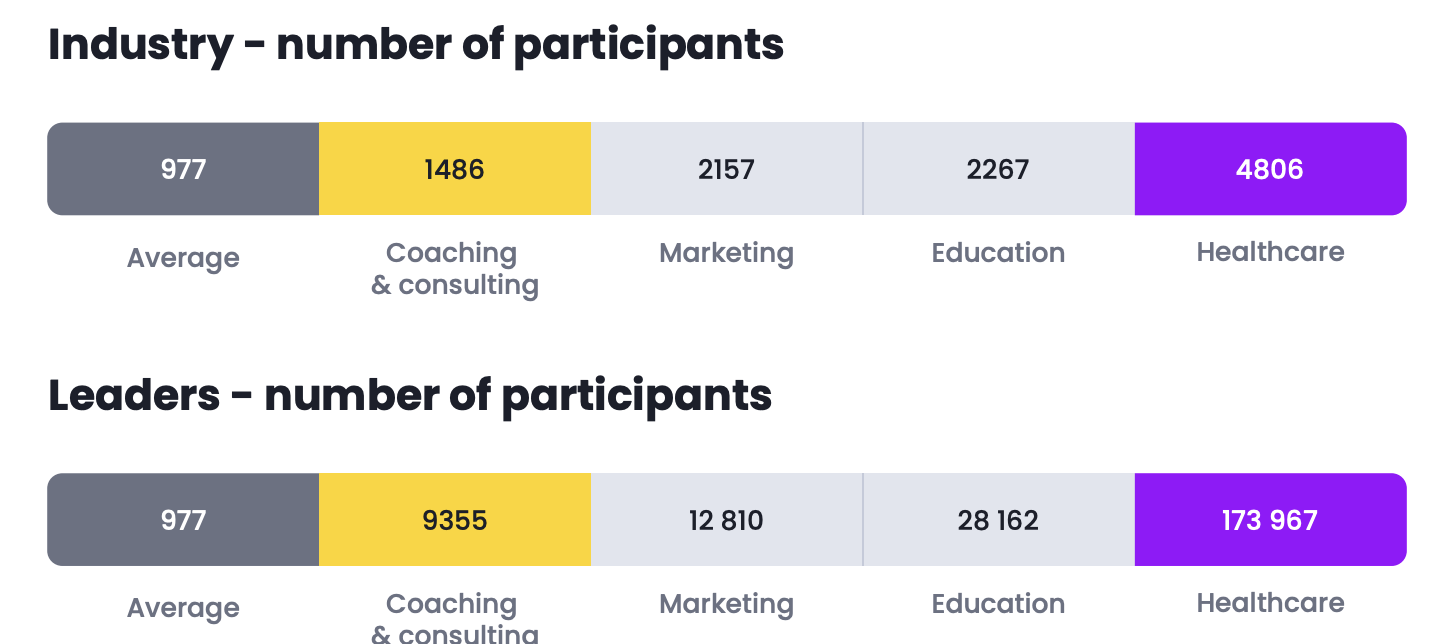 How many leads did the record holder acquire?
Online events are very diverse. Many of them are educational and training activities. However, nearly one in four events held on ClickMeeting in 2022 were marketing or sales related.

What sets them apart? In many cases, they are free promotional webinars to generate leads, i.e., acquire the contact information of individuals potentially interested in the company's offer. Here you will read how to generate leads easily and effectively with ClickMeeting.
What kind of results did these activities bring?
6108 – that's precisely how many leads via registrations for one webinar the record holder acquired in 2022!
On average, the marketer gathered 2157 attendees during the year, i.e. acquired 2157 potential leads.
The industry leader gathered 12,810 participants during the year. On average, 52.5 people attended one event.
How much can you earn on paid events?
Earning from webinars comes in different forms. On the one hand, you can benefit indirectly. A great example is specifically lead generation. Even if you hold a free webinar, you receive data from people interested in your offer, letting you finalize sales in the long run.
Of course, webinars also help you make money directly. They are an essential tool for educators and trainers (the training and consulting sector accounts for 31% of events, and the edu industry, which includes public and private schools, is another 12%). So you can, for example, integrate ClickMeeting with your LMS and provide course participants with access to content both live and in an automated or on-demand formula.
But a great way to monetize is to sell event tickets. It's extremely easy: just integrate ClickMeeting with PayPal and select the appropriate option when creating a webinar. How much can you earn this way? Here are the latest figures:
A record holder earned €158,380.83 during the year solely on hosting paid events on ClickMeeting.
A coaching experts conference host earned €20,602 from a live event. The additional €8,186 was earned by making the event available on-demand. The total revenue was €28,788.
A series of 32 pieces of training for psychotherapists and psychologists generated total revenue of €146,010.
31 live and on-demand accounting training earned €39,367.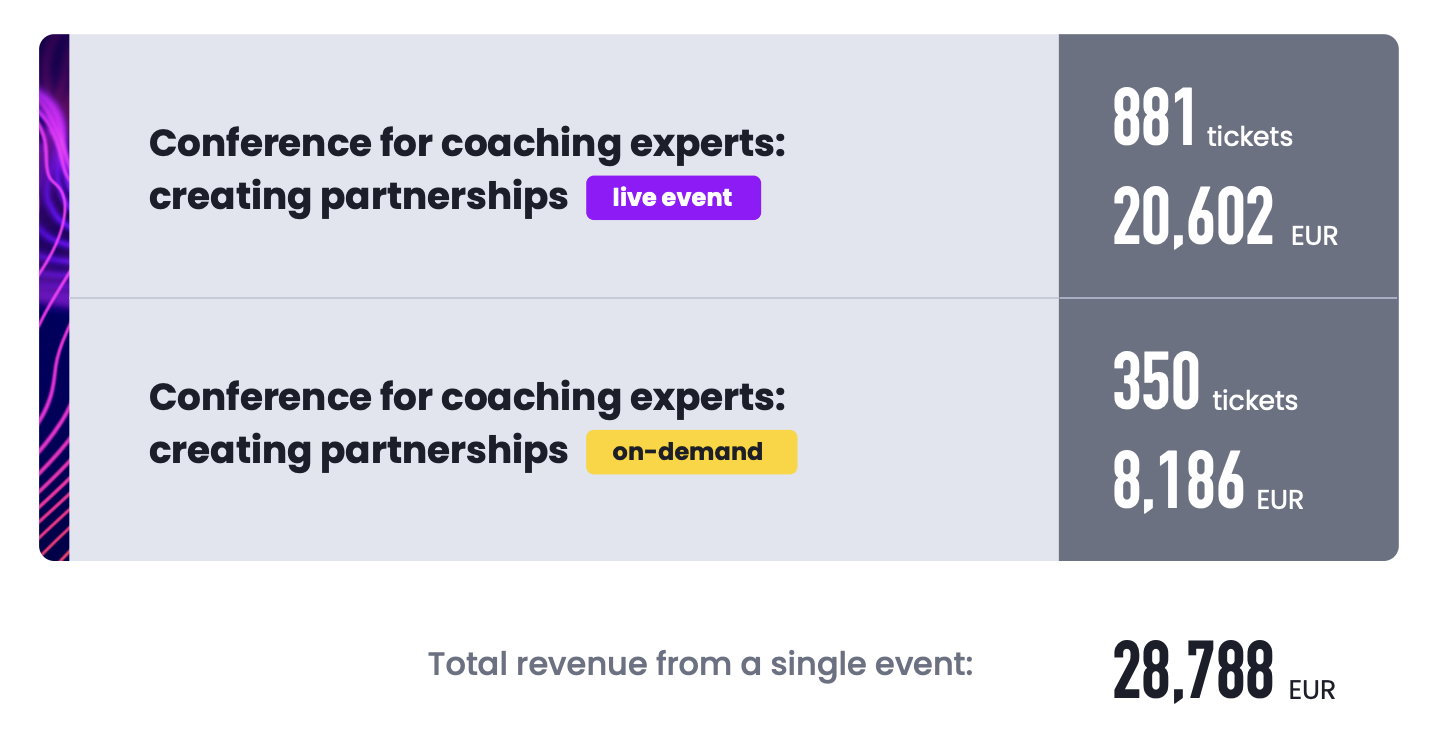 Join the experts who achieve their goals with webinars
As you can see, online events are powerful tools that will help you reach diverse business goals. Using them, you can monetize directly by creating paid events, prepare content for online courses and use webinar marketing to gain valuable leads. Whatever you need, the best way to find out if ClickMeeting is the right tool for you is to try it out.
You have up to 30 days to test our webinar and online meeting platform. Automation is also included. Find out why experts choose ClickMeeting!