Can't imagine a working day without meetings, particularly online ones? In fact, without them, both internal communication and recruitment processes would be definitely more complicated.
If you feel that the meetings you organize could be better and help you create an expert image, learn our tips. It's a set of proven hints that will help you create a friendly environment for yourself and your event attendees, while ensuring your brand awareness.
What kind of meetings do you need?
We've all grown accustomed to online meetings. We appreciate how much they streamline our work and help connect people regardless of their location. On the other hand, there's no denying, the expectations for platforms and event set-up are also surging. Another invitation to one of the popular free tools flowing into the email inbox doesn't impress anyone. This is especially true if, in the past, the time limit has interrupted the meeting at the least suitable moment or it is absolutely necessary to download an additional application to the computer drive.
What kind of meetings do you need, therefore? Above all, they should guarantee intuitiveness. Especially if you often meet with different people, for example, candidates participating in the recruitment process. None of them can be expected to take time to familiarize with the tool's interface. And it sometimes turns out that being unaware of the platform's complexities means that you have to solve technical problems instead of focusing on the subject.
Customizability also matters. A good tool will make it easy for you to customize the appearance to fit your brand. It's a simple procedure that will help you make a good impression on your audience. Simply put: you will stand out from other people who use popular but disappointing tools.
Below you'll find three scenarios you're probably very familiar with, and three tips for creating better meetings. For more, take a peek at the ClickMeeting guide. And if you'd like to test them out in practice and don't have an account yet, test ClickMeeting for free. You have 30 days to do it without having to enter your payment card information!
Meet with the candidate in a secured room
Recruitment interviews are an essential part of every recruiter's job. However, do not forget that confidential information and personal data are often shared during them. In any case, they should, therefore, be properly secured. The adequate meeting design can be important from the perspective of employer branding efforts. This is a good way to convince the candidate that he is dealing with professionals and a trustworthy brand.
Of course, there are several ways to organize such an event. A good solution would be to create a one-time room in ClickMeeting and additionally secure it with a password. This will ensure that unauthorized people won't gain access to the event room, disrupt it, and access protected information. Besides: you will undoubtedly make a positive impression on the candidate.
To create a one-time meeting, select the "Planned meeting" option.

In the next step, enter the name of the meeting. You can also set a unique URL that will lead to it. Next, select "Time scheduled" and indicate the date and time of the event.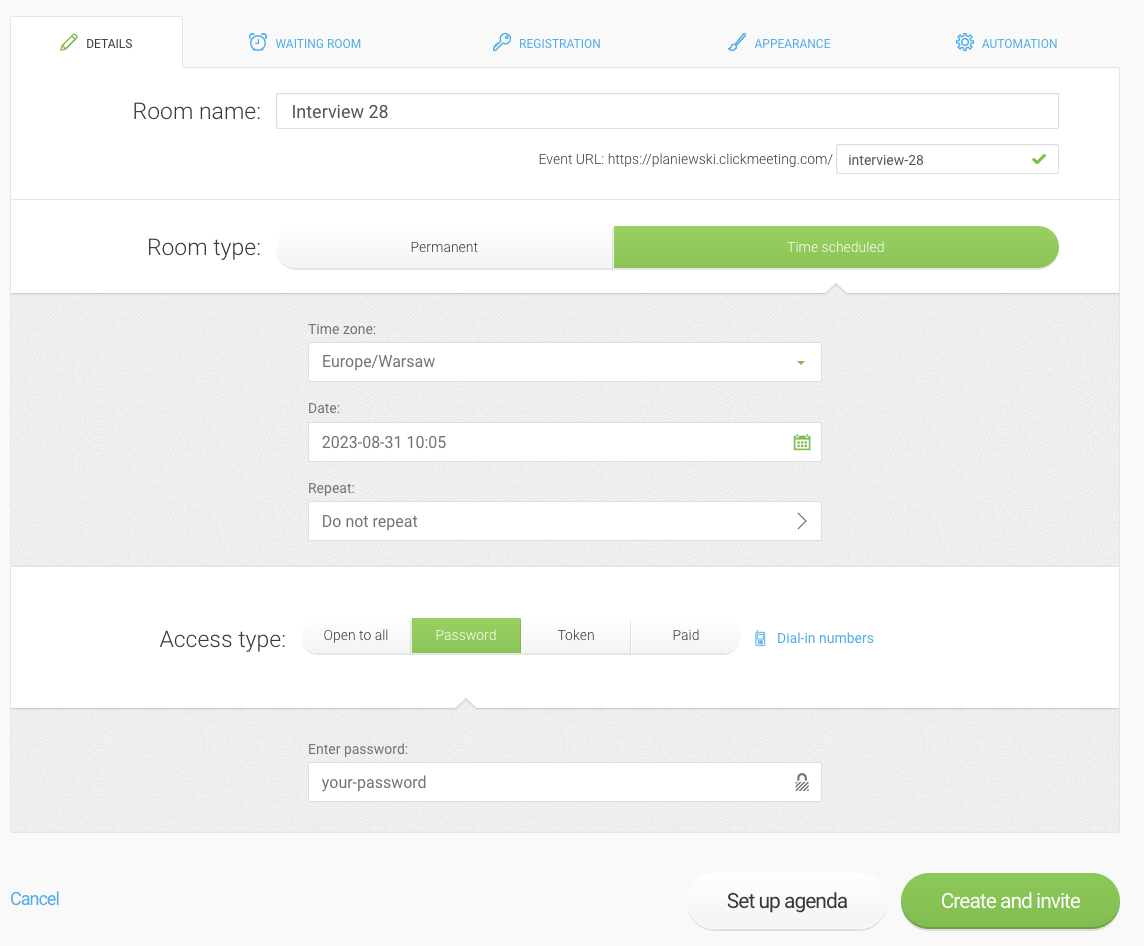 In the last section, you have the option to indicate the type of access to the room. It can be available to everyone (so everyone with a link to the room can access it). However, we do not recommend this solution: to properly secure your data, set a one-time password.
Done! Now just click "Create and invite" to start the event or invite participants (you can also do it directly from the event room).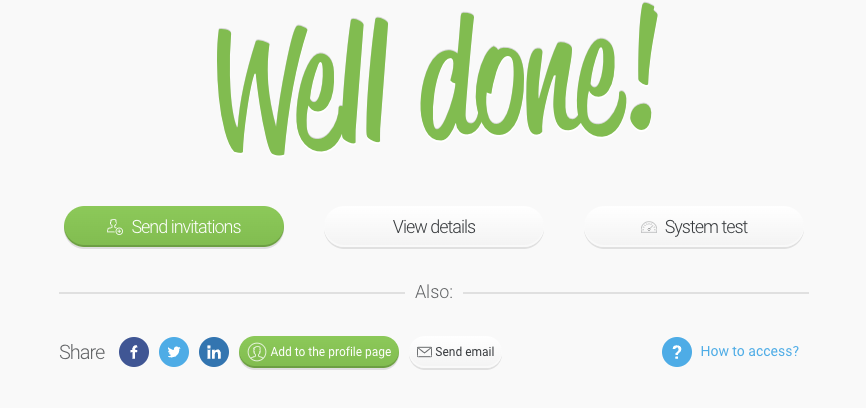 However, let's assume that you want to invite a candidate a little in advance by sending them all the data necessary to attend the meeting to their email address.
To do this, select "Send invitations" and in the next window specify that you want to invite the attendee. As you can see, you can also invite presenters at this point, for example, co-workers who will co-host the recruitment meeting.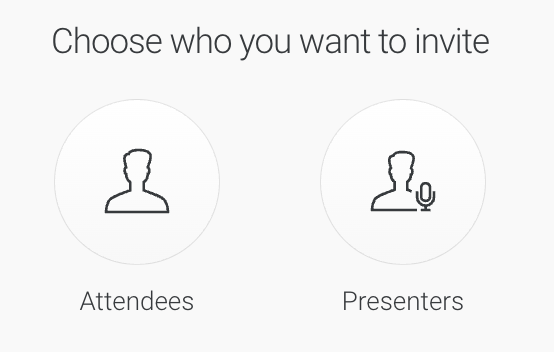 Next, select the "Copy and paste" option and simply enter the candidate's email address. If they previously participated in a meeting you organized on ClickMeeting (for example, pre-screening), you will find their data in the "Past Sessions" tab.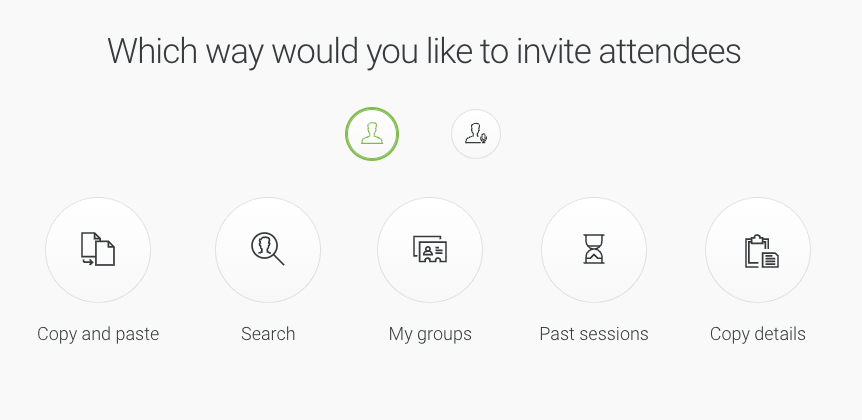 Done! The candidate will receive an email with the details of the meeting and a link taking them to the room.
Always open room for your team and more
Of course, a fair number of the meetings we attend are regular in nature. We shall classify among them, for example, daily or weekly. In addition, we relatively often take part in more or less spontaneous events, without which it is difficult to imagine cooperation in the company.
How can you organize them? A good solution would be to create a room that is always available. It can be dedicated to one type of permanent event or simply assigned to a specific person.
To create it, in the window for creating a planned event, select the "Permanent" room type.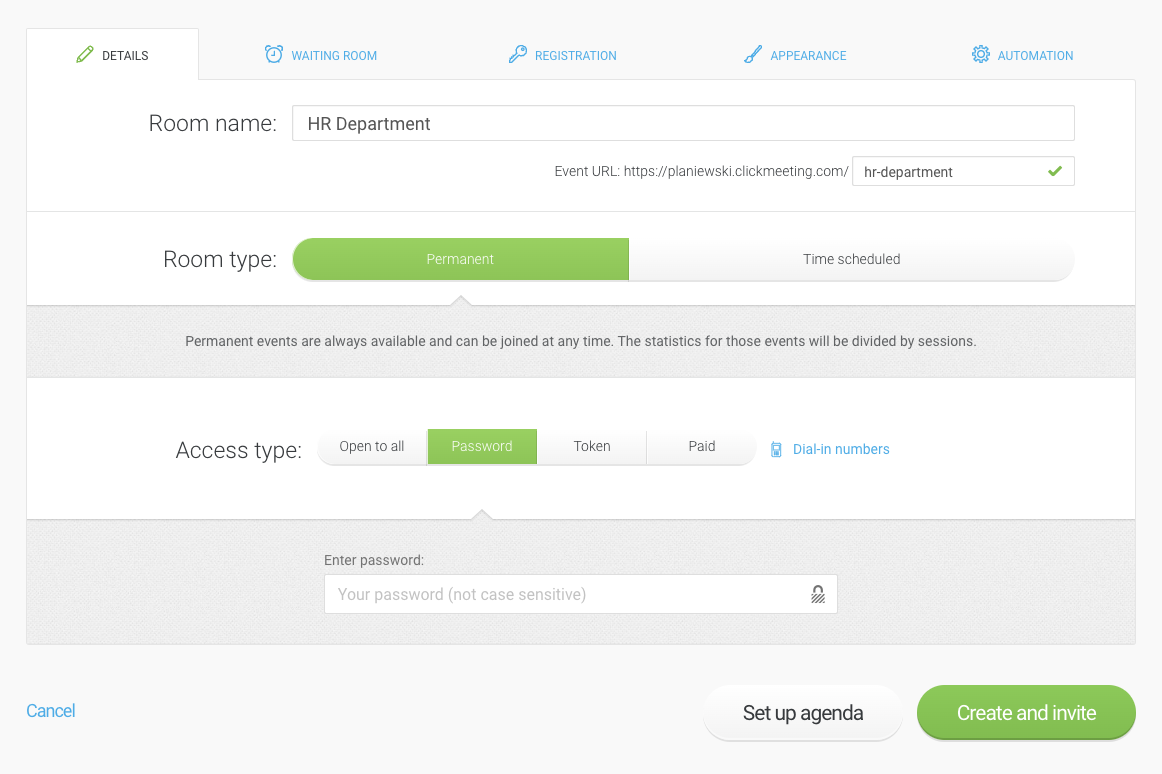 An easy-to-remember link will lead to the room. Just send it along with the password (if you set it up) to the people you want to invite to the meeting. The room will always be at your disposal. Of course, you can also send invitations by email using ClickMeeting.
Meeting in less than 4 seconds
Sometimes time is what matters the most. If, for example, you don't have your own permanent room, or for some reason you don't want to use it in a particular situation, and you need to create a meeting very quickly and, for example, replace a chat on a text messenger with a video call, use Meet now.
It takes literally two clicks (and less than 4 seconds) to create and launch an event room.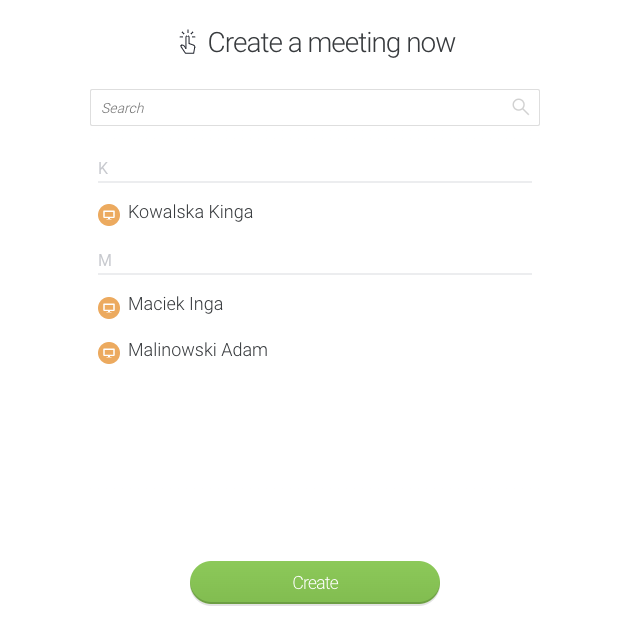 Along the way, you can still invite people who are in your address book to the meeting, but you don't have to do that. You'll find a link leading to the room inside. You can also send invitations by email or text message.
Find more practical advice in the guide!
If you want to learn how to, among other things:
customize the design of events to match your brand,
set up a waiting room and registration page,
turn your profile page into an event center,
acquire leads through meetings,
create and join meetings on mobile devices.
Download the latest ClickMeeting tutorials. Inside, you will find everything you need to create professional events. And don't forget about ClickMeeting's free trial period!