The end of the year is a perfect time to reflect on what we have accomplished this year and our plans for next year. Here at ClickMeeting, we're reflecting on 2018, and we must say – it was quite a year!
We've worked hard to make our webinar platform better, smoother, and richer. Your feedback was the most valuable source of information for us. We based every update, every feature, and all of our work on your feedback and needs.
For that, and for being with us, we'd like to THANK YOU!
What happened in 2018?
We started early – it actually began at the end of 2017 with our integrations with the analytical and remarketing tools:
Google Analytics
Google Tag Manager
Facebook Pixel
Data is essential for your webinar's success, so these integrations were a must! They give you an opportunity to track your audiences' behavior on all your webinar pages. This leads to improving your webinar performance and creating tailored ads for your prospects.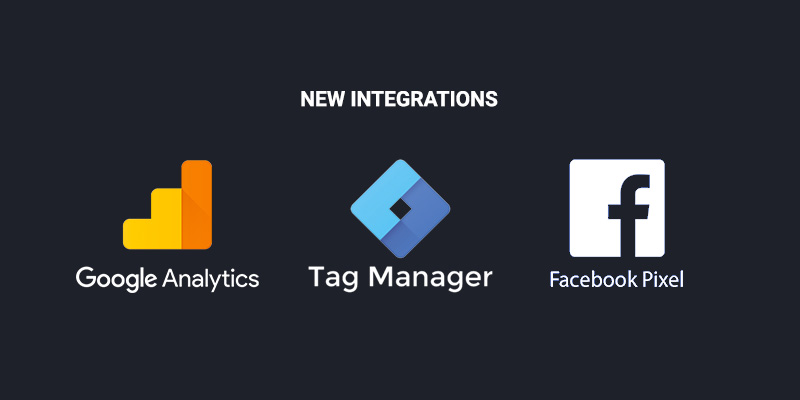 Then, 2018 officially started and we hit it hard! In March we launched an open beta version our completely rebuilt webinar room! This was exciting because pretty much everything was new! The technology operates more smoothly, the design is based on the latest UX trends, and we have a responsive room layout! And on top of that we have new, cool features:
Question Mode, which enables you to add selected chat messages to the question list to be answered later in the event.
Recording Layouts, where users can choose from various room layouts for the webinar recordings, depending on what they want to focus on.
Call to Action pop-up, for redirecting your attendees from the webinar room directly to any external URL. A handy tool for making instant sales!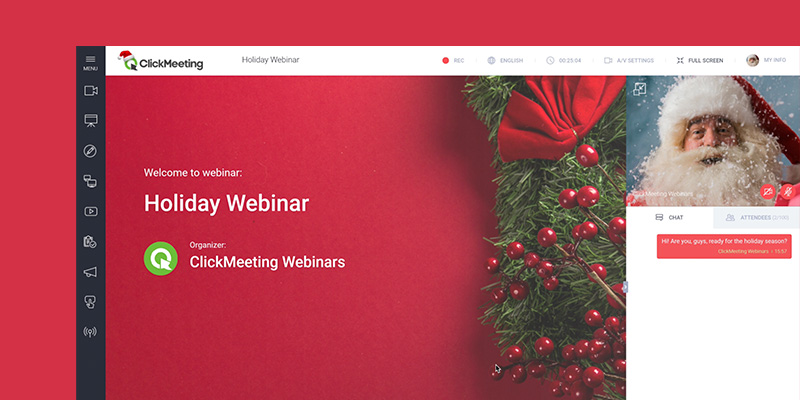 The following months brought yet more news. In June, we introduced Paid Webinars!
This tool enables you to integrate your ClickMeeting account with PayPal. Once you do that, you can start selling access to your webinars and make money on your knowledge!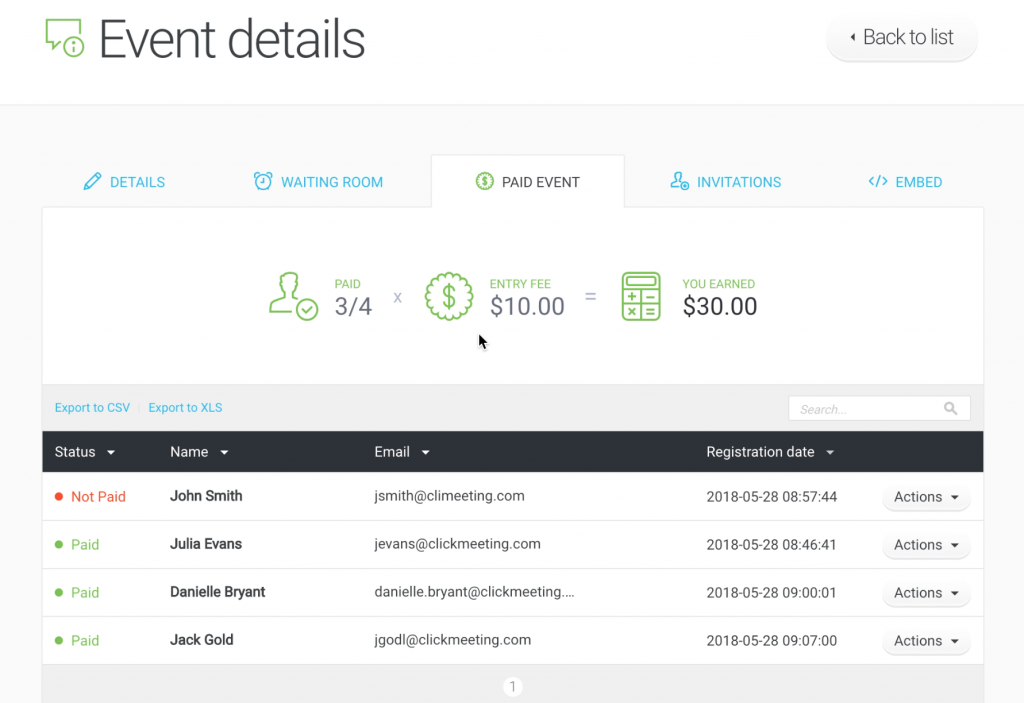 This summer was packed with new features. The month after we introduced Paid Webinars, we launched a brand-new tool for boosting your lead base and enhancing your rank in the webinar business: On-Demand Webinars.
To put it simply, On-Demand webinars give your audience an opportunity to watch your recorded webinars anywhere and anytime. In exchange for access to your webinar, though, interested prospects will have to leave their emails addresses, increasing your prospect list.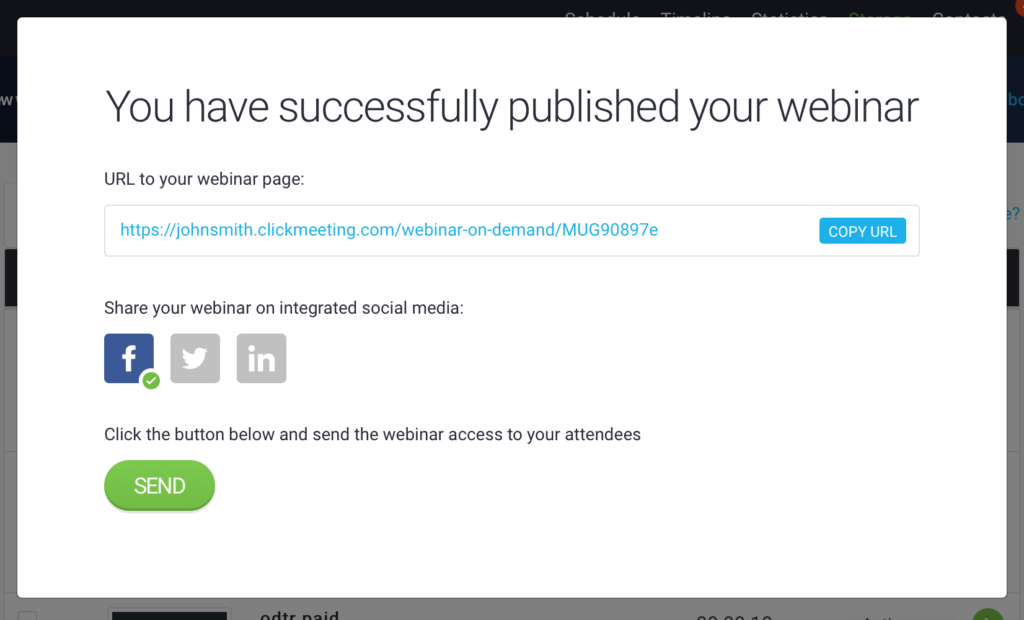 Another month, another feature! Now that we look at it, we were quite busy this summer! Sunny August came and brought Live Streaming on Facebook & YouTube to you!
We all know that the more exposure you get, the better chance your business will grow. And that's what this feature is all about – giving you a chance to synchronize your webinar events with your social media network on Facebook and YouTube so that you can reach the widest audience possible.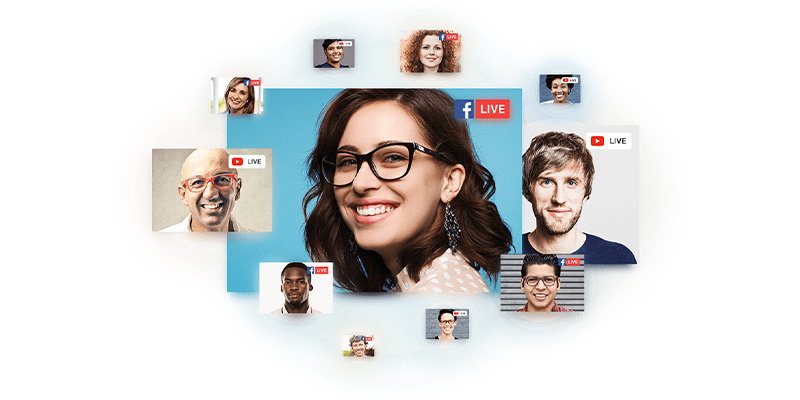 That same month we gave you access to a new integration: Pipedrive! Pipedrive is a CRM software designed to help sales team run and manage sales processes.
ClickMeeting's integration with Pipedrive allows you to automatically export the webinar registrants and attendees' data to the Pipedrive account. With data stored in the CRM's, you can plan a follow-up tailored to a specific group and nurture their interest in your product or service.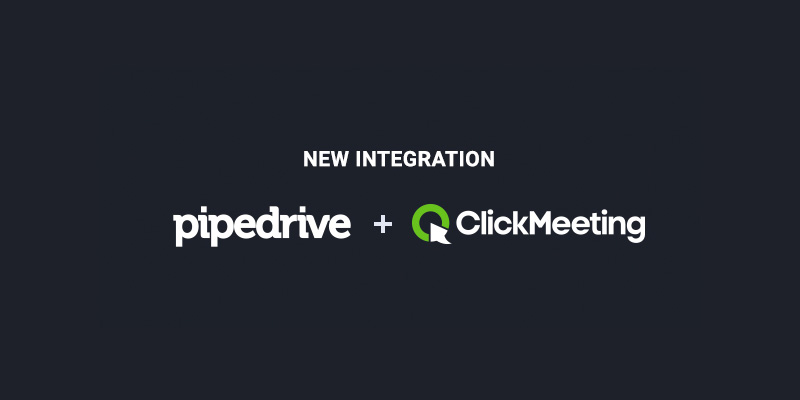 The summer turned to fall, but we kept our summer pace going! The following months brought more awesome news! We redesigned our Branding Tool and enriched it with an Unsplash integration!
You can still brand your webinars with your logo and company colors. But, from now on, you can make your webinar pages look remarkable and coherent with a wide choice of amazing  photos from  Unsplash.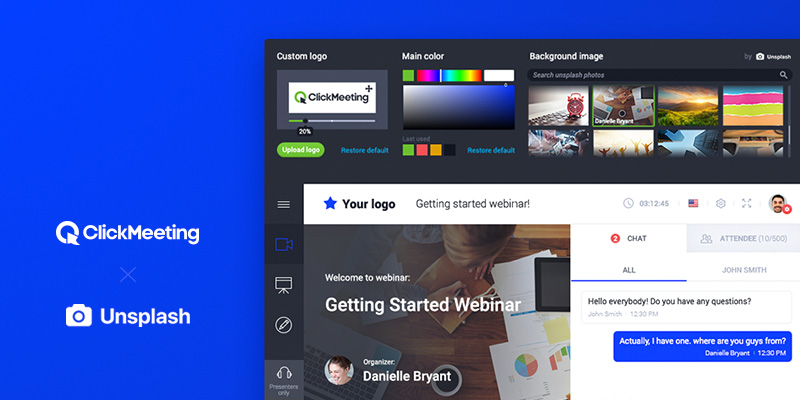 New features were not the only thing we introduced this year! For the last few months, we've collected martech and webinar terms and created the one and only: Webinar Glossary!
It can be hard to execute a great online marketing strategy without understanding what the terms mean. Now, you have all the terms you need in one place, so you don't have to worry about the difference between on-demand and automated webinars!
We hope you will enjoy it and all the features we worked on for you.
Holiday Recipe for Elevating Your Webinar Strategy
The holidays  are  a  time for sharing, so we wanted to give you something to make your work with webinars easier and more effective. Let's call it  a  recipe for success! We've mixed all the features from 2018 with  some  best practices and  then  added some expertise!
Trust us; it's a must for your 2019 business strategy!
We hope 2018 was as productive and rewarding for you as it was for us! Thank you for being with us! The upcoming year is going to be even more spectacular for our platform! Big changes are coming, and we'd love you to be with us when they happen. Stay tuned!
And from  all of  your friends at  ClickMeeting – Happy Holidays and a Fantastic New Year!