Before we start talking about guerilla email marketing ideas, we will need to define what guerilla is, how it applies to marketing, and, of course, why we need it.
Guerilla is a form of warfare. Imagine an army that is not organized – or has strength in numbers, for that matter – fighting against an organized, trained, larger force.
As you understand, creating content and marketing actions that are low-budget and can boost your marketing tactics as a whole is not exactly easy. However, it's affordable, it can make a huge impact and give you a boost, and it can make your audience talk about you without you having to implement fancy tools, as the stat below indicates: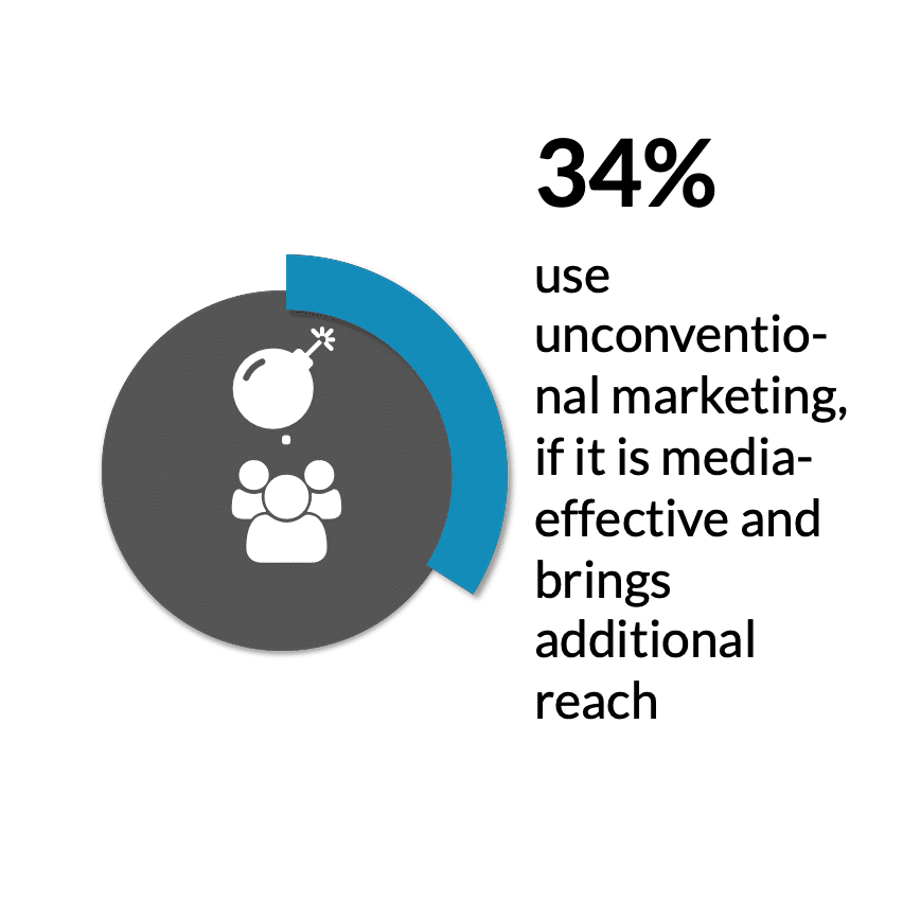 (Source)
So, how are you going to incorporate guerilla marketing into your content marketing tactics, and how can that content be combined with your email marketing ideas?
Well, let's see.
The Guerilla Email Marketing Ideas You Need
The whole point of guerilla marketing is to go in with a huge bang and make a lasting impression with a relatively quirky move. But what could ambush a member of your email list enough to make a lasting impression?
To help your list grow and make it sustainable, you will have to prune it regularly and create quality content that will establish you as an authority and build trust between your audience and your brand.
An email newsletter is, after all, a marketing action that is targeted, personalized, and, in the end, fruitful. And if you keep your email list clean and nurture your subscribers, it can boost your other marketing tactics as well. For example, a higher CTR can end up bringing a lot of traffic to your website or plenty of organic searches.
But to do this, you first need to invest in tools and get creative.
The "Behind-the-Scenes"…
You can't expect anyone to receive your email if you don't have the right tools and a plan for your email list and its content.
All About Your List
The first thing you'll need to do would be to create something that will grab your ideal audience's attention. It could be an online form, a lead magnet that will be offering never-before-seen content, anything. Make sure to create killer visuals and on-brand CTAs. Use actionable verbs that will explain exactly what you bring to the table and communicate the action your prospect needs to take clearly. Also, never forget to optimize for mobile. This is why: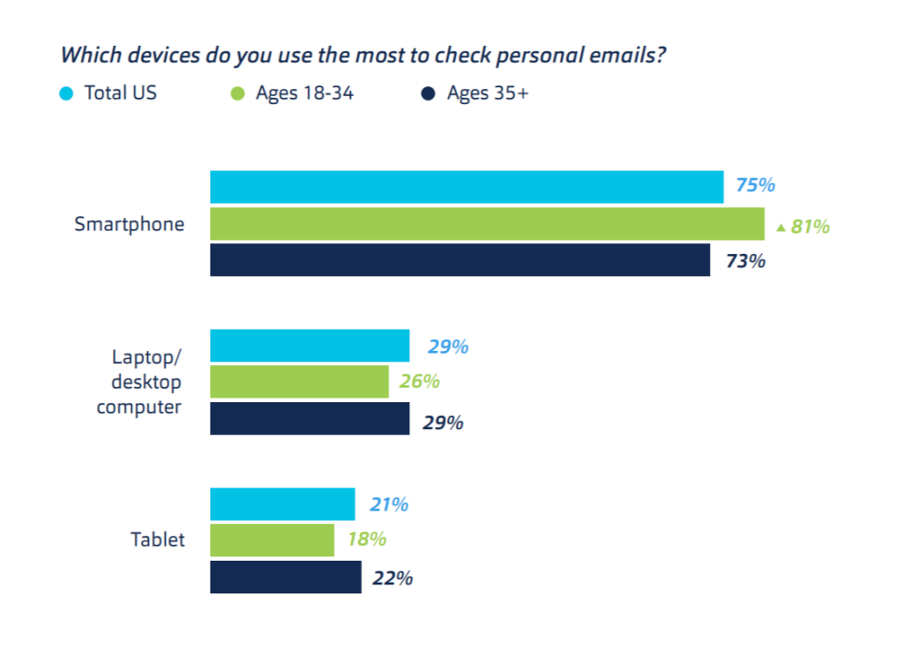 (Source)
So, let's assume that you want to create a list for your eCommerce store. It would be best to create a form that could enable the prospect to sign up right on the spot, regardless of their device. Think of it as a customer; would you make a note of revisiting the website you saw when you get a hold of your computer? I hardly think so.
If you're a venture that deals with customers, either for PR reasons or for business exchanges, consider adding a link to your email's signature that will lead to a landing page. This landing page can work wonders as a lead magnet, provided it's created and curated for this cause.
Lastly, creating a webinar would be one of the best ideas for gathering new leads, nurturing them, and, eventually, establishing your brand. Create a registration page for it and collect your prospects' email addresses. A webinar's registration form is one of the most foolproof ways to find the email address of a person who is interested in your brand and your content.
All About Your Tools
Of course, you can't make a buzz without reaching the prospects on your email list. And you can't make proper use of a great email list without the right tools and techniques.
Create an email that will look and feel human. Nowadays, prospects don't appreciate faceless and non-personalized emails that feel like a product of AI technology. This is why advanced tools – like autoresponder software that goes off after specific actions and sends a timely and relevant email to your prospect, or segmentation tools that can create small segments to help with content creation – are amongst the most valued features of various email service providers.
So, pick an ESP that will allow you to create personalized content, segment your list and optimize your email marketing for mobile. Lastly, make sure it can give you clear and understandable analytics. You won't be able to woo your prospects with just guesstimates.
…And Email Marketing Action
Let's suppose you've gathered your leads, created and curated your email list, and picked out your ESP and the tools that will allow you to add text to images, use GIFs and videos, and incorporate live content to your emails. Now what? How are you going to use those with a bang?
The first piece of content advice would be to not be afraid to use unconventional, contemporary content. Some prospects will love it, others will hate it, but nobody will stop talking about it and sharing it around, and that's the kind of exposure you need.
Talk about causes and matters that people care about. Catch them off guard, be controversial and grab their attention. Here's why: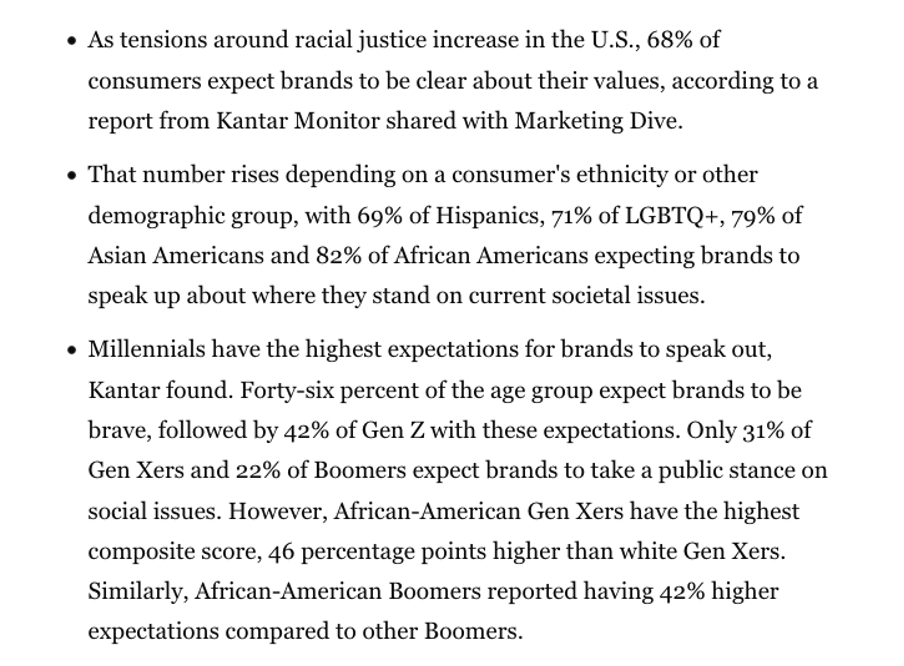 (Source)
Brands are expected to have a human face, a social conscience, and not tiptoe around important matters. Use your imagination and build your own "For once, Don't do it" campaign.
Social justice can turn a fan into a dedicated repeater, as customers are more than willing to reward brands that stand for what they love. Leveraging that kind of content is a fantastic way to create a memorable customer experience. Just make sure to study your data, segment your list and use active social listening to determine the cause that your audience cares for the most.
Secondly, don't be afraid to use your imagination and create a series of emails that showcase precisely that. Here's what I mean: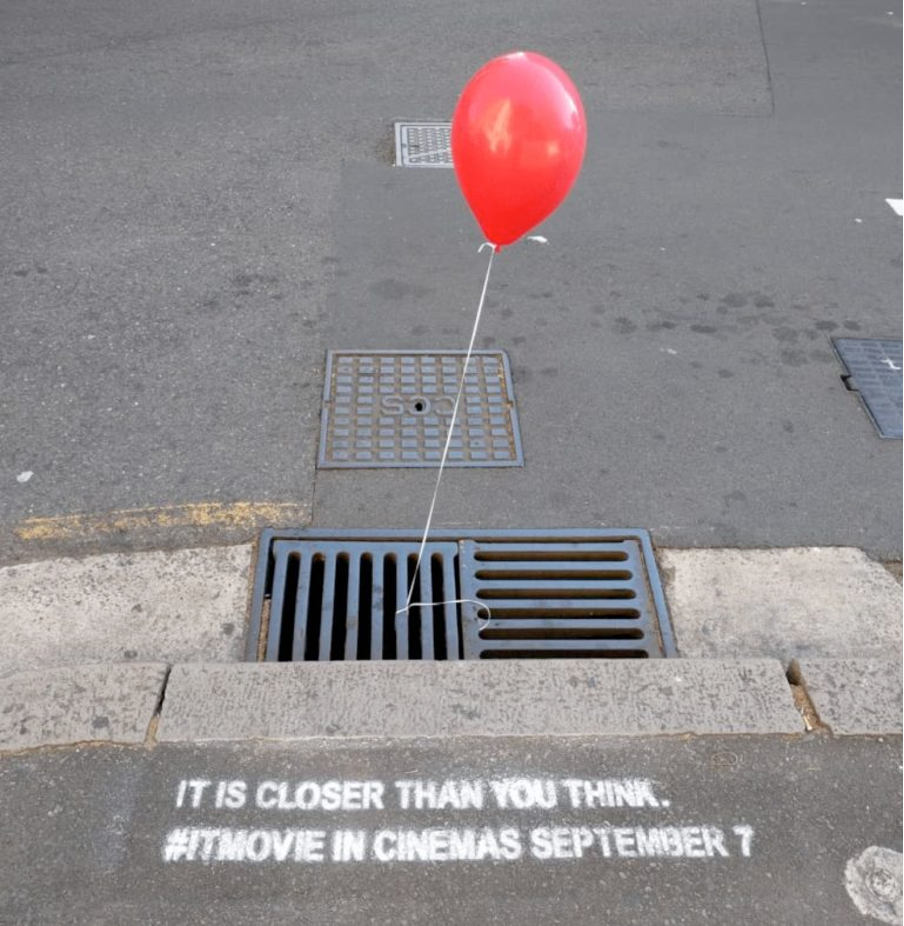 (Source)
Imagine doing this as part of an email newsletter campaign.
Would it be wise to give up all of the information right on the spot? No. Would a series of emails keep your audience on their toes, wondering what is going on? It definitely would.
Create an email sequence with little to no information that will have the reader look through your social media, website, and Instagram grid to find the answer. Ensure that the answer is hidden in your email sequence alone to keep the "hunt" going.
To achieve that, create a subject line that will make the user click on your email without hesitation. In a full inbox, you need your email to pop if you want your guerilla email marketing campaign to bring in more leads and conversion.
Don't be boring, and make sure your subject line matches your email body content. To circle back to the IT movie, imagine the "It's closer than you think" as a subject line. Then, imagine opening the email and only seeing a red balloon, and a link to the movie website, or a landing page with an offer or some more material.
Don't be afraid to be as extra as you want – the whole point is to catch your audience off guard. Just make sure to study your data and your buyer personas. You want to appeal to your ideal customer and avoid the ones that would never work with you, not the other way around.
Include testimonial videos in your email marketing campaigns that will be giving as little information as possible – or perhaps just enough to keep the people going. 
Alternatively, create a compilation that will allow your prospects to see your point straight up and make it so that they'll have to share it around and talk about it. Frames in quick succession, movie-like images, anything goes.
The Takeaway
Guerilla marketing is a tactic that is not for everyone. It can be risky, and it can make people talk. But this is what makes it worth the time and effort.
A guerilla email marketing campaign needs to be one that will push boundaries in various manners; through social justice issues or inappropriate language and content. Yes, it will make people uneasy, but this is the whole point.
Remember that those who will love it will share your message around – meaning that social sharing buttons are imperative. Those who will hate it will talk about it and try to ban it, thus boosting your engagement.
About the Author:
Téa Liarokapi is the Senior Content Writer for Moosend, an email marketing and marketing automation platform, and an obsessive writer in general. In her free time, she tries to find new ways to stuff more books in her bookcase and content ideas – and cats – to play with.