Recently I had a great opportunity to interview Briana Taylor who conducts webinars for Seniors Centers with Copilot TouchScreen Systems. Briana told me about her techniques to keep her audience engaged as well as her plans for development in webinar hosting area.
How did you come up with an idea for conducting webinars and online meetings?
I host webinar topics that interest our customers and clientele, who mostly work in area agencies on aging and senior centers.  I think about what knowledge or research I can share that would interest my attendees.  My topics have also been influenced by a survey of our customers that use Copilot Touchscreen for Senior Centers to ask them what webinar topics interest them most.
What topics are your main areas of focus when conducting webinars?
My customer only webinars focus on how to use new features of our product, Copilot Touchscreens for Senior Centers.  My free webinars have more general topics that aim to teach and generate discussions throughout the presentation.
What marketing techniques do you use to promote your webinars?
I promote my webinars using Social Media Marketing and Email Blasts. I create an online registration page on my website and include the direct link in my Facebook, Twitter posts, and emails.
Is it difficult to keep your attendees focused during the meetings?
I do not find it difficult to keep my attendees focused because I have interactive presentations that require them to participate.  My college degrees in math, teaching, and technology have helped me plan effective presentations that have learning objectives with successful outcomes.
What are the advantages of online meetings and webinars in your opinion?
Online meetings and webinars allow people to attend from across the world.  Webinars eliminate travel fees for flights, hotels, and gas, and they save time that use to be spent waiting in airports or driving across the states.  People can participate in webinars from the convenience of their own home or office.
How do you find ClickWebinar platform in line with meeting your requirements?
ClickWebinar has an organized layout that is user friendly to both the host and the attendees.  There is a designated area for the webcam, participant list, chat box, and presentation.  I really like that you can upload a PowerPoint directly to the presentation board.  I also utilize the poll questions and interactive white board.
What are your plans for future regarding development in webinar hosting area?
Right now I try to host at least one free webinar per month, with the occasional customer only webinars.  I have plans for a big webinar in August that will feature a guest speaker.
Are there any tips you'd like to share with webinars' hosts' community?
You have to keep your audience engaged.  If you just present or lecture during the whole webinar, your audience is going to be checking email, surfing the web, or they may even leave the session.  Find ways to keep them involved with the webinar.  You can ask poll questions, ask open ended questions to generate discussion, or try to incorporate short activities.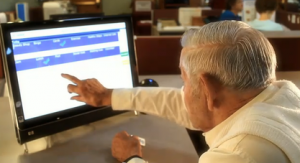 Briana Taylor works at Information Age Technologies, Inc. in western Pennsylvania with Copilot Touchscreen Systems for Senior Centers.  She has a bachelor's degree in Mathematics from Saint Vincent College and will finish her Master's degree in Instructional Technology in August 2012.  She hopes to continue to teach people that learning technology does not depend on age; it only requires a positive attitude.
Stay tuned for more news from ClickMeeting next week.
Best,
Dom