Meet Emma. She runs an online B2B company providing analytics solutions. Her marketing goal is to create brand awareness in her target group – e-commerce companies. She also wants to generate online sales of her analytics packages and generate sales leads for consulting services and analytical training. Emma is aware of strong competition among companies offering services similar to hers, and she needs to find a way to stand out.
The solution
Emma decided to reach potential clients by offering useful free knowledge to position herself as an expert. To achieve, this she began hosting webinars using ClickMeeting, where one of her expert employees and a guest speaker discussed topics, such as must-have analytics tools, e-commerce funnel essentials, and top 10 trends in e-commerce analytics.
Emma has set up two sub-accounts: one for the marketing team, the other for the sales team. This allows them to run simultaneous events and have separate storage and recording spaces.
The process
To gather a wide audience for her webinars, Emma runs promotional campaigns using Google, LinkedIn, and Twitter. Those who follow the ad land on a custom registration page that collects data and passes it to Emma's email marketing system. In the form, Emma pre-qualifies leads by asking essential questions about the industry and the attendee's role. When formulating those questions, Emma takes into account different needs of her marketing and sales teams.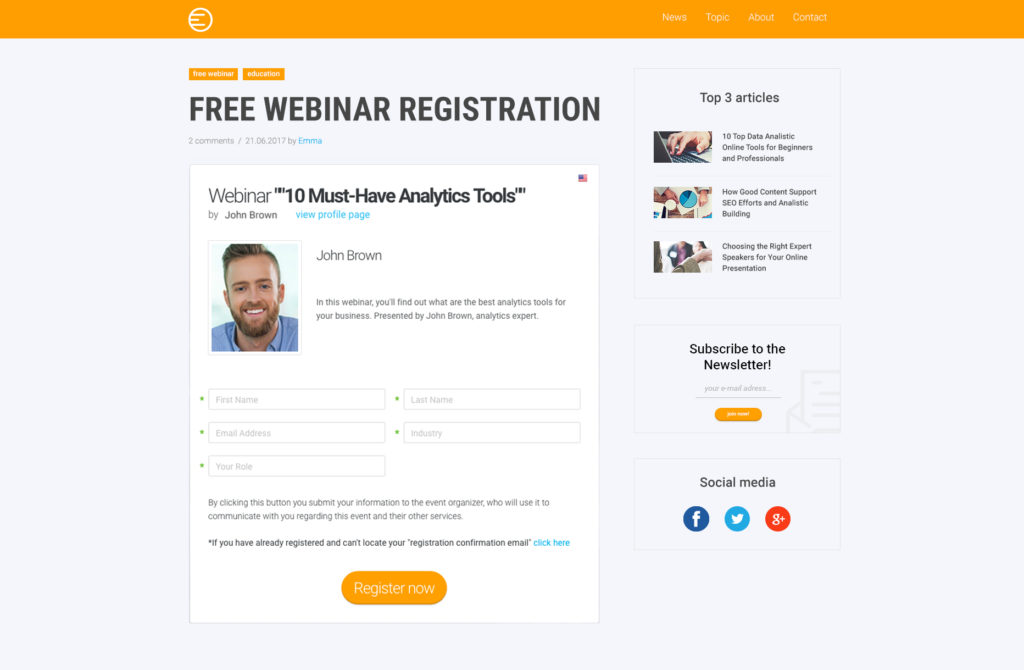 To increase the number of attendees, she sets two webinar reminders. To impress the audience while promoting her brand, Emma uses the option of hiding the brand of her webinar platform provider. She uses her own logo and brand colors instead. The only place where attendees can see ClickMeeting brand is the room URL.
During the webinar one of Emma's employees usually acts as the host, while the others – some of whom are located abroad – co-present the event. The webinar presentation combines slides, multimedia files and screen sharing. To increase audience engagement, a moderated chat is enabled and a dedicated Q&A session is held by the end.
When the webinar ends, Emma distributes the recording and takeaways via email. Then she passes the leads to her sales team. Those who have attended the event and are already familiar with the brand and her expertise are more likely to consider a purchase.
Benefits
As a result of incorporating webinars into the marketing strategy, Emma collects hot leads that bring her revenue while she positions herself as an expert in the field of analytics.