E-learning has been popular since the earliest days of the web. It usually involves complex course development systems and virtual learning platforms.
At least that's what you may think.
But have you considered a cost-effective alternative? If not, it's high time you did. Consider using ClickMeetinng online meeting platform for webinars, training programs, and one-on-one sessions with your students.
Whether you're a language teacher, a university professor or a management coach, online meetings and webinars can be a great way to give extra time and attention to your students and trainees.
Of course, online meetings are not intended to replace the entire education process. Nothing can take the place of live presentations. But online lectures and presentations can be incorporated seamlessly as a supplemen
t to traditional teaching for deeper engagement with students.
And if your school or institution uses a Learning Management System (LMS), an online platform for meetings and conferences can be a valuable addition.
No Additional Brick-and-Mortar Required
An online event is a great alternative to frequent travelling. Imagine teaching classes in real-time, right from your desktop, without even leaving your office or home.
With ClickMeeting meeting software you can:
Provide extra follow up classes for students
Give one-on-one private tutoring or coaching
Teach training courses for hundreds of students or employees
Impeccable video transmission from any high speed Internet connection enables students and trainees to view and hear you simultaneously.
Stimulate Student Involvement Automatically
With ClickMeeting you have full control over participant involvement. To make your events interactive and diversified, you can:
Assign temporary presenter rights to other users
Allow students to present reports and papers
Set up an online discussion panel with up to four (4) simultaneous video presenters
Enable or disable chat feature
Invite guest speakers (including speakers from other continents)
Win the Battle Against Classroom Chaos
In an online class, it's much easier to stay organized. Everyone is focused on the screen, whether it's a one-to-one session or a webinar. Attendees can click an icon to "raise their hands" and let you know they need help, just as they would in a real classroom.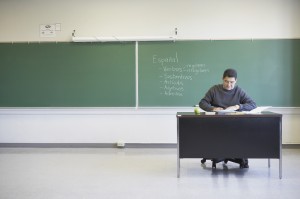 If you use ClickMeeting for your online lessons or webinars, you'll find moderated chat is really useful. If there are more people involved in an event, you retain absolute control
over what appears in the chat window and what stays out.
Plus you can use the simultaneous chat translation—imagine the potential for language lessons!
Make It Interactive
With easy desktop sharing, you can present documents, spreadsheets, images, and PowerPoint presentations quickly and with a minimum of hassle; (just remember to upload them before the session to save time). Use the whiteboard tool to make annotations or highlight key points as you explain them.
And since
you can juggle presenter rights during an event, you can use the Socratic Method to your heart's content, asking questions and calling on different students to take an active part.
For teachers who like to complement their classroom activities with online resources, you can share websites with a click directly from a built-in browser.  For an engaging change of pace, you can play YouTube videos to help present topics in an interesting way.
In ClickMeeting you can load several tabs at once, as with a browser, so you can switch quickly from one resource to another without having to upload new documents.
Feedback without Lag Time
It's good to know what your students think. The built-in polling feature is great for your asking audience a question and getting quick feedback. You can continue to run your presentations while people vote, so no one will be bored. The system tallies the results automatically, so you can provide feedback, explain points in greater detail, or adjust your pace.
How Do I Get Started?
We've made easy it for teachers, coaches, and trainers who haven't yet tried online conferencing. Simply sign up for a free trial.
With ClickMeeting and ClickWebinar, no credit card is required. It's a risk-free way to try out all the possibilities and see firsthand all the ways to use online conferencing. And if you don't love using it, you can let your trial account expire. But I have a feeling once you try, you won't give it up so quickly. 😉
Let us know how you plan to start using ClickMeeting. If you already use our software, we'd love to hear how you're doing. Leave us a comment.