Webinars are one of the most powerful tools in education and business. They give you the opportunity to establish a direct relationship with your audience, support marketing campaigns or even sales. Of course, you can easily run different types of educational activities, regardless of the form and teaching level.
How to use webinars in the right way? You will learn everything you need during the webinar Effective webinars in business and education. All you need to know to run them hosted by Malva Gasowski.
Below you will find the recording of the event and a text report.
Why is online collaboration crucial?
Different types of online events, such as meetings or webinars, have become a regular part of everyday routine over the past years. This applies not only to private life, but also to business activities. So it is worth learning how to leverage the tools.
Today's world is a little bit different than it was a few years ago. And because the world is so diverse you can't be everywhere at the same time, although ClickMeeting makes it easier, and so does the Internet.
Malva Gasowski
In the online world, webinars are one of the tools that online entrepreneurs use in order to promote and sell their products or services. On the other hand, most students have had at least one online lesson which means that we as educators need to also have the key and the knowledge to know how to provide our expertise online.
Hence the effective usage of webinar in today's world of online entrepreneurship and education is crucial.
So what are we going to talk about? We're going to highlight the difference between various types of virtual events. Are the online meeting and webinar the same? I hope you automatically answered they're not but we'll get to the details.
Malva Gasowski
What are the webinars?
First of all, we have to define what the webinars are and when to use them in your business and education endeavors.
Webinars, as the name suggests, are seminars moved to a virtual space. The presenter (or several presenters) can meet with hundreds of attendees and transfer knowledge using interactive features. With ClickMeeting, a webinar can host up to 1,000 people.
An online meeting, on the other hand, resembles a classic meeting. Participants can see and hear each other, and they can freely exchange documents or present their screens. ClickMeeting allows you to organize meetings for up to 40 people.
What is the difference between online meeting and lectures? As you can see an online meeting was a two-way street people had the possibility to talk with you. There wasn't a structure, there wasn't a specific educational element of online meetings. An online lecture is something that you're either paying for or your resource is your time. You're going there and you know that you're going to come out with a piece of knowledge.
Malva Gasowski
Tip #1: Know Your Audience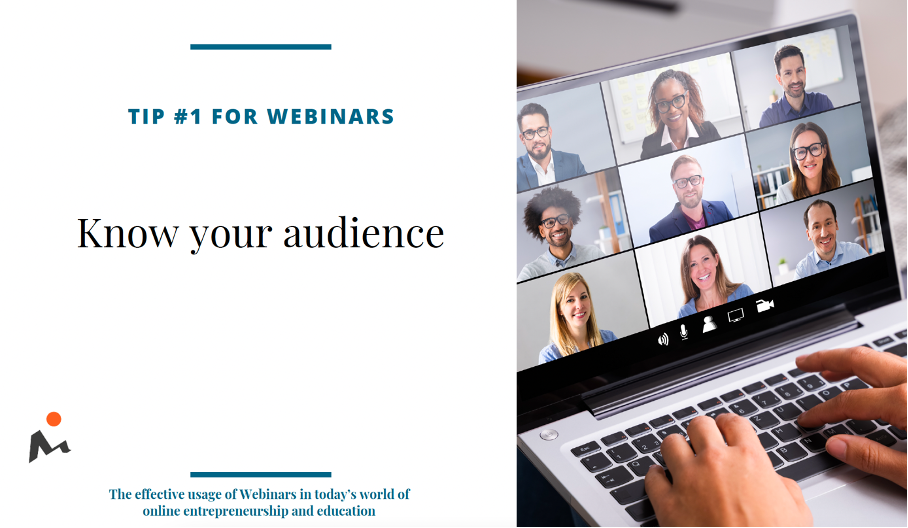 In order for the webinar to be effective as a business endeavor or as an education endeavor we need to know that we're able to either assess or gauge how the people that attended our educational webinar acquired the knowledge and how they're using it.
Malva Gasowski
As you prepare for an online event – whether it's a webinar or a meeting – you must first get to know your audience. Find out what their experience is and what they expect. This will allow you to respond perfectly to their needs.
Thematic and technical webinars
I'm going to divide webinars and categorize them into two elements the thematic webinars and the technical ones. Why so? You have six thematic ways of running webinars and six technical ways of running webinars, so if my math is correct: 6 times 6 is 36. You have 36 possibilities of individually running the webinars. And I can multiply that by choosing and adding the different elements to make a webinar your own.
Malva Gasowski
When it comes to the 6 technical definitions of a webinar, they are as follows: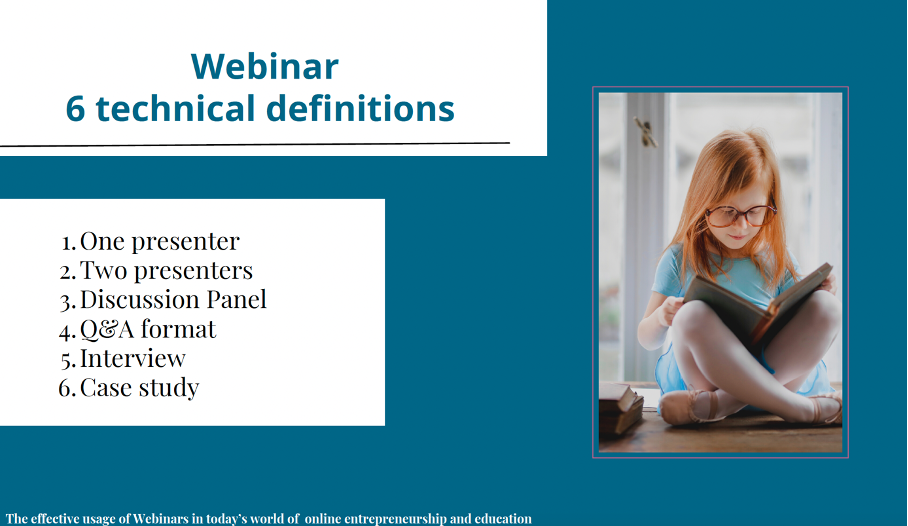 A single presenter will be one expert that shares their insights or their tips with the audience. As a one presenter you need to know how to position yourself as an expert in the area that you are talking about and how to make sure that you align online and the way that you're presenting your knowledge is true and authentic.
Being two presenters is different because besides the skills that you need to possess to run a webinar as one presenter you need to add the elements of organization in the back.
During a discussion panel you are a host that orchestrates a group of experts discussing a specific topic. So it is necessary to know how to present yourself, how to present the topic, how to make sure that you engage the people when it's your turn, but if you are orchestrating a group of experts you have to be responsible for asking appropriate questions, changing the topic of conversation if it goes left field, and running a discussion.
These questions can be also received earlier via social media or via chat. In that case you need to know that you have the knowledge to answer the question your audience asks.
Interview is least work involving for the person that is being interviewed and a lot of work needs to be done for the person that is interviewing. Quite often these are webinars or online events involving a celebrity, a famous person, or a very big expert in their in their field
If the purpose of your webinar is to promote a product or a service that you want to sell, then this is the format that you need to go with. You're presenting a produc,t you're giving a tutorial you're teaching people how to use it
6 thematic definitions of webinar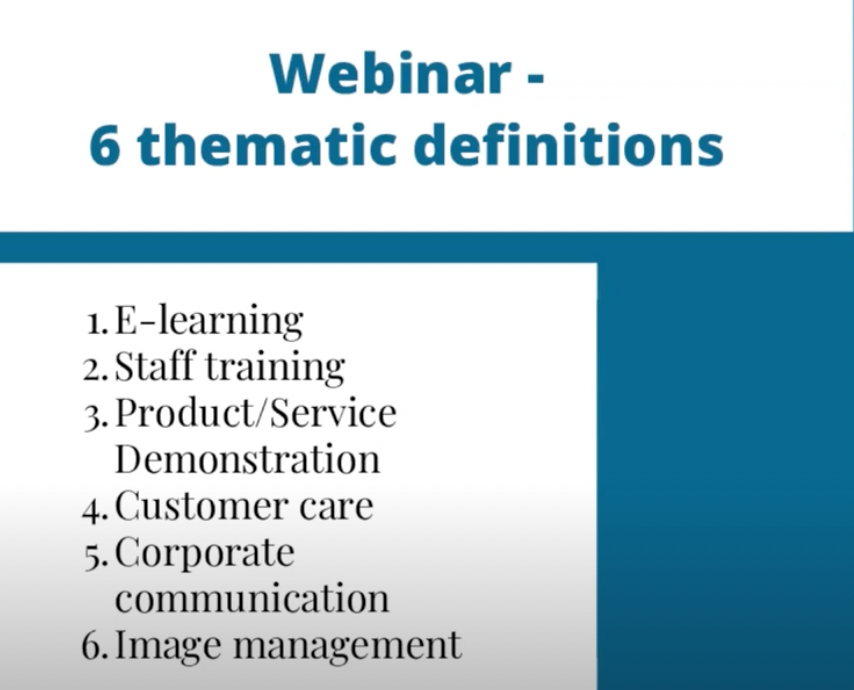 Another important element is the topic that we are going to talk about during the webinar.
Again there are six purposes of having a webinar:
First one is e-learning – often takes a lecture form.
Staff training – one or two presenters teach staff to become better or more equipped in the work.
Product or service demonstration
Customer care webinars quite – their main goal is to make sure that we care for the customers.
Corporate communication may concern teaching clientele about a certain element of their business or increase morale and to motivate people to continue working well for this company. Corporate communication has a completely different goal in mind than for example staff training or e-learning.
Image management includes events like summits, webinars, online presentations that focuse on promoting your image or brand.
When to use webinars in your business or educational endeavor?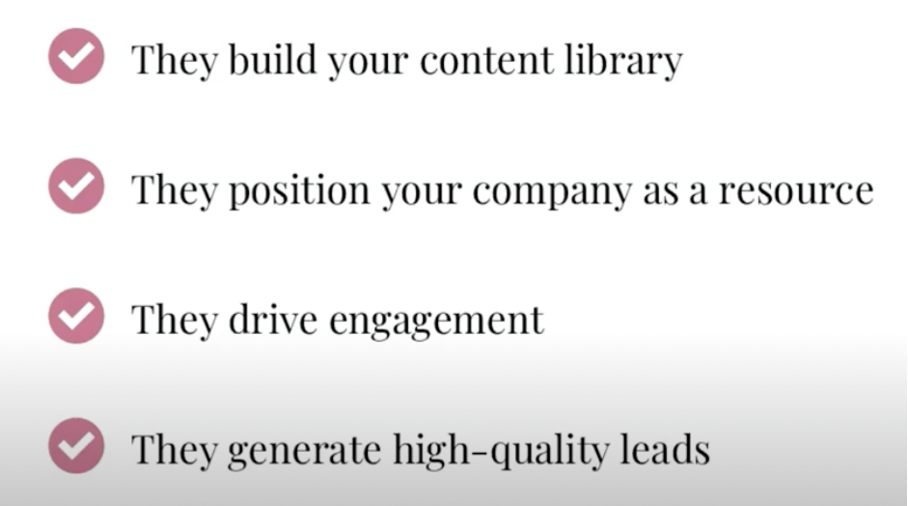 There are several benefits and goals in your business strategy or educational activities that you can achieve through webinars. Here are the most important ones:
We use webinars in our business when the business wants to build their content library. So for example this webinar is recorded which means this webinar will be part of the content library of ClickMeeting. This knowledge will still be valid and this content in the library of the company will still be up to date and so therefore the company running this webinar is technically creating their content.
Malva Gasowski
If you are ready to position yourself as an educational expert or as online entrepreneur as a resource to your clients then you're ready to run a webinar.
When you want to position your company as a resource you need to know who you are a resource for. You need to choose proper topics and deliver sufficient knowledge.
Webinars are there to drive engagement. They bring together a group of people interested in a particular topic, so the role of the presenter is to provide them with relevant knowledge in the most engaging and interactive form possible.
These factors translate into significantly higher lead quality. You gain the chance to firstly acquire customers who have a higher potential for conversion. Secondly, a webinar is an ideal tool for lead nurturing. So you are able to work on audience engagement and convince them to buy.
Can webinars be an effective selling tactic?
From the point of view of many entrepreneurs, the key point is that webinars are an ideal tool not only for marketing activities, but also for sales.
Here are the numbers
72 percent people prefer to watch a video over reading text
30% of webinar attendees turn into qualified leads
5 % of people that you have on your webinars most likely will make a purchase of the service or the product within 48 hours.
How to prepare for a webinar?
First things first: prep is key. You need to be prepared well. The legal aspect of a webinar needs to be taken care of. Then you need to prepare the content of a webinar, and structure it: when to ask questions, when to engage people, when to get feedback.
A compelling introduction
Order of main points to be adressed
Giving solutions
Follow through with promises made.
How to do it? Here are some expert tips:
If I have advertised my webinar and I have told you that these are the deliverables, the things that I am going to deliver during the hour and a half that we're together because you're paying me with your time, I'm trying to buy your time with the knowledge that I'm giving you.
Make sure that you address them at the very beginning, make sure that you give your solutions to the people.
Malva Gasowski
If you are running a sales prone webinar that ratio is 80–20, which means 80% of the time you ought to be spending on giving people the promised outcome of the webinar, and only 20% of that whole time should be sales-driven.
What to do after the webinar to nurture your clients or students?
You need to make sure that the webinar is not the last piece of the puzzle.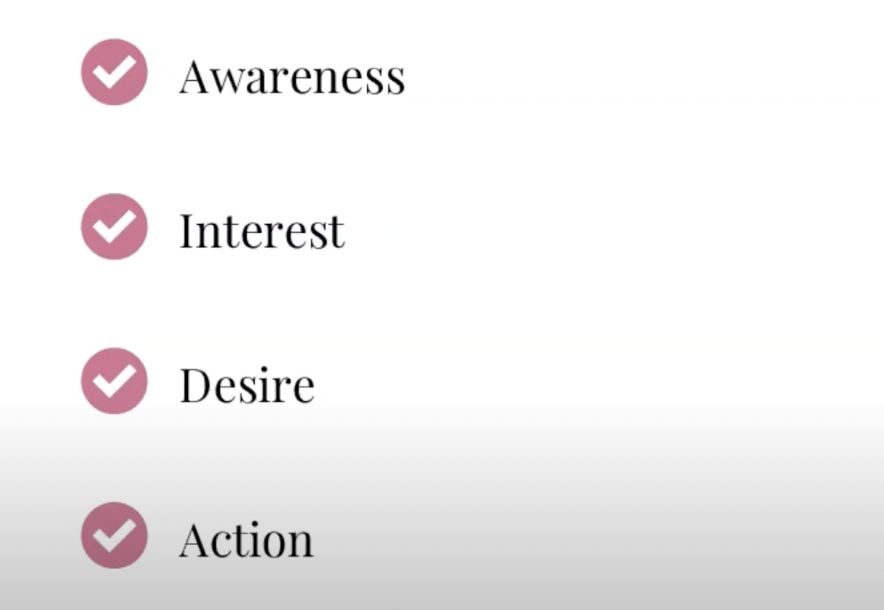 Your first webinar especially if it's an educational or sales driven webinar will not be a success financially speaking. The conversion ratio is everything
the first conversion is how many people landed on your registration page,
the second conversion is how many people signed up
the third conversion is how many people actually showed up to the live event
the fourth conversion is how many people stayed till the end
the fifth conversion is how many people later watch the recording
the sixth conversion is how many people read the offer or done their homework
the seventh conversion is how many people purchased in the long run
As you can see, they are very diverse. So make sure that success is measured on all fields.
And how do we nurture your students or participants? You need to make sure that the email sequence that follows a webinar include at least these four emails:
the first email needs to be an awareness. There always will be some people who lost their way and they did not come live. Don't take it personally, these are standard industry statistics. So you need to make them aware. Thank them for signing up and tell them something more.
The next point should be interest. You can send for example some of the feedback comments encouraging to watch the recording.
In the third email generate a desire. People come to your webinar to solve a problem, so in the third email sequence it's quite interesting to create a desire they're aware of, they're interested in. Now they should desire your product. Make sure that the words and the way that you're structuring the email sequence after the webinar create a desire.
About the speaker

Malva Gasowski. International business coach and trainer. Graduate of the University of Wroclaw, majoring in American Literature and Teaching Methodology, with a Master's degree in Pedagogy and Counseling from DSWE TWP, studied Psychology and Sociology at the University of Toronto. She received a postgraduate diploma in Project Management in PMI methodology. She graduated from the MODERATOR Business Coach School and the MODERATOR Management Coaching School. She also completed postgraduate studies in Online Learning at the University of New South Wales in Sydney. Her trainings include talent management, communication, negotiation, people management, employee motivation and evaluation, preparing presentations and delivery techniques, self-presentation, mindfulness and well-being, stress management, critical and analytical thinking training, conflict resolution and collaboration in the business, training, beauty, service and manufacturing sectors. Creator of the Online Training Delivery Academy a world-class innovative program combining online pedagogy with technology.