In the last few posts, our aim was to provide the best possible tips on conducting your online meetings and webinars successfully. To sum-up the process involved in achieving your goals during the presentation, we would like to advise you of the most common mistakes made during the webinar and how to avoid them.
1. Unprofessional Appearance
Do not—under any circumstances—consider an online meeting less important than a traditional face-to-face session. Don't permit yourself to show up underdressed, without brushing your hair, or skipping your usual grooming process or make up.
Taking care of these details definitely will help you come across as a responsible and trustworthy employee, who can work just as well from a remote location as from the office.
Just because the resolution in the view of such a meeting is lower than in a live meeting, never underestimate the importance of your appearance.
2. Inappropriate Background
Polished and professional appearance should be also taken into account when setting the room from which you will be on air.
This means you shouldn't meet from your bed, for example.
A background that is neat, clean and free of interruptions will ensure a smoother flow of your presentation.
3. Showing up late for a videoconference
There are no excuses for showing up late to a videoconference. Advance preparation enables you to avoid looking rushed.
Since you are the one who leads a meeting, you need to stay in control of it from the beginning to the end.
4. Inappropriate manners and body language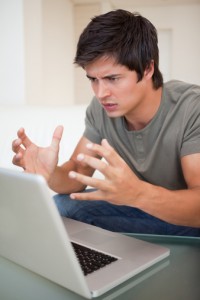 Mind your manners at all times while on camera; e.g., don't eat or chew gum during your videoconference.
Also try to avoid yawning, crossing your arms, looking from side to side or rocking your chair.
Remember that you are on video, and even if you aren't one of the main speakers in the meeting, people could be paying attention to you.
 5. Doing other work during a videoconference
Remember: not only can people hear you typing, but on a videoconference, they can also see it.
Keep in mind that you never know when you'll be asked for input, so it's best to stay focused on the meeting at all times to avoid being caught doing something else.
Have you caught any online bloopers?
We hope these tips will make you more confident during video presentations and allow you to take your online meeting to next level.
We're curious—part from the above, do any other common mistakes come to mind that you should avoid. Please feel free to share your experiences with us.
Best, Dom