Webinars are one of the most effective tools to showcase your expertise, whether you're selling a product or service, training people, or merely looking to build a relationship with your audience.
But to create a presentation that doesn't suck, you need a script. In this post, we're going to put forward a case for scripting your webinars, as well as some examples to help you get started.
Do You Really Need a Webinar Script?
We must remember that a webinar is a virtual presentation. And like any presentation, there are three ways to approach your preparation:
Use a script;

Loosely talk off short-hand notes;

Wing your presentation completely.
While all three methods can be useful, even the best presenters in history, like Steve Jobs, use scripts.
Does this mean you need to use a script for each webinar word for word? Not necessarily.
Having a written script gives your presentation structure. It's also a way to ensure you hit all your main talking points while staying within your designated time frame.
With that said, once you have a structure in place, you can leave some room open for questions to keep things authentic. The choice is yours!
What's the Ideal Webinar Structure?
There are many ways to build your webinar structure, and much of it depends on your format. For instance, a Q&A session is run differently to an internal product demo.
Regardless of the format, you need a solid plan for your webinar. We've identified some recurring patterns to create the most effective webinar structure. Let's take a look below.
Step 0 – Audience
Effective webinars must have an audience-first approach. Meaning, your attendees have signed up to your presentation to gain knowledge they seek.
It's your job to help them achieve their goals. Therefore, their needs, wants, and desires should be all that matters to you when preparing your webinar script.
This is why we've called this step 0 as your audience should be the basis for the development of your script in the proceeding steps.
Step 1 – Introduction
How you open up your webinar is critical for setting a positive tone for your presentation. Start with a warm welcome introducing yourself to your broader audience, and reaffirm to them that they're in the right place.
It's also common practice to try to engage with your audience with a two-way conversation in the introduction. This helps to calm your nerves while also creating an environment where your attendees feel comfortable participating in your webinar.
Step 2 – Agenda
To piggyback off the last point, when your audience rocks up to your webinar, in their heads, they're thinking, "I hope this is not a waste of my time!"
Create a timeline (for your webinar) with what you intend to cover in your presentation. This helps your audience feel like they're in the right place and get excited about what's to come.
Having an agenda also helps to set expectations about potential offers, housekeeping for how to use the webinar software, and time for Q&A—so they can get their questions ready.
Step 3 – Proof
All of the best webinars have a strong element of storytelling to build social proof and expertise of the presenter. This doesn't mean you need to be as charismatic as Tony Robbins!
Your audience just needs to know you're human and that you know how to take them to where they need to go. Humility is your greatest friend here.
You're presenting a topic because you've likely experienced the same struggles as your audience but found a way to breakthrough.
Tell your story and show why you're qualified to talk about the topic.
Step 4 – Content
This is the part of your webinar where you deliver on what you promised your audience.
It's the moment where you demo your useful communication software, share your process to get the result, or conduct a super interactive Q&A session.
Step 5 – Call-To-Action
If you're running a webinar, you likely have a goal in mind. For example, you could create a landing page specifically for your webinar attendees and get them to visit that page. Or you could ask for valuable feedback to help develop your next product.
Whatever your goal, this is the time to ask your audience to take action!
How to Create (and How to Use) a Webinar Script?
Once you have a structure in place, you're in a fantastic position to create your webinar script. Let's break down how you can approach each section using the framework above.
Audience
Observe online communities like Facebook groups, Quora, blog and YouTube comments, Reddit, customer support emails. Write down how your audience describes their problems.
Take it a step further and jump on a call with your ideal attendee and ask them about what's working and what isn't regarding your topic of expertise.
You must use the words from your audience when scripting their problems.
Welcome
You want to keep your introduction concise and friendly—nothing fancy here. Merely state your name, your relevant experience, and the name of your webinar.
You also want to build some triggers in your script to help you engage with your audience early. Here are some examples:
Ask the audience to click on the hand button if they've attended one of your workshops before.
If you recognize any participants, give them a shoutout. This makes them feel special and shows the rest of your audience that you have loyal followers.
Keep reintroducing yourself to your audience as more people join your session. Say something like, "for those of you joining us, welcome!"
Agenda
Use the ideal webinar structure above to create a simple and enticing script for your schedule.
For example, if I were running a webinar on personal finance, it would sound something like this;
Introduction – "Hi, everyone! My name is Jessica, and I want to welcome you to my Get Out of Debt Workshop."

Proof – "In this session, I'm going to share my journey from drowning in student loan and credit card debt to being completely debt-free in 6 months.

Content – "Then, I'm going to break down the 7-step process I used to get on top of my finances."

Call-To-Action – "At the end of this session, I have a special offer for you, so make sure you stay till the end!"
Proof
Look back at all the content you've created for specific examples of where you share snippets of your story. This could be in journals, blog posts, old keynote presentations. From your notes, use a simple formula to communicate your arc.
To give you some creative ideas for your presentation, here are some questions to help craft your origin story:
What was your situation when faced with the problem?

What was your goal at the time?

Why couldn't you achieve your goal?

What did you do to turn things around?

How did you feel after achieving your goal?
If you have examples of how you've helped others get results, you can also add them as case studies to your presentation using the same formula.
Content
Script out the tactics and strategies you used to get results. Break your process down into steps 1, 2, 3, and so forth. The key here is to keep your instruction simple.
It doesn't matter if you're doing a demo, Q&A, or a solo presentation, get granular with what you need to cover to give your audience value.
Call-To-Action
It's crucial to define and prioritize one singular Call-To-Action for your webinar script. Having too many actions will confuse your attendees and lose their focus and interest.
In this section, we will talk about how you can make your offer enticing. Is there a special discount you can offer? Is there a time limit on the deal? If it's internal training, what's the specific task the team needs to work on in preparation for the next call?
5 Great Examples of Webinar Script Templates
Below are five examples of successful webinar templates. Keep in mind that most of these case studies are from the content marketing space, but can be easily adapted to other webinar formats.
1. The Perfect Webinar Script and PowerPoint Deck – Hailey Friedman
Hailey is an internet marketer who grew her online business to six figures in 18 months. She uses a 7-step webinar script to get an average of 70% attendance and 12% conversions!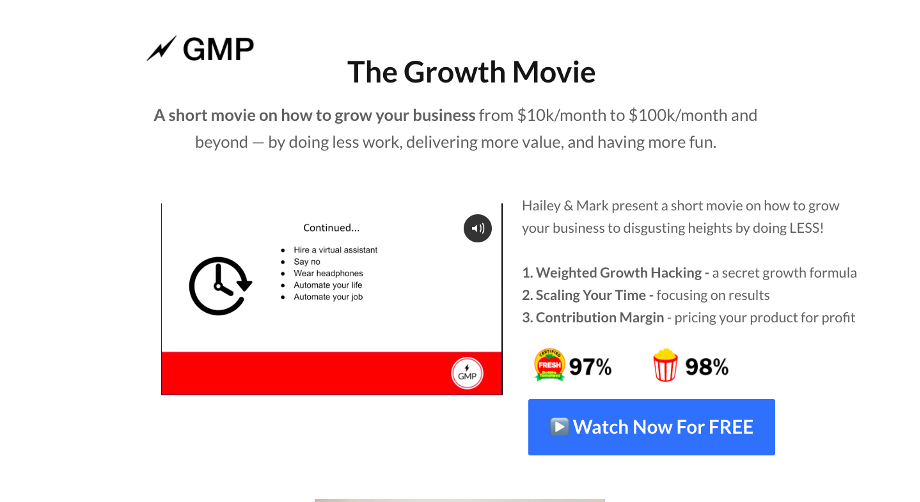 Greetings and general introduction – keep it relaxed and simple. Remind the audience why they're here.

Short bio and for the presenter and hosts – highlight professional experience and expertise. Don't be afraid to boast as this gives attendees confidence.

Use storytelling to explain how you became an expert.

Explain what attendees will be learning throughout the webinar.

Create an incentive to stay until the end of the webinar (discounted products, recordings or transcripts, free eBooks, free consultations).

Give your audience what you promised.

Introduce your offering.
Hailey's webinar script works because it's comprehensive and realistic. It's a formula that many webinar attendees have come to expect. Giving a compelling reason to stay to the end is always a great way to engage audiences.
2. How to Run a Webinar – AdEspresso
AdEspresso is a leading SaaS company in the advertising space, and they used this 4-step webinar script to get the highest amount of registrations and attendees to date (at the time).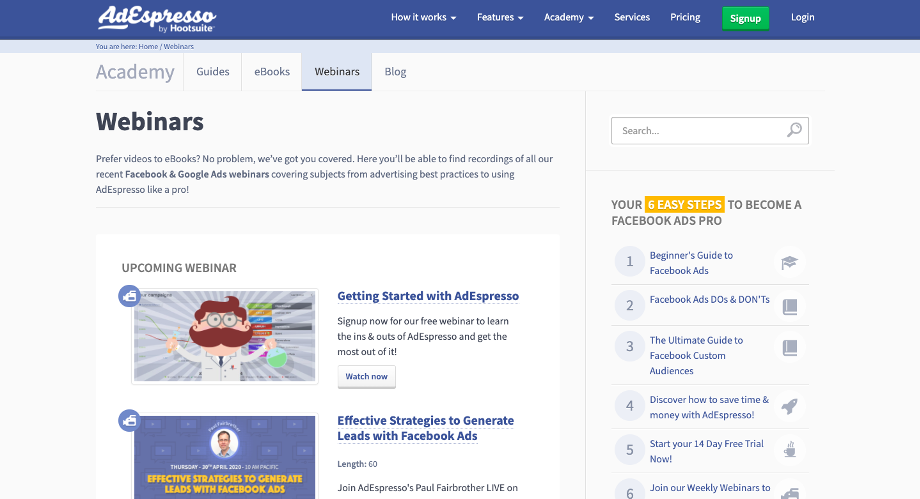 Start with the audience in mind – explain the situation of your audience and why they're attending your workshop.

Look for the emotional appeal – focus on one specific pain point; otherwise, it gets confusing.

Choose a feature-benefit selling point – needs to tie back to the emotional appeal.

Use storytelling elements to bring them together.
AdEspresso does an incredible job of utilizing feedback and data from its users to develop ultra-focused webinar scripts addressing just one specific pain point per presentation.
They've also turned this webinar script into a standard operating procedure (SOP) across their company to get consistent results.
3. Problem-Solution Webinar Script – Info Diagram
Info Diagram specializes in designing beautiful slides for presentations and then sells them as templates. It's their business to get results from their templates, and it's no different for their webinar scripts.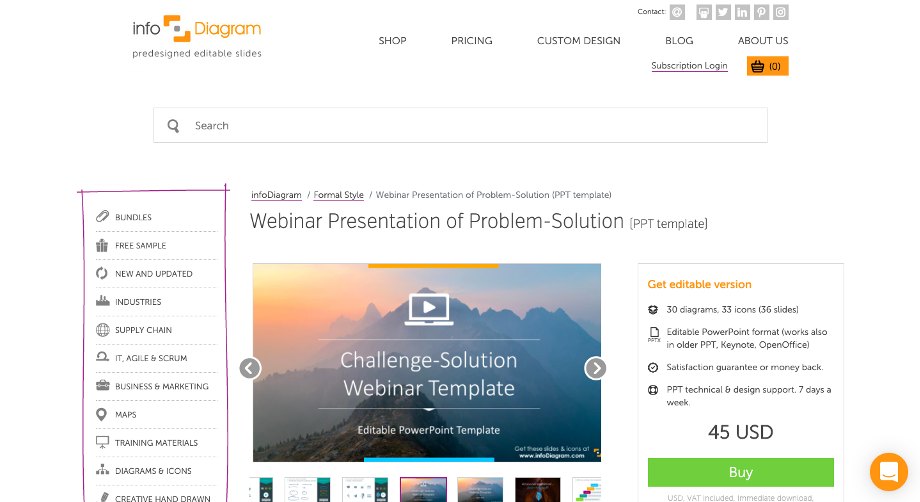 Intro slide – great webinar title.

Opening question – sets the focus on the presentation.

Agenda – lays out the steps on how to answer questions.

Housekeeping – explains timing, how to interact, and other logistics.

Inspirational quote – to set the mood.

Speaker bio – to build trust with the audience.

A quick survey – to get interactions flowing.

Key facts – to back up claims from the question.

Challenges – highlights pain points of the audience.

Solutions – present solutions to challenges.

Summary – review what you've covered.

Call-To-Action – offer, next steps, etc.

Contact – a way to contact you e.g., upcoming webinar, join your email list, etc.
What we love about Info Diagrams webinar script is that it's very structured, and therefore a good template for beginners. You can pick and choose what section of the script is relevant to your webinar, or you can go ahead and use all of the talking points.
4. The Anti-Webinar Formula – Latisha Styles
Latisha has developed a webinar script specifically to get more one-on-one customers, so if you're in services, this could be a useful framework for you!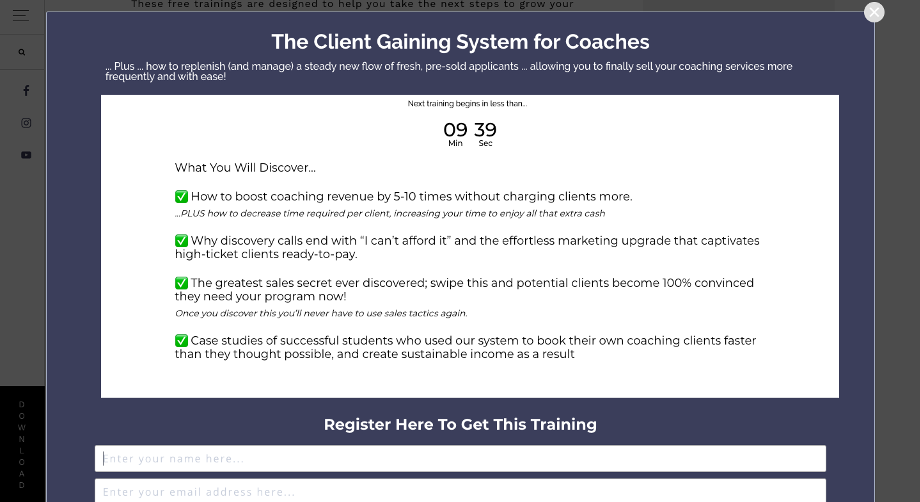 Define your ideal customer – understand the doubts, pain points, and frustrations.

Explore your personal brand story – emphasize the moments in your story that address the needs of your ideal customer.

Show customer testimonials – tell the stories of 3-6 of your customers in the same story arc of your personal brand story.

Craft your pitch – again, addressing the doubts, pain, and frustrations of your ideal customer.
What's interesting about this webinar script is that Latisha does not have a dedicated section to deliver the core content. However, she's tested different texts over the years and has found that the combination of storytelling and understanding her prospect has yielded the most leads from her presentations.
5. Build a Profitable Webinar Funnel – Neil Patel
Neil Patel is one of the most respected and well-known marketers on the internet, and his webinar script is all about how to optimize your marketing funnel.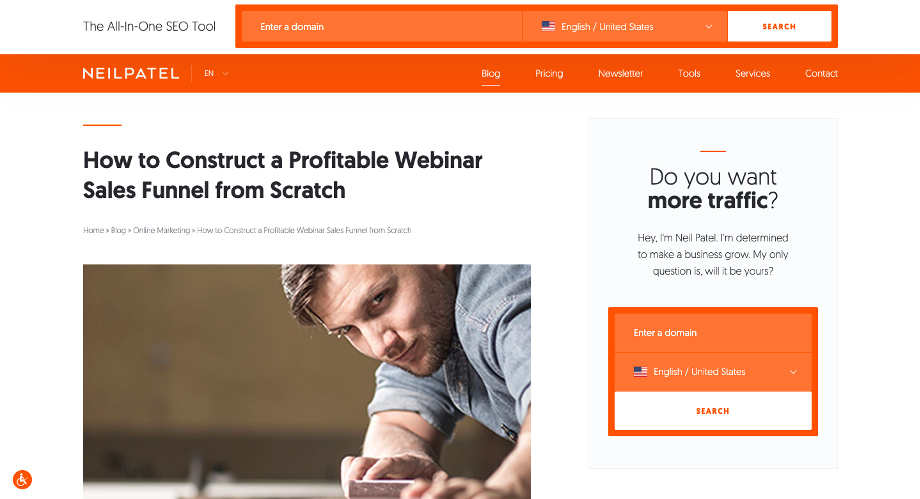 Push your audience's pain – get inside the heads of your customers and almost agitate them with their pain points.

Explain your solution – explain how you plan on addressing their challenges.

Be personable – be approachable and humble.

Tell your story – relate to your audience with your struggles.

Include a "wait, there's more" clause – tried and true marketing tactic that still works today.
Neil is a consummate salesperson, and he finishes his webinar script by going in for a hard sell. He keeps things simple and focuses on the needs of his audience to get the best results.
Conclusion
Even if you eventually wing your webinar presentations, start with a script first. This will give you a foundation to add the most value to your audience.
Keep your structure simple, focus on compliance, and always put your audience first.
As you scale up your webinar strategy, you'll be able to turn your workshops into foundational templates to use again in the future.
You could also build a small webinar team to help you prepare materials, do market research, or help with ensuring the technology is running smoothly during the presentation. If you go down this path, make sure you leverage time management tools to keep your team on the same page.
Our 5-step process of creating webinars, together with a solid webinar script, will help you get results for your audience every time.
---
About the author: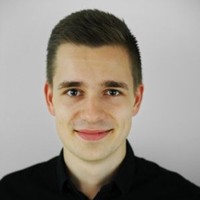 Max Benz is a content marketing manager at Filestage and loves creating actionable content that helps readers achieve their goals. On the side, he's running the German remote job board remote-job.net