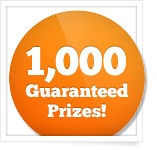 You now have an opportunity to win one of the 3-month ClickWebinar accounts offered as part of the "Everyone Wins" summer promotion run by GetResponse, the innovation-leading email marketing service provider. Read further to find out how!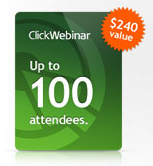 ClickWebinar accounts are among the $100,000 worth of guaranteed prizes in the GetResponse Everyone Wins summer promotion. The first 1000 to purchase a GetResponse account or upgrade from a free account will have a chance to win a ClickWebinar account for up to 100 attendees.
Of course, there are lots of other awesome prizes (of course, we think 3 free months of ClickWebinar is the best).
Other great prizes include iPad 2, Kindle, the MarketingProfs' Email Marketing Factbook, a private webinar with an Email Marketing Expert on the "10 Most Effective Ways to Build Your Email List Online & Offline" and loads more.
The trick is, you won't know which prize you win until it's assigned, but since all of them are valuable, I'm sure you'll be satisfied no matter which one you receive. 🙂 And it might be a good opportunity to start boosting your marketing ROI with easy, proven GetResponse email marketing (if you haven't already).
How do I get my prize?
To be eligible for any of the prizes you need to set up a paid account with GetResponse, or upgrade from a free account, during the two weeks of the promotion which ends June 30th − or when all 1000 prizes are gone. You can do both here.
They say a bird in the hand is worth two in the bush so why not grab two at once – a chance to win an online conferencing account and use an awesome email marketing service to help grow your business. We sure think it's a great idea. 🙂
So the ClickMeeting Team wishes you good luck in winning one of our accounts – be sure to let us know here or on our Facebook page.