Cutting travel expenses, saving time and energy, as well as shrinking carbon footprint are very convincing arguments for choosing online collaboration. We've decided to prepare HOT discounts inspired by National Earth Day.
Thinking "green" pays off more than you think
Our commitment to help businesses be better corporate citizens of the world makes us proud and we would like to embrace the eco-friendly consciousness with all of you and make you aware of constant advantages that come with thinking "green" from business point of view.
As a ClickMeeting user, you're doing your part by reducing your CO2 emission and making your company a more responsible steward of the earth's resources.
Special Pricing
You can save up to 50%. Simply buy an account or upgrade your free account.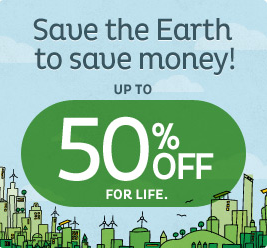 The feature-rich ClickMeeting and ClickWebinar packages include everything you need for successful online meetings.
This Offer is HOT!
The special pricing lasts until the end of April so make sure you take advantage of it before it expires.