Okay, I admit we lacked this useful feature, and I know you thought so, too. Fortunately, this is no longer the case. Today we present the brand new Reminders feature for your meetings and webinars. Your attendees will never forget about your webinar again!
Registration is only half the battle
It's a common problem – hundreds of people register for your webinar, but only a small part of them show up on the day of the event. For some people, something else will come up, getting in the way of attending the webinar, while a large number will simply forget about the event.
The best way to prevent people from forgetting is to send them a Reminder on the day of the webinar, shortly before it starts, e.g. two hours beforehand, (so those who have indeed forgotten still have time to find a quiet place to take part in the event or change their plans.)
Build anticipation for your meeting
You can now create Reminders easily in ClickMeeting and ClickWebinar.
In your meeting details you'll see an additional entry called (surprise surprise!) "Reminders." All you do is set the date and time of the Reminder. You can add up to three Reminders for a meeting (e.g. you can remind about it a week before, two days before, and two hours before the webinar).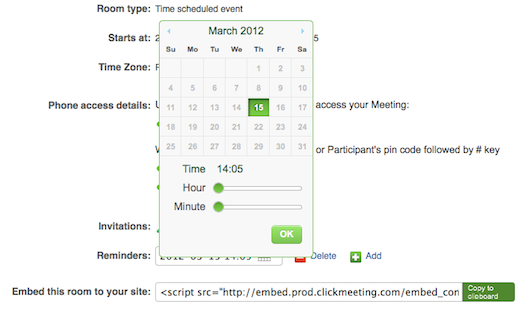 Reminders will be sent automatically to all the attendees of the event. If Registration is enabled, only registered attendees will receive a reminder. If Manual Confirmation is enabled, only those who confirmed will receive the reminder.
And there's more
In addition to the above, each participant can set a Reminder at a date specified by them on the page where they confirm their invitation to a webinar. This means they can choose to receive a reminder exactly when they want to, so they make sure they don't forget to take part. Isn't that smart?

Proven attendance booster
That's more or less it. And even if this seems like a small feature, it's a really powerful way to boost the attendance rate of your events.
So, next time you invite people to your meeting or webinar, set up some reminders. And don't forget to let us know how it works for you!