We do everything possible to make ClickMeeting easy. But even that's not enough for us. We want it to be convenient too. So we took the world's most widely-used email program — good ol' Microsoft Outlook — and developed a "killer plug-in" that lets you . . .  well, we've got a lot to tell you, so let's get to it!
Here's the idea. If you use Outlook, you probably have all your contacts stored there, along with your calendar, tasks — and every email you've sent or received since 1986 😉
That makes Outlook a convenient work space for setting up your in-person meetings. So why not use it to set up your online meetings and webinars, too? And now you can, thanks to our new Outlook plug-in.
Oh yeah, did I mention the price? It's totally FREE.
Set Up Requirements
To use the plug-in, you'll need to be running Windows 7, 8 or Vista and Outlook 2007-2010.
First, download the setup file from this link.
It should run automatically. If not, double-click the setup.exe file or right-click it and choose Open. Follow the pop-up instructions.
At the end, you'll need to close and re-open Microsoft Outlook. As it re-opens, you'll see that a ClickMeeting menu choice has been added, along with a handy toolbar in the control ribbon.

You'll be required to log on, so you'll need your username or email address and your password.
After the one-time installation, the plug-in will be available anytime you use Outlook. (If you use more than one computer, you'll need to repeat the installation on each one.)
Entering a Meeting from Outlook
From Outlook you can access a permanent meeting room set up inside ClickMeeting by from the list of your scheduled meetings (Show Schedule) or join an Ad hoc meeting.
Scheduling a Future Meeting from Outlook
To schedule a future meeting or webinar from Outlook, click Schedule Meeting. The following screen pops up.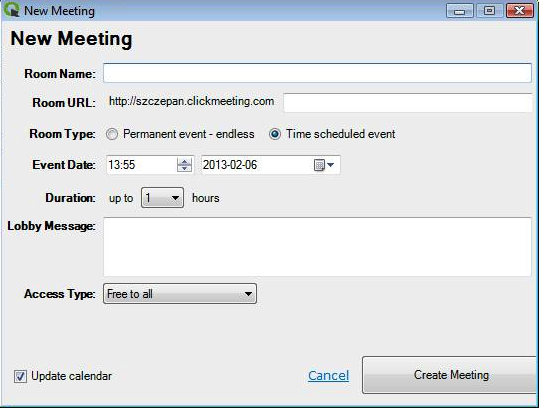 Fill in the blanks, choosing a meeting name, date/time and lobby message. Choose whether it is free to all, password protected, or token protected.
When you click the Create Meeting button, a new window will appear, with all your meeting details. You can:
Make changes by clicking the Edit this meeting button, or set up your meeting (presentation, whiteboard, etc.) by clicking the Join meeting button and choosing the setup option
Optionally, use the Embed code to place the meeting on your website or blog
Click the blue links to Invite Presenters and Invite Participants
Customize the Invitations
When you invite presenters and participants, the system automatically creates an email with all the meeting details. You can enter email addresses in the To: and CC: boxes as usual.
And you can customize the invitations, just as you would an ordinary email. Add logo, text, images, links — whatever you wish.
When you're done, just click the Send button. As recipients respond, your attendee and presenter lists will be updated.
You'll see the meeting in your Outlook Calendar. Your meeting or webinar is available from your ClickMeeting or ClickWebinar dashboard, as always.
How's that for easy and convenient?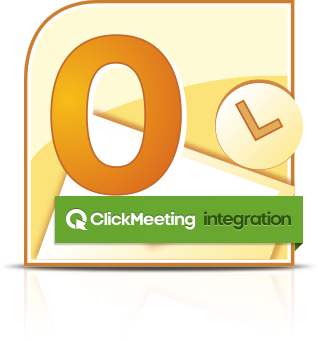 More Coming Soon
We'll give you time to catch your breath and get comfortable with the new Outlook plug-in. But before you know it, we'll be releasing these exciting new additions:
New Survey feature, with more selection options for answers: one, many, or open-ended.
Revamped Desktop sharing feature: high-quality, low-bandwidth usage, plus multi-monitor capability.
So stay tuned. And if you have questions about the Outlook Plug-in, reach out to our Customer Success Team from your ClickMeeting Dashboard >> Help menu.
We designed these features with you in mind. So, in the comments, please let us know what you think!