News in ClickMeeting! We've just made a couple of useful new additions to our platform: share window view, new options in giving rights to selected participants and additional function within chat. Here's what they look like.
New share window view option
When sharing files with your attendees, you are now able to place selected bookmarks next to each other. Next to the presentation document screen, you can also for instance conduct a poll. Below you can see an example of the new screen view from a presenter's perspective.
Presenter View: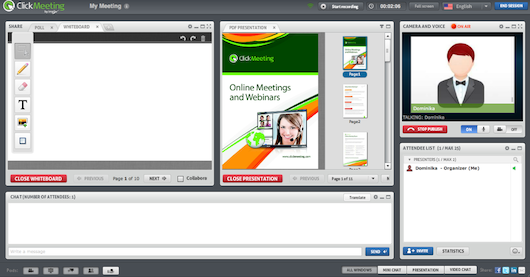 Additional functions
We have also expanded the functions in admitting rights to your attendees.
From now on you can decide which modes and pods are available for editing when admitting rights to selected participants.
Within the chat panel you can also present YouTube videos to your guests.
This function is available only to those users who have no restrictions in accessing the YouTube website.
So head over to your ClickMeeting/ClickWebinar account and try out the new features with your next event. Don't forget to let us know what you think.